Long before the book and movie Eat Pray Love came out and inspired many a woman to seek one's truth, artist Jill Joy found herself in an ashram delving deep into her unconscious. She dropped out of her life for two years...finding peace with her higher self. Little did she know it would prepare her for what would become one of the hardest years of her life.
Early in 2016, Joy opened her own gallery. It was a large space affording her both a workspace to create her art as well as a gallery to show her own art and the work of other artists. It was her goal to create her own reality and reach the public on her own terms as an independent artist. Immediately, issues came up with the space, which included sewage problems, gas leaks, flooding, and water damage. However, she maintained a positive attitude and forged ahead. After spending much of her savings on renovations and most of her time at the gallery, she contracted what she assumed was the flu, but which later turned into bacterial bronchitis. This was the beginning of a long spiral down...which eventually led her to close her beloved gallery.
"On a personal level, it was nearly devastating," explained Joy. "Opening a gallery was a long held dream of mine, so losing my first space was a massive setback I wasn't sure I'd overcome." Joy said she felt betrayed and she began to second guess herself. This was an unusual circumstance - she had never experienced this type of doubt. After all, she started her own company at just 26 years old. After her divorce, she decided to begin her life over - moving across the country where she had no support system and no guarantee of a job.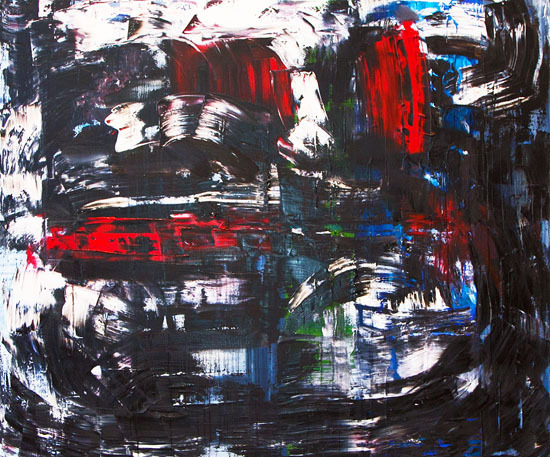 See image: Dissolution, oil on canvas, 60x72" Every beginning requires the destruction of what went before; Photo by Scott Carmella
The artist said since it felt like her outer world was crumbling, she decided to focus on her inner world. She started meditating again, doing yogic breathing, and writing poetry. Since she no longer had a studio in which to paint, she found that returning to poetry was just what she needed to find inner strength and guidance. "I find writing poetry gives voice to my soul and helps me process setbacks and disappointment...to reach for the light in the darkness." She also asked for the advice of her friends. "I bided my time and kept evaluating all of my options," said Joy. "I didn't force it." Joy stayed true to her dream and soon found another home for her gallery.
Finally, when asked what her lesson was from this experience, she replied, "I learned to believe in myself and my art intensely. I learned the full extent of my commitment to my art and to sharing it with the world and what I am willing to do to create a life that I want to live." Joy's goal for her gallery is to become a sustainable, viable and lasting exhibition space with integrity that is as immune as possible to market forces.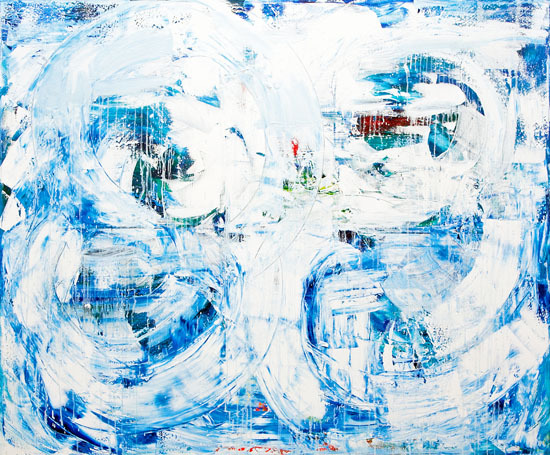 See image: courtesy of Jill Joy; Summoning the Heart of Love, oil on canvas, 60x72" Photo by Scott Carmella
"Summoning the Heart of Love is the sister painting to Dissolution," explained Joy. "I created it out of a desire to call forth a new reality for myself based more strongly in unconditional love and to align with my soul's destiny."
Joy's work has been exhibited nationwide in galleries in Florida, Texas and Los Angeles, CA. Her paintings are in private collections across the United States. She has won numerous awards and residencies.
The new gallery is located at 456 S La Brea, Los Angeles, CA 90036, two doors down from the La Brea Bakery. The grand opening takes place on Saturday, October 8, 2016 from 6-9pm. The inaugural exhibition is titled "Emotion" and will feature the art of Jill Joy. The exhibition will remain on view through October 29, 2016. In November, Joy's exhibition program includes artists Aline Mare and Michael Giancristiano. To find out more about Jill Joy's art and her gallery, visit http://www.jilljoy.com/
Calling all HuffPost superfans!
Sign up for membership to become a founding member and help shape HuffPost's next chapter