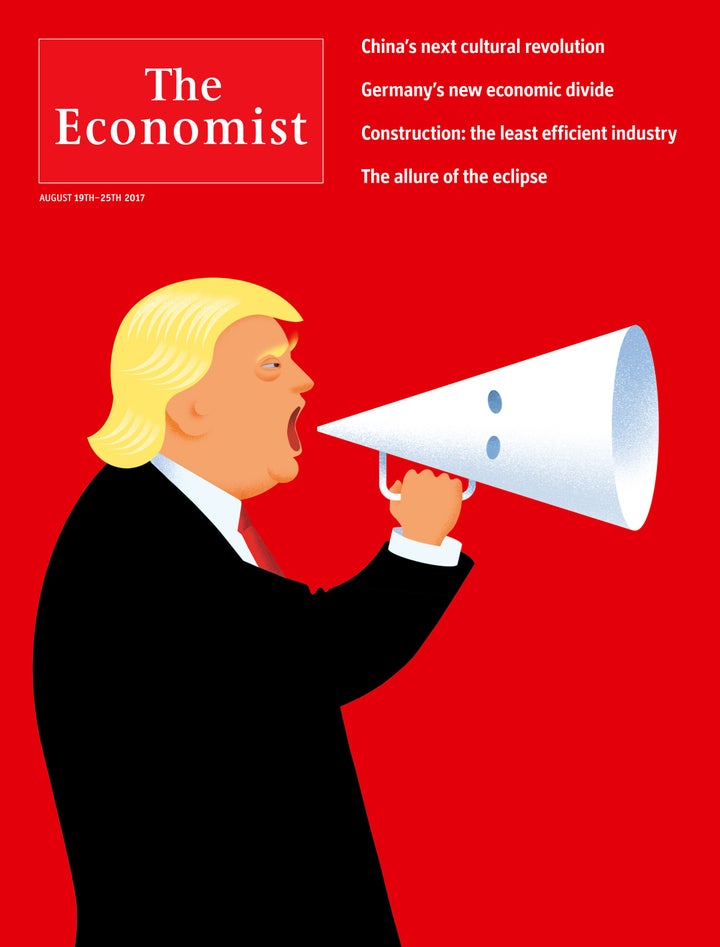 Courtesy of Irish illustrator Jon Berkeley, the stark cartoon shows President Trump bellowing through a megaphone drawn to double as a Ku Klux Klan hood. Appearing days after a violent white supremacist rally led to the death of three people, the image is a blatant nod to Trump's much-criticized comments this week blaming protesters "on both sides" of the conflict in Charlottesville, Virginia.
"You had a group on one side who was bad, and you had a group on the other side that was also very violent, and nobody wants to say that, but I'll say it right now," Trump said, referring to white supremacists, anti-fascists known as "antifa" and counterprotesters. "What about the alt-left that came charging at the, as you say, 'alt-right'?" he added.
In an interview with HuffPost, Berkeley explained that the cover was commissioned on Wednesday, a last-minute decision on the part of the Economist following Trump's press conference on Tuesday. A few concept sketches later and his powerful presidential portrait was born.
Here's what Berkeley had to say about the unusual project:
How did you settle on the image of Trump holding a megaphone that appears to double as a KKK hood?
I always think with a pencil, so I did a few quick sketches to start the process. The KKK hood is a gift in graphic terms. It's simple, and its menace is instantly recognizable. It's been used to great visual effect by many illustrators and cartoonists, so when I linked it to the shape of a simple megaphone, the first thing I did was search online to see if it had been done before. When I found nothing similar I sent the sketch ― along with a few other concepts ― to the Economist.
How much guidance did the Economist give you when they commissioned the image? Did you know, for example, that the illustration would appear on the cover without a headline?
This was a last-minute change from the scheduled cover, which is usually commissioned on Monday for a Wednesday-afternoon deadline. The cover concept has usually been decided on before I get the call, although it often evolves further in the process.
In this case, I got a call on Wednesday morning from covers art director Graeme James to see if I was available for a quick-turnaround job in the wake of Trump's comments on Tuesday. I did some quick concept sketches while Graeme was on his way into work, and the megaphone idea ― with minor amendments ― was a clear favorite with the editorial staff. The absence of a headline is unusual for the Economist ― for any news magazine. I took this as a vote of confidence on the clarity of the image, which is quite gratifying.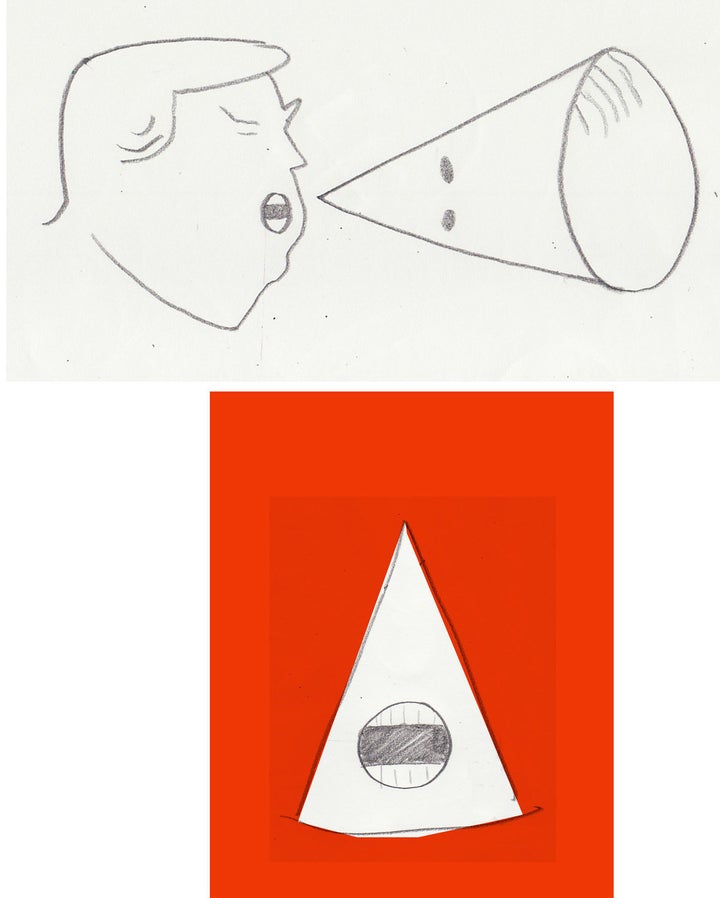 What were your initial reactions to Trump's remarks this week ― particularly his use of the phrase "both sides"?
It seemed an obvious reluctance to criticize the far right. Personally, I'm not sure that Trump has the intellectual capacity to understand the full context of his remarks. Even if this is the case, it doesn't say much for his choice of advisers, does it?
The Economist has a reputation for being a moderate publication, respected by liberals and conservatives. (In 2013, the Economist itself claimed to be a part of the "radical centre.") In light of this, what message do you think a cover like yours sends to readers?
We seem to be in uncharted territory in terms of eroded trust in the media. I've had a quick trawl through some of the comments the cover has attracted on the Economist's Facebook page, and they seem as polarized as ever. Right-wing commentators are calling it liberal bias. Others are applauding it.
I do think that cartoons and illustration can have a strong effect on people's perception of particular people or events over time ― maybe even more so as the credibility of the printed word is dented. Perhaps those who are undecided are just less inclined to comment.
As a longtime illustrator who's been creating political cartoon–like images for publications like the Economist, how has your job changed ― if at all ― in the last year since Trump's candidacy? For example, do you feel a greater responsibility to confront politics in your work today?
We live in interesting times. I've always had an interest in politics, and political cartooning. The supply of weapons-grade lunacy in every corner of the globe seems to have ramped up considerably in the past year, which just gives more to push against. I've been posting editorial cartoons on my Facebook page recently, just to get things off my chest, which is something I only did occasionally in the past. To be frank, it's one part responsibility to three parts fun. What's not to like about a fat target?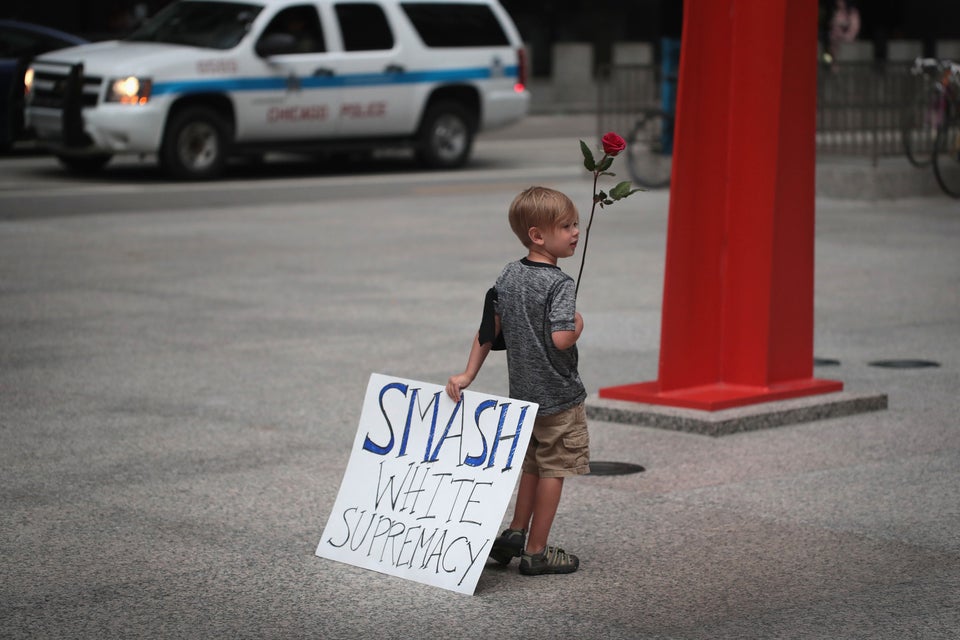 Powerful Signs From Charlottesville Protests Across The U.S.
Popular in the Community