Fate... it is said to be the reason why people connect. However, it's not always a romantic entanglement. Often artistic alliances evolve through admiration and/or a co-envisioned passion. For internationally exhibiting artist Julienne Johnson and esteemed art critic and curator Peter Frank (Huffington Post, Fabrik Magazine), that was just the case.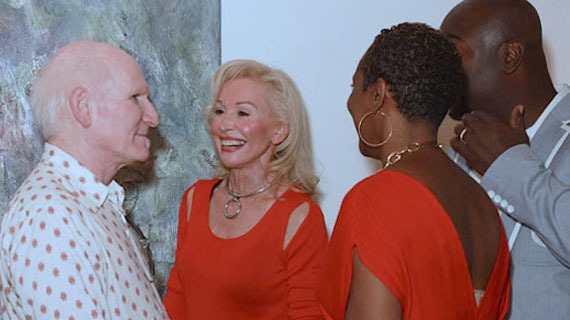 At the Exhibition Opening & Book Signing of Ashes for Beauty at TAG Gallery in Santa Monica, CA; From left to right: Peter Frank, Julienne johnson, Adria Johnson, Alvin Chea (Take 6); photo by Olivier Ferrand
Frank edited and curated Johnson's book Ashes for Beauty, released in 2012. He also contributed to her second book, Touched (2013). The opportunity for the pair to work together has once again arisen. Frank has agreed to curate a solo exhibition featuring Johnson's work at the prestigious Metcalf Gallery on the campus of Taylor University in Upland, Indiana. Johnson's retrospective is titled "PASSION AND STRUCTURE: JULIENNE JOHNSON, 2008 -- 2014."
The Los Angeles based artist has followed Frank's writing since 2007 and probably knows more about him than most. "Peter's critiques in the art magazines caught my attention well before we met," said Johnson. "I enjoy words and a dichotomy of ideas...particularly when platformed poetically."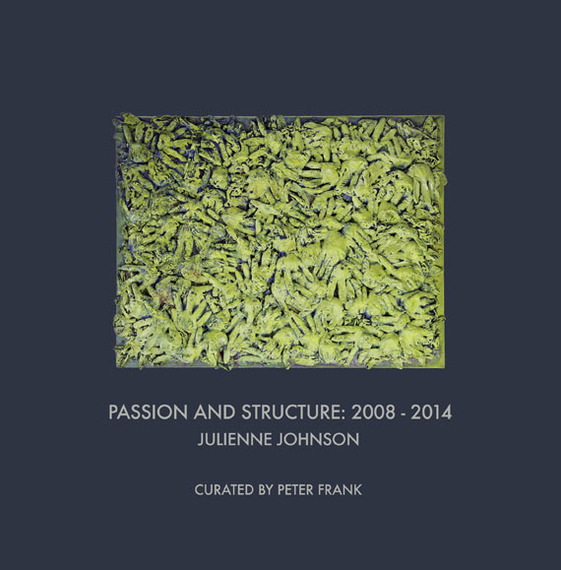 PASSION AND STRUCTURE: JULIENNE JOHNSON, 2008 -- 2014; Curator/Forward: Peter Frank; Editor: Suzanne Dittenber; Publisher: Taylor University
Widely known for his illustrious career as an art critic and curator, Frank's resume is both long and impressive. In addition to writing, teaching and lecturing all over the world, he has organized exhibitions at the Solomon R. Guggenheim Museum in New York, Documenta in Kassel, and the Museo Reina Sofia in Madrid, just to name a few. A less known fact is that he is also a published poet. The art of verse became part of Frank's life when he was just a teenager. He has been published in literary magazines and anthologies since his college days, when he was the co-editor of The Columbia Review.
To this day, he continues to write poetry and do readings. In 2013, Johnson utilized Frank's poetic prowess by putting together an evening of spoken word. Johnson's event also featured the prominent poet Jack Grapes in conjunction with an exhibition at LA Artcore in which she was participating.
Johnson has once again persuaded Frank to read some of his poetry in conjunction with "PASSION AND STRUCTURE," as part of this week's (October 14 - 18) scheduled events.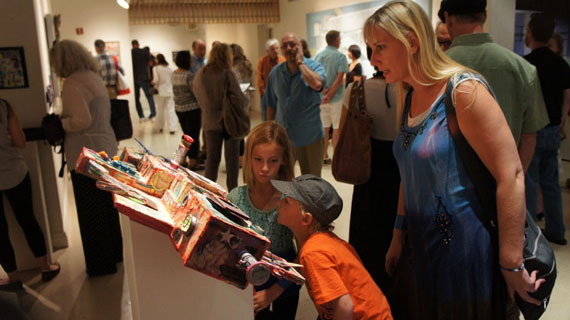 A family enjoys the art of Julienne Johnson at LA Artcore Union Center for the Arts;
Julienne Johnson, Novi Coeptus 2013, assemblage sculpture with pigment, transfers, metal, wood, glass, acrylic, silk, cotton including salvaged remnants from the Big Bear Fires in California; courtesy of artist
Since 2012, Johnson's paintings have crossed the globe and found homes in permanent collections at the Arab American National Museum, in Michigan and in Thailand, Ratchadamnoen Museum in Krabi Province, Thailand, and Thaksin University Museum in Songkhla Province, Thailand. Johnson has exhibitions scheduled abroad from 2015 - 2016 in Japan, Thailand, and India.
Johnson has traveled a different path than most artists. Having gained notoriety as a Grammy nominated songwriter, she has enjoyed a successful career in the music business. She is also a published poet herself... another artistic talent that she shares with Frank.
When Johnson was first asked to do this show, Frank was her first choice to curate the exhibition. "Peter is a curator who is miles ahead of the crowd without ever running," explained the artist. "He curates as he writes: from a unique angle. He chooses to present what most of us would not see on our own and then he defends it from every angle." Johnson went on to explain that Frank has chosen an unexpected group of works for this exhibition, but when seeing the final product, she admitted that it made perfect sense.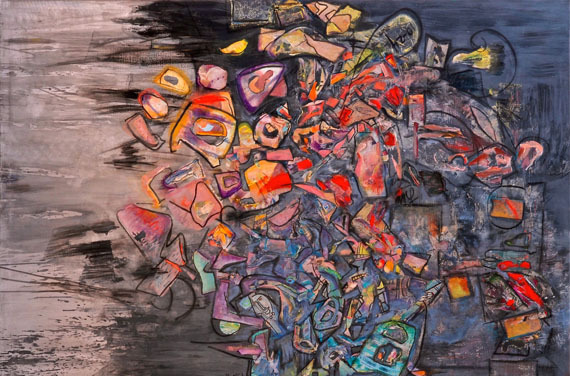 Julienne Johnson, Firebird 2009; Oil with mixed media, including, Asian papers, Chinese ink, metal, pigment transfers and collage on canvas, 48x72 in; courtesy of artist
Featuring mixed media paintings and assemblage sculpture, the exhibition includes eighteen artworks from four bodies of work - Ashes for Beauty, touchmetouchyou, Touched, and Kinexion. Johnson's art, Frank writes in the catalog to the show, "is an art that can be appreciated and enjoyed for its appearance, lucid and poised (if not always orderly). But it has a deeper resonance, even an urgency, that mirrors the anxieties of our times and the frailty of reason and morality."
Johnson is a dedicated artist who uses unusual techniques in order to achieve her vision. In addition to painting with her hands, she often finds herself scraping, sanding, sawing and soldering. A prolific artist, Johnson has amassed a copious body of work for a considerably short length of time since graduating from Art Center College of Design in 2009.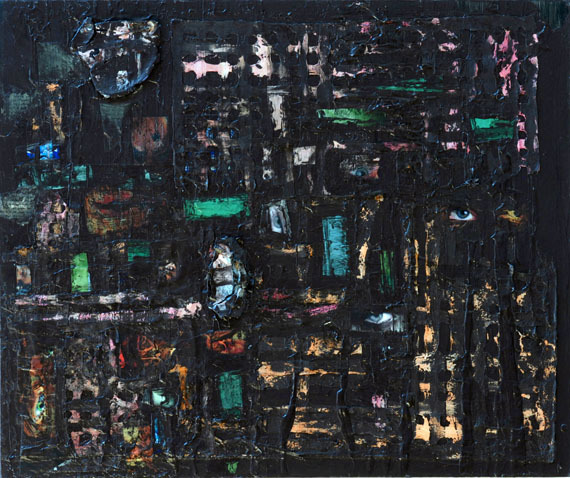 Julienne Johnson, Defocus 2009, oil with mixed media, transfers, collage on canvas 24 x 30 in; courtesy of artist
As serendipity would have it, Johnson attended Taylor University, so this exhibition has an extra special meaning for her. "I'm very excited to be invited to exhibit at my own alma mater with the show opening on homecoming weekend," said the artist.
"PASSION AND STRUCTURE: JULIENNE JOHNSON, 2008 -- 2014" opened on October 14, and is supported and funded by Roger and Naomi Muselman of Berne, Indiana. The exhibition runs through November 7, 2014.
Taylor University is located at 236 West Reade Avenue, Upland, IN 46989-1001; 765-998-5322. For a full list of events during the week of Oct 14-18, see Taylor University's website.
To find out more about the art of Julienne Johnson, see the artist's website.
Related
Popular in the Community