Artist Lauren Bon puts the bright hues back in so-called "social brown fields." She takes socially abandoned spaces and enlivens them with events, activities, and arts, education. She gives them a place in the community. Good things happen. Bon calls it "metabolic sculpture."
Take her Cornfield Project downtown. Acres of corn were planted on an empty site near downtown Los Angeles. For months visitors weaved their way through the green and gold stalks for screenings, readings, rituals, and concerts.
People returned again and again. The 32-acre site came alive with their traffic and their new sense of attachment. That raised the profile of the Cornfield. It also helped sustain the funding that made the Cornfield a state park now enjoyed by Angelenos.
Lauren Bon's new success story is in West Los Angeles, at the the Greater LA Veterans Administration Healthcare Campus, where the federal government just pledged $20 million to create housing for homeless veterans.
The VA's been healing people at the still verdant site since the Civil War. But on the north side of the VA site a number of buildings are abandoned or underutilized.
Bon's red, white, and blue "Strawberry Flag" has veterans caring for strawberry plants in a quad surrounded by three empty buildings: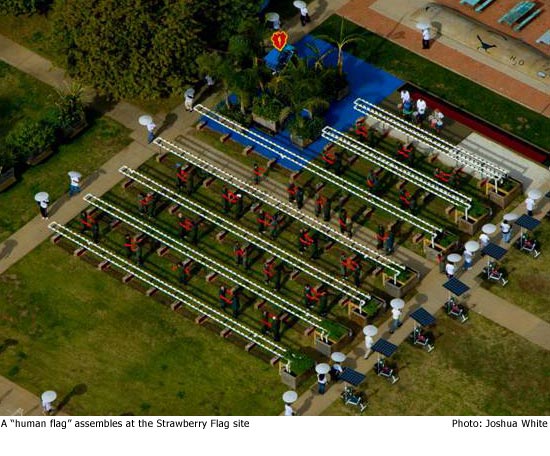 The cultivation and the return of people to the space has sparked an "innovation zone" of jobs and training.
In one adjacent building, number 209, there is now a print shop, where veterans teach veterans graphic arts. And in building 208, there is a kitchen where veterans make strawberry jam. They also publish a newsletter called the Strawberry Gazette, and make a radio show, Strawberry Flag Radio.
Building 205 is still empty. But hundreds of veterans have also crowded into the quad for Fourth of July and Veterans Day barbecues, readings, and celebrations.
This past March, Bon went to Washington DC to talk to the U.S. Secretary of Veterans Affairs, General Eric Shinseki, about the Strawberry Flag and the veterans.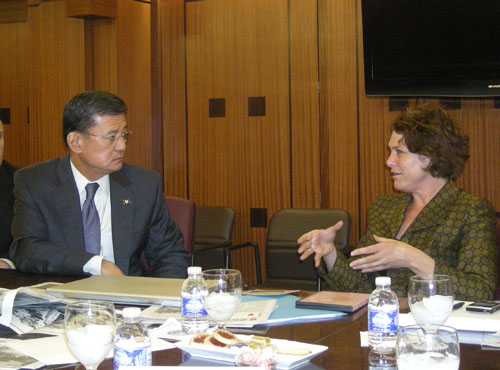 Soon after her visit, the VA gave $20 million to create housing for homeless veterans in Building 209, a former mood-disorder lockup.
Santa Monica Mayor Bobby Shriver, Los Angeles County Supervisor Zev Yaroslavsky, and Congressman Henry Waxman had long been pushing for this. But Bon's visit and the Flag helped make veterans' issues concrete. General Shinseki noted this when he paid a surprise visit to the site this past Tuesday, talking with veterans for over an hour.

Lauren Bon is now bringing her considerable skill to work on issues in the Owens River Valley. She also has a piece in EAT LACMA.
*****************************************************************************
An interview with Lauren Bon
Why Strawberry Flag now?

President Obama said in his Fall 2009 State of the Union Address that he intends to end homelessness for veterans in the next five years. The funding is there to make an impact. However, the problem is more complex than funding alone can solve.
What have you as an artist and philanthropist seen Strawberry Flag do?

Strawberry Flag has been instrumental in defining space for the people who need it the most. Veterans are working daily on the site and on artwork. They are developing new skills to transfer to the outside workplace. They are part of an art work, an artwork that reclaims lives -- in this case by cultivating strawberries.
This relates directly to what money alone cannot solve and that is that many veterans with PTSD and or other battle-related scars require -- new ways of thinking about their lives and about new forms of relationships beyond what now exists in the VA and in the outside world. Strawberry Flag is a pilot project for these innovations.
Why did you design the Strawberry Flag the way you did?

Strawberry Flag is in three sections: the stripes, the blues and water and power. Each of these sections was worked out technically before we assembled the Flag on site. The object, like a military camp, is self sustaining and deployable anywhere.
Among the unique features of the Flag is that it is powered by a combination of solar power and stationary bikes. It is also about strawberries, the second most lucrative crop in the US, and one grown in the politically important states of California, Texas and Florida, where many vets live.
How many veterans have worked on the Strawberry Flag and in what capacity?
Eight veterans now work on the Strawberry Flag. Over the project, about a dozen have come in and out. But this is an artwork, not an employment scheme. However, it has the potential to employ many vets -- in several industries. Homeboy Industries would be a model for this kind of endeavor. But that would involve a more long term relationship with the VA, an arrangement they are reluctant to engage in.
REAL LIFE. REAL NEWS. REAL VOICES.
Help us tell more of the stories that matter from voices that too often remain unheard.