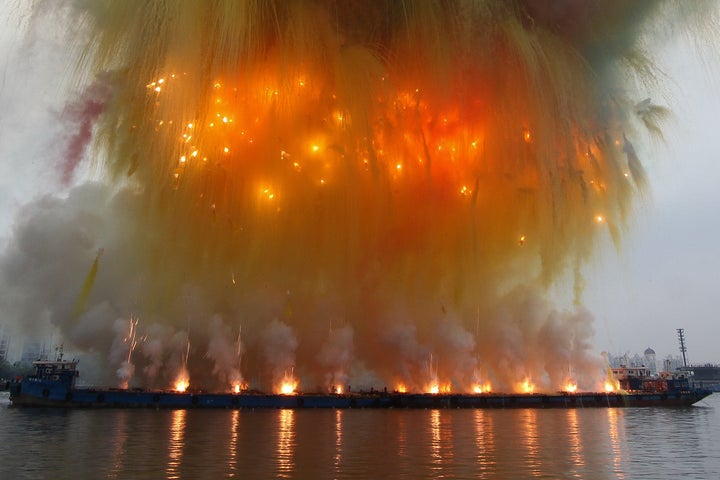 When I see "explosive" or "singes the screen" in a movie review, I assume that the writer is either being lazy or attempting to be quoted in a trailer. But both descriptions are actually apt for the new Netflix documentary, "Sky Ladder: The Art of Cai Guo-Qiang," directed by Kevin Macdonald. The film's subject, Chinese contemporary artist Cai, literally blows things up on camera ― most of his art is created with fireworks and gunpowder.
Macdonald's film is filled with moments of poetry in motion. Not only is Cai's artwork profoundly beautiful ― it's also shot by one of cinema's best modern cinematographers: Robert D. Yeoman, who's shot every Wes Anderson film. You'll want to see the film, currently on Netflix and in select theaters, on the largest screen you can. The visual splendor of "Sky Ladder" is captured in three events that occurred between 2014 to 2015, each representing a pivotal shift for Cai as an artist.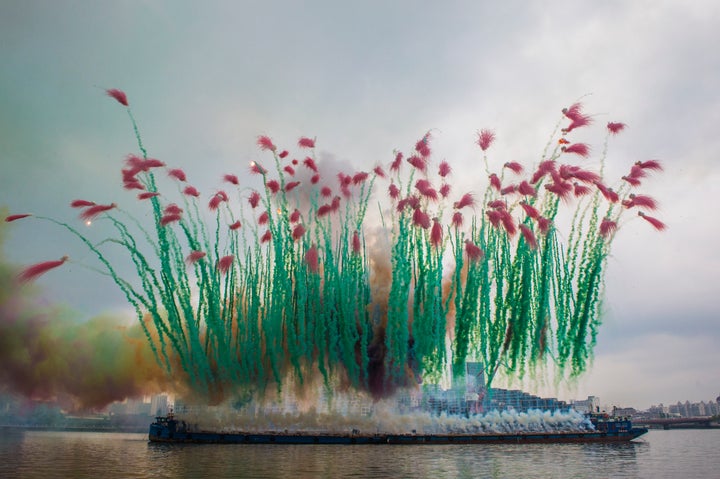 1. "The Ninth Wave"
The first is Cai's 2014 solo show, called "The Ninth Wave," at Shanghai's contemporary art museum, the Power Station of Art. The show, with clear environmental messages inspired by China's ominous and deadly pollution, featured a dilapidated tugboat full of sickly-looking fabricated wild animals (pictured in the slideshow below).
Another piece was his "painting" of that ark, created by laying gunpowder on paper to achieve a specific design with a margin of unpredictability created when the explosive was lit. Many such gunpowder pieces were collected for the exhibition; when presented in a room together, they looked like apocalyptic updates of world maps.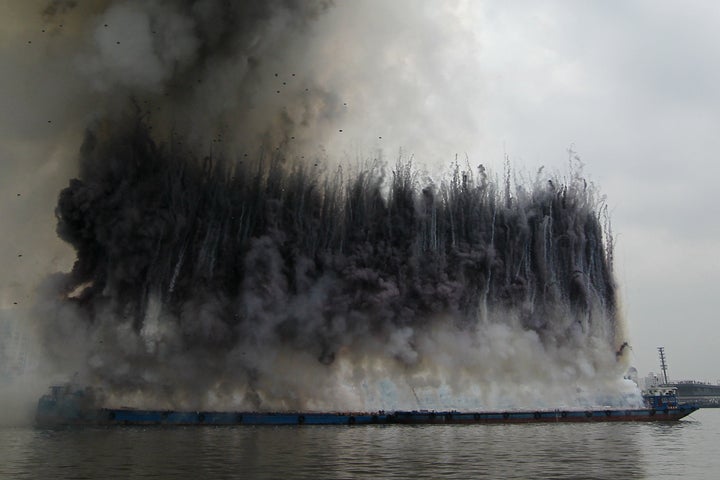 To commemorate the opening of the political show, Cai held one of his highly publicized explosion events. It featured pigmented and biodegradable gunpowder, specifically timed and launched to paint the sky. Captured in "Sky Ladder," it's one of the most jaw-dropping pieces of live art you'll ever witness. The pigments flutter like flower petals in the wind and then lay down like colored sand in a bottle. It's both invigorating and soothing. 
2. APEC Cityscape Fireworks
By the opening of "The Ninth Wave," Cai was one of the most renowned event artists ever. After his well-received collaboration with filmmaker Zhang Yimou at the opening ceremony of the 2008 Beijing Olympics, the world was Cai's stage. Money was pouring in to create explosion events. But with outside money can come restrictions of artistic freedom. When Cai was commissioned to create a fireworks display for the 2014 Asia-Pacific Economic Cooperation conference in Beijing, Cai bent his artistry to meet the unrelenting demands of the Chinese government, which Macdonald captures as a personal low for the artist.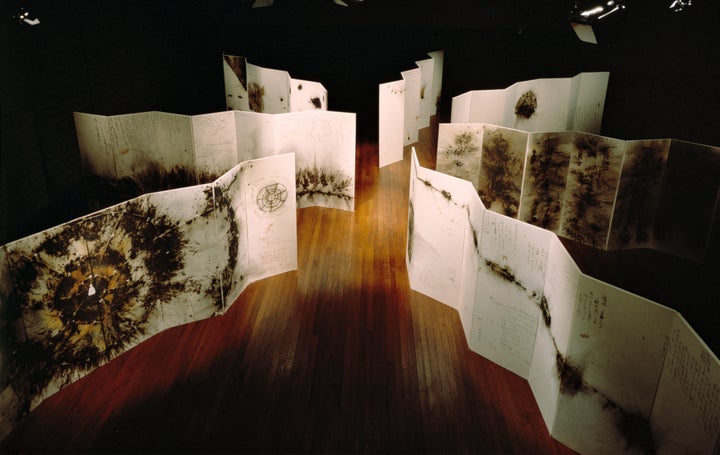 3. "Sky Ladder"
After APEC, Cai became determined to reinvigorate a project he had been obsessed with since the beginning of his career. He wanted to build a ladder in the sky to reach the heavens. To pull it off, a 1,640-foot "ladder," made of stainless steel wrapped in fireworks, was to dangle from a hot air balloon long enough for it to ignite and become glowing steps to the sky. 
"Sky Ladder," as he called it, is something that he and his team had attempted on several different occasions but were never able to complete due to bad weather, a city permit being revoked and other mishaps. Even his top advisors said that it was an impossible dream that he should give up. 
The idea of traveling away from Earth was something that comforted Cai as a young artist; he was nine years old when Mao Zedong unleashed the Cultural Revolution. In the documentary, Cai remembers when he and his father had to burn his father's beloved collection of books.
Attempting to reconnect with his familial roots and early years as an artist, in 2015, Cai decided to stage his last "Sky Ladder" attempt in China, in the small fishing town where his grandmother ― then 100 years old ― grew up. For an artist of his stature, it was a small and intimate creation, free of sponsors and governments. It took a small village of people to help him pull it off, and once the ladder was ignited, it indeed looked like it reached the heavens. While the magic only lasted a few fleeting minutes, the curiosity and wonder it instilled will remain much longer.
Cai designed the trophy for the 2016 Berggruen Prize for philosophy, which is going to be presented to the winner, Charles Taylor, on Dec. 1 in New York City.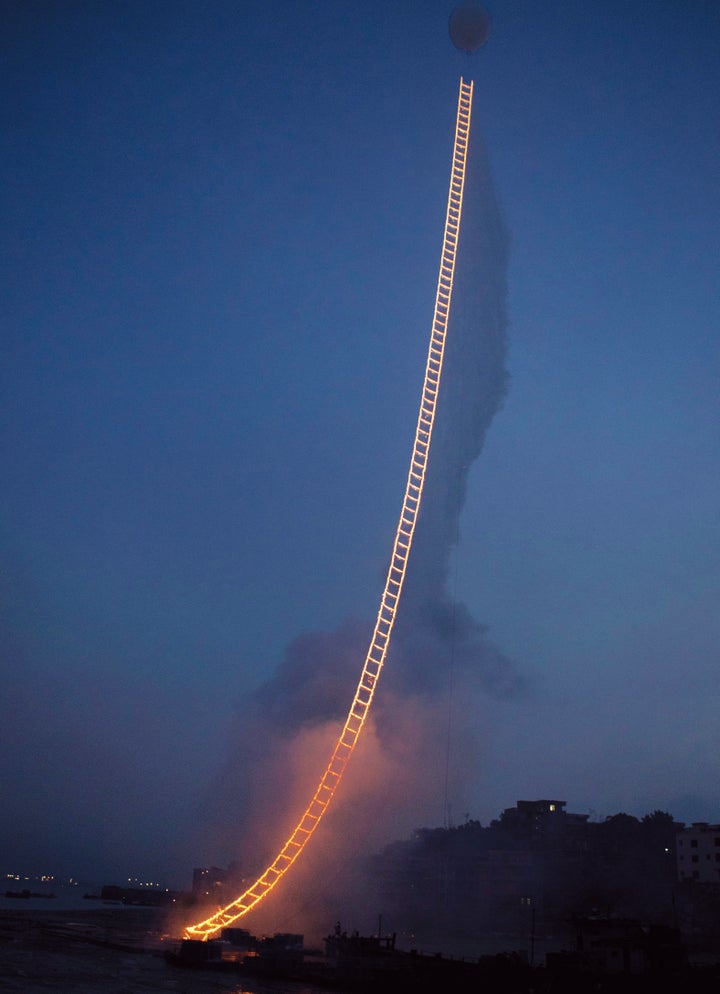 Calling all HuffPost superfans!
Sign up for membership to become a founding member and help shape HuffPost's next chapter
BEFORE YOU GO
PHOTO GALLERY
Cai Guo-qiang