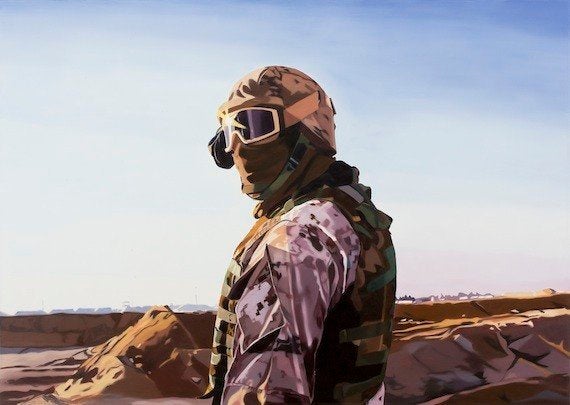 In its eighth year, the Iraq war tends to fade in and out of the headlines. But for artist Megan Rye, whose solo-show opened at the Forum Gallery in New York this week, it's always at the forefront of her mind.
"I could paint this subject forever," Rye said while seated in the gallery, surrounded by 28 oil paintings that depict scenes from military life taken during the war. "I'll never get to the bottom of it."
Rye's younger brother Ryan spent two years as a Marine in Iraq. He came home safely with 2,000 photographs in tow that he took while overseas. Rye, who studied at the Rhode Island School of Design and has won several fellowships, sifted through the photos and has reproduced nearly 50 of them.
"It was an unasked for gift. I never would have wanted a sibling to be in a warzone, but it was a gift nonetheless," she said. "It's been about the attempt to follow him into this experience, to the darkness of his memories."
Hence, the title of the exhibit on view until July 15th: "I Will Follow You Into The Dark."
The paintings, some of which are so new the canvases were still wet as they were hung in the gallery, include vibrantly colored scenes and portraits. In one, a Marine has dressed up as Elvis on Halloween. In another, a serviceman is building a chin-up bar in the Sunni Triangle — that image, below, is shown through the lens of night vision goggles.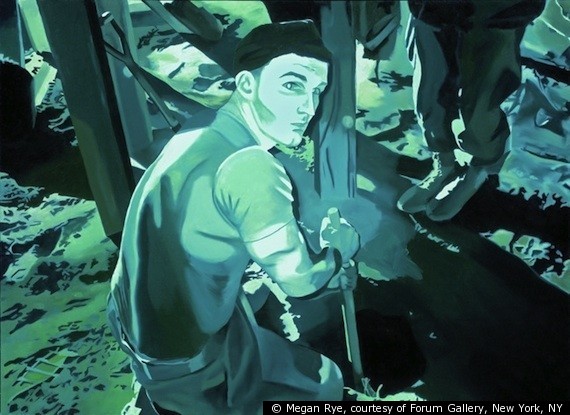 All the paintings in the show are based on pictures by Rye's brother, but the initial inspiration for the series came after an explosion at a military mess hall tent in Mosul in December of 2004, where more than 20 people were killed. Rye woke up and saw a photograph in the Richmond Times-Dispatch.
"It was ethereal, the light pouring through the tent," she said. "And then I realized it was this horrible event."
Rye phoned the photographer, Dean Hoffmeyer, to ask if she could recreate his picture, and she's been painting scenes from Iraq ever since.
The ironic part about Rye's war paintings is that none of them feel violent. There's little darkness to them and if anything, it's the colors that pop upon first glance.
"I always find more power in things that are more subtle," Rye explained. "It is easy to shock people with a bloody body on the street."
While many of the scenes are direct representations of the photographs, like headshot of a Marine in uniform called "Alien," others leave more open to interpretation, like "Exile in Babylon," below.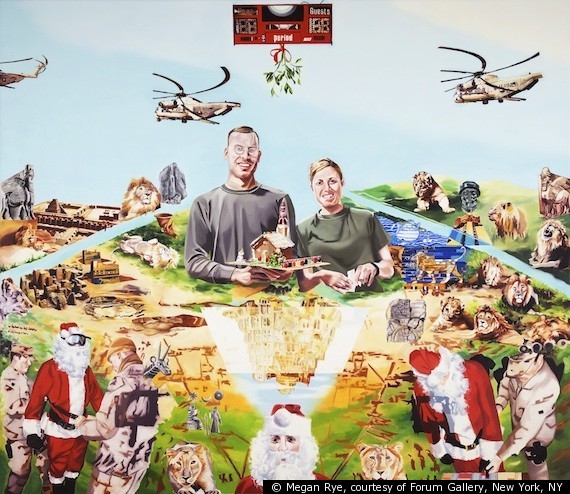 The painting is a composite of several different elements: lions, an inverted Tower of Babel, and a Marine finger-printing Santa Claus as though he's a detainee. A scoreboard hangs over it all.
"People were talking about the war as if it was a sporting event," Rye said. "Even if you can measure a war in geographic or military terms as someone winning, to me, it's all about loss."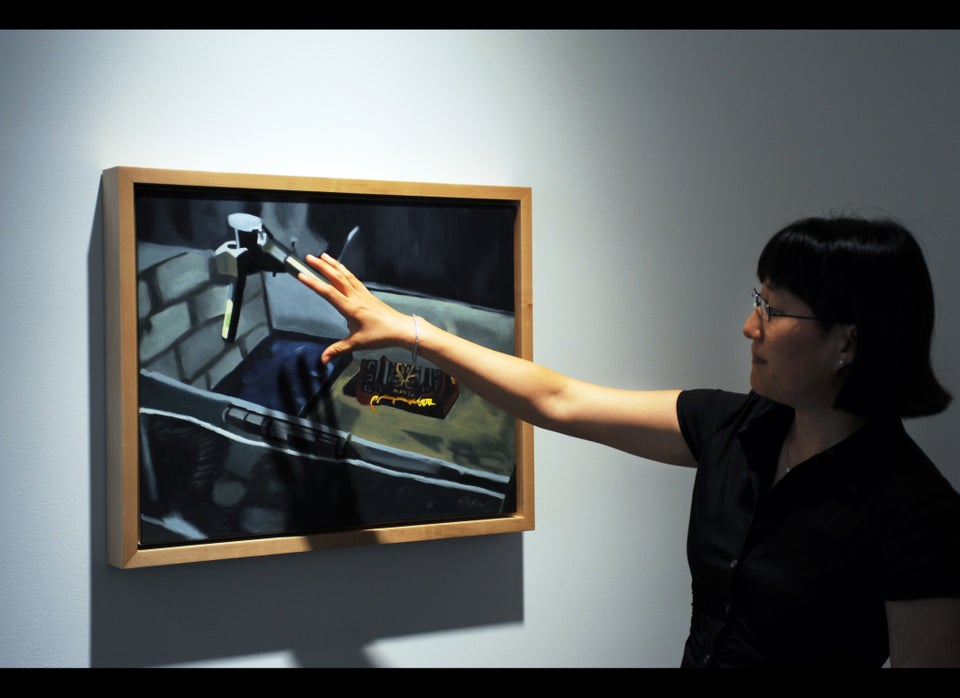 Artist Megan Rye
Related
Popular in the Community