Warning: This article contains explicit imagery and may not be appropriate for work environments.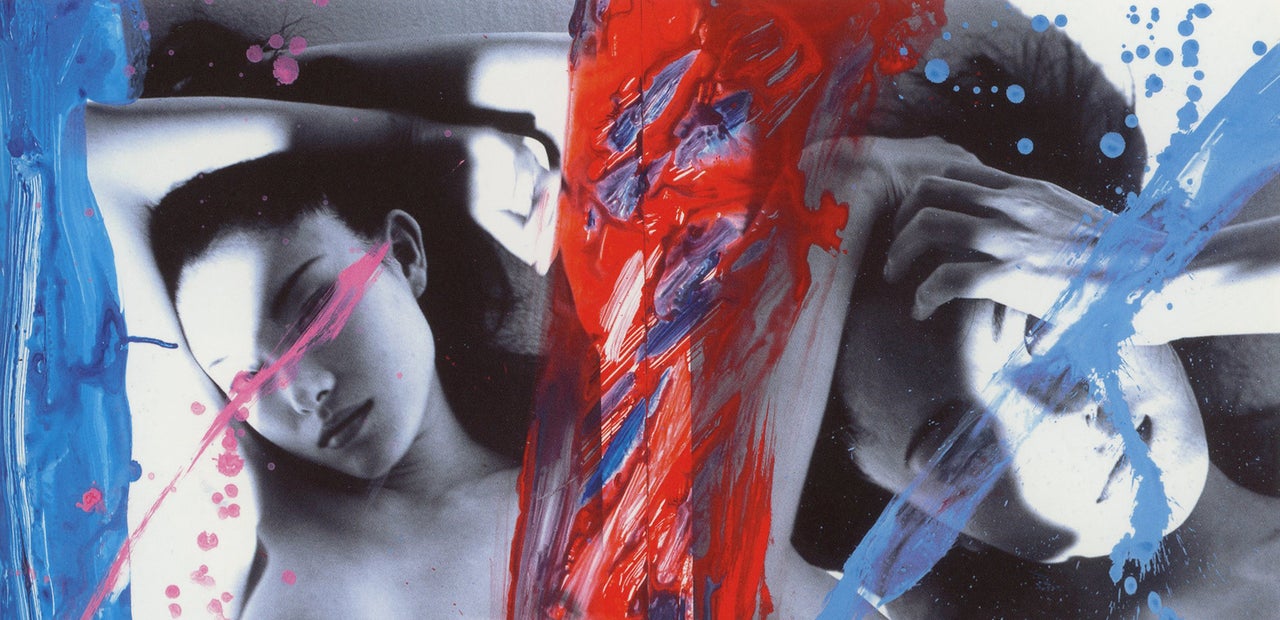 In one of Japanese artist Nobuyoshi Araki's photographs, titled "KaoRi Love (Diptych)," a young woman reclines and writhes on a pristine white floor. He's captured the woman from above, leaning over her naked body, seemingly asking the viewer to do the same. The black-and-white photos are streaked with slashes of red and blue paint, a less-than-subtle nod to the byproduct of a sexual act performed upon her.
Shortly after publishing a review of a retrospective of Araki's work, now on view at the Museum of Sex in New York City, I received an email from the woman in the photo, who goes by the name KaoRi. She worked with Araki from 2001, when she was 21, to 2016. She's now in her late 30s.
In my review I characterized KaoRi, based on wall text provided by the museum and descriptions provided by curators, as Araki's muse and romantic partner. In her email, she took issue with the categorization and asked that I listen to her story. "I am not somebody without voice," KaoRi wrote, "not living only in the picture."
I began emailing with KaoRi and later spoke to her over Skype with the help of a translator. During our exchanges, the model accused Araki, now 77 and one of Japan's most renowned photographers, of abusing his power during their collaborations. Though KaoRi said she was not harassed or assaulted, she claimed she was exploited by the artist ― financially and creatively ― during her time as his muse.
The word "muse" stems from Greek and Roman mythology, used to describe goddesses who preside over artistic disciplines. Today the word refers to a person who serves as an artist's source of inspiration ― traditionally, a role reserved for women. "As women, for centuries we were not allowed to be artists but we were muses," artist and self-described muse Coco Dolle told HuffPost. "We were always venerated in that sense. And I feel that legacy is still prevailing. It's part of the romantic idea of the art world."
Indeed, women like Marie-Therese Walter and Camille Claudel are enshrined in the history of art, first and foremost, as muses. They were also gifted artists themselves, but their cultural contributions are often boiled down to their work with famed, male artists (Picasso and Rodin, respectively). Their narratives emphasize gender roles typical to artistic lore: Men are creative geniuses and women their "principal, ever-recurring subject."
The term's mythic origins help illuminate why the idea of the muse remains, in the words of Paul McCarthy collaborator Elyse Poppers, "a fantasy fiction." We know what purpose a muse serves but not exactly what she does or what she should expect to do. The word's fantastical, and often sexualized, connotations cast the muse in shadows, the lack of defined boundaries potentially enabling transgressions on the part of the artist to occur ― a potential made clear by various Me Too stories of late.
In order to shed some light on the mystery surrounding muses, I spoke to three women, including KaoRi, who've identified or been associated with the term. Liberating, empowering, exploitative, limiting, addictive, messy, stressful ― these are some of the words the women used to describe their experiences working with established male artists (Araki, McCarthy and Alex Katz). Together, they helped to explain an artistic tradition whose romanticization may be putting young women, often aspiring artists, at risk.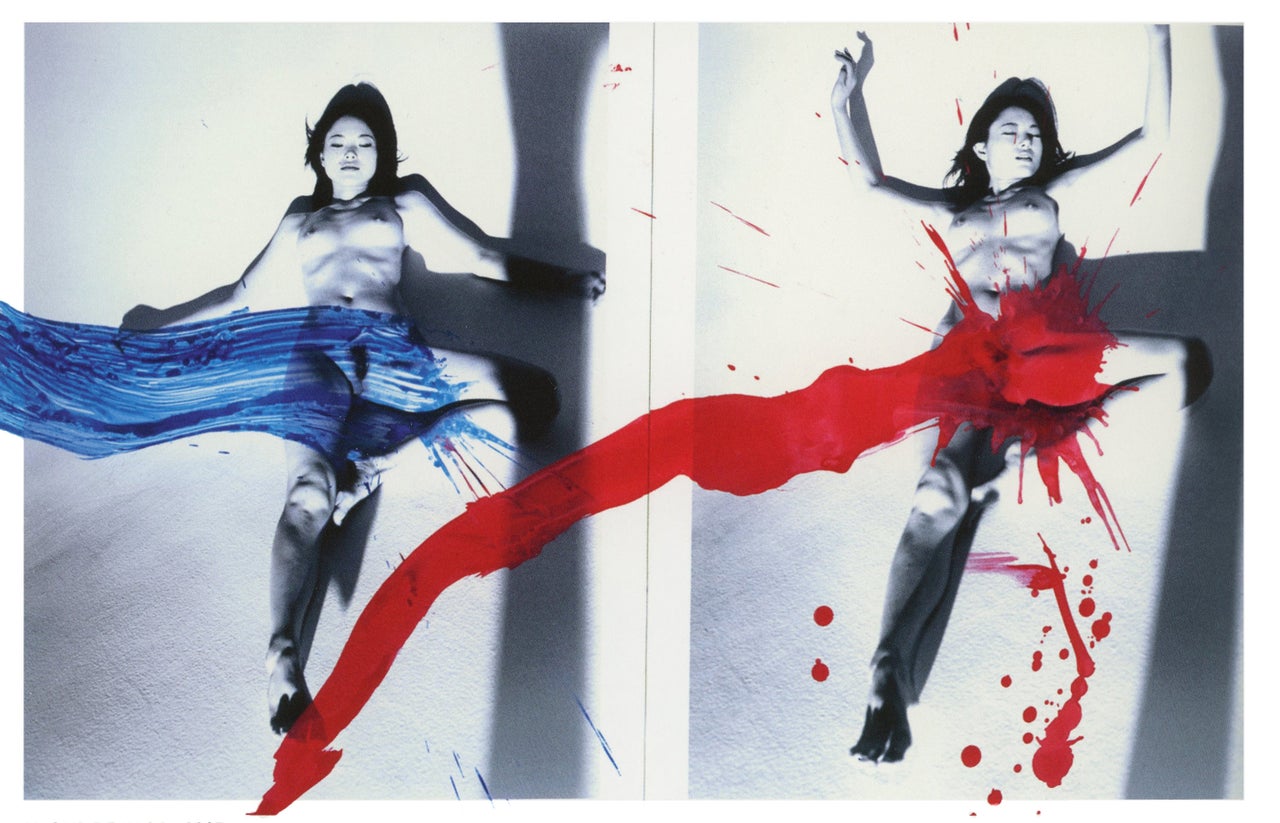 KaoRi
KaoRi told HuffPost she met Nobuyoshi Araki in the summer of 2001 at a gallery opening in Japan. Having already posed nude for artists while working as a dancer, she was eager to collaborate with someone of his legendary status.
Araki is widely known across Japan and the broader art world for his sexually explicit aesthetic. Toying with taboos like pornography and BDSM, the proudly perverse photographer tests the limits of not only artistry but decency, as if daring his viewers to look away. Araki's shoots, which often take place in Japanese sex hotels, frequently end, according to him, with intercourse. "Of course I had sex with all my models," he said in 2011. "It is a certainty."
"The narrative has always been that these relationships are deeply consensual and emotional," Maggie Mustard, who co-curated the MoSex show, told HuffPost in February before KaoRi came forward with her experience. Mustard explained in an email to HuffPost in April that her initial understanding of KaoRi and Araki's relationship was shaped primarily by comments Araki made himself in a 2008 interview with Purple Magazine. "KaoRi is my girlfriend," the artist said. "I've been trying out a new kind of Kinbaku on her. I basically strangle her with a rope, like in this picture. I'm enjoying that a lot at the moment."
KaoRi's story, however, complicates this longstanding narrative.
She said that Araki began taking photos of her at a small studio in the Tokyo district of Roppongi a few months after their initial meeting. During their second shoot, KaoRi posed nude. Soon after that, she said, the two developed a consensual physical relationship. They continued to work together, according to KaoRi, approximately once a month thereafter. Araki photographed her eating, sleeping, bathing and dancing. As KaoRi wrote in a blog post describing their relationship, "He didn't miss a moment."
"At first, because he is much older than me and really famous, I didn't feel like it was a fair collaboration," KaoRi explained. "But because he is very thoughtful and can take care of people, I felt comfortable."
According to KaoRi, Araki paid 50,000 yen ― around $465 ― for each love hotel shoot. They never signed a contract clarifying the terms of their working relationship, something KaoRi initially found odd but brushed off. Other photographers she'd previously worked with overseas asked her to sign an agreement authorizing the use of photos she appeared in, and sometimes those agreements included information about royalties.
"I wondered if that was how Japanese artists worked or just the way he worked," she said of Araki. "I didn't confront him with the issue. I was really young. That initial mistake escalated into the current situation."
Over time, KaoRi said, she became increasingly frustrated with Araki and the way he conducted their professional relationship. "I was asked to do things that are not normal, but saying yes to such requests ended up being normal," she wrote in her blog.
One such incident occurred, KaoRi said, when Araki invited her to a photography studio for what she assumed was a shoot but was in fact a public promotional event. Araki allegedly asked KaoRi to stand naked before a crowd of people as they took photos of her alongside the artist. This happened, she said, multiple times.
"He would talk about me to the media as if I was his mistress," she told me. He would, according to KaoRi, also exaggerate stories about her, often sexual in nature, to the press. "I repeatedly told him this was making me uncomfortable. It never stopped."
Furthermore, KaoRi accused Araki of publishing photos of her without consent.
One particularly rattling incident, which was covered by BuzzFeed Japan, occurred in October 2008 when KaoRi stumbled upon her nude photos in a bookstore. They were in the magazine Photo Graphic in a spread called "KaoRi Sex Diary." KaoRi, who had no idea her photos would be distributed on such a widespread platform, felt deluded and ashamed.
"There was this whole image of being his muse, but there was a gap between the image and the reality."
In general, KaoRi said Araki's demands on her time prevented her from working with other artists. "I couldn't really make my own career outside the collaboration."
Because of the overtly sexual nature of her photographs, KaoRi was also subjected to harassment and stalking by strangers and "fans." According to her, Araki admirers broke into her home and rummaged through her trash. She wrote that the stress was so extreme she often passed out and feared for her life. When she went to Araki with her concerns, she said, he brushed them off and took no responsibility for her safety.
Though she initially thought of Araki as her romantic partner, over time she said her perspective shifted. She "started to feel like he was treating me as a toy that would make him feel better. Make his loneliness better."
In 2016, KaoRi said she sent Araki a letter demanding he improve her working conditions. After a few months passed, he agreed to meet her in person. According to KaoRi, Araki presented her with a document barring her from obstructing or defaming the Araki Corporation, which she signed. Soon after, in June 2016, Araki canceled all of KaoRi's future shoots, effectively ending her time as his muse.
In February 2017, KaoRi reached out to Araki, requesting he meet with her and her lawyer. She received a letter from the photographer one month later, excerpted in her blog and translated here from Japanese:
"I only used you as a model because you came to my office and asked to be photographed. 'Shishasin' [private photography] is a unique form of expression that is widely accepted by critics, and such a relationship is not a business. Thus, there are no rules nor agreement. It's all up to me. If not, my art won't work. So it's impossible that I overdid it. There's no need for us to discuss the use of the photos from now on."
According to Mustard, the way in which KaoRi was "compelled to keep silent about her experience" with Araki speaks to the larger cult of admiration that surrounds the artist, in which "women with complaints are either discredited or forced into silence through the vague or real threat of legal retribution," as she put it.
After being fired, KaoRi was despondent and contemplated suicide. However, the burgeoning of the Me Too movement around the world inspired her to "wake up" and use her experience to prevent other women from getting hurt. As she wrote in an email to HuffPost, even now that he has a "new life," she still often feels like Araki's "slave."
KaoRi is not the only woman to come forward with allegations of misconduct against Araki. MoSex curators noted that another woman revealed in a Facebook post last August that the photographer touched her inappropriately on a commercial shoot for a Japanese teen magazine in 1991, when she was 19 years old. (The woman never pursued legal action due to fear of professional repercussions and asked the MoSex curators not to disclose details of her identity or the alleged incident for the same reason.)
After learning about KaoRi's experience, Mustard removed all mentions of KaoRi as Araki's "romantic partner" or "girlfriend" from the museum's wall text. She is now working closely with KaoRi to "make sure that whatever else we do within the exhibition is primarily guided by her comfort level." Mustard told HuffPost that she is considering including a full statement from KaoRi in the exhibition.
Overall, Mustard is working to shift the tone of the exhibition to accurately portray KaoRi's experience. "There was this whole image of being his muse, but there was a gap between the image and the reality," KaoRi told HuffPost.
KaoRi's account of her experience as a muse ― damaging yet not illegal, promising yet ultimately dehumanizing ― illuminates the potential pitfalls of the oft-romanticized role. Like KaoRi, many women who become muses are young, inexperienced and hoping to break into the art world themselves, entering a field without well-defined expectations or compensation standards.
Though the physical relationship KaoRi had with Araki was consensual, she nonetheless felt exploited, overlooked and silenced by his actions. As she put it, "I hope the story of my failure can help people who are trying to change now, people who have similar experiences but choose to keep silent, and our future in general, even a little bit."
Representatives of Araki did not respond to HuffPost's repeated requests for comment.
Coco Dolle
When Coco Dolle started posing for artists in 1999 when she was 21, she wasn't paid at all. "I was working for free for many years," she told HuffPost in an interview. She said she supplemented her nonexistent income with pole dancing, commercial modeling and retail work ― all in anticipation of one day supporting herself as an artist.
But Dolle is not resentful of the financial situation she willingly entered. An artist herself, Dolle was excited to collaborate with the art world fixtures she admired. "I was very privileged to be part of the creative process," she told HuffPost. "I was very excited to meet artists of this caliber. You become part of history."
Having worked as a muse for seven years, Dolle said she has endured a wide range of experiences both positive and negative. "You put your body at the service of others and you want to do that," she said. Looking back, she thinks she was particularly vulnerable to exploitation at the beginning of her career.
"You are more inclined to let yourself be abused in your 20s. Who are you? Where do you say no? You don't have boundaries. You don't know how to put up boundaries."
Although Dolle said she was never abused during her time as a muse, she described how the job's unconventional demands often left her feeling disoriented and confused ― thus making her more vulnerable to potential transgressions.
As she put it, "When you step outside that spiritual place and you go back into reality ― with the human body and the ego and all that ― the power dynamics change. Once I snapped back into real life, it was hard to find my relationship to myself and my relationship to the other."
She believes it's in the jarring segue between art and reality where abuse is most likely to occur.
One of the most well known artists Dolle worked with is Alex Katz, a now 90-year-old figurative painter known for his "casual accuracy" ― his ability to render bourgeois, modern life with a terse visual vocabulary, every gesture as stylish as it is necessary.
The first time Dolle met Katz, in 2005 when she was 27 years old, he commented "I love your eyes" and asked if he could paint her. Dolle accepted the compliment-cum-job offer graciously, entering into a nebulous space between courtship and professionalism.
According to Dolle, Katz ― older and married ― was a flirt. But she never felt pressured to do anything she didn't want to do in his presence. Nonetheless, she navigated her fair share of awkward encounters. She told HuffPost that Katz was "obsessed with trying to French kiss" her and specifically referenced a time Katz showed up at her studio unannounced and made an unprompted comment about still being in shape. Dolle tried to use this opportunity to talk about her own artistic work but eventually felt she was putting herself in a vulnerable position and potentially leading him on. She cut the interaction off and didn't work with Katz again.
In total, Dolle said she posed for Katz three times. Though he offered her $300 per session, she turned down the payment. "I naively thought it was an honor to pose for a master for free," she said. When her dad suggested that she buy her own portrait, and she realized she couldn't afford it, she realized the absurdity of her predicament. "They make millions of dollars off the painting. You don't."
Still, she says, the imbalance didn't bother her. "You can't own the copyright to your face."
While Katz never acted abusively toward Dolle, she said she could easily envision how the peculiar relationship between artist and muse could lead to uncomfortable or dangerous situations. "There is a little bit of submission involved. You're being given direction. You open yourself up. You give out a sexual energy, a real energy that is conducive to creative process."
After working with Katz three times, Dolle moved on, realizing their collaboration would not serve as a stepping stone to a future art career in the way she initially hoped. "I was trying to get Alex to hook me up with a gallery, but he was not giving much in return," she said. "I was like I'm done with this. I'm not going to hang in there for $300 if you're not giving anything in return. If you give, you get back. But also you gotta know how to take."
When asked to comment on Dolle's account, representatives of Katz sent the following statement: "I appreciated Coco's time sitting for me and have only respect and gratitude for her."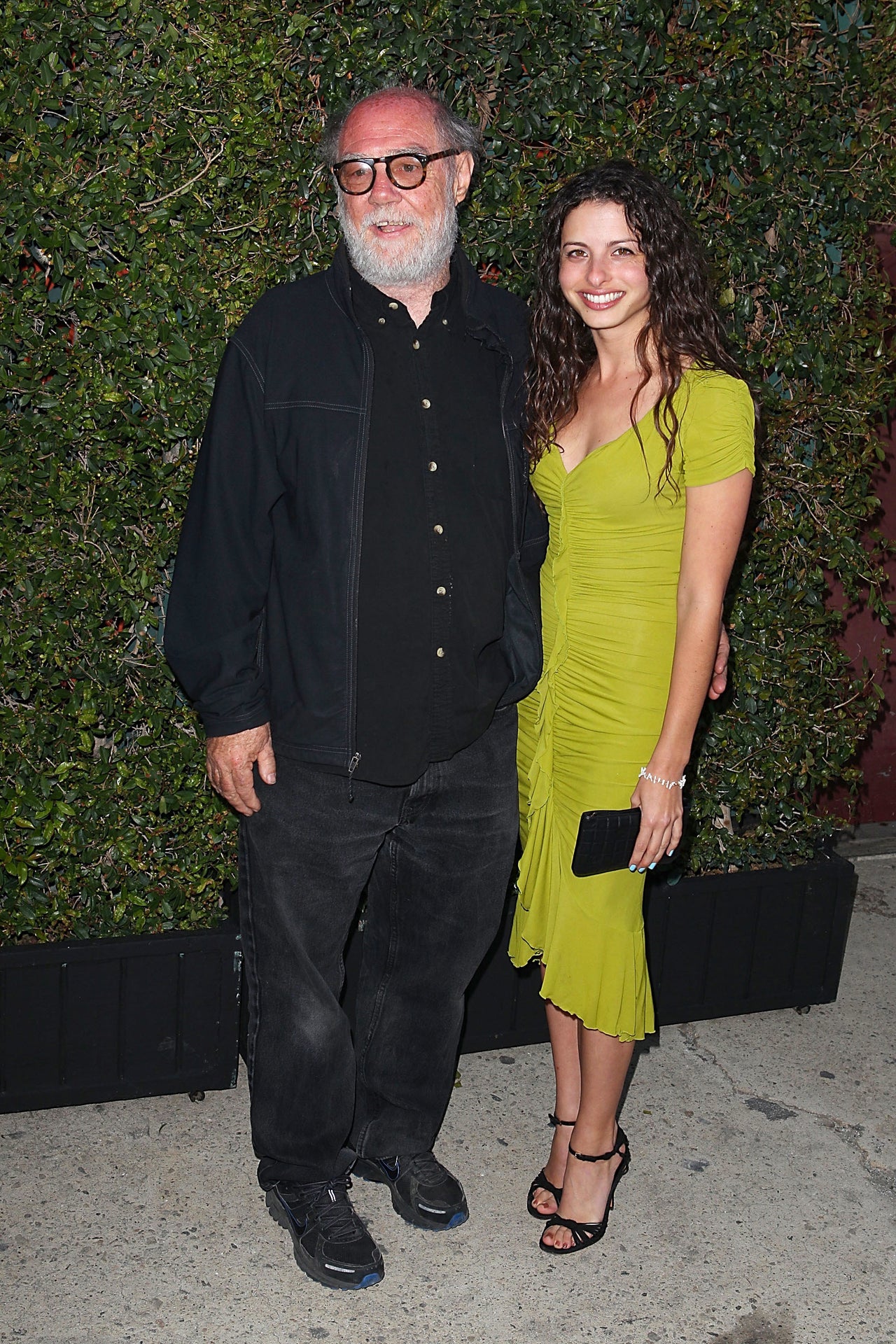 Elyse Poppers
Although a 2013 HuffPost article referred to Elyse Poppers as Paul McCarthy's muse, Poppers personally rejects the terminology. "The idea of the human muse is a fantasy fiction," she wrote in an email to HuffPost, "and a disempowering one for an often young artist and collaborator."
Instead, Poppers described herself and McCarthy as collaborators. "Of course there was a power differential in that he is a successful, well-known artist and I am not, but there is no reason to label or separate."
The Los Angeles-based actress began working with McCarthy ― known for his "incisively weird" and merrily perverse dives into the deepest annals of memory, trauma, misogyny, violence and childhood ― in 2012. She auditioned for the role of Natalie Wood in the video piece "Rebel Dabble Babble," a collaboration between McCarthy and his son that aimed to explore the disturbing underbellies of Hollywood and Disney.
McCarthy's very NSFW work, which Poppers described as "holding up a mirror to a perverse world," features graphic and disturbing imagery depicting masturbation, simulated sex, incestuous scenarios and rape fantasies. A scene in the film "White Snow" involves Poppers rolling around nude, covered in chocolate and sprinkles, while McCarthy films her with his genitals exposed.
The intensity of the subject matter, Poppers said, required absolute transparency and trust between McCarthy and herself. "Nothing ever happened without a feeling of absolute comfort but also freedom," she said.
Although Poppers never felt mistreated by McCarthy, she said other members of the art world occasionally made her feel inferior, including art reporters. For example, a 2013 Village Voice review by Christian Viveros-Faune mistakenly referred to Poppers as a porn actress.
Overall, Poppers, who's currently working on a book titled The Little Love Book: 267 Words for Love in Sanskrit, described her time with McCarthy as "indispensable for my creative growth."
Throughout our interview, Poppers strongly emphasized the importance of highlighting her creative accomplishments outside of McCarthy's work, noting that to do otherwise would perpetuate the power imbalance between powerful male artists and their often less experienced female collaborators.
"This isn't about a supporting artist who deserves to be fetishized and isolated, too," she said. "It's about engaging with the entire ecosystem which feeds creativity."
KaoRi, Dolle and Poppers had unique experiences working with and posing for established male artists. None of the women claimed to have been physically or emotionally abused, though their experiences shed light on how few protections exist for women who are.
Women who play the role of muse, voluntarily or not, participate in a tradition based upon an imbalanced power dynamic and are often denied a voice as a result.
Poppers, for one, believes it's time to retire the trope of the muse in favor of more generative models based on collaboration and mentorship. Thankfully, she sees the culture changing to fit her vision. "The old guard of a young, beautiful woman, captivated and defenseless as she is molded into resplendence by the male gaze is dying a slow but certain death in this moment in visual culture," she said.
"Know it. These so-called muses are powerful with great ideas and are going to start taking credit where credit is due. They can hear the whisper of creative inspiration in their own ears."
McCarthy's gallery did not immediately respond to HuffPost's request for comment.
Popular in the Community