One year ago, Nasrin Sheykhi stood in line at the U.S. Embassy in Abu Dhabi in the United Arab Emirates, waiting on the fairy tale ending to her yearslong immigration story: acceptance into the United States.
Sheykhi, an artist from Shiraz, Iran, had garnered international acclaim as a caricaturist by 2017. Her paintings of iconic pop culture figures use exaggerated features and an array of materials ― CDs and film strips, for example ― to convey the attitudes of characters known worldwide. So she was almost certain her accolades, the more than 700 documents she provided to affirm her work and the three years she had spent in anticipation would mean the approval of her visa application.
But in January last year, President Donald Trump's travel ban on several majority-Muslim countries created a geopolitical headwind, placing a hold on visa applications for scores of people in the Middle East. And because of the strained relationship between the United States and Iran, Sheykhi was forced to leave her home and hope to obtain U.S. residency through another country — still a long shot for Iranian citizens.
She elected to file through the UAE and recalled the many times that embassy officials denied and her and other Iranians' applications in the early months of 2017.
"They kept saying, 'No, no, no,'" Sheykhi said. "It seemed like they really didn't want me. When I went back, I could see in the embassy there was a place where all of the Iranian people were rejected, but there was another place where all others made it through the line and got approved in an hour."
Her visa application was repeatedly rejected over the ensuing months. So when she unexpectedly received word from her lawyer in late 2017 that she had been approved for the EB-1A visa she sought — nicknamed the Einstein visa because it is granted to people with extraordinary achievements or abilities (Melania Trump among them) — Sheykhi wasted no time preparing her things.
She purchased luggage that day and uprooted herself in a week, using the little money she had to set up shop in a shoddy Philadelphia apartment.
"I'm not a religious person. I have my own rule and way. I just believe in being free as a woman on this earth.""
For Shekyhi, moving from Iran to the United States meant dislodging herself from what she described as a toxic environment for nonreligious and artistic women.
"People don't have freedom to be themselves and say what they believe [in Iran]. They have to hide what they are," she said. "Artists in Iran get in trouble, and they go to jail. That's awful, and it's very difficult for Iranian art."
Her philosophy, born of this repression, is to maintain her individuality at all costs.
"I'm not a religious person. I have my own rule and way," she said. "I just believe in being free as a woman on this earth."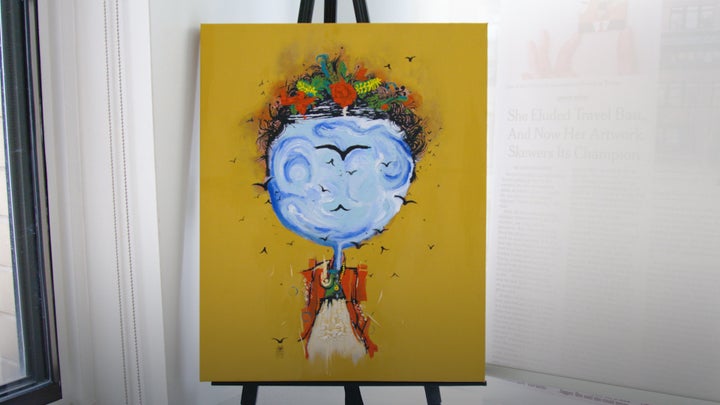 Generally speaking, Sheykhi's artwork is a tribute to that sense of freedom. The characters she depicts run the gamut of the most revered and reviled figures in human history, from John Lennon to Russian President Vladimir Putin. Using various textures and materials, she can tell all their stories visually. In a painting of Rolling Stones singer Mick Jagger, for example, she uses a CD to depict his mouth midshout.
The piece of hers that has garnered the most attention in her roughly eight months of legal residency depicts the man who once stood between her and the United States: Trump.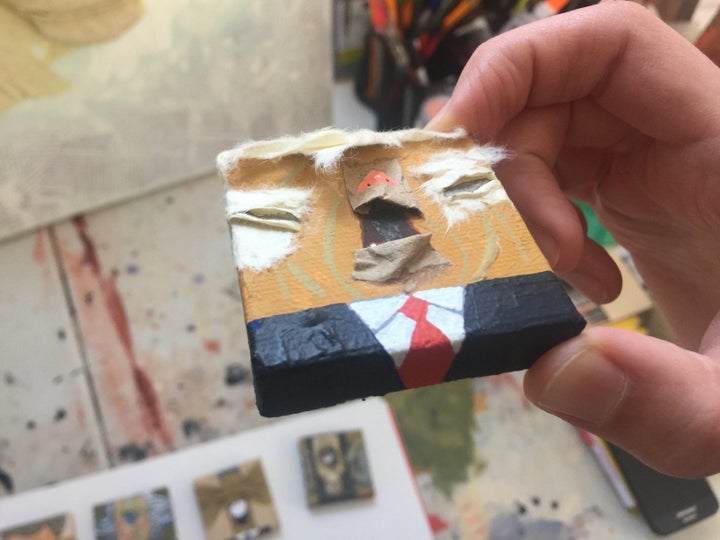 Sheykhi rendered Trump's blond locks, orange-hued skin and routine red tie in an abstract style on the smallest canvas she could find: a 2-by-2-inch square. She said she didn't intend for the piece, though critical of the president, to spark anti-Trump fervor or invigorate his opponents.
It is, rather, the epitome of how she has come to identify him through news coverage and conversations with Americans.
"When I moved to the United States, what I could get from the atmosphere when people would talk about Trump's immigration speeches and when I would watch the news ― the result of everything I could get from that is in my painting of Trump," she said.
From there, the metaphors are clear as day. Her painting reveals a president unfit for his position.
"I picked out a huge canvas to depict the White House and to place my Trump portrait on," she said. "The smallest character in the world — the smallest president — the smallest personality, and he's not filling out the frame. It was a symbol."
Sheykhi plans to auction the Trump caricature and donate the money to organizations assisting immigrants to the U.S.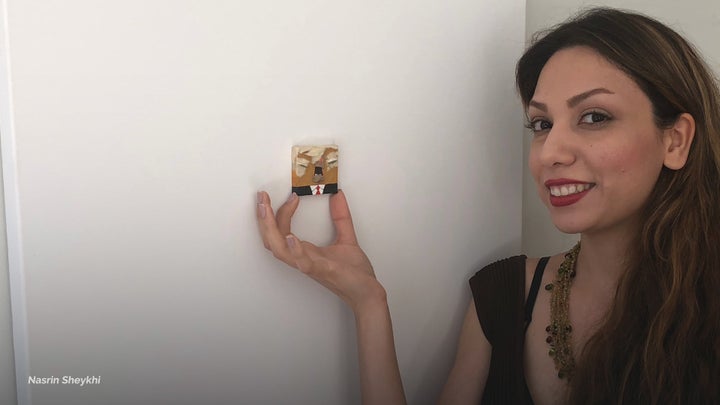 Her Trump painting and its underlying rationale have allowed many to project their political goals onto Sheykhi, seeing in her a radically resistant immigrant with a sense of entitlement to the best America has to offer.
While that may be so, she insists her depiction of Trump — and other figures to follow — isn't so much a declaration of her politics as it is a declaration of her purpose as an artist.
"As a critical artist, as a social artist and as a realist, I call myself a researcher," she said.
"I didn't try to get on Trump or be on someone else's side," Sheykhi said. "I am just like a camera you take everywhere. I can see something and record it."
Popular in the Community