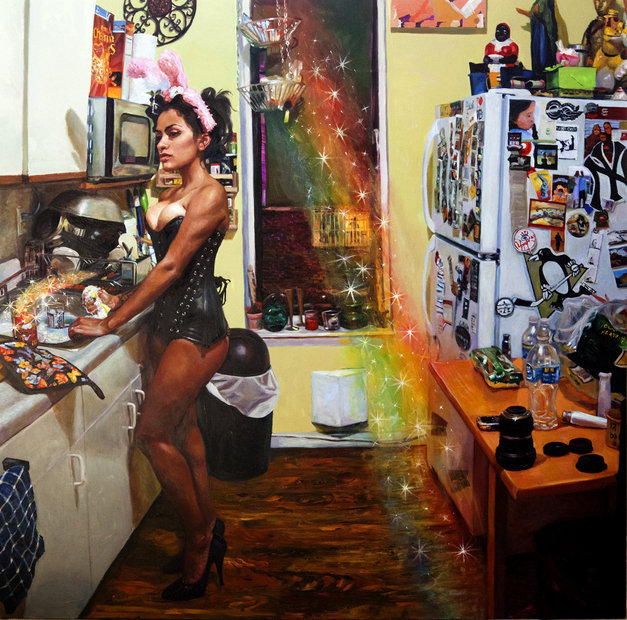 Brooklyn Rainbow, courtesy of Jonathan LeVine Gallery
Remember the nursery rhyme "What Are Little Boys Made Of?"
"What are little boys made of?
Snips and snails, and puppy dogs tails...
That's what little boys are made of!"
What are little girls made of?
Sugar and spice and all things nice...
That's what little girls are made of!"
In painter Natalia Fabia's world, little girls are all of the above -- with a heavy dose of sass. She takes all that sugar and spice and throws in those snips and snails, cooking them up together in her own artistic cauldron, bubbling over with independence and eroticism -- all wrapped up, of course -- and true to the Fabia edict -- in a punk rock twist.
This Saturday, January 14th at Jonathan LeVine in New York, Fabia debuts her solo show entitled: "Punk Rock Rainbow Sparkle." An explosion of color and texture, Fabia's paintings are a testament to the independent woman, one who still loves all the glitter -- but prefers it mixed with the grit -- the ultimate amalgamation of sweet and savory, sticky and sweet.
Though a native Californian, the 27 year old Fabia spent a good deal of time researching this project back East, gathering materials and reference imagery over a period of a few months in the five boroughs as well as Jersey and Philly.
True to the title of her show, the punk attitude is omnipresent in her work -- and her life. Full disclosure: Her boyfriend, Jay Bentley is one of the founding members of the seminal punk rock band, Bad Religion.
"Punk rock is one of my true loves. Punk to me is an attitude, a lifestyle. Punk is a middle finger, do-it-yourself, do what you want. It's a kind of freedom. I'm attracted to my subjects for having that quality. My models (many of which are friends) are all tough, independent, strong, fun, hard working, talented, tattooed and stylishly dressed. I look at punk rock as being dirty and rough, yet sparkly and enticing at the same time, and that's the theme of my paintings."
Fabia selects luminous subjects with an intriguing dichotomy -- adult yet innocent, strong yet vulnerable. Lingerie-wearing vixens lounge supinely in intimate rooms with all the comforts of home, or gather in groups for after-hour parties at dimly-lit bars. Fabia's playfully erotic female figures are adorned with alluring details -- glimmering jewelry and intricate tattoos. These confident, empowered beauties evoke burlesque and pin-up traditions.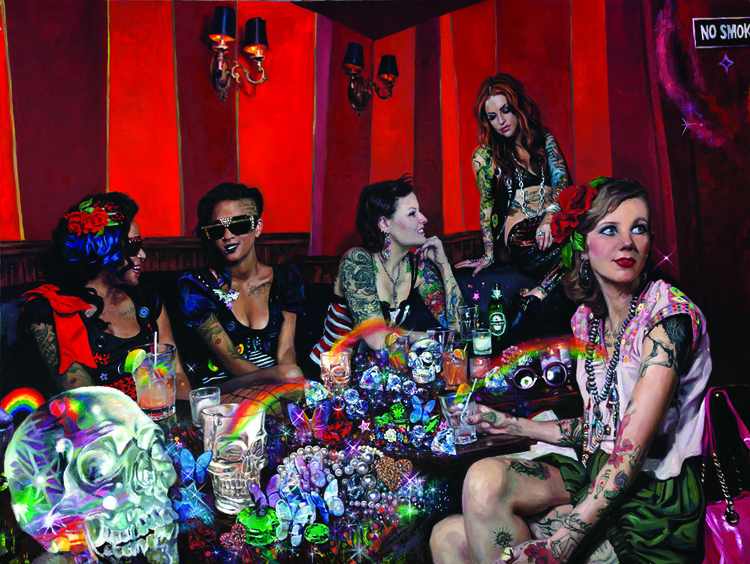 Sparkle Party, courtesy of Jonathan LeVine Gallery
Every one of Fabia's paintings is like embarking on an artistically surreptitious expedition into the world of Where's Waldo -- fun, lyrical, and infinitely sexy. It's important to spend time with works of art -- and Fabia's work is case in point. These days, people just don't take the time to stop, look and linger -- and while many may scoff at the Where's Waldo reference -- there is a point. Each and every one of these works is giving us a glimpse into these women's lives - who they are, and what they're about. One just has to take the time to look deeper -- live with the work and let it breathe. Perhaps these are more than women just hanging out -- or maybe that's just this writer's interpretation; but then again, that's what Fabia likes to leave to her viewer. One thing's for sure -- while these lovelies may be enjoying the occasional cocktail, Sex and the City, it ain't. Well, maybe a smidge of Samantha Jones.
Natalia Fabia: Punk Rock Rainbow Sparkle
Jonathan LeVine Gallery, 529 West 20th Street, 9th floor New York, NY 10011
Runs January 14--February 11, 2012

Calling all HuffPost superfans!
Sign up for membership to become a founding member and help shape HuffPost's next chapter