If there is one thing that connects members of humanity to each other, it is the undeniable fact that we are composed of bones, muscle and skin. Taking this overlooked and underappreciated detail of our existence, artist, Noah Buchanan, is bringing intellect, classical training and anatomy back into the art scene.
Having grown up in Southern California, Buchanan tapped into his creative skills at the young age of 5 and had plenty of room to explore. After moving to Santa Barbara a few years later, his passion for art intensified and he became known as "the kid that's really good at drawing" in his elementary school.
"At an early age, I developed an identity for myself with art. We moved again as I entered high school. This is when things started to get competitive and my confidence skyrocketed. A teacher there entered me into county and regional competitions and once I started winning all of them, I said to myself, 'Woah. I can do this.' I knew since 6th grade that I wanted to go to art school, and I wound up attending the Pennsylvania Academy of the Fine Arts in Philly."
With alum like David Lynch, Maxfield Parrish and Thomas Eakins, Buchanan knew he was in the right hands. While the majority of art schools focus on contemporary, abstract and even performance art, the fine art curriculum at P.A.F.A. centers around classical training, something Buchanan took to effortlessly. Buchanan's education also gave him the upper hand in a timeless sense- a detail which ultimately became the foundation of his paintings. The importance of anatomical studies was emphasized, influencing the artists in a way that altered their crafting perspective, shifting from exterior to what's really underneath.
"I remember someone critiquing my mentor, Martha Erlebacher's work, saying 'Martha paints everything as if it is an anatomical event' and when I heard those words, I knew that's what I wanted my goal as an artist to be. There is an entirely new level of excitement when I create art while using science. It's become necessary for successful figure drawings. I learned all about the skeletal and muscular system, the names of each part, and even some aspects of dissection. It grew to be a natural part of my artistic process and how I craft a perfect human figure."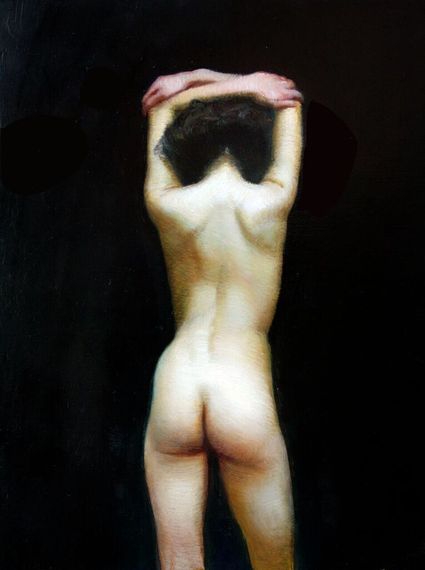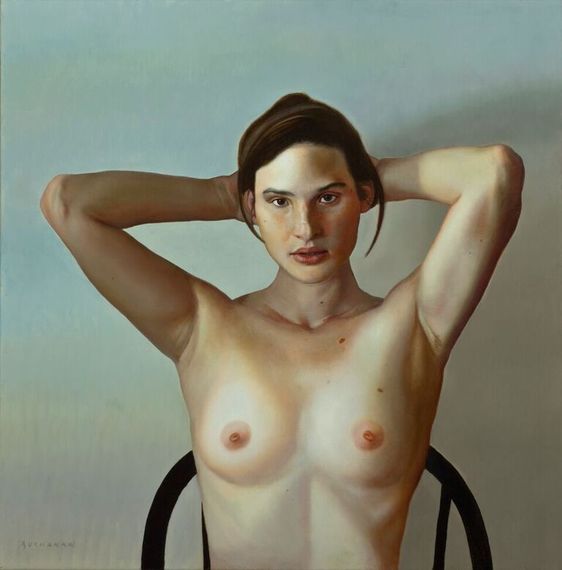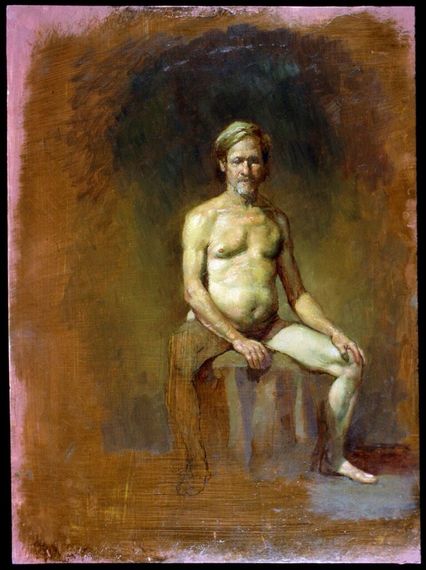 At the Pennsylvania Academy of the Fine Arts, cadaver casts and models of dissected limbs crafted by Thomas Eakins, lined the hallways, serving as a reminder that Buchanan eagerly adapted to. What he now significantly defines as "depicting the human figure as an anatomical event, which houses the spirit of the human condition," Buchanan has devoted his adult life to learning, teaching and exquisitely displaying his knowledge and passion for anatomy through works of art. Currently based out of Santa Cruz, CA, Buchanan also works as a professor at the University of California, Santa Cruz, where he teaches a 6 hour figure drawing class, complete with lecture and anatomical fundamentals. That popular saying, "Those who can't do, teach." does not apply to Buchanan at all, for his classes beam with reason and elegance, just as much as his paintings.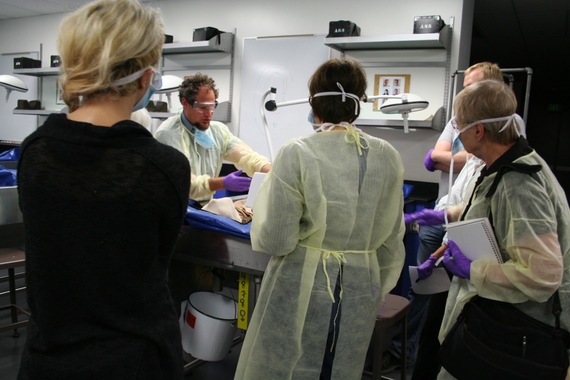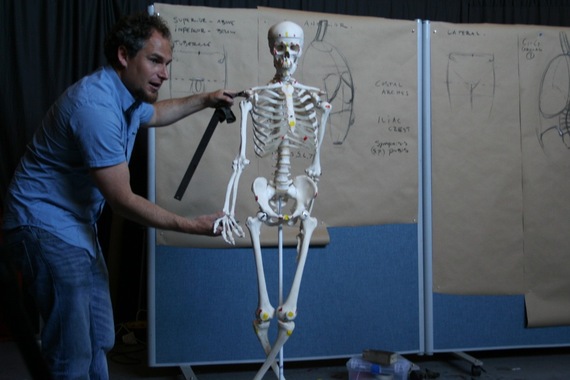 This classically trained artist has a body of work consisting of paintings and drawings that radiate with expertise. The many nude figures and portraits by Buchanan are not only an ode to the classical masters, but a beautiful display of commitment to fusing fine art and intellect. When viewing each piece, it's clear that Buchanan has spent years of effort mastering his dexterity. The oil paintings and oracular graphite drawings center around physical form, complete with halved fruits and small aspects of still lifes. Although the pristine aesthetics of Buchanan's work are the first thing to be noticed, he masterfully encapsulates emotion through movement and corporeal expression. The pieces are elegant, mesmerizing and intricate. Each figure exhibits an appreciation for light and the contrast of illumination, effectively highlighting muscles and familiar form. It's easy to say Buchanan's work is immaculate and sophisticated, but buried underneath the surface is an explicit undertaking and an artist who is capturing the human condition on a transcendent level.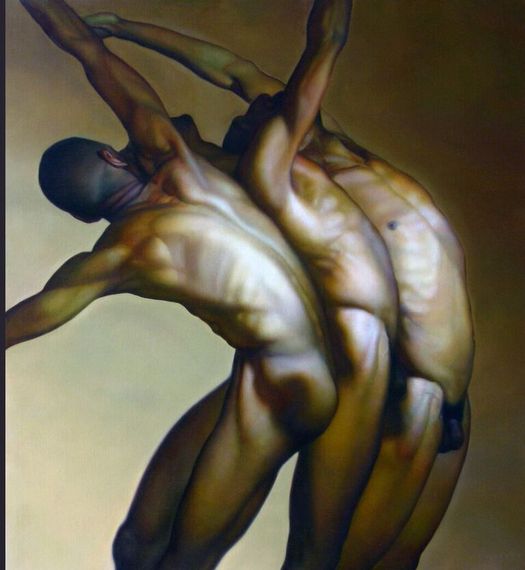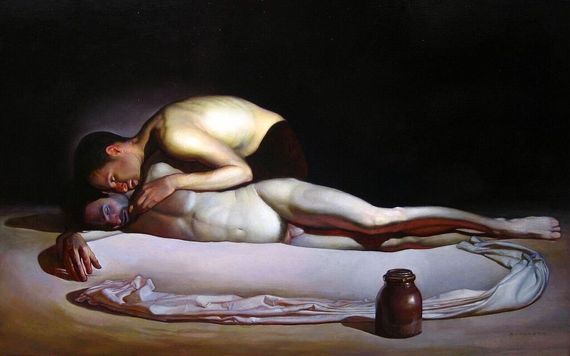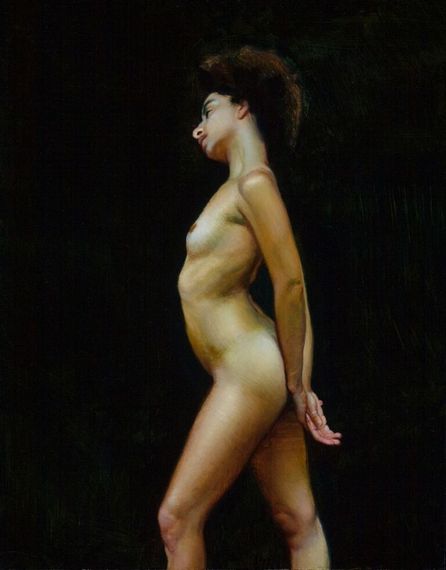 Noah Buchanan has recently exhibited at Dacia Gallery in New York. In 2008, he was commissioned to paint two massive walls of the aisle shrines in the Shrine of Our Lady of Guadalupe in La Crosse, WI, which can still be viewed today. He is represented by John Pence Gallery in San Francisco.

All photos courtesy of Noah Buchanan
Popular in the Community