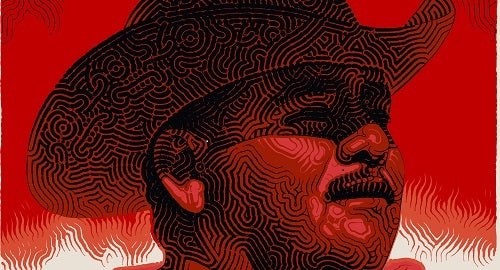 Let's face it, Inglewood is not the type of neighborhood you go to for art shows. Other than the Inglewood Open Studios art walk, which happens once a year in places like 1019 West and the Beacon Arts Building, there isn't a scene like in Downtown Los Angeles or adjacent Culver City. But there is a new kid on the block that is challenging this perception and bringing multicultural awareness and art that reflects people and ideas from the surrounding area. Residency Art Gallery, which sits in the historic Downtown Inglewood corridor, is carving out a creative space for dialogue and representation, in a metropolis that is constantly reinventing itself via new development, and in the process disappearing entire peoples and communities.
Residency's next exhibition, which is part of the Getty's Pacific Standard Time LA/LA Initiative, Barrio Logos: Displacement and Vanishing Iconography, parallels the gallery's ideology of erasure. And with such an ambitious initiative that seeks to embrace the Latino community across Los Angeles, the Getty glossed over the entire LAX area, with the exception of Residency. According to professor Raul Homero Villa of Occidental College, "In our post-modernist present, the threat is more insidious and dispersed, as the invisible hand of real estate speculation catalyzes a piece-meal but cumulative displacement of working-class Latino households, especially renters, through residential and commercial gentrification." Look at all major cities across California and you will observe that cumulative displacement is at the core of a 21st century American crisis. Homelessness in Los Angeles has reached an all-record high, partially related to massive evictions, and there is not a week that goes by in which the Los Angeles Times does not report on the affordability emergency that is plaguing our city. Bottom line is that working-class people are finding it extremely difficult to live in Los Angeles, let alone buy a house. Major cities have become a hub for luxury living and creative economic work, yet, they still rely on service labor to run the dream machine. And along with the displacement of people is the removal and vanishing iconography, such as public murals, graffiti, and neighborhood roll calls that once reflected specific demographic groups. Curated by artist Oscar Magallanes, Barrio Logos seeks to reclaim the imagery and iconography of the barrio that has constantly been fined, criminalized, and white-washed, while its practitioners have suffered extreme social disorganization such as mass incarceration, deportation, civil injunctions, and other such racialized phenomenon.
But, Magallanes' exhibition moves beyond the simple protest plea to a more philosophical concern. Barrio Logos, which runs through December 10th, interrogates what part of barrio culture is allowed to get appropriated by the dominant culture, and what part of it remains within the host community as centralized identity, without being criminalized. Moreover, Magallanes seeks to balance political/social realism and conceptual art, within the constraints of academia. He asks – How can an artist work within specified social justice, without thinking about the larger marketplace of the artworld? For this reason, he has collected a group of artists that represent many forms of resistance, such as the style and clothing of John Carlos De Luna, the phenomenology of Patrick Martinez, the heroic paisas of EL MAC, and the displacement of people from everyday objects in photography by Gustavo Martinez. Other artists include: Adriana Corral, Pablo Cristi, Aaron D. Estrada, Ofelia Marquez, and Vincent Valdez. Barrio Logos: Displacement and Vanishing Iconography opens to the general public on October 7th, with a block party reception from 1-6pm.
Related
Popular in the Community