The subjects of Amy Sherald's paintings have skin the color of charcoal ― an overcast hue that exists outside the spectrum of race as we often categorize it. The grey tone, made from a combination of black and Naples yellow, transforms Sherald's models from humans to mythical beings, embodying racialized physical attributes while rejecting the primary signifier of race ― one's flesh.
"It was an aesthetic decision at first," Sherald explained to The Huffington Post. "I thought visually it looked fantastic."
Only later did the decision illuminate a certain freedom. Painting figures with impossibly colored flesh allowed her to explore the stories that had never been told, with subjects ― both real and imagined and sometimes both ― who diverged from the overarching historical narrative of blackness.
"These paintings originated as a creation of a fairytale," she explains in a statement online, "illustrating an alternate existence in response to a dominant narrative of black history."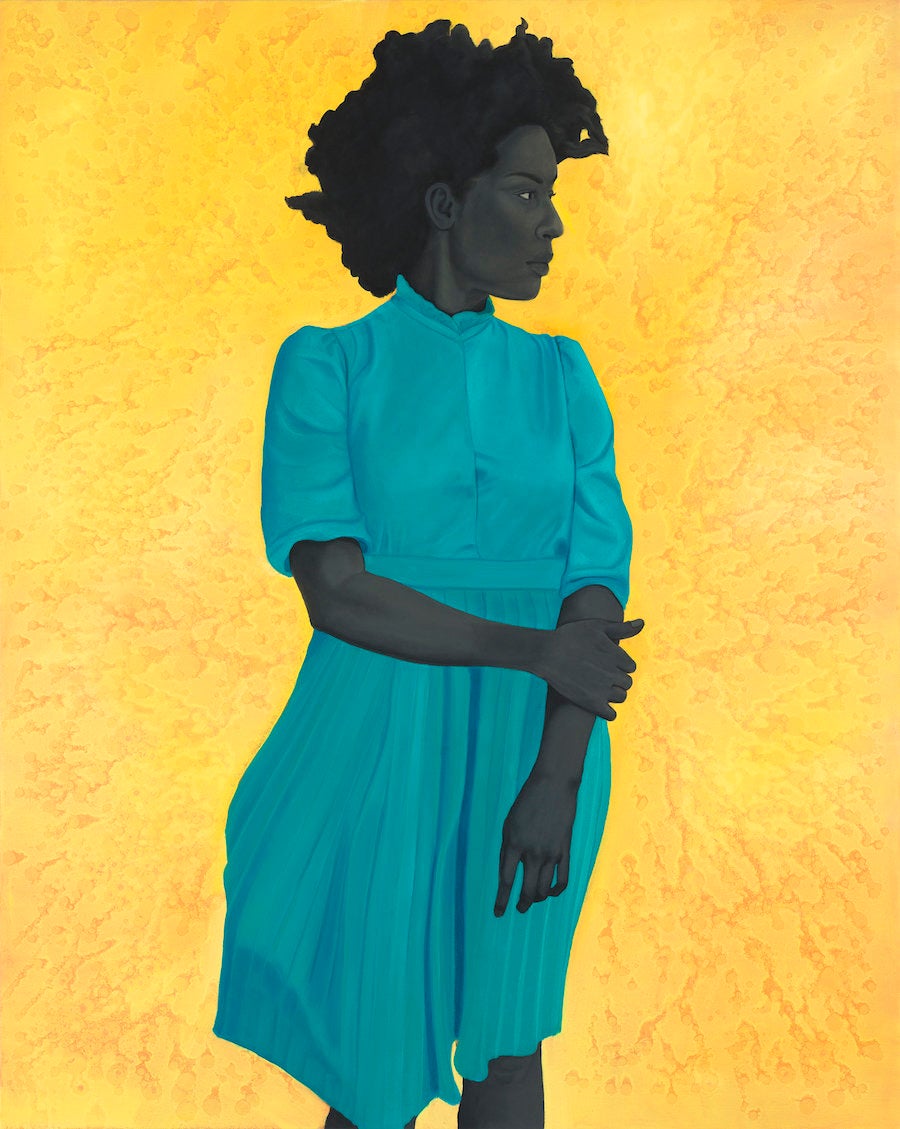 Sherald grew up in Columbus, Georgia, on the border of Alabama. She describes her young self as an introvert who took solace in making art, an activity she could enjoy on her own. Her family was supportive, though not involved in the arts themselves. Sherald didn't go to a museum for the first time until she was in college.
From the time she started kindergarten, when she was one of two or three black children enrolled in her private school, Sherald was well aware of her race ― specifically, how it should and should not be performed. "You're different from everybody else," Sherald recalled. "You need to speak a certain way and act a certain way. That's what my mom told me on the first day of school."
Early on, Sherald absorbed the ability to slip in and out of certain modes of being, like a variety show performer, depending on who she was with and what she wanted to achieve. "In sociology they call it 'code switching,'" she said. "I can feel just as comfortable in a room full of people who don't look like me because I understand the social cues of class and race."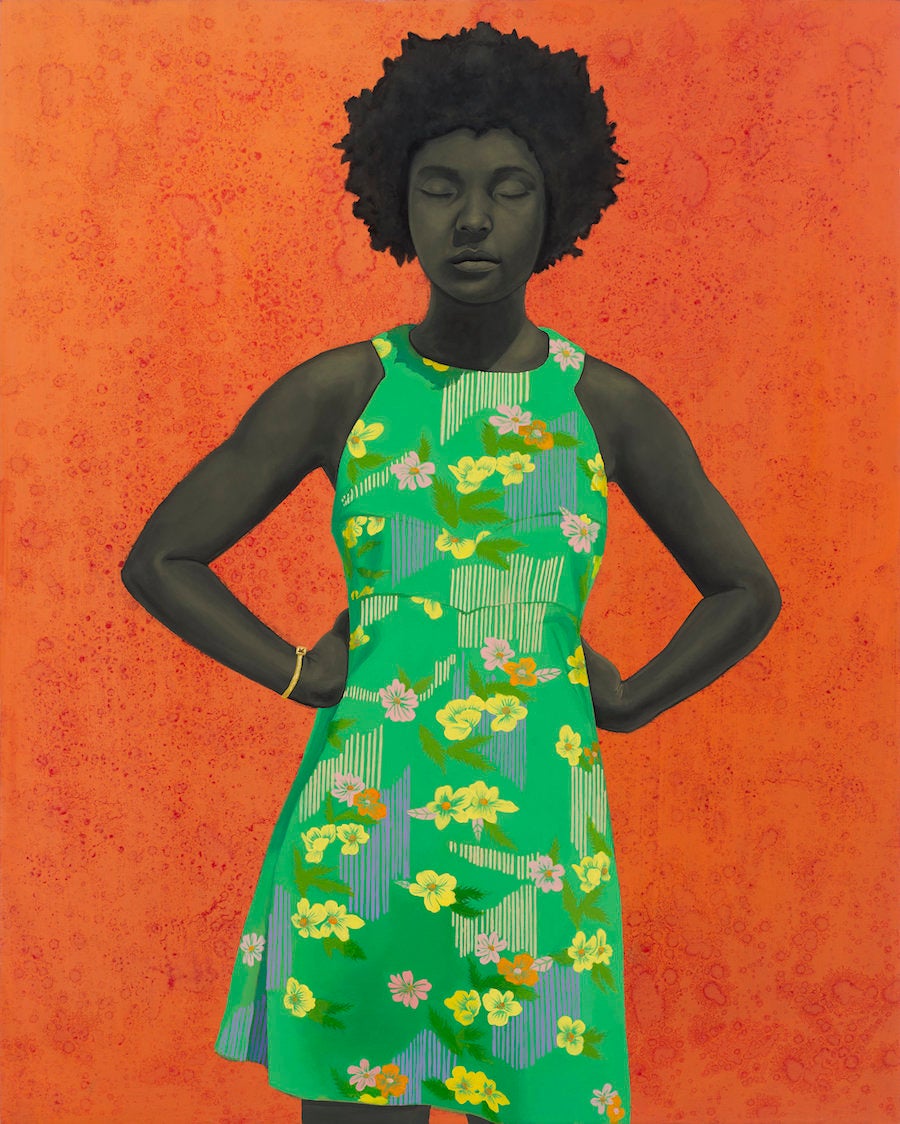 The need to always be on, habitually performing and constantly switching from one persona to the next, is exhausting. And yet, Sherald began to find a sort of power in the ritual, as if her ability to shape-shift enabled a sort of magic potential.
It wasn't until Sherald was visiting The Ringling, a museum devoted to the Ringling Circus in Sarasota, Florida, when her personal experiences began to make broader sense. The individuals involved in circus life were constantly playing a role, too; the particularities that constrained them in their everyday lives transformed into feats of strength, wonder and beauty.
"I thought it was interesting that people made a living in this way ― their deformities or things that were wrong with them became a way out of poverty. Circuses became these little functioning cities all their own," she said.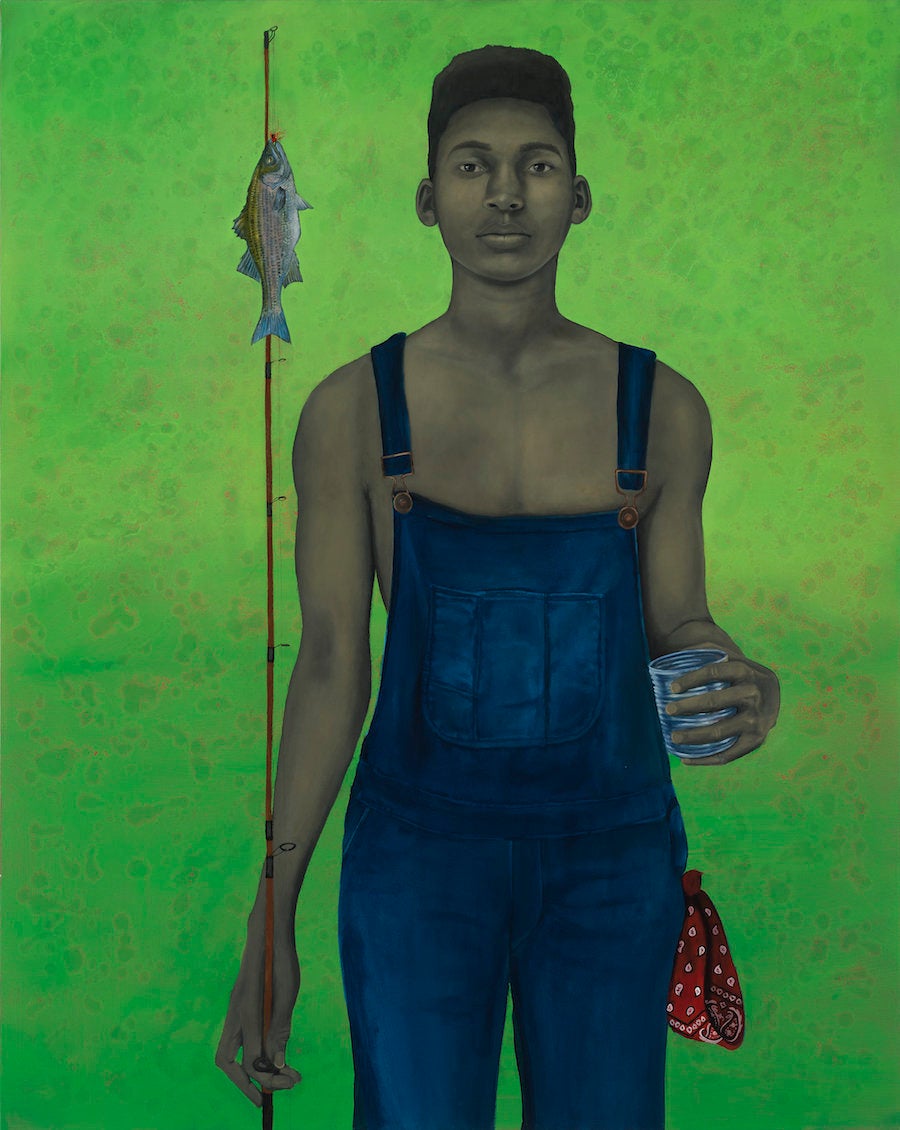 Sherald quickly noticed, however, that most of the people immortalized in Ringling's history were white. "I began to think about what black people were doing while all this was happening," she said. "I started researching alternative narratives, looking for black magicians or circus performers or any type of story that presented a different archetype."
Sherald never quite found what she was looking for. But she soon realized she didn't need to. Most likely, Sherald thought, the problem wasn't that black magicians had never existed, but that their stories, straying from that dominant narrative of black life in America, were not properly documented and slipped out of history's grasp.
"Why can't I make up my own characters and paint the people I want to see in the world?" she asked. "I'm depicting the many people who existed in history but whose presence was never documented."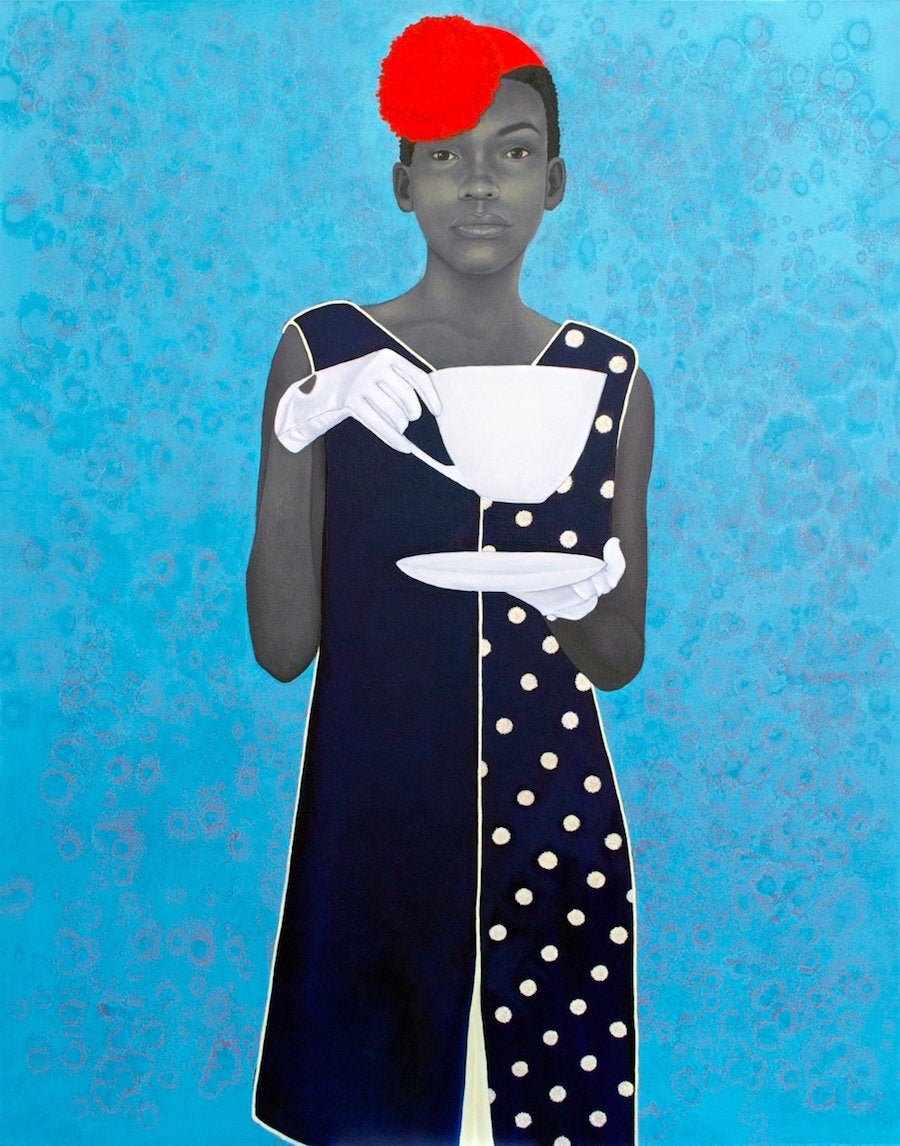 Sherald usually finds her subjects through random encounters, drawn to someone in real life who exhibits an awkwardness she identifies in herself -- and who fits the handmade costumes she creates. "I see them and I know," she said.
The artist then photographs her subjects in natural light and works from the photo to create her final image, first drawing the figure in charcoal before going over it in paint. For the paintings' backgrounds, Sherald opts for mysterious washes of color that deny specific time or place, piecing together an alternate history that floats in a space between then and now.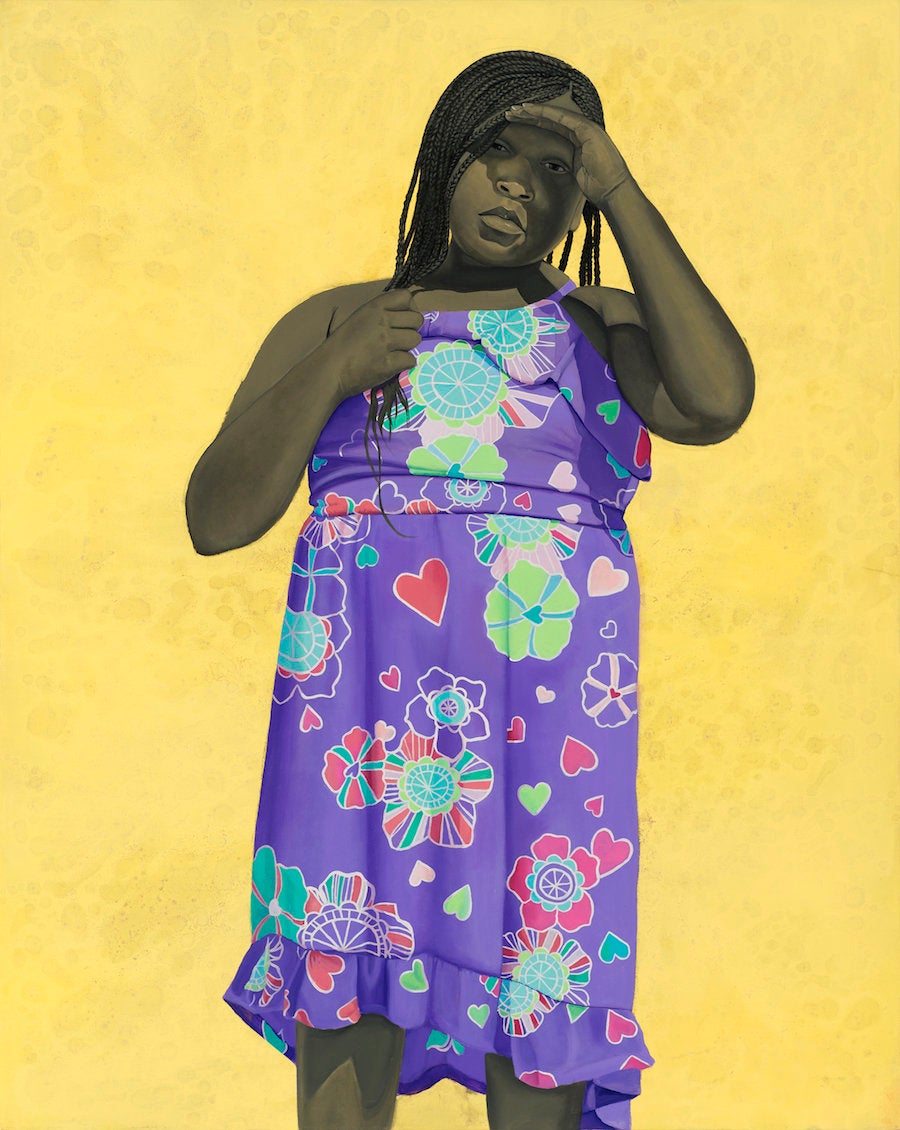 In "Pilgrimage of the Chameleon," a man in a fur-lined coat holds a bundle of multicolored balloons, his gaze meeting the viewer's. In "Miss Everything (Unsuppressed Deliverance)," a woman in a red party hat and white gloves sips from a teacup, her expression at once bored and challenging. Each character seems extracted from an "Alice in Wonderland" type world, where garments are always costumes and people are never just themselves, but a range of roles that can be tried on and swapped out.
Sherald's paintings are full of strength, the kind gleaned from vulnerability, and topped off with the whimsical imagination that can prevail over suffering and hardship. Although rooted in history, Sherald uses the past as a point of ascent, replacing the conventional modes of blackness and whiteness with so many shades of charcoal.
As the artist put it: "We get the same stories of who we are ― stories filled with pain, oppression and struggle. But there are other sides to black lives that are not often represented. I'm painting these people."
Sherald's solo exhibition "A Wonderful Dream" is on view until August 27, 2016 at Monique Meloche Gallery in Chicago.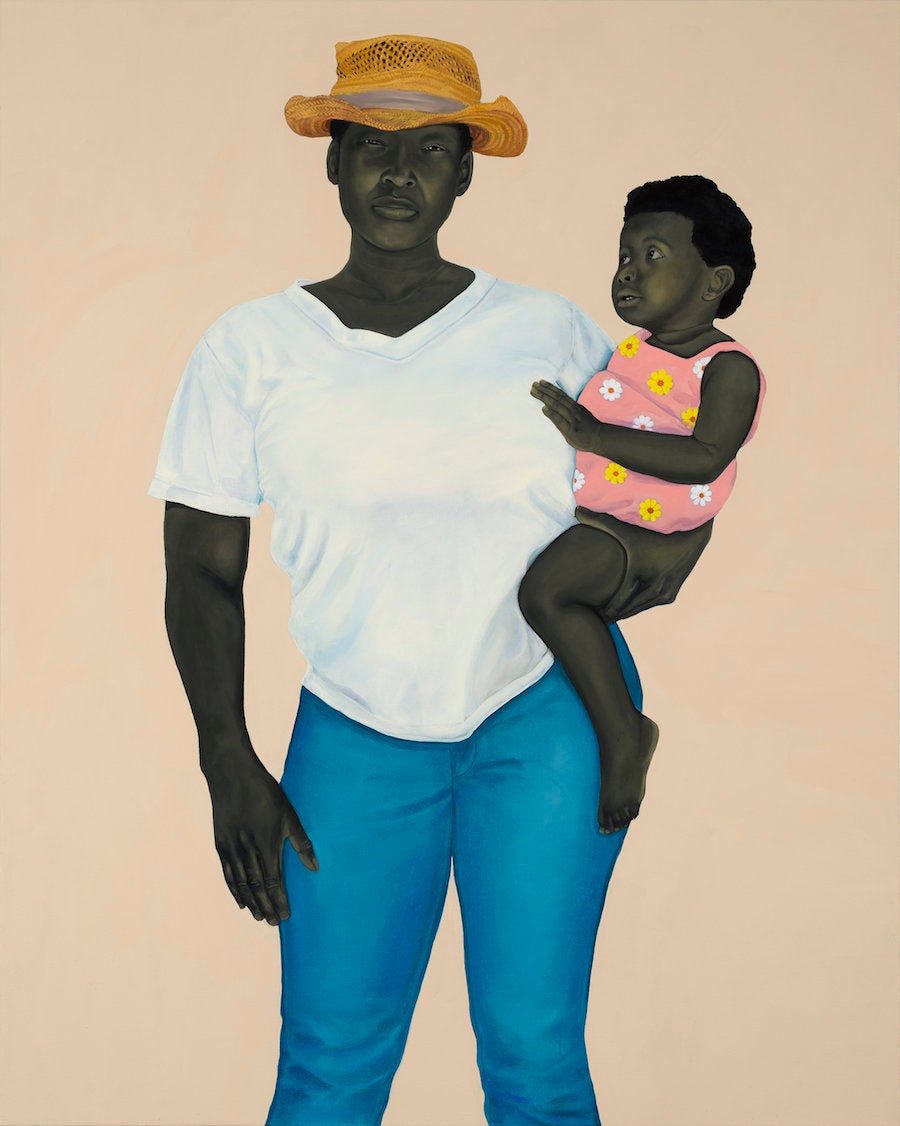 Image courtesy of the artist and Monique Meloche Gallery, Chicago.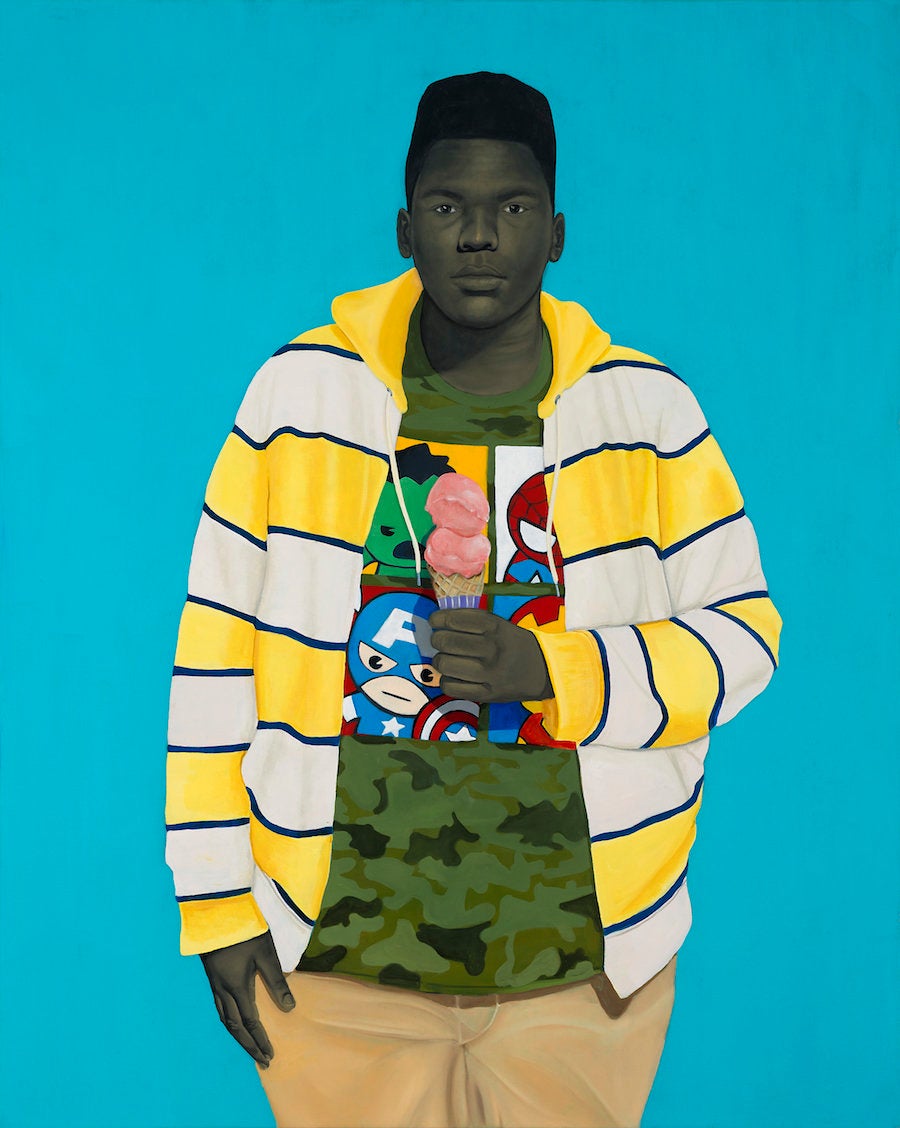 Image courtesy of the artist and Monique Meloche Gallery, Chicago.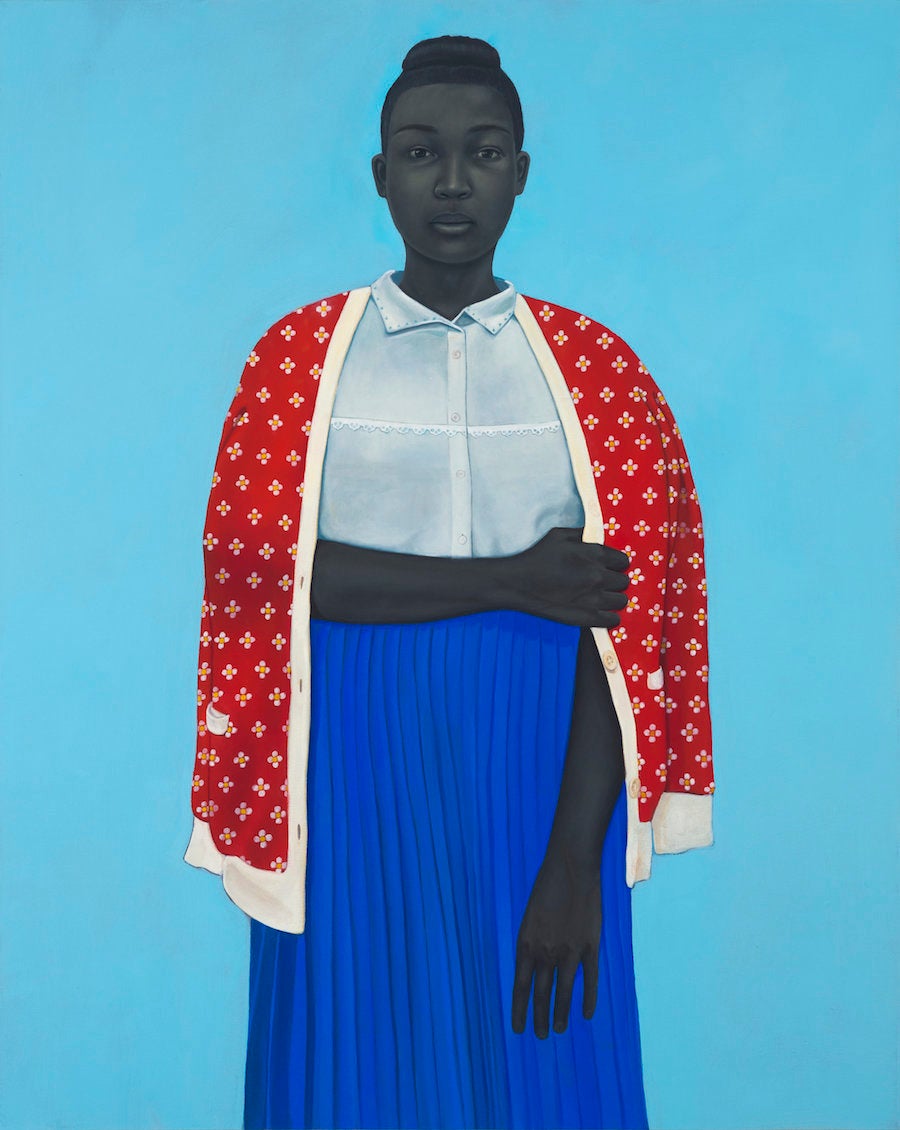 Image courtesy of the artist and Monique Meloche Gallery, Chicago.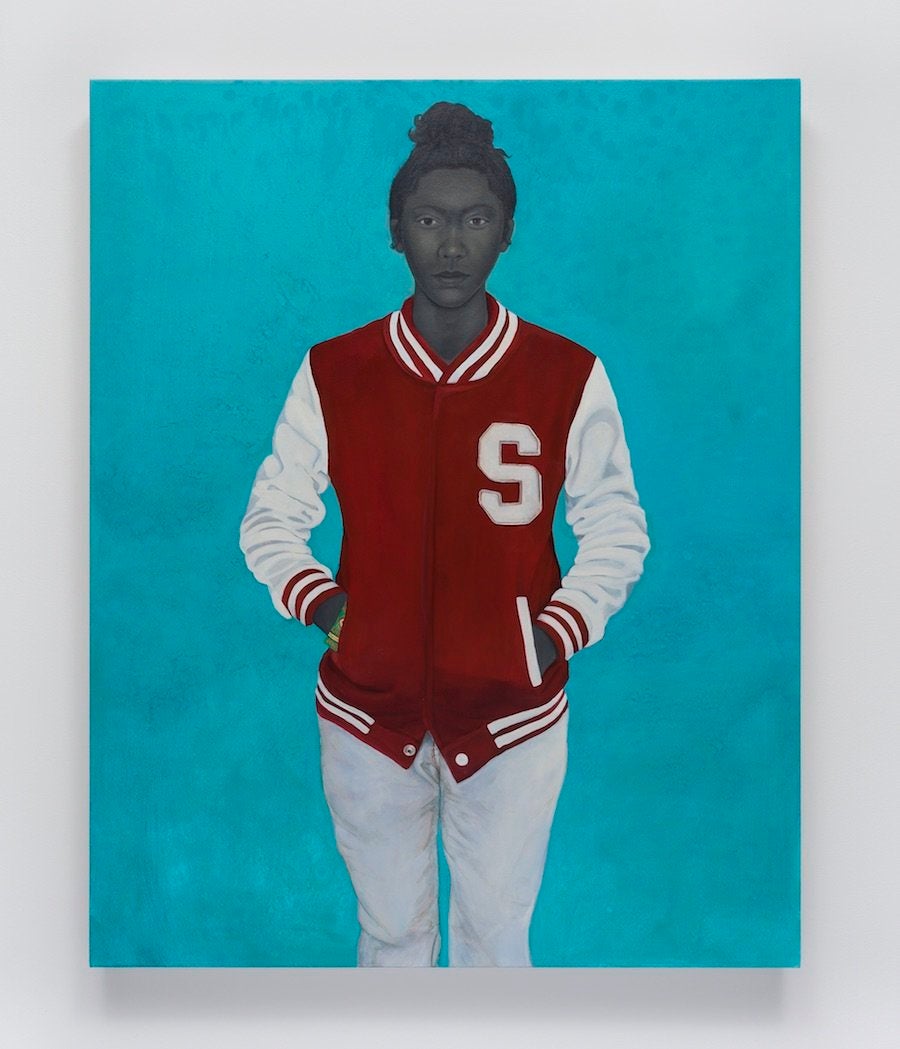 Image courtesy of the artist and Monique Meloche Gallery, Chicago.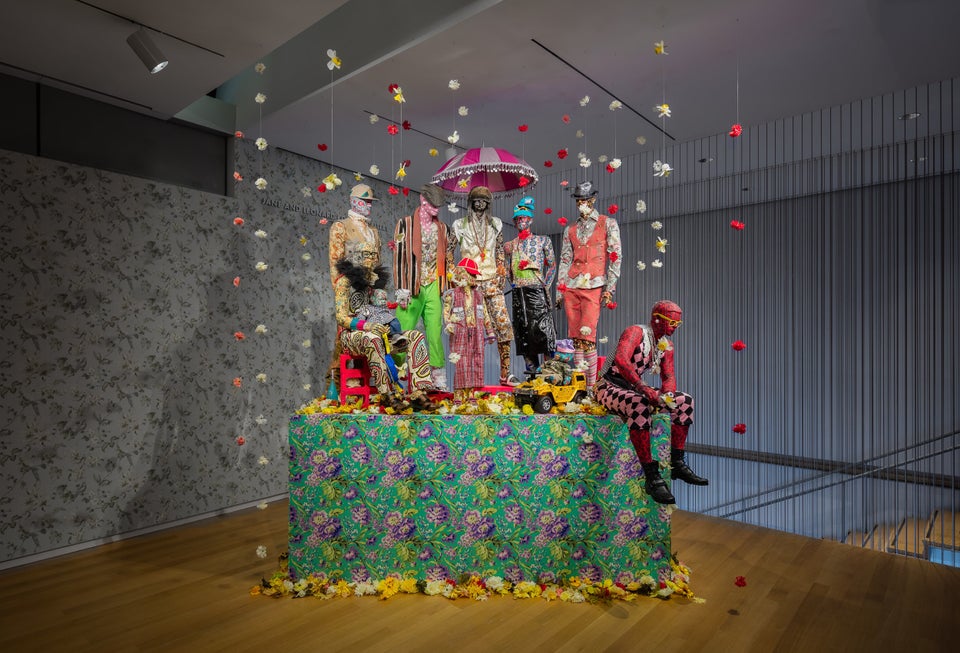 Ebony Patterson
Popular in the Community