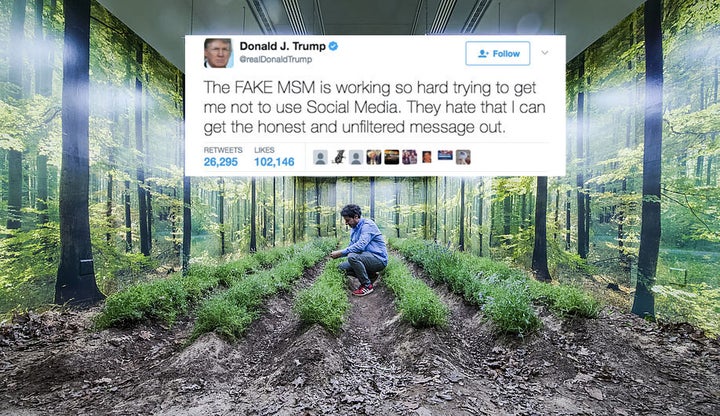 President Donald Trump's tweets might be polluting the natural environment that is your mind, but they're finding greater purpose somewhere: specifically, in a subterranean lavender field in New York City.
Austrian artist Martin Roth, now based in NYC, is the mad gardener behind an idyllic new art exhibition, which happens to be powered in part by Trump's 140-character declarations. Nestled inside the Austrian Cultural Forum of Midtown Manhattan, it consists of 200 lavender shrubs that are nurtured by grow lights whose power corresponds with the activities of several social media accounts.
That's right, the strength of the bulbs depends on how frequently accounts like @POTUS, @realDonaldTrump, @PressSec and @KellyannePolls issue a tweet. (Other connected accounts: @foxandfriends, @seanhannity, @tuckercarlson, @breitbartnews, @heritage, @CNN and @washingtonpost.)
Motivated by the "heightened anxiety" many have felt in the wake of Trump's election, the arrangement is meant to turn the chaos of our present political reality into something capable of assuaging our collective terror.

"The pace and tenor of the current political discourse, blasted out through social media 24/7 without respite, affects our psyche in a profound way," Martin told Mashable. "I'm interested in Twitter because it seemed to be the only news getting through. It's fast and used as a political weapon, but ... it seems overall just to be there to distract us."
Using eight tons of soil, six rows of lavender and a soothing backdrop of nature-adorned wallpaper, Martin has created what appears at first to be place of refuge, a fragrance-filled spot where art lovers can stop to, quite literally, smell the flowers.
However, they can't do so without wondering just how many tweets are flying through the digital ether at any given moment. If the lavender is thriving, so too are POTUS and co.'s statuses. The effect, Hyperallergic's Claire Voon notes, is amplified by "the windowless, concrete space," which she describes as "claustrophobic." Even when the air smells like perfume, something capable of transcending the underground sanctuary is probably amiss ― you just can't see it.
"The total effect is less an immersion into the woods, and more a sojourn in a doomsday bunker of the One-Percent," Kate Sutton wrote in an essay that appears on the Forum's website. "Any calm this environment induces is innately tinged by suspicion of its circumstances."
You can visit the not-so-subtle installation until June 21.
Popular in the Community