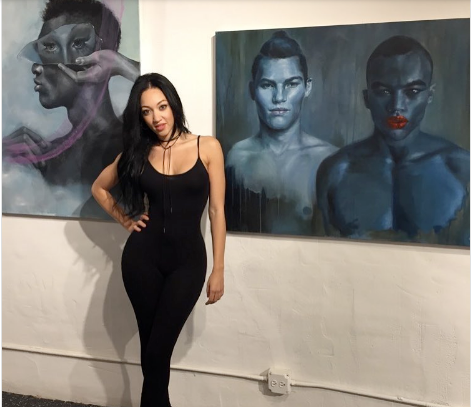 Harmonia Rosales, a 33-year-old artist in Chicago, grew up loving classic paintings.
This included works such as Michelangelo's "The Creation of Adam," a piece painted on the ceiling of the Sistine Chapel that thousands of people visit each year. Rosales told HuffPost that early exposure to famous paintings such as the Creation "helped to define" her understanding of the world.
"It was only later when I realized that the frame that was set by the masters excluded so much more than it included," she added. "What was included was a Eurocentric view of the world, and in this case, the heavens. What was excluded was all the rest of us."

She said that realization sparked the conception of her painting, "The Creation of God," which she posted to Instagram and Twitter last week. The image has since received thousands of likes and shares.
The oil-on-canvas painting that took two months to create replaces white male figures that represent Jesus, God and angels with black women.
"We have been taught that God created 'man' in his own image. In fact, we have created God in our own image," Rosales said of her work's title.
"So 'God' is whoever we want God to be, a representation of the ideal, of the divine, of wisdom and love and pure creativity."
Rosales said she decided to use such a familiar painting in order to provoke conversations about thinking critically and challenging social norms.
"The point here is to consider why we have accepted our historical representation of the beginning of life, of the Creator," Rosales said.
"Does this original representation exclude something very important? Yes, and yes. Women, and people of color. I wanted people to consider creation through a different lens — a tinted one, if you will — that in turn would cause us to consider the way we see everything else we have been taught to see."
She admits that her painting has received negative criticism, too.
"People do not like change. They are afraid of it. Some will simply not accept this piece," she told HuffPost. "Some will see this as literal and quote the Bible to prove how 'wrong' this image is. It will show that people of color still are not seen as equal, let alone superior."
Rosales told HuffPost that this piece is part of larger series that will continue to illustrate the empowerment of women of color. Once the series is done, she will exhibit it.
Popular in the Community