Artists have always had a soft spot for the Virgin Mary. From Michelangelo to Dali, the beloved female figure has been depicted time and time again in all her lapis lazuli glory. But no one has imagined the blessed character like French artist Soasig Chamaillard.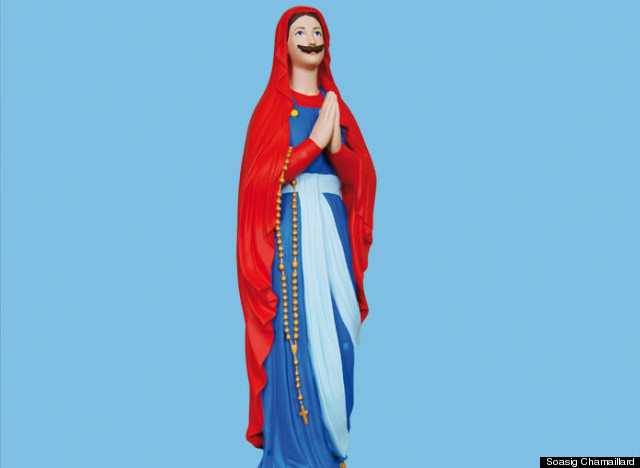 Chamaillard creates repurposed statuettes of the Virgin, turning Our Lady into pop culture stars like My Little Pony and Hello Kitty. She uses damaged or found miniatures of the Holy Virgin of Lourdes or Our Lady of the Miraculous Medal, blending iconography from the realms of religious tradition and contemporary kitsch into results that can hardly be described without using the words "cute" and "adorable" at least twice. She told The Huffington Post in an e-mail she began her religious kitsch art after noticing that a statue of the Virgin she received from her father had been badly damaged. She then decided to restore it, with the idea of creating a more modern version of the Madonna as we would perceive her today.
But not everyone was charmed by her work. In 2011, Chamaillard's reimagined icons created quite the controversy in Nantes, France, where Catholic critics declared her exhibit at Galerie Albane "scandalous," "shameful," and "blasphemous." One disapproving commenter wrote on the Catholic web site Observatoire de la Christianophobie: "Faced with so much sacrilege tears came spontaneously to my eyes." Another user simply stated: "May this 'artist' burn in hell and may flames devour this gallery."
In response, the French artist stated to ARTINFO France: "I suspected that this could shock the sensibilities of certain people, but I didn't think there would be so many of them." She continued, "Faith should be strong enough to remain unshaken by simple objects. I think they need to step back from the object and not forget that it's an artistic work."
In an e-mail to The Huffington Post, Chamaillard stated that she wasn't sure how long she would continue to work on the Virgin Mary series: "I'll think I'll tame men now that I've given way to the woman." We can't wait to see the results...
Check out a slideshow of Chamaillard's Virgin wonders below. What do you think? Are the pop culture novelties sacrilegious or is the anti-cute tirade going too far?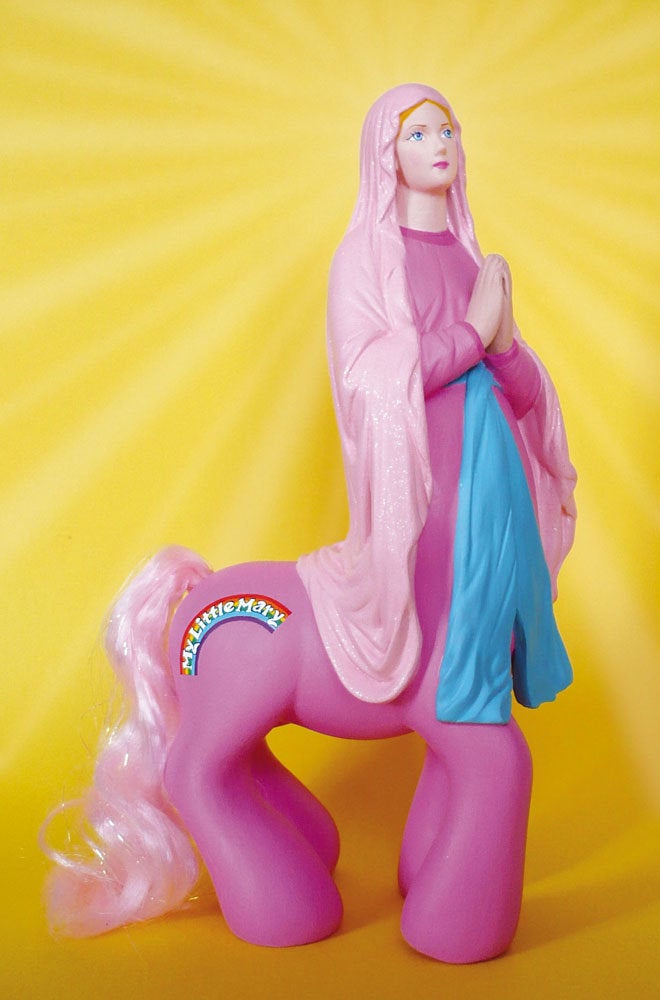 Soasig Chamaillard
Correction: An earlier version of this article listed Nantes as being in Italy, not France. We regret the error and will get better at consulting a map.
Related
Popular in the Community