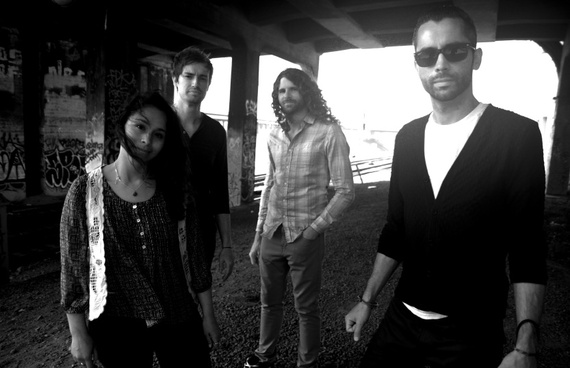 Throughout the history of pop culture, rock music has been reshaped, redefined and reinvented, a testament to its immortality. Many current bands are blending the musical sensibilities of classic rock with modern elements, creating a sound that is as familiar as it is fresh. Los Angeles four-piece band, Electric Parlor, has crafted a groove-based rock-n'-roll sound that integrates the blues, soul and grit of a bygone era with a stylish new feel.
The group's members Josh Fell (bass), Kris Far (guitar), and Zachary Huling (drums) all moved to Los Angeles around the same time and discovered LA native and vocalist, Monique Alvarez. Electric Parlor was then formed into a quartet in 2012 as ambition, passion, talent, and a little bit of magic, brought them all together. Dedicating the rest of 2012 to becoming a seriously established musical act, Electric Parlor quickly gained momentum in the expansive underground music scene of Los Angeles in the following year.
"We feel like one of Electric Parlor's missions is to re-open people's eyes to the blues, the way bands did in the 60s and 70s," explains guitarist Kris Far, "and not in a subjective way...we're a working class band and have taken a lot of risks to make this a reality. We believe that this reckless abandon -- to fight for what we feel is ours, translates into our music."
Sweeping guitar solos, infectious bass-lines, dancing drum beats, and hypnotic melodies are reminiscent of artists such as Black Sabbath, Led Zeppelin, Cream and Black Keys. Though elements of these bands can be noted, it is clear that Electric Parlor is one-of-a-kind. Alvarez' stunning and raw vocal capabilities lure you in like a siren and is truly what makes this group stand out. The magnitude and passion heard in her voice is what rock-n'-roll dreams are made of.
In 2013, Electric Parlor not only forged their path in the music scene, but also saved enough capital to record their self-titled debut record at Big Scary Tree Studios in Sunland, California. Recorded in true "analogue to tape" fashion, the band's full length LP captures the spirit of rock 'n' roll as well as their visceral live energy, an attribute that does not often translate onto a record. Spotlighting the compelling voice of Alvarez, her haunting and howling vocal style is reminiscent of legendary sirens Janis Joplin and Grace Slick. "We want to be part of the ongoing evolution of rock n' roll," describes drummer, Zachary Huling. "Being a part of this lineage is what drives us forward."
In 2015, Electric Parlor signed to The Weingärtner Phonogram Company, a Vancouver-based record label founded and run by audio engineer and trombonist, Brian T. Weingärtner. They are currently prepping for the first vinyl release of their debut album and are already making them available for pre-sale. Electric Parlor has had an explosive beginning to their musical odyssey, creating a signature sound, establishing a commanding stage presence, and recording an electrifying record. It is bands like Electric Parlor who are revitalizing and revolutionizing the genre of rock 'n' roll.
Popular in the Community