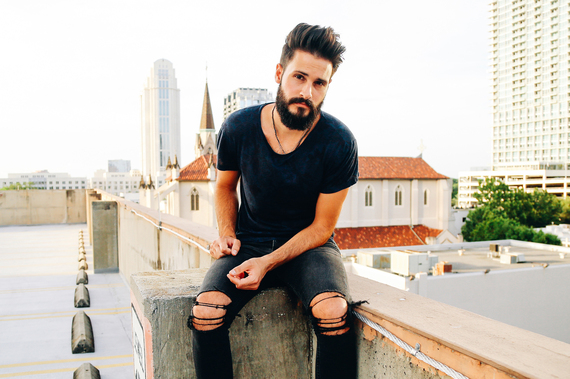 The potency of the human voice has the power to move not only with its tone but also with its message. Beautiful vocals imbued with meaningful words creates an irresistible combination. Based out of Lakeland, Florida comes Michael McArthur, a soulful singer/songwriter whose newest album Magnolia was recorded in California by Grammy award-winning producer, David Bianco who has worked with artists such as Bob Dylan, Tom Petty, and Stevie Nicks. A compelling performance at The Hotel Cafe in Los Angeles is what caught Bianco's attention, connecting the two in one of those fortuitous moments that life will sometimes bestow. Bianco and McArthur also teamed up with Conrad Johnson from Inertia Sound Studio to work on Magnolia which was released with a show at the historic Polk Theater in South Florida with over 500 fans in attendance. An impressive feat for an up-and-coming artist.
McArthur's soul-stirring pop music comes from deep within him as music has always been an integral part of his life through his family. "I can remember being a kid and like a stone completely mesmerized by my Uncle John's folky fingerpicking, it was magic," McArthur reminisces, "and I remember visiting my dad on the weekends, running to his closet where he kept the guitar, pulling it out, and asking him to play." With music in his blood and upbringing, McArthur knew his path, even at a young age.
His raw talent and emotive songwriting has already garnered attention from fans and industry professionals alike. Having opened for The Beach Boys, being a top ten finalist out of 10,000 competitors in Guitar Center's 2014 singer/songwriter contest, and winning Florida's 2013 Grammy Showcase, he is carefully making his way up the proverbial musical ladder. He released his debut EP, The Year of You And Me, in 2012 which solidified him as a working musician, however it was his self-produced sophomore EP, The Home Recordings, a fully acoustic display of his captivating talents, that led him to winning the Florida Grammy Showcase.
McArthur crafts his tunes by offering his own, innovative take on blues, soul, pop, country, folk, and even hip hop. By redefining the music that inspires him, his palpable passion oozes from the speaker in sensual waves of sonic bliss. His sultry voice tickles the senses while his poignant lyrics stimulate the mind. "I spent my young years listening to every piece of music I could get my hands on... and really, I learned to sing singing along to Stevie Wonder, Michael Jackson, and James Taylor," says McArthur. "I'm inspired by the imagery of a great song. Songs paint the pictures that dreams can't...but I couldn't sing along to Stevie Wonder forever. I wanted to sing my own songs. I've got something to say too. Something I think people want to hear."
Magnolia was completely written and co-produced by McArthur, a rare and important asset in the world of pop music. "I try to write with honest soul... I figure that you can't get people to listen if you won't tell them the truth," McArthur told me in an e-mail. Another important aspect of Magnolia is that each song was recorded live as a band, adding layers of sound and energy that can be felt on each track. McArthur describes the album, its process, and his intentions:
With Magnolia, I wanted to create the most honest listening experience possible. No fluff, no distraction, just raw emotion and soul. We used all real instruments and organic sound, and recorded most of it live as a band to capture plenty of the human element. I felt this approach was best suited for the lyrics. These songs are the sight glass to my life. A glimpse to the most personal parts of me. It's not easy being so honest though. You've got to cut yourself open for the world to see and hope everybody's okay with it.
A beautiful channel of human emotion, eloquent words rich with depth and meaning, Michael McArthur's Magnolia is both simple and complex. He displays the wide spectrum of thought and perspective, creating evocative soundscapes that are poignant and profound. His penetrating voice allows the mind to really hear the music as opposed to just listen to it. As long as McArthur remains true to his sentiments, his path will lead him to wherever his voice will sing him.
REAL LIFE. REAL NEWS. REAL VOICES.
Help us tell more of the stories that matter from voices that too often remain unheard.