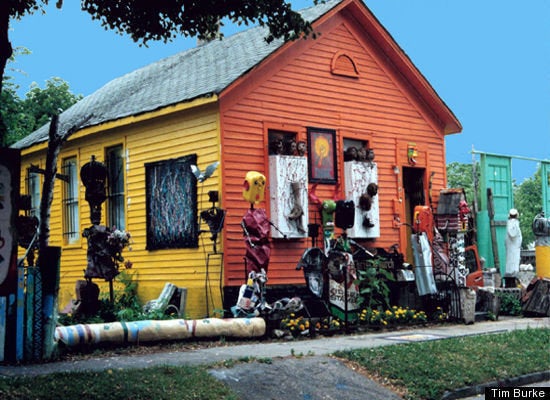 Detroiter Tim Burke calls himself an artist, a scavenger, and a non-practicing alcoholic. Devoted to the reuse of refuse, the 40-something sculptor uses cast-off scraps from Detroit's past to create creatures that conjure up the future. The process of giving old materials new life is a labor of love for Burke, who finds it therapeutic. "Recycling has social, psychological and spiritual dimensions that keep me coming back for more," said the artist on the eve of The Huffington Post's "No Impact Week."
Americans buy a ton of stuff, and then toss most of it out. But you've developed an artist's eye for recycling.
Tim Burke: A few years ago, I spotted a dumpster full of black granite taken off the Detroit Institute of Arts facade during its recent expansion. With the museum's permission I turned a few of those granite slabs into tables, with accents made from old F-15 fighter jet parts. I pried historic Pewabic tiles from landmark buildings being demolished in downtown Detroit to clear space for Comerica Park and Ford Field. Brass kick plates from an abandoned school house in Grosse Pointe became wings for one of my creatures.
Why do you call them creatures?
Because they look kind of real to me. The sculptures are charged with energy from my dreams and subconscious. They're alive, in the sense that they are a thought.
What led you to turn garbage into something gorgeous?
I lived with a therapist and his family for four years, after my divorce, when I was trying to quit drinking. The therapist used art projects to help me get outside myself. One day he handed me two nails and some twine and said, "Here, make something out of this." Two nails? A piece of twine? I was worried he expected me to make something on a grand scale, because my dad is an artist with a degree from Wayne State University. I made a little cross, handed it back to the therapist, and said, "Here, that's the best I can do." For months, he kept bringing crap to the house and telling me to make something out of it.
Now you're an artist with gallery shows. Why do you still live in downtown Detroit?
Easy access to bits and pieces of Motor City history. One of my female creatures is made of nothing but scraps from the implosion of Hudson's department store. Her figure represents the possibility of rebirth from destruction.
Aren't you afraid to live in the inner city?
Fear isn't in a place. Fear is an inside job. It's inside people, although we try to externalize fear and say, "It's them!" Let me put it another way -- I'm just scared, period. Even when I lived in Livonia, which is a mostly white suburb, I was afraid. But you can't cover up fear by moving. I'm not saying don't be street smart. But I didn't let fear dictate where I put my home studio, the Detroit Industrial Gallery.
The street you live on has virtually become an outdoor museum thanks to your friend, artist Tyree Guyton.
People from all over the world visit Heidelberg Street now. Last year a guy showed up wearing sunglasses, with his hat pulled down over his forehead, and I thought to myself, "That's *uckin* Steve Buscemi!" I didn't want to let on I knew who he was, so I did the complete opposite, and felt really stupid afterwards. I basically told Buscemi my life story, and then his wife took our picture together. And yet I never said to him, "Hey man, I've seen all your movies. I admire your work." Now I wish I had.
The creatures posed all around your yard seem a little surreal.
I like Yves Tanguy, Joan Miro, and that whole Surrealist crowd. Picasso was a Surrealist for a minute, wasn't he? I like Jackson Pollock, too
What was the inspiration for your first sculpture?
My first creature held a spear and a shield. My therapist friend told me to stand in front of it and tell him what I was thinking. "Ted, can't we just enjoy the sculpture? Therapy, therapy, therapy." But since Ted had never steered me wrong, I looked at the sculpture and wrote down these words: "Don't breathe, don't blink, or I'll kill you." Now, why would I write that? Am I that scared? A few days later I suddenly remembered a recurring nightmare I had as a child. In the dream, an iron creature was chasing me, and to keep him from killing me I had to make up a rule: if I don't blink or breathe, he can't kill me. It's funny how that surfaced years later. When artists create art, they're telling on themselves.

REAL LIFE. REAL NEWS. REAL VOICES.
Help us tell more of the stories that matter from voices that too often remain unheard.