It's easy to see why the first major exhibit from 27-year-old Jee Young Lee, the photographic series "Stage of Mind," is going viral.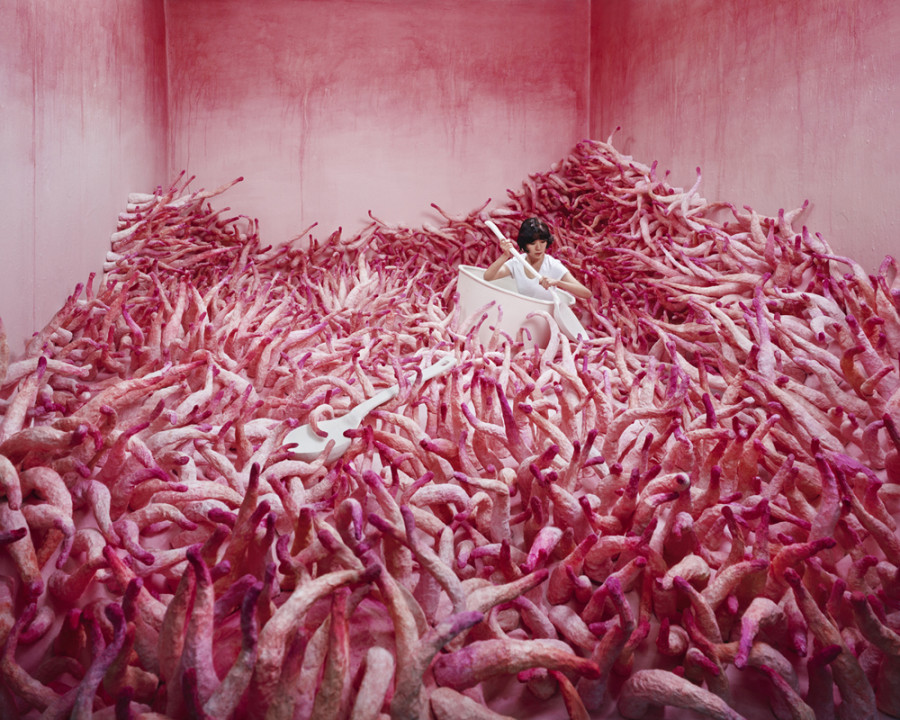 Monsoon Season
Lee uses no photo manipulation to create her images. Her setting is always the same -- her small studio in Seoul, the longest wall of which is still shorter than the average adult male alligator (less than 14 feet). But in Lee's hands, the space has infinite potential.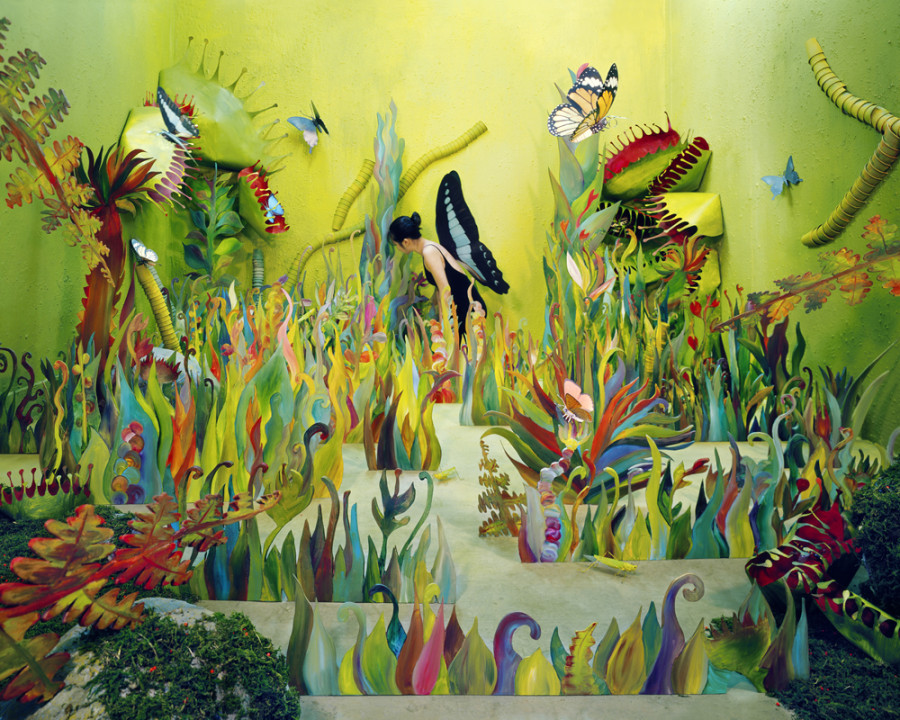 Sweet Appetite
Using cheap materials -- often no more than styrofoam, cardboard and paint -- Lee morphs her workspace into representations of her state of mind: a sea of menacing anemones or a logic-bound Lego wonderland.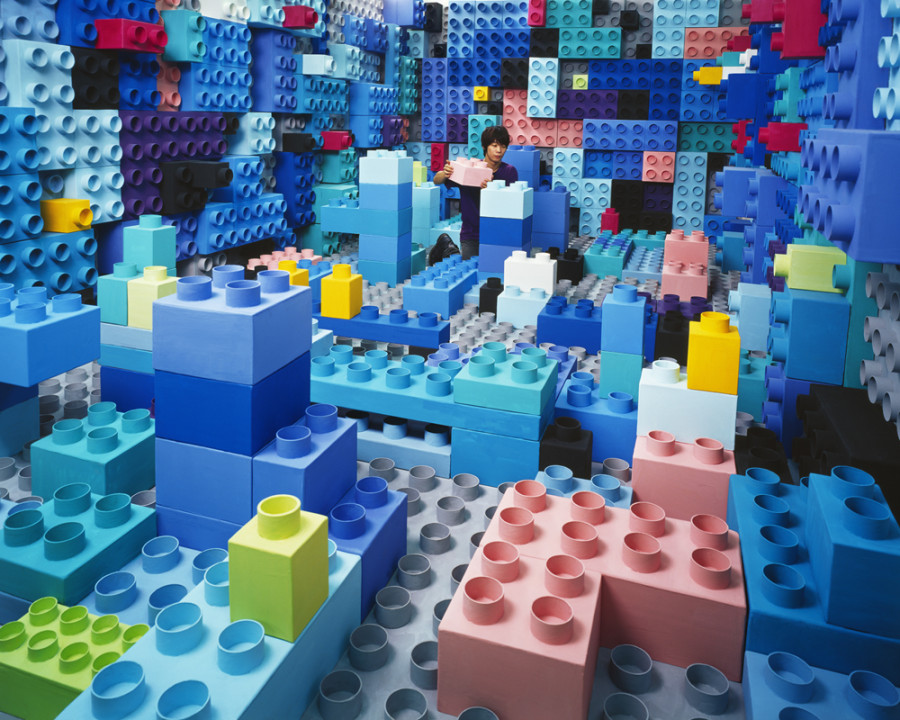 Gamer
To build a single iteration can take weeks or even months. After each session, Lee photographs an aerial shot of the scene (herself always included). Then, like the Buddhist monks who build sand sculptures only to let them scatter, she dismantles her work and starts all over.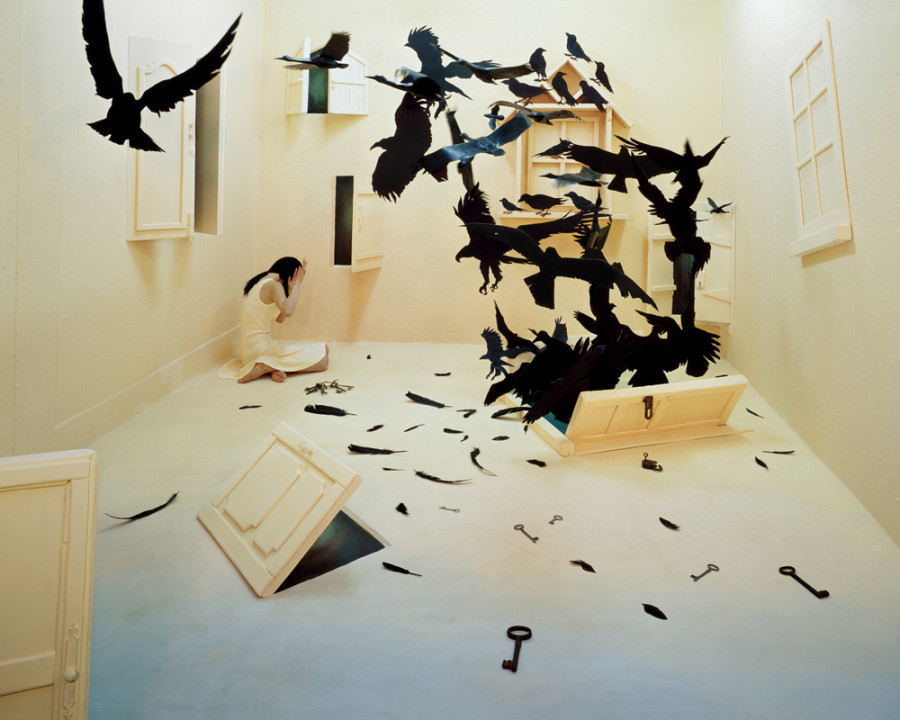 Blackbirds
Lee's influences are overt: the dichromatic patterning comes from the American artist Sandy Skoglund, and snap-then-destroy is the signature move of the German installation artist Thomas Demand.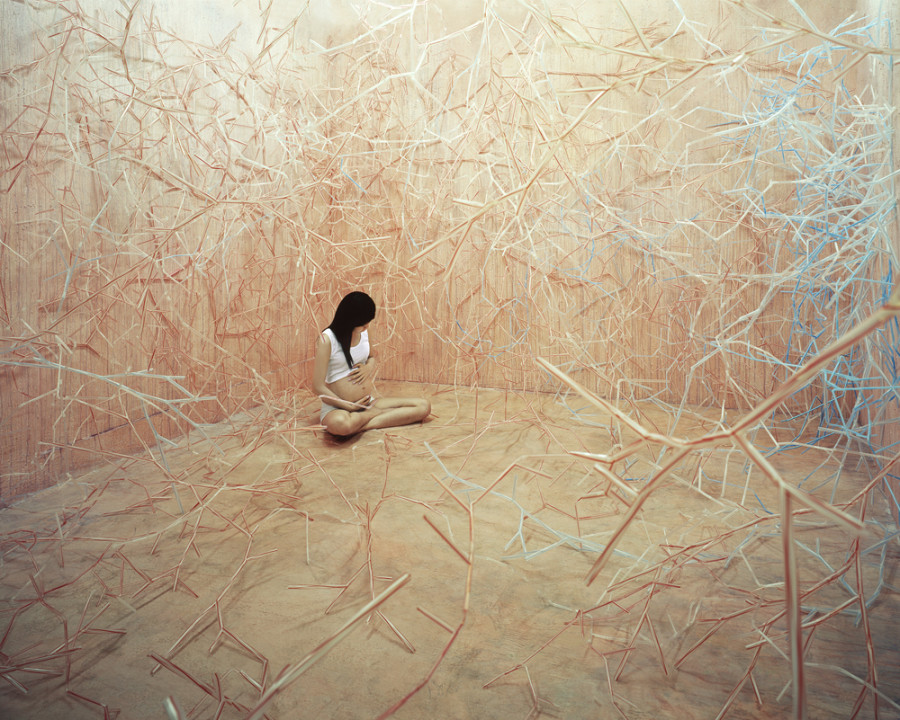 Food Chain
But what differentiates her is the element of Taylor Swift thrown in -- Lee likes to say she's her own favorite subject. Each of her props bear what she calls, in her artist's statement, a "second meaning," potent mostly to herself.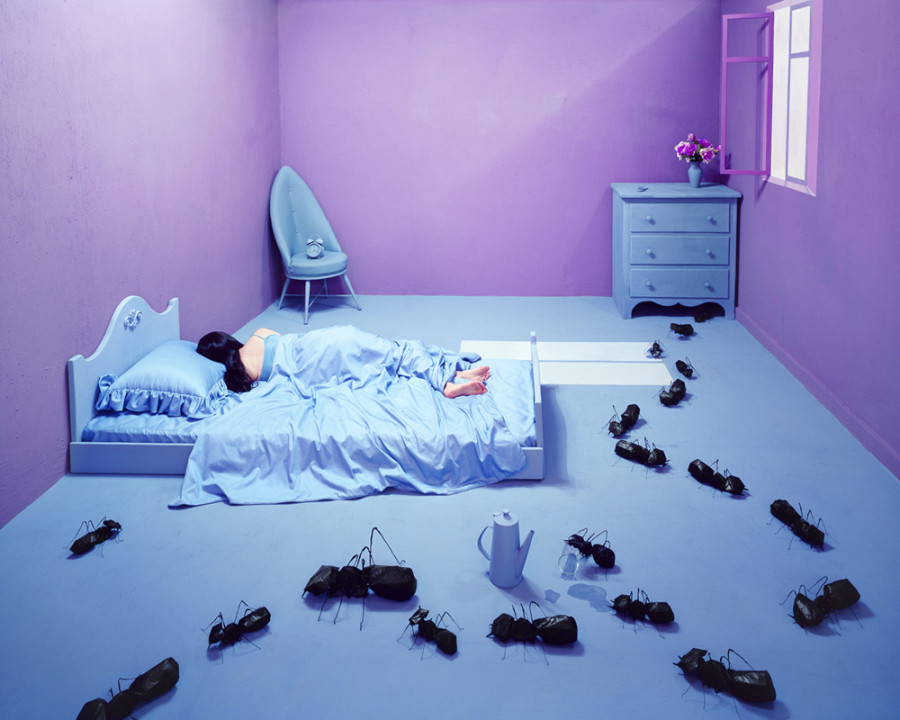 Oversleeping
"Resurrection," the piece below, is about growing up. The imagery is partly informed by "Shimchungchun," a Chosun dynasty novel about a devoted daughter who drowns herself and is reborn in a lotus flower. Lee sees this as a directive to become stronger over time, according to her statement.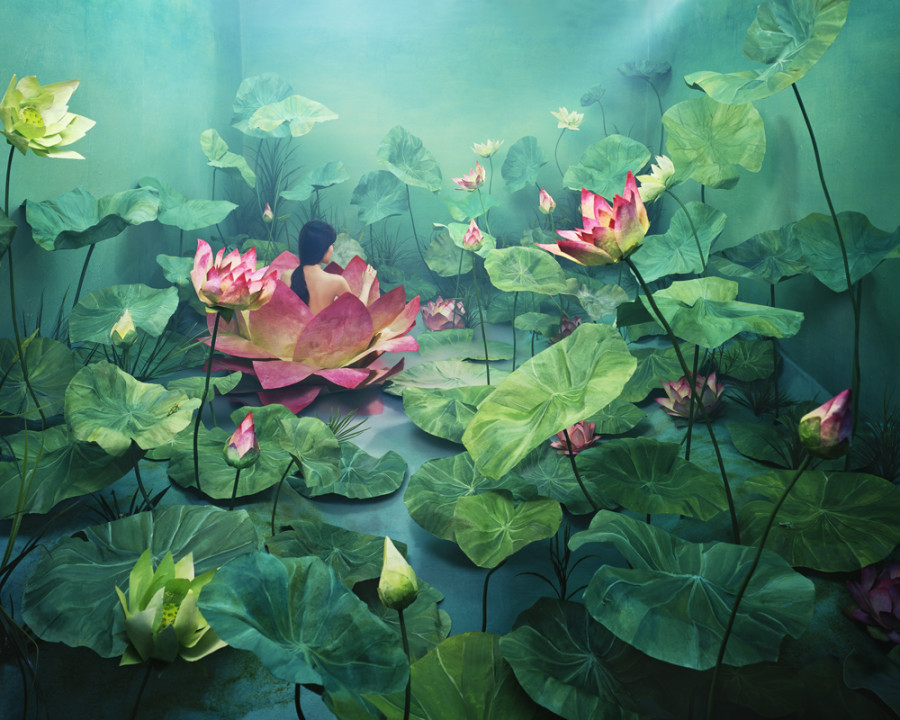 Resurrection
"Panic Room," below, takes root in Lee's childhood, when she hid inside closets to escape the world. "To imply the state of emotional chaos, Op art was employed [to express] the messiness of a room; and by turning mere boudoir items or sewing tools into ones that seem aggressive and disquieting," she writes.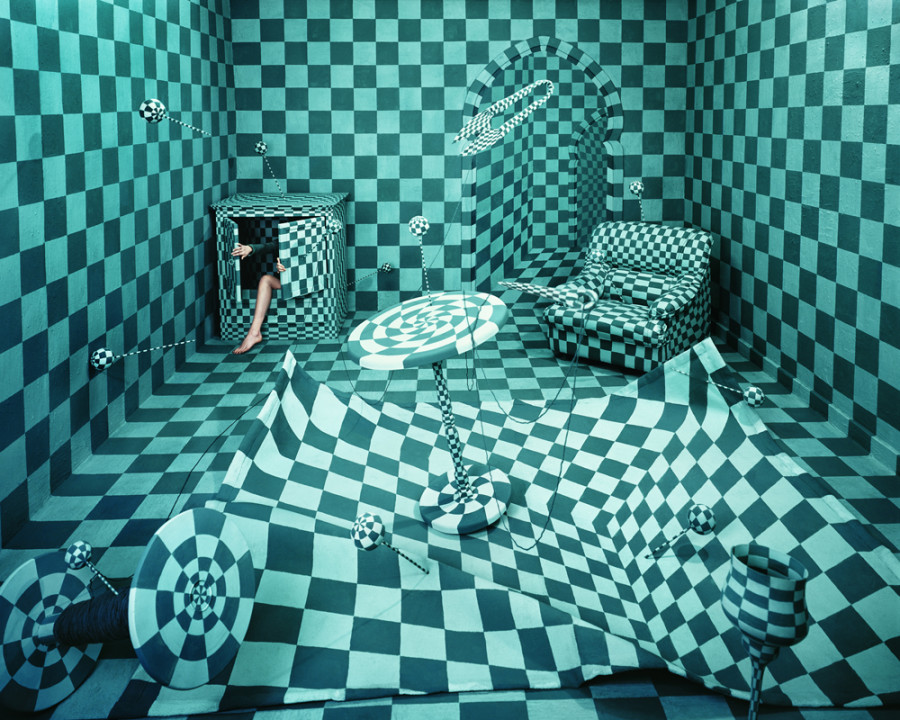 Panic Room
For "I'll Be Back," Lee created a whirlpool-like arrangement of fans as an homage to human will. The rope above her outstretched hand alludes to a Korean fable with a contrasting message, that of the power of divine intervention. In the legend, a brother and sister trapped in a well by a tiger are pulled to heaven, whereupon they become the sun and moon.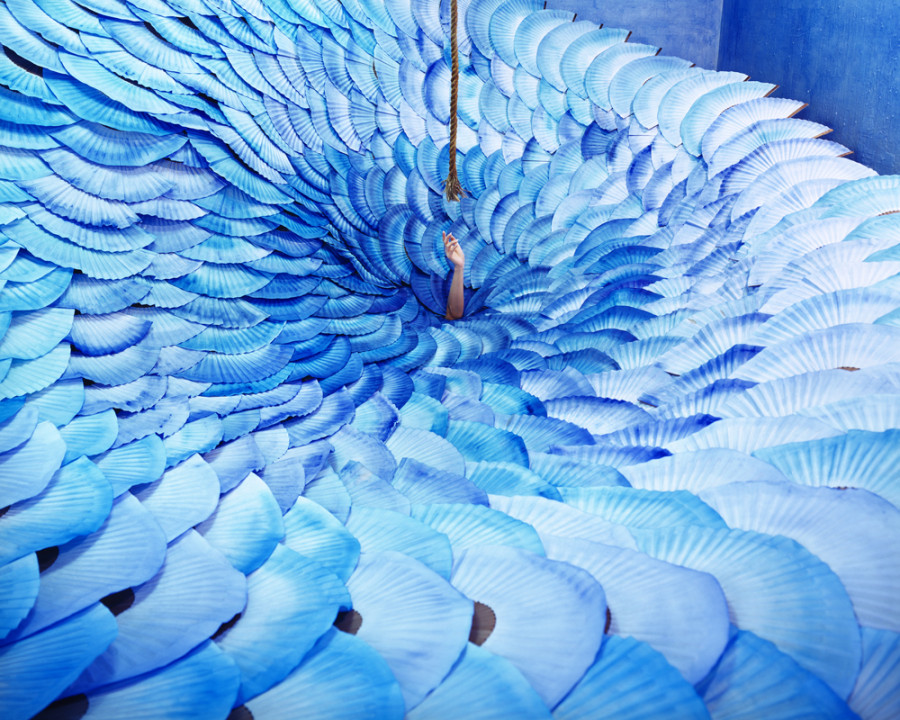 I'll Be Back
"Broken Heart," below, is more literal. To represent heartache, Lee visualized the Korean expression "like breaking a stone with an egg," about ineffectuality against adversity.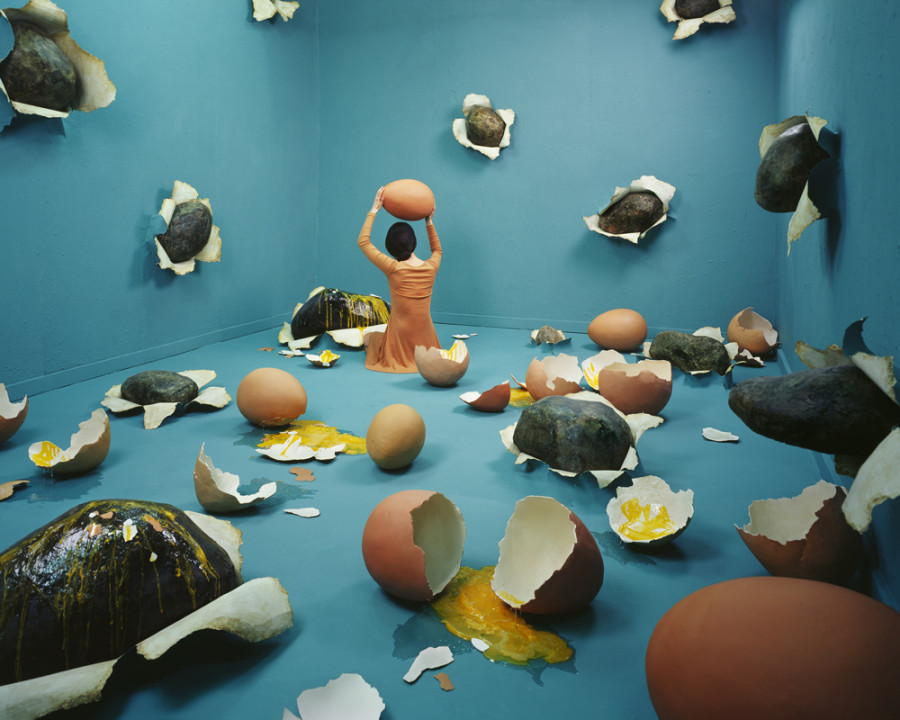 Broken Heart
An emo streak runs deep in this series. "In My Chemical Romance" (no relation to the band, it seems) Lee relates the "anxiety and danger" of close relationships to heat and water pipes -- which intertwine, and are exposed on the exterior of buildings. What else is complicated and exhibitionist? Romance, of course.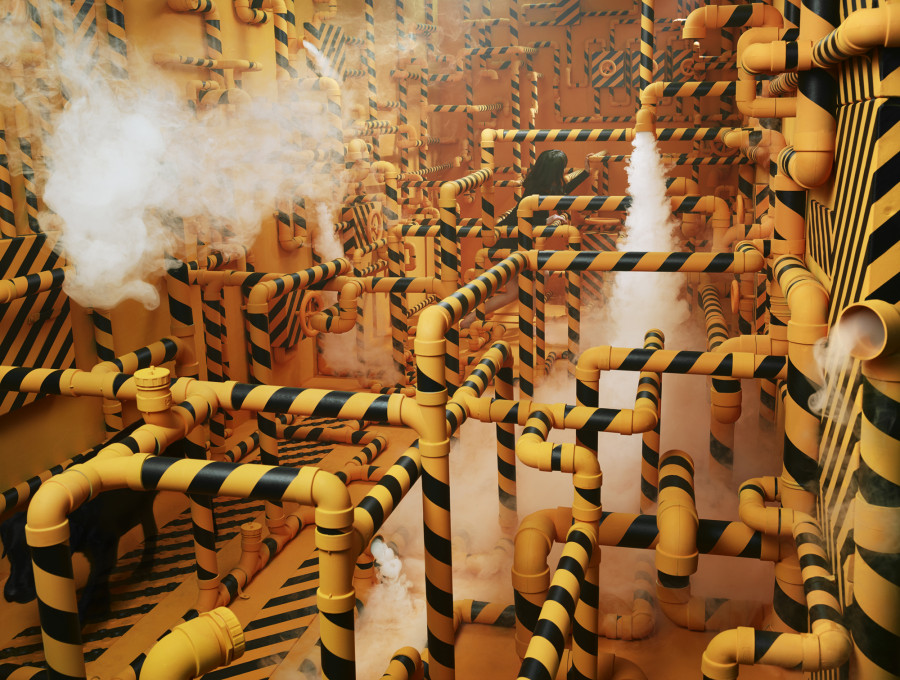 In My Chemical Romance
"Nightscape" is Lee's only collaborative piece. She worked with a master fan-maker to build a forestscape, inverting the Joseon Dynasty tradition of painting landscapes onto fans. The "dark and ever changing nature of night" inside a forest, she writes, reminds her of human nature.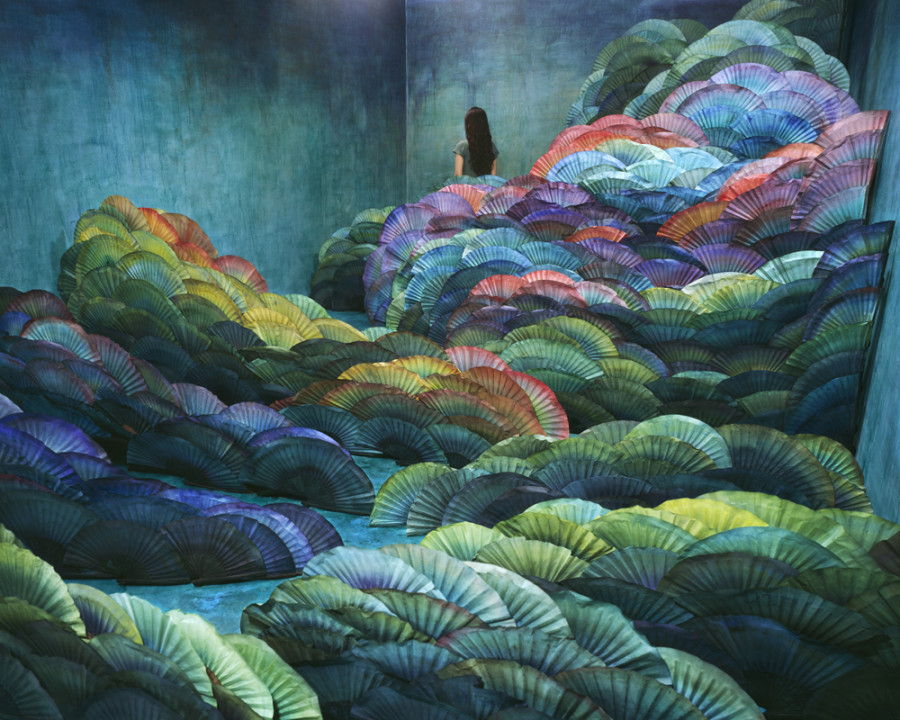 Nightscape
Lee's work is on display through March at the Opion Gallery in Cannes. For more of her moody stunners, head to the gallery's site.
Popular in the Community