(via Beautiful/Decay) Headed over to Wes Lang's Brooklyn studio on Friday. Daylight filtered in from the street over walls resplendent with tattoo flash, hand-painted jackets, flags, and pics of beautiful women. Amazing paintings are everywhere you look. The first thing I said was "there's a lot of nice tits on the wall." Wes relaxed visibly and replied, "everybody likes tits, they're calming." That broke the ice. His new work emerged after losing several friends in the last year, and goes in a different direction from his well-known and controversial Americana work. It's being shipped off this week to Galleri Brandstrup in Olso Norway.
The new body of work seems like a "fuck you" to death while simultaneously celebrating the lives of his missing friends. This painting was amazing in person, the black surface was super rich, and the bones are made from glazes of brown, red, gray and yellow.
The space resembles a fully decked-out biker bar, which makes sense, because Lang builds and rides custom motorcycles. He's part of a group hosting the Brooklyn Invitational Bike Show at the Root, which opens on September 18th. Lang said that he'll have a new custom bike on display during the show, and that it's being hand-built by one of his good friends.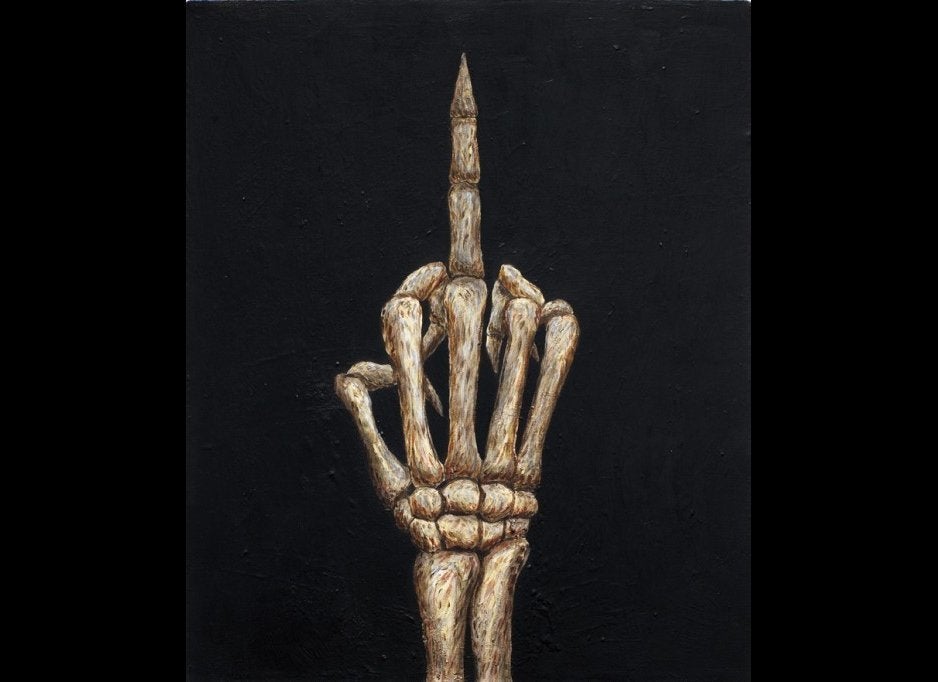 Wes Lang Studio Visit
Related
Popular in the Community