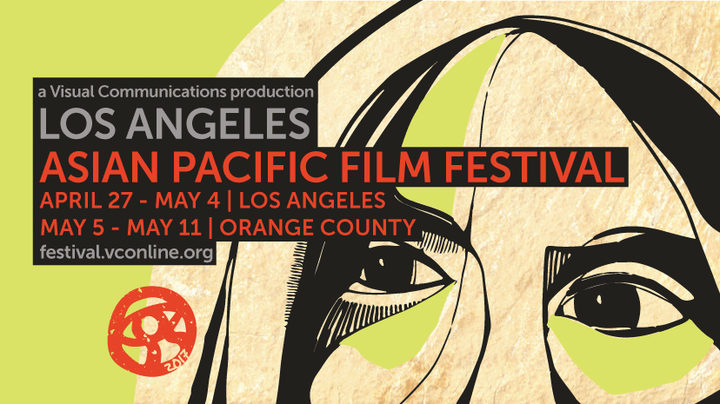 A Q&A with Anderson Le, Festival Artistic Director, about THE 33RD LOS ANGELES ASIAN PACIFIC FILM FESTIVAL presented APRIL 27 - MAY 4TH, 2017 in LOS ANGELES at select cinemas, and from MAY 5 - 11 in ORANGE COUNTY at the CGV Cinemas in Buena Park.
In LAAPFF's 33rd film festival of thought-provoking and inspiring programming, are there works of note set in Los Angeles/Orange County or involving/featuring LA/OC artists?
There are too many to name, because many of our filmmakers represented in the LA Asian Pacific Film Festival are local and of Asian descent and many of them grew up in the Los Angeles and OC areas. We have actors like Anthony Ma in the web series BEFORE I GOT FAMOUS and countless other short films, 120 in all represented this year!
We have several directors including Ham Tran (SHE'S THE BOSS), Charlie Nguyen (FANATIC), who hail from Santa Ana and Buena Park respectively. We also have Douglas Seok for TURN LEFT TURN RIGHT, who originally hails from Cerritos.
Can you tell us about your VIETNAMESE FILM SHOWCASE featured this year?
We are really excited to present a Vietnamese Film Showcase as part of our Buena Park schedule, especially screening films from Vietnamese American directors who grew up in Orange County including Ham Tran (SHE'S THE BOSS, Opening Night Film) and Charlie Nguyen (FANATIC, Closing Night Film). We also have Dustin Nguyen's JACKPOT, which was Vietnam's official foreign language film entry to the Academy Awards last year, and new film FATHER AND SON, a touching family drama that takes place in the bucolic Vietnamese countryside.
Our goal is to interface more with the Asian communities in Orange County, especially with nearby Little Saigon, but also the Korean, Chinese, Cambodian and Indian communities as well. CGV Buena Park is at the center of all of these communities and is a perfect gathering place to experience each other's cinema and culture.
And how about the SPOTLIGHT ON TAIWAN program?
This spotlight is presented and supported by the Taiwan Academy of Los Angeles through the Ministry of Culture of Taiwan. The programming team is excited to present this spotlight, which is headlined by two award-winning films – THE ROAD TO MANDALAY by Midi Z and SMALL TALK by Hui Chen-Huang. They have premiered in major, world-class film festivals in Venice and Berlin, and show that the best in Asian cinema comes from the rich diversity of Taiwanese perspectives and voices working in the island nation's film industry today.
What films/shorts do you recommend our readers come out to see?
Aside from the films just mentioned, I highly recommend some of the major gala presentations including the 15th anniversary of BETTER LUCK TOMORROW directed by Taiwan-born Hollywood director Justin Lin; GOOK, which premiered at Sundance, and is a racially-charged drama directed by Hollywood actor Justin Chon; and COLUMBUS starring John Cho, which closes the LA portion of the Festival.
What are your top picks for:
- an important social issue
UNBROKEN GLASS, a personal documentary by Dinesh Sabu, as he explores the history of mental illness in his family, which is a taboo subject in many Asian communities.
KING OF PEKING, from Sam Voutas, is a father-son story set in 1990s China, where the duo start a movie piracy business and discover that the plots in the movies they pirate start to permeate into their lives.
The ITSY BITSY Shorts program, which contains several animated and children's short films that are great for young ones and the entire family.
A TIME TO SWIM, from Montreal-based Ashley Duong, is a lyrical documentary about an indigenous man from Malaysia, who as a political exile, yearns to return to his homeland.
-philosophical/intelletual growth
The animated WINDOW HORSES from Anne Marie Fleming and starring Sandra Oh is a tale of a young half Chinese and Iranian Canadian poet who reconnects to her Persian roots by visiting Tehran and immersing herself in its rich culture.
I CAN, I WILL, I DID from director Nadine Truong, chronicles a young loner who is constantly bullied and how his Taekwondo master coaxes him out of his shell to overcome and face his own fears and the bullies who constantly put him down.
Any additional things readers should know about LAAPFF?
After the LA portion is done on May 4, we move to Orange County with our "Best of the Fest" from May 5 – 11. The festival will relocate to CGV Cinemas in Buena Park! We will screen encores of the award winning films and also the Vietnamese Film Showcase, presenting 4 new films from Vietnam.
More info on the LAAPFF can be found here
Related
Popular in the Community