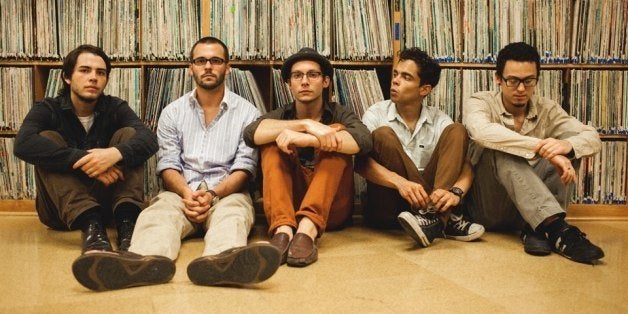 Across almost every genre, 2013 was an incredible year for music. (It was so strong that HuffPost Entertainment's top-10 list of best songs expanded to 17, and still left out dozens of great tracks.) It's difficult to predict what will happen this year -- the musical druthers of the population at large are fickle, and those who do end up on top often come about without so much of a whisper (Hi, Lorde) -- but we're going to give it a shot. Ahead, here are 20 artists you should start listening to in 2014. Some of these names will make headlines in 2014. Some will probably never see any mainstream success. But they all demand, and most certainly merit, your attention.
In short, Bad Rabbits is a booty-droppin', funk-fest sex machine. Pulling from the soul of acts such as James Brown and Earth, Wind & Fire, these Boston boys are all about laying down some finger-lickin' grooves and letting loose on the dance floor. At the heart of the group is vocalist Fredua Boakye, whose huge range climaxes with some of the best falsettos you will ever hear -- the guy is unstoppable. When you're looking to let your bad self out and have a good time, Bad Rabbits is the soundtrack.
Hot off a national tour with Coheed & Cambria, Doylestown rock outfit Balance & Composure have had a huge 2013. Releasing their sophomore album, "The Things We Think We're Missing," the band went from off the radar to receiving a Rolling Stone and Pitchfork bump in a matter of months. There is no doubt that their grungy, riff-blitzed structures and effortless hooks will soon earn them heavy rotation as arena rockers.
There's been a lot of talk about Banks at the turn of 2014, and for good reason. Her 2013 EP "London" boasted an all-too short collection of dark electropop, her vocals shift effortlessly from fragile or powerful. While her somber tunes may depict an artist who prefers to stay hidden behind closed doors, Banks posted her phone number to her Facebook page, encouraging her fans to call her if they pleased. It's that kind of attitude matched with talent that is sure to make Banks a breakout artist in the upcoming year.
Part of the Beast Coast movement, Flatbush Zombie's "Better Off Dead" was easily one of the best mixtapes of 2013. A terrifying take on politics and drugs, the trio's acid rap sermon spans across 19 heavy hitting tracks meant for big speakers and glitching lasers. Flatbush Zombies are quickly developing their own cast of New York hip-hop that won't go unrecognized much longer.
Ground Up has long been a fixture in the Philadelphia underground hip hop scene. Since the days of "Late Night Special," the trio has been providing consistent stoner jams, their fan base multiplying with each mixtape. Dropping their most impressive work, "Promiseland," and launching their own clothing line, Ground Up won't settle for anything less than building a nationwide brand all their own.
While association with the Odd Future collective tends to bring about assumptions of recklessness and vulgarity, The Internet is nothing like the rest of the crew from a music standpoint. Between vocalist Syd Tha Kid's sexy, delicate croons and the jazzy grooves of the band, 2013's "Feel Good" will make you want to get nice and close to the one you love on the dance floor or share a bottle of wine by the fireplace.
Vocalist and songwriter Archy Marshall may not possess the typical frame behind such a soulful baritone powerhouse, and that's part of what makes King Krule so awesome. His 2013 debut "6 Feet Beneath the Moon" is a brooding combination of jazz and hip hop with a dash of punk. At the young age of 19, Marshall's blues-rock soul is just taking its first steps.
On "Still Standing," Knytro calls out just as many of his rap peers as Kendrick Lamar's "Control" verse, and with the same fire as K. Dot -- the song also has one of the coolest videos ever. The rest of 2013's "Project Haarpoon" is just as solid, displaying his ability to easily adapt to an electronic thumper, boom bap, or a more radio-friendly beat. Fresh off a tour with Pusha T and Chase and Status, Knytro is sure to become a common name in hip hop in 2014.
It's impossible not to listen to Mausi without wanting to get up on your feet. The group's brand of disco electropop brings about memories of summer adventure even in the depths of winter. Whether it is by their own release or by EDM remixes (they are just begging for it), it won't be long before Mausi's tunes hit clubs across the globe.
One listen of "One Big Particular Loop" was all it took to make this record one of our favorites of 2013. This was back in January. Channeling artists such as R.E.M. and Elliott Smith, the clearest comparison is Radiohead, especially because vocalist Brennan Taulbee's croon is very much akin to Thom Yorke's. Opener "((O.B.P.L." wields everything in the band's arsenal: looped electronics and rhythms, drums, guitar, piano, and trumpet. While these many layers might result in a sonic overload for most artists, Polyenso's smart, meticulous songwriting keeps it simple while sitting in polyrhythmic structures. You won't find any standout singles here, but when it comes to crafting a cohesive work, it doesn't get much better than this.
Disclosure's "Latch" wouldn't have achieved fame in 2013 if it weren't for Sam Smith's vocals. A rather ordinary name, Smith's croons are anything but, displaying a falsetto deserving to shine over any and all dance and R&B hits. His first single, "Money On My Mind," off his upcoming debut is all the proof needed to guarantee that Smith is more than ready to make his mark as a solo act.
The twin sister duo Say Lou Lou crafts gorgeous dream pop that pulls at the heartstrings. Singles like "Julian" and "Better in the Dark" captures the ladies' ability to produce glamorous love anthems. Their spacious, ambient soundscapes are sure to ensnare listeners in a trance in 2014.
Call it cliché, but Shad is a breath of fresh air in the hip hop game. Yet, to call him a rapper is far too limiting. You won't find any bangers on his 2013 "Flying Colours," but instead, smooth baselines, country guitar, jazzy horns and much, much more. Most importantly, Shad stands far above his competition in lyrical content, delivering universal and forward-thinking messages that everyone can get behind.
Despite his affiliation with post-hardcore outfits, Tilian Pearson is a pop star in disguise. He's got the vocal prowess and musical knowledge to compete with any of today's big names. However, it's his rock foundation that allows him to eschew the limitations that bind most of the top 40, not afraid to bring some (slightly) aggressive guitars, bass and drums into his repertoire. At times inventive, and always catchy, "Material Me" is jut the beginning of Pearson's venture into pop as he is heading back into the studio to record his 2014 sophomore album.
Travi$ Scott first popped up on GOOD Music's "Cruel Summer," providing production on several songs. Then Scott released his debut mixtape "Owl Pharaoh" this past year, which garnered significant attention in the hip hop community though it seemed incomplete at the time. With the talent, attitude, and grandiose nature similar to Kanye's, look no further than his video for "Upper Echelon" to get an idea what Scott is capable of creating.
Take Justin Vernon's indie-folk outfit Bon Iver and mix in a team of experimental rockers and you have Volcano Choir. Unlike their 2009 release, "Unmap," 2013's "Repave" sees past the "this could be fun, let's give it a shot" stage. Finding their stride as a legitimate conception, Volcano Choir creates an astoundingly moving record with a colossal sound. Think "Planet Earth" soundtrack big. There's not telling when Volcano Choir will create another album, or if they will at all, but "Repave" will keep listeners in awe for a long time to come.
"The Beastie Boys watching 'The Breakfast Club' at Warped Tour" may not be the most decipherable (self-) description, but W.C. Lindsay is kind of just that: an amalgamation of elements that aren't supposed to go together. The first single, "Kids These Days," off their upcoming album "Easy Victim, Charitable Deception," showcases the band's ability to blend elements of hip hop, punk, indie, and electronic. It's dance-y, fun, and unique in so many ways, and the rest of the album is sure to deliver with the same burning youth.
Wake Owl's 2012 EP "Wild Country" was an acoustically-driven compilation of folk-country numbers. However, their most recent single, "Candy," shows the band switching up their direction, providing a more upbeat, funky feel, fueled by open riffs and echoing bongo hits. Their full-length debut "The Private World of Paradise" promises a solid collection of feel-good, retro-rock vibes.
There's a good chance you don't have any Malaysian musical artists in your current music library, so let Yuna be the first. Blending elements of her nation's style with modern pop elements, her music adds a new taste to the palette without estranging listeners. After her 2013 sophomore effort, "Nocturnal," and providing a track for Dreamworks' "The Croods," Yuna has proven that she is more than capable of holding her place in a market that is not her own.
The 1975 ran one of the more interesting and intelligent pre-debut campaigns in recent memory. Instead of just pushing a few singles after recording their self-titled album, the band picked out what would be their singles, crafted four EPs around them, and released them a couple months apart, building up a significant fan base few bands muster before their first LP. One part electropop, two parts alternative, we haven't been as excited about a pop-rock group since we first heard Acceptance's "Phantoms."
Support HuffPost
The Stakes Have Never Been Higher