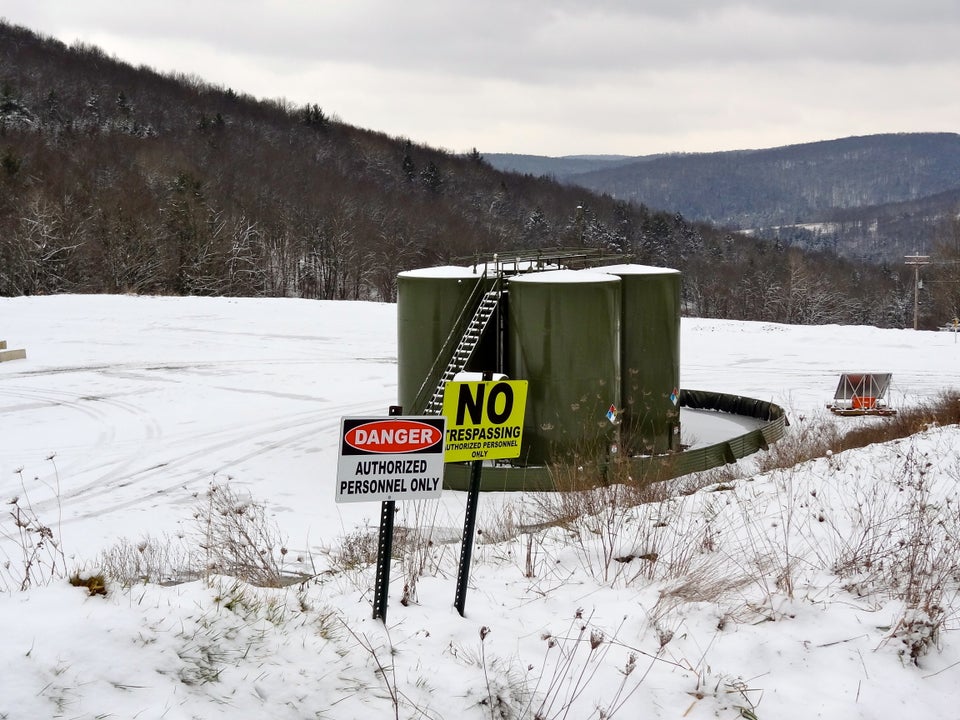 DIMOCK, Pa. -- Josh Fox, director of the Oscar-winning documentary Gasland, stood at the front of the bus peering down the aisle, past Yoko Ono and Susan Sarandon, and out the back window.
A caravan of cars were trailing the Artists Against Fracking tour bus up a winding dirt road in northeastern Pennsylvania.
Fox calls this part of Pennsylvania, particularly the small town of Dimock, the "canary in the coal mine" for natural gas.
In one of the trailing cars sat Scott Miller, a community relations representative for WPX Energy, who had urged the bus driver not to continue up the road toward a natural gas operation. He said the tour would disturb the neighbors. In another car was Tom Shepstone, campaign director for Energy In Depth, an outreach group that represents oil and natural gas producers. At the Franklin Forks fracking site, up the road, he stepped out with the group.
"I just want to see what they are saying," said Shepstone, who continued to keep watch throughout the day. "It's ironic that entertainment people are coming out here. It's just a trendy cause. They have no stake in this."
Those entertainment people begged to differ.
Ono owns a farm near the Pennsylvania border that she and her late husband, John Lennon, purchased more than 30 years ago. Last July, Cabot and other natural gas companies visited their upstate New York town to pitch plans to bring in a new natural gas pipeline. She and her son, Sean Lennon, quickly recognized that the pipes would provide infrastructure for future fracking in their town, which sits atop the Marcellus Shale -- the same natural gas-rich shale that extends throughout much of Pennsylvania.
Ono said that she will "fight 'til the end" to protect her farm.
"It's not just about me, or my farm," she told HuffPost on the bus. "It's to make sure New York is fine, and to protect other states, and the world, too."
Lennon, too, said the issue was personal, inspiring him to join his mom and nearly 150 other artists in founding Artists Against Fracking this past summer. "We've always had our own well," said Lennon. "Those days are going to be long gone if Cabot gets its way."
The Mannings of Franklin Forks have been vocal about their troubles with fracking, as is evident by the newspaper clips plastered to the box that holds their water tanks -- delivered daily since their water became contaminated shortly after natural gas wells were drilled nearby. In the living room of the Mannings' home, where their grandchildren also got sick after the nearby natural gas development, Mahatma Ghandi's grandson reflected on the issue.
"We have to recognize that we are committing violence against nature, against resources, against environment and eventually this is going to destroy us, destroy humanity," said Arun Ghandi. "It's our duty to stop it right now."
"This is more than a fracking problem," he added. "It's about corporate greed and arrogance."
Many of the artists, including Fox and Ono suggested that industry is obscuring the truth, and chasing away those who speak it.
"I didn't really believe what the companies say, but I didn't know any other story," said Ono of her attitude toward fracking before the tour. "It's so amazing that we didn't know the actual truth. The truth was carefully twisted around, carefully hidden."
Some of that twisting by companies, suggested Fox, is simply done with the use of the word "fracking." While the term's popular use has come to encompass the entire process of natural gas production -- including the drilling and resulting wastewater -- its technical use often refers only to the moment in which the fracking fluid is shot underground to release the natural gas. So, to say fracking wasn't responsible for contaminating a water well may not be telling the whole story.
"It's like the witches of Macbeth," said Fox. "They tell the truth but only in half sentences."
He also said that industry likes to cut him off, or at least tag along, if he's coming to a fracking site. "I'm always chased," said Fox. "There's always that ominous white van."
In addition to representatives of industry, documentary filmmaker Phelim McAleer surprised the tour with an appearance during its last stop in Dimock: the home of Ray Kemble, a Dimock resident whose water became contaminated shortly after natural gas drilling began 500 feet from his home. Known for films that downplay environmental concerns, McAleer has become a vocal proponent of fracking and critic of those opposed. He asserts that Dimock residents' claims of contaminated drinking water from fracking are false.
Dressed in all black, including black gloves and derby hat, McAleer and his cameraman approached the bus just after Ono and Sarandon stepped off.
"Ms. Sarandon, Ms. Sarandon!" McAleer called out to the actress, running around the front of the bus and up Kemble's driveway in pursuit. But the massive entourage slipped through to deliver symbolic jugs of clean water to Ray Kemble. He tried Sarandon again before she reboarded for the ride back to New York.
"Why are you here?" asked McAleer.
Sarandon, wearing a trendy hat herself, offered a quick reply: "I like your hat. Where'd you get your hat?"
Industry may have been "smart" to leave New York for last, suggested Lennon, pointing to the state's liberal leanings and its potential to set a precedent for the country, and the rest of the world. "If we don't stop it in New York," he said, "the world doesn't have a chance."
CORRECTION: This story has been updated to correct the spelling of Tom Shepstone's name.