While Japan struggles to recover from the devastating effects of the earthquake and tsunami of March 11, artists and arts organizations around the world are coming together in a show of support for the island nation. Japan-related events in New York as part of this month's Asia Week are being recast as tributes or fundraisers for earthquake victims, while artists in various countries are coming up with creative ways to respond to the disaster and raise needed funds for the victims and their families.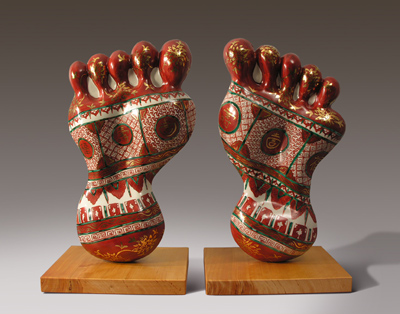 Yuriko Matsuda's "Rock Paper Scissors," 1995
/ Courtesy of Dai Ichi Arts, Ltd.
Asia Week -- the annual series of art exhibitions, auctions, and lectures -- will take place as scheduled from March 18 to 26, with exhibitions and auctions representing art from a variety of periods and Asian countries. The only gallery from Japan, Kyoto-based Hiroshi Yanagi Oriental Art, is still planning to participate, and will exhibit Japanese scroll paintings, sculpture, and ceramics ranging from the 14th century to contemporary times. Another highlight is Joan Mirviss's show of avant-garde sculptural forms by Japan's Sôdeisha ceramic movement.
In connection with Asia Week, an exhibition titled "Bye Bye Kitty!!! Between Heaven and Hell in Contemporary Japanese Art" will open March 18 at the Japan Society. As the title and its attendant exclamation points suggest, the show seeks to bid adieu to the dominant Japanese kawaii (cute) aesthetic. Its touchstone work is a photograph by Yoshitomo Nara that depicts two large "Hello Kitty" figures atop a gravestone of gray granite. The Japan Society has set up an earthquake relief fund that will receive half of its ticket receipts for all events through June 30. In response to the disaster, the organization also rapidly put together a "Concert for Japan" fundraiser on April 9 featuring 12 hours of live entertainment and crafts such as making paper cranes and washi lanterns that is open to all ages.
On Monday, the Asia Society's performance of taiko (ensemble drumming) by the renowned Kodo troupe from Japan was offered in honor of earthquake victims and their families. Miwako Tezuka, associate curator of the Asia Society Museum, told ARTINFO that "the performance was almost ritualistic, as if trying to appease an angry god." The group will also perform next week during Carnegie Hall's citywide festival JapanNYC, which has now been dedicated to Japanese victims of the disasters. Carnegie Hall artistic and executive director Clive Gillinson told the New York Times that whenever people experience suffering, music and culture "are the things they look to for solace." In that spirit, JapanNYC will feature 40 events in March and April, including classical music, Noh theater, manga, film, and butoh dance, with performances by Tokyo's NHK Symphony Orchestra and the Martha Graham Dance Company.
Artists and arts organizations have set up homegrown fundraising efforts, too, which give the public a chance to snap up some great images while supporting a good cause. In Los Angeles, Japan L.A. has organized a "#PrayForJapan Art Fundraiser Exhibition," named after the popular hashtag in acknowledgment of the essential link that Twitter has provided between the international community and Japan during the crisis. The show opens on Saturday and proceeds will go to Red Cross efforts in Japan.
Meanwhile, Jen Bekman's affordable art site 20 X 200 is offering photographic prints of Emily Shur's "Imperial Palace Gardens with Wall, Tokyo" and Joe Holmes's "Shinjuku 6:43," with all proceeds going to support the Japan Society's earthquake relief fund. Since Japan is indelibly associated with manga in the minds of comics-lovers everywhere, many illustrators have created comics and t-shirts and other items in support of relief efforts, and an ongoing list has been compiled by Comics Alliance.
At the same time, in Japan, the arts community is trying to regain a sense of normalcy. According to CultureGrrl, the National Tokyo Museum has temporarily closed to save electricity, but reports no serious damage and plans to open on Saturday with reduced hours and partial access, while Tokyo's Mori Art Museum, which has no permanent collection, announced no damage but decided to postpone two upcoming temporary exhibitions due to concerns about safety and electricity conservation. The Asia Society's Miwako Tezuka told ARTINFO that she had learned that the quake-proof engineering of the Aomori Museum of Art's new building, designed by Jun Aoki, had indeed withstood the tremors.
Takashi Murakami has had to postpone the art fair he helped organize, GEISAI #15, which was slated to open this Friday. In a statement, the artist expressed his regret but wrote that he had the idea "that perhaps the power of art may be able to provide some ray of hope for our society in these dark and trying circumstances." To that end, he asked artists to upload their original images with the hashtag "#newday_GEISAI" to Twitter as a tribute to victims of the disaster. The theme Murakami selected is "Tomorrow will always arrive. The sun will always rise again. A new day." The site has received hundreds of contributions, ranging from Superflat-inspired cuteness to classical imagery of the sun -- which represents both Japan as "the land of the rising sun" and the dawning of a new day of reconstruction and renewal.
Related
Popular in the Community