We must never forget art is not a form of propaganda; it is a form of truth.

John F. Kennedy
Some might say that the world is a mess right now. Others point out that it could be worse. In our war torn world, it depends on who you are and the place that you live. In light of the ever-growing list of crises crossing all borders and cultures, the curatorial partnership of Guttfreund Cornett Art has mobilized a group of 86 artists to address this escalation of violence, human rights violations, and environmental concerns. Throughout history, art has reflected its time. Art mirrors the aesthetic standard of the day and also provides a window into the historical context of the time. Works such as Andy Warhol's, Big Electric Chair or Picasso's Guernica serve as iconic reminders and powerful statements on social issues of their time. Artists often see their place to provoke, to voice, to enlighten. This long-standing role of the artist as activist is at the heart of "Social Change: It Happens to One, It Happens to All", an art exhibition taking place at Saint Mary's College of Art in Morago, CA September 18 - December 11, 2016.
Gutfreund Cornett Art's mission is to create exhibitions in venues around the U.S. on themes of "art as activism." Karen Gutfreund believes, "There is much that is needed to be said, to make people stop, look and listen, to confront social injustice issues. Art can often say what words cannot. We want to bring powerful artwork to the general public that reflects on these issues and encourages change."
This exhibition focuses on a broad range of human rights violation issues which have risen dramatically to the surface in the last few years. The exhibition's statement explains,
"Human rights can no longer be thought of as separate and belonging to a privileged few, but rather that these rights are all interrelated, interdependent and indivisible for all"
This exhibition entangles such hot-button issues as wealth disparity, immigration, racism, gender and equality issues, reform of the criminal justice system, and gun violence. Voice and visual image combine to form a powerful commentary.
Eric Almanza, an artist and a teacher for Los Angeles Unified School District, has witnessed too often the chaotic aftermath embedded in students' experience, following their parents who have made the dangerous journey across the border, hoping to give their children a better life. Eric has observed, "They don't come here to mooch off a broken welfare system. These migrants cross the border to work, not one, but two and sometimes three jobs." His piece In Search of a New Home is dedicated to those who have made that journey.
The Sunshine State by Justyne Fischer reflects the artist's reaction to a tragic outcome for the young African American boys; Treyvon Martin and Jordan Davis, both victims of the Stand Your Ground law in Florida. The historical reference to lynching reflects the pain, grief, and complexity of the racial divide that the black community has dealt with for too many years. In Justyne's words, "White men stand their ground, Black boys get gunned down."
Artist, Jenny Balisle explores gunshots as mark making in her work America Red, White and Blue. She took instruction in shooting a firearm as a means to explore both the operation and consequence of firearms in light of the numerous mass shootings in this country. She came to the haunting conclusion that her art practice reflected American culture.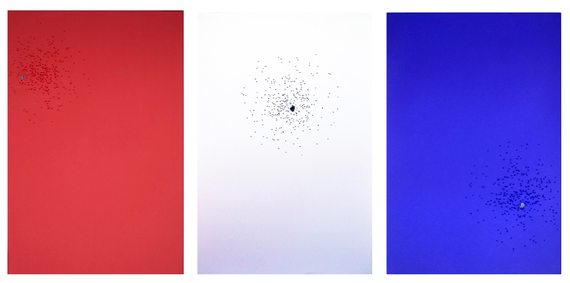 America Red, White and Blue by Jenny Balisle. Image courtesy of the artist and GutfreundCornett Art.
Nancy Ohianian's conceptual piece, EPA Regulations is a powerful and visual reminder of what environmental injustice looks like. Implied are the effects of race and politics on a human right as simple as clean and safe drinking water. The irony not lost that in the most developed country in the world one of Michigan's poorest and blackest communities have not had access to safe or clean water.
The media attention given to the Ray Rice elevator incident with his wife Janay Rice forced artist Jaime Shafer to look at her own experience with domestic violence and the result was the pop up piece,1 in 3. "Creating this piece proved more difficult than I expected. . . By creating this piece, I hoped to help the viewer understand the victim's point of view and the lack of resources that often hinder a victim's ability to escape the situation."
Sarah Friedlander was faced with her own ambivalence to political realities in Israel. "In 2011 I traveled to Palestine for the first time. Prior to that, I had avoided the Israeli-Palestinian conflict because as an American Jew it was taboo to discuss or question Isreali policy." On her second visit, she was faced with her own questions. "What I saw when I arrived was both mesmerizing and profoundly unsettling. Only upon returning, when I sought to communicate my impressions, did I come up with this piece of artwork as a way of opening the discussion here in America. Stonewalled in Jerusalem is the initial piece in a larger series that explores the pain and anguish on both sides of the situation.
The goal of this exhibition is not simply to call attention to these serious problems but to also begin a dialogue. Gutfreund Cornett Art partner, Sherri Cornett states that "One of the main motivators for creating these kinds of exhibitions is the dialog engendered by the works and the communities that form in the process of developing and participating in them. Artists have an opportunity to be part of the discourse. They are shedding light on their own personal experiences with injustice or those endured by others. . . through this shared dialogue, work together to transcend polarities and rediscover our common humanity."
The exhibition runs September 18 through December 11th and includes work chosen for onsite installation as well as artists chosen to be a part of a digital slide show, For more information and the online catalog see gutfreundcornettart.com.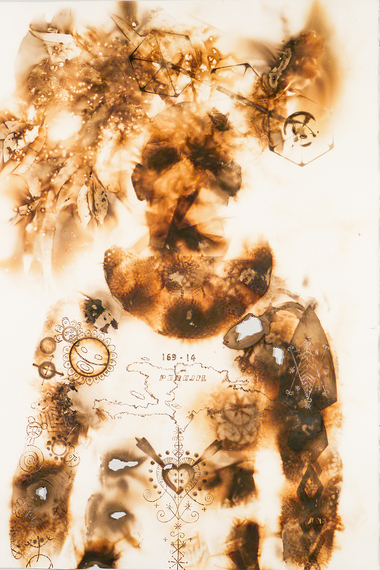 Haiti and Dominican Republic: One Island - Two Worlds by Gerado Castro. Image courtesy of the artist and GutfreundCornett Art.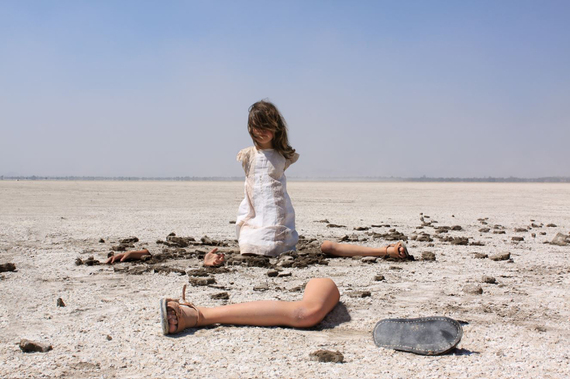 The Girl Who Fell From the Sky/La Nina que se cayo del cielo by Veronica Cardoso. Image courtesy of the artist and GutfreundCornett Art.
Related
Popular in the Community