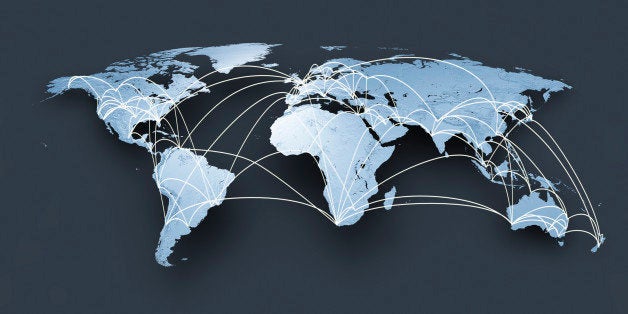 I write this entry from Bordeaux, where I join the French-American Foundation's cohort of Young Leaders to dive into transatlantic issues of all stripes with up-and-comers in government, business, media, military, and the nonprofit sector. My role, as I see it here, is to represent and learn for the arts and my hometown of New York City, taking a step toward advancing the reciprocal relationship between the arts and society.
If, fellow New Yorkers and colleagues in the arts, we take this reciprocity as a starting point for our ongoing practices, I believe we can help develop a true global community to fashion the world in which we want to live and make our art.
What I am talking about, broadly, is arts advocacy and, more specifically, "citizen artists." This term has been brought into the limelight in arts development circles by the Aspen Institute Arts Program, led by Damian Woetzel, a former principal dancer of the New York City Ballet.
From one narrow vantage point, it refers to artists focused on the application of their unique abilities to solve critical social issues and impact fields as diverse as education, diplomacy, and health care. When missions and outcomes align, I believe such artists should be supported in every way possible.
From another, more expansive vantage point, citizen artists are not an isolated class. Rather, whether by intention or not, all artists are citizen artists, always already bound up in social issues and effecting change through the work they create and their engagement with audiences, their fellow citizens. What I advocate in part, dear artists, is intentionality and rigor in your assessment, messaging, and execution of reciprocity, of public service.
I also encourage policy makers, supporters, and potential partners of the arts in New York City to embrace the expansive view of all artists as citizen artists, those who meet the twin goals of artistic creation and lifting our city up. This means bringing the arts to the table for every budgetary, policy, and program discussion impacting the city (something another training effort, Coro Leadership New York, helped me to do).
Let us think bigger than New York City. While focused on the metropolitan area, the organization I run, Dance/NYC, derives unique value from its alliance with Dance/USA, the national service organization for professional dance. We work together to drive local-national synergies in dance service delivery. I offer that more alliances like this among arts development agencies could move the sector and the country forward.
Let us think even bigger and consider a global citizen approach. Remembering the U.S. government shutdown during a Young Leaders visit to Atlanta last year, a colleague in my cohort offers a useful example: she who does not see herself as a global citizen might consider only how the shutdown impacts her, her locality, and her country; she who does would at the same time think seriously about the very real impacts of the shutdown on global economies. Similarly, the global citizen would recognize, for example, that decisions about the National Endowment for the Arts (NEA) impact not only NEA-funded groups, the country, and its reputation, but also the way art gets made and experienced by people across the globe. (Visit the Performing Arts Alliance and Dance/USA for NEA updates and use State of NYC Dance 2013 research to better understand how critical this source is for local nonprofit dance makers.)
In my view, approaching issues and art making as global citizens means abandoning turf wars and competition that deplete resources and spirits and inevitably limit the possibilities for artistic creation and engagement for all. It means making space for exchanges and allyship that are generative.
I have not made the case that New York is the global dance capital; that is another matter of debate, which using almost any metric I am confident would hold true. What I take for granted is that the city's evolving stronghold in culture is linked reciprocally to the social issues with which New Yorkers are grappling, and that the city plays a vital role on the global landscape. An opportunity for our artists and arts institutions to lead, globally, is to approach their identity and creation of art holistically and with intention--to be global citizens.
Calling all HuffPost superfans!
Sign up for membership to become a founding member and help shape HuffPost's next chapter