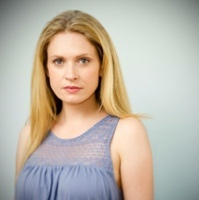 Anyone who has seen Mary Krohnert weave her cinematic magic in films, like Sex After Kids and The Untitled Work of Paul Shepard, already knows that she is insanely talented, besides being drop dead gorgeous and super smart. Yet, what you might not know, and should is that she has ignited the imaginations of artists, actors and writers across Canada and, yes the U.S., with her message that making art has some pretty amazing super powers -- the power to help heal and restore people's lives and help connect communities.
So much so they are sending art from Toronto, Austin, New York, and Los Angles to the LivingRoom Community Art Studio, a project Krohnert launched last summer in Oshawa, Ontario, to help raise money for its new home. Be warned if you keep reading you may want to make art, send some up north, or maybe even head up there yourself.
The LivingRoom Community Art Studio is in essence an art hive, a place where anyone can come whether they've ever made art or not, hang out, laugh, share their stories, and create something that's uniquely their own. That can mean painting, drawing, collaging, needle work, or sculpture -- or any other medium you can think of, anything at all. I even had a body paint session with a young man who had just decided he wanted to give it a try, and I ended up with a gorgeous piece of art on my skin.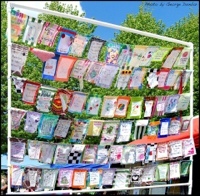 It's all good at the studio, and while making art people who might never have met otherwise, and who are often marginalized by society, start to connect, get and receive support, and have some fun, while healing and perhaps shedding light on those dark places inside themselves where they were afraid to look or share with anyone. Not with words but with art.
And this is where Mary Krohnert, who is also a trained art therapist, makes a different kind of magic happen. I know because I actually headed up north, went to a pop up event at a sweet local restaurant, and amazingly enough I had a really great time - checking my ego and my need to make great art at the door, and just make something, anything with other people, even some bad art.
Yet, after I settled in and really let myself be in the midst of what felt like a shamanistic flow, I realized how powerful making art with others can be, watching them grow and change literally before my eyes. One 20-something talked about how her art was really about trying to be more in the world, and taking her power back from those voices in her head, which keep her from being and doing what she wants. The very voices many of us wrestle with every day, and while she didn't go into detail, that was enough to let the healing begin.
While I collaged, I watched Krohnert move through the room with a catwoman like grace, checking in with everyone, engaged by their stories, connecting with them in the place they needed her too, weaving a different kind of spell than she does on screen, one that is tactile, healing and replenishing, and just as magical. Some art experts might dismiss the drawings and paintings on the table as being "bad art" but in each piece she sees promise and beauty -and hope for a better future.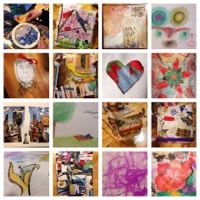 Yet, she is quick to point out that it's not about her -- it's about people coming together, supporting each other and sharing themselves. "There is something about people making art together that opens their hearts and enables them to connect to each other in ways that they might not normally."
While performing on stages and screens throughout Canada, in her heart Krohnert wanted to help people experience the very things she loved about acting. So she headed back to school to study art therapy, and while in the university she came across a paper by Janis Timm-Bottos, who many consider to be the mother of the art hive movement, having launched some pretty amazing spaces in New Mexico and Montreal.
Intrigued and excited by her work, last summer Krohnert got a chance to study with Timm-Bottos, and it changed everything for her. "I wanted to make a space where people could come and make art for free, because with every bit of art they make whether they realize it or not, they are making their lives and the world a better place," she says.
She went home, and started the LivingRoom Community Art Studio, throwing some really successful pop up events, drawing volunteers to the project, and getting lots of community support, so much so they now need a home of their own. The Little Art, Big Difference fundraiser, happening on June 12th is a part of that, bringing together artists, writers, actors and celebrities who believe that art can, and does heal, and want to be a part of making that happen.
It's going to be a great night full of beautiful art, and there's a fun and very cool twist - whose made the art is a mystery until after you've brought it. So you may end up with a piece by Katie Boland, from CW's popular TV show Reign, NYT best author Linda Casstillo, Austin artist Chalda Maldoff, Genderqueer Adult Film Star Jiz Lee, or a piece from an up and coming artist. If you can't go don't worry, you can preview and buy the art online.
I'll be there, not just for the art, but for the people too. While I was at the LivingRoom I made a superhero laden collage, and had no idea why. Realizing only later that I created it because Kronhert and those pretty cool, everyday people, who are willing to step out of their comfort zone, sit down and make some art, and see what happens, really are superheros even though they probably don't realize it -- yet.
Calling all HuffPost superfans!
Sign up for membership to become a founding member and help shape HuffPost's next chapter