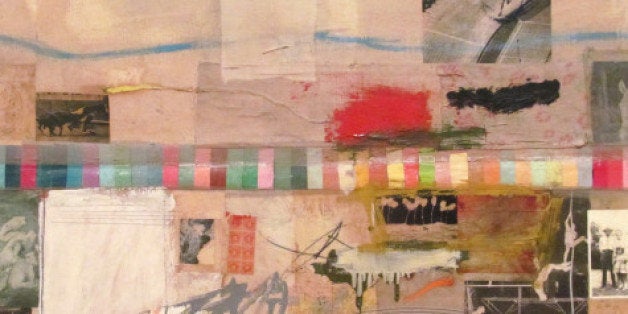 In 1958 my father, Robert Rauschenberg, painted Thaw, which he later sold to an art collector for $900. Fifteen years later, that collector sold the painting at auction for $85,000. My father was rightfully angry. His hard work was beginning to pay off, but not for him. If not for his continued art-making and the profile he went on to build in the art world, it's unlikely that Thaw would have increased so much in value.

United States copyright law protects the creations of performing artists, composers, writers and virtually every other kind of creator - except for visual artists - by ensuring they receive royalties for the resale of their work. It's only fair that this law should protect artists too.
This Tuesday, Congress will consider the American Royalties Too (A.R.T.) Act, which would give artists five percent of the purchase price when their original works are resold at auction. This is exactly the issue my father tried to address nearly 40 years ago.
The principle of royalties for artists is not new; in fact, it has been largely recognized since the nineteenth century. The first "droit de suite" law passed in France almost 100 years ago and similar laws exist in more than 60 countries.
While my father was one of those rare and lucky artists who are able to make art for a living, no one decides to be an artist for the money they'll make. As the writer Théophile Gautier once said, one creates "art for art's sake." For the artist, the value of art is in its making, not the bottom line. And while artists do tend to live by that code - most of them deeply in debt or poverty - legislation of this sort would be the first step toward ensuring that artists receive a fair share of the value of their work.
The goal of the A.R.T. Act, put forth by Rep. Jerrold Nadler (D-N.Y.), is specifically written to correct current copyright law, which now benefits wealthy art collectors, not art creators. The A.R.T. Act seeks to rectify this imbalance by ensuring that artists get compensated, even modestly, when collectors earn large sums off of their works.
As I think of my father's legacy, I am reminded of the fact that so much of his art had a political component. My father believed in opening doors, making art accessible, and doing whatever it takes to uplift and encourage artists. When my father passed in 2008, he left behind the Robert Rauschenberg Foundation, which carries on his work and his vision for art that speaks to social and cultural issues. All his life, he championed rights for artists, many of whom were close friends of his. Some of those artists became very successful; others struggled all their lives to earn enough to remain true to their calling. The foundation that bears his name continues that work today, and that is why the Robert Rauschenberg Foundation is calling on Congress to do what's right for artists and pass legislation that provides a fair return to them as their works increase in value.
By the end of his life, my father was a wealthy man. Back in the 1970s, however, when his painting was sold for $85,000 without a cent going to him, he was still an emerging artist. He had a perspective and growing prominence, but certainly not the financial security that he had later in life.
The law should foster and support young artists if we want them to continue to create. Implementing legislation that equitably distributes the proceeds of creative output will cost taxpayers absolutely nothing, yet would mean a great deal to the artistic community. It's true that under this legislation art collectors and traders - a fairly small but very wealthy group - would receive 5 percent less from auction sales. But I am confident they will survive.
If my father were still alive, he would surely be testifying before Congress in support of the principles that underlie the A.R.T. Act. Because he is no longer with us, I am following his lead. It is his son and his foundation saying that a law such as this one will be supportive of creators working in the visual arts.
Calling all HuffPost superfans!
Sign up for membership to become a founding member and help shape HuffPost's next chapter