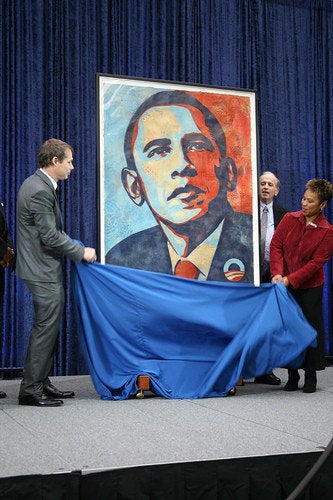 Although posters and creative strategies have long been part of elections, the 2008 presidential campaign was notable for the artistic boost that Barack Obama received. Who can forget the famous "Hope" poster by graphic designer and street artist Shepard Fairey, which became the primary image of Obama's bid for office?
Whether the president's reelection bid will be backed with the same artistic enthusiasm remains an open question.
Art critic Peter Schjeldahl of The New Yorker called the "Hope" poster "the most efficacious American political illustration since 'Uncle Sam Wants You,'" while Laura Barton of The Guardian declared that "it has acquired the kind of instant recognition of Jim Fitzpatrick's Che Guevara poster, and is surely set to grace T-shirts, coffee mugs and the walls of student bedrooms in the years to come."
Fairey wasn't the only artist to stand up in support of then-candidate Obama. Ten artists in total donated their works to the 2008 "Artists for Obama" campaign, including Robert Indiana, Scott Hansen, Antar Dayal, Lou Stoval, Lance Wyman, Gui Borchert and Rafael Lopez. They created imagery that, like Fairey's portrait, was enthusiastically recirculated and became an integral part of the campaign's efforts to appeal to voters.
We asked a few of those artists if they had plans for Obama-inspired work in 2012. Borchert, who made the typographical portrait of President Obama, wrote via e-mail, "I'm certainly supporting Obama on the upcoming elections, but so far I haven't been invited to create any artwork related to this year's race." Dayal, who created a portrait of Obama with his signature "Yes We Can" catch phrase, wrote back that he hadn't done any work for Obama's 2012 campaign, but he would if he were asked, adding that he thought Obama deserved a second term. Those sentiments were echoed by Wyman, the artist behind the "Obama 08" print, who wrote that he too supported the president's reelection.
Shepard Fairey has been less enthusiastic about a second round of art for Obama, however. Last year, he told ARTINFO that he wasn't planning on creating another poster for the president. "The reason why the Obama poster worked in 2008 is because Obama wasn't a known quantity yet," Fairey stated. "There was the opportunity for people to project their hopes and fantasies. Now an image celebrating him as an idea isn't going to work."
Fairey did tell ARTINFO that he would consider creating more issue-based works for progressive causes, such as posters in support of green-energy initiatives or health care reform. And perhaps that's the direction in which any "Artists for Obama" effort might head this year. The template could be last year's graphic design campaign for the Jobs Act, when Obama for America sought poster submissions from artists and designers in support of the administration's employment plan.
What do you think? Have you seen artists in your hometown stand up in support of President Obama this year? Let us know in the comments section, and check out the slideshow of images from the 2008 "Artists for Obama" campaign below. Stay tuned for our next installment: "Conservative Artists in Support of Romney."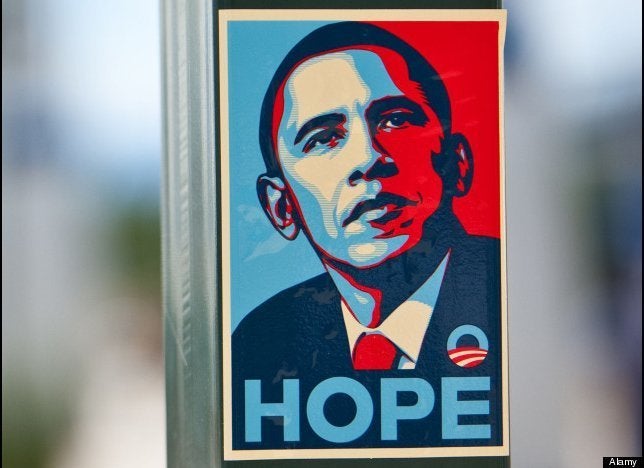 Artists For Obama
Popular in the Community