Most fashion shows leave audiences talking about everything from hot new trends for the coming season to the models themselves. When Ira D. Sherman's work hits the runway, however, conversation takes a radically different slant — turning, instead, to a topic few discuss publicly: sexual violence.
"All people talked about was a topic people rarely talk about, and that's rape, what it means, what it is and how it's effected them," the artist said of initial response to his "Sherman Chastity Couture Collection" many years ago.
"Every single show [since], somebody comes up who was attacked – or knows somebody who was," Sherman went on to tell Party Foul Radio with Pollo & Pearl. "At every show, at least one person I'm working with says, 'Wow, it happened to me.'"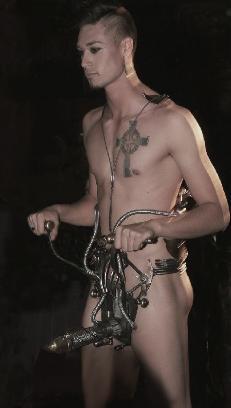 For Sherman, the "Chastity Couture Collection" started as "a lark." A skilled craftsman and jeweler, he designed a piece called "The Pneumatic Chastity Belt" for "an exhibition of beautiful, high-end jewelry and really fine metalwork" over 20 years ago. He immediately gained a reputation as "the Denver artist who makes chastity belts."
"I only made one of these things," he recalled, "But I couldn't shake the identity."
What seemed something of a curse eventually turned to inspiration, as those around Sherman came forward with first-hand tales of surviving sexual assault. First it was a fan of his work, then a family member and finally a friend who shared their stories.
"It's totally epidemic," said Sherman of sexual assault in today's society. "There's so many – if you add molestation, incest, prison rapes, general public – I don't think anyone is immune to knowing somebody [who has been assaulted]. Then there are all the attacks which aren't reported."
Sherman's first collection of "Chastity Couture" was put on exhibit in 2002, at the National Ornamental Metal Museum in Memphis, TN. That front-runner was markedly different than his work today in that it was designed as a means of vengeance many victims called for toward their aggressors.
One set of apparatus confined the individual, forcibly injecting tattoo dye, forever marking the wearer as a sexual predator. Another incorporated a closed-circuit television system, providing all-seeing protection. Yet another, which Sherman calls "the 'Vegematic' of anti-rape devices," combined alarms and more with a stainless steel, pneumatic, hydraulic machine encompassing the individual.
"The key with all this collection is they're all beautiful," Sherman described his early work, "But here is all this beauty juxtaposed by the horror of this machine that does horrible things to people."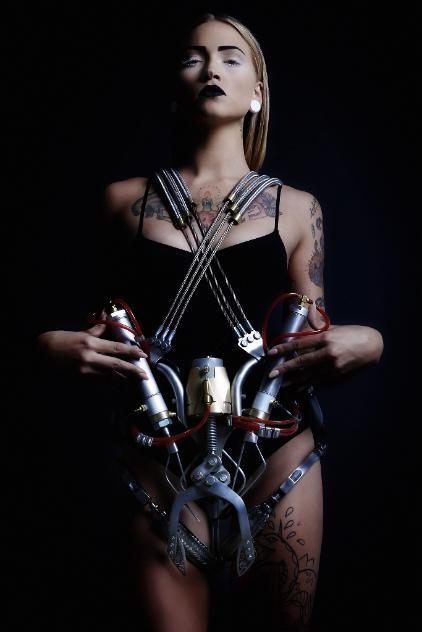 Unfortunately, because of the "heavy" subject matter addressed by his collection, Sherman says many museums and art spaces shied away. Fortunately, as they did, the artist's vision for the collection grew.
"I started work on a whole new group of pieces that didn't attack or destroy," he relayed to Podomatic's No. 1 LGBT Podcast. "They all just looked gorgeous, they protected and they had a [physical] key."
Seeking new means of engaging audiences, inspiring conversation and capitalizing on the elegance and artistry of his designs, Sherman decided to treat his work as "fashion statements" and turn its exhibition into "performance art." He found fashion shows a perfect avenue for his work, routinely incorporating cirque-style elements of fire displays, aerial acts and more.
Drawing to mind elements of Steampunk and post-apocalyptic couture, Sherman describes his work as "exo-skeletal sculpture that fits on the human body." More to the point, it translates visually to metallic, wearable art for both the male and female body. Stainless steel codpieces, vaginal armor, flexible cable G-strings and even a flame-throwing penis are highlights.
The "Sherman Chastity Couture Collection" now joins "Hot Couture 2017: The Beautiful Ones," a charity fashion show in Oakland, CA. A production of The Crucible, a queer-friendly educational space fostering a wide array of mediums within the San Francisco Bay Area artist community, the show runs February 16-19, 2017.
Sherman says new designs confront one of the biggest challenges faced by survivors of sexual violence. When reporting instances of rape or related attacks, victims are all-too-frequently portrayed as "asking for it" through either behavior or attire. His couture assures the wearer can be as provocative as desired without fear.
"My pieces make you look gorgeous and sexy, yet nothing is going to happen," he said of the finely-crafted metal designs securing his models. "You can express your sexuality without anything happening, without fear of attack. It's not just armor, it's armor you control."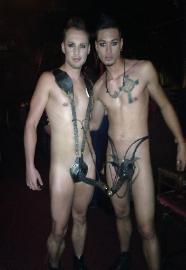 Each custom-created piece comes with a key, giving the person holding it complete power. Should the wearer want total security, he or she holds onto it. Should they choose to give the key to another, that is entirely consensual – reflecting the consent forcibly removed in situations of sexual violence.
"The key becomes a very important concept in the Chastity Couture Collection," he said.
In each new show, Sherman says, he hears personal stories of past assaults from those who either see or wear the work. It's heartbreaking, he says, but speaks to the types of important conversations his line evokes both for audiences and those behind-the-scenes. In fact, he's come to expect it.
"Anybody who sees this show starts talking," he stated. "The models who are in the show start talking. Anyone who sees us assembling the work, dressing people, they start having this discussion."
What the artist did not expect, though, is the response many models – both male and female, since he makes certain to cast both -- have when fitted into his work.
"To my surprise, they're more exhibitionist in their motions and movement," he shared. "They put this on, and all of a sudden, they're empowered. They light up. It's protection, in case there's some fear [of attack] in acting that way."
Sherman hopes his line causes those who see it to "reevaluate what we're doing as people sexually to our image." Though his designs "certainly objectify" – "You're sexy," he noted, "You're naked." – they also insulate the wearer from aggression.
"You have this armor around you," he said. "It's really, really sexy, and at the same time, through this objectification, you're totally protected, so no one can mess with you."
While the majority of response to the "Sherman Chastity Couture Collection" has been overwhelmingly positive, the artist admits it has detractors. After a show in Memphis, he recalls some were outraged to see him "capitalize" on a subject like rape. Sherman took the backlash in stride.
"As an artist, I look at it and say, 'What better topic could there be than to try to make a discussion and dialogue about…such a horrible thing?'" he concluded. "Art often does that."
LISTEN: Ira D. Sherman talks the Chastity Couture Collection on Party Foul Radio.
Support HuffPost
A No-B.S. Guide To Life
Related
Popular in the Community