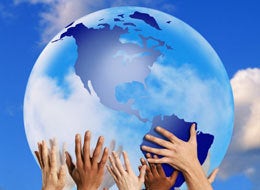 The Save My Oceans plastic activists' blog series to celebrate the 40th anniversary of Earth Day moves from the left brain to the right brain today as you meet some artists who are refashioning plastic trash into art. Not only are they giving the garbage a new life, they're personally collecting and cleaning it. Whether it's at a local beach or in your park, there's sadly plastic trash. Be inspired by these creative people to turn our seemingly useless waste into something useful.
Dianna Cohen: For the past eight years, Dianna Cohen has been transforming plastic bags into paintings. She breathes new life into the convenience curse of our environment, transforming it into three-dimensional art.

Richard Lang and Judith Selby: Richard and Judith were soul mates before they even met. They'd both been collecting plastic trash from the beaches of eco-central Marin County. Their first date was at one such beach and they tied the knot with Judith wearing a gown fashioned from plastic garbage. The couple now regularly collects trash at Kehoe beach and then cleans and files it in their studio for reuse in their art.

Julie B.: While she's the name behind Pretty in Plastic, this artist recently created massive sea creatures out of recycled plastic for the Save My Oceans tour. Inspired by sea turtles, albatross and jellyfish, the visually stunning creatures, which glow at night, are infiltrating college campuses for the month of April.
Chris Jordan: captures our consumerism through his art. As he says, "collectively we are committing a vast and unsustainable act of taking, but we each are anonymous and no one is in charge or accountable for the consequences." His photographs of albatross chicks that died because they were fed a plastic-laden diet by their unknowing parents are shocking and alarming. Are these albatross the canary in the coal mine?
Eco-logical Art: What Peter Schulberg is doing really makes sense. Here in La-la land where we're bombarded with countless billboards, selling every consumer product and movie imaginable on countless buildings and hovering over quiet communities, he is creating pieces that are pleasing to the eye and the planet. Painting on recycled billboard vinyl, he creates brilliant original art that is beautifying the city's landscape.
Surfer, artist and activist: Kathleen Egan is creating pieces out of plastic she collects at beaches around the globe. Through her surfing adventures, whether at home in San Francisco or in more remote places in Indonesia, Egan collects plastics that she transforms.


Calling all HuffPost superfans!
Sign up for membership to become a founding member and help shape HuffPost's next chapter