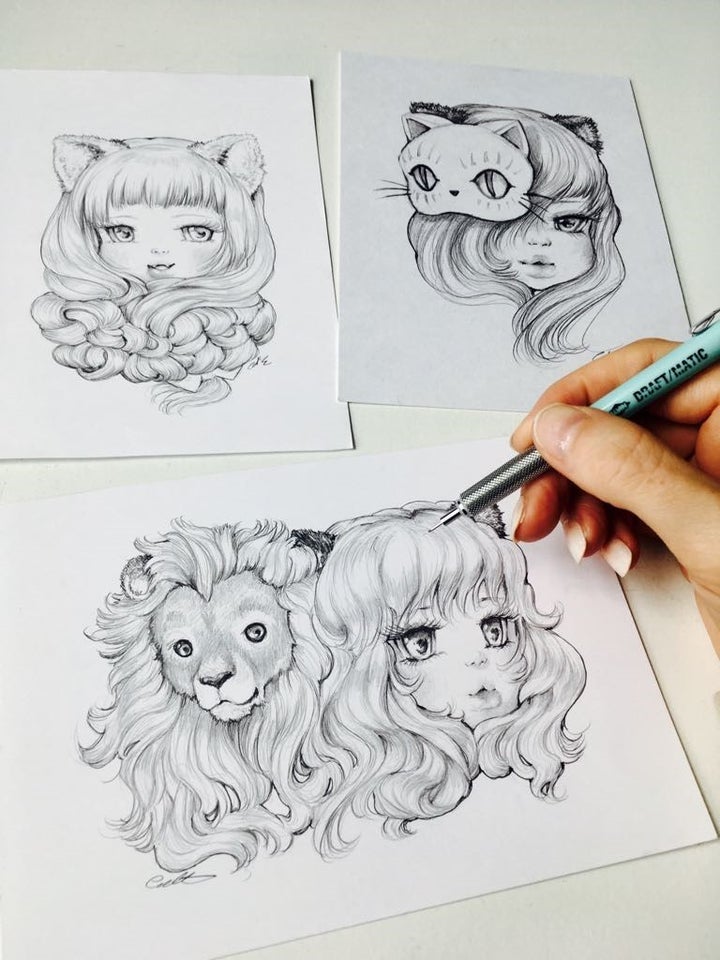 One of the questions I most frequently get asked to write about is, what do people put in their art travel kit? While the list can vary greatly, depending on personal preference, and the artists medium that they work with, there is still a great deal of common ground. I will be traveling to cover New York Comic Con in early October. With just 6.5 weeks to go, I am already stressing about what I am going to bring with me, as I know I will want to work on art on my flights, and in my downtime at night.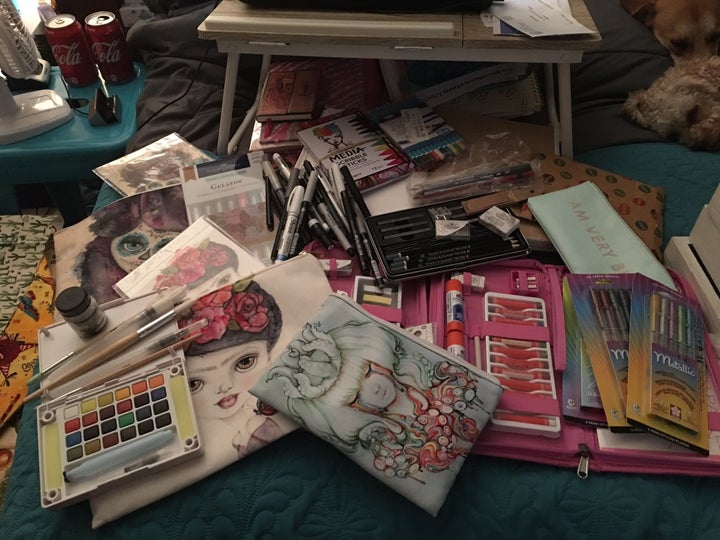 Pictured above is my current stash, which consists of: a black paper sketch book (I you have never tried it…amazing!), a Dina Wakley sketchbook with 4 different types of paper, vibrant colored pencils and water color pencils, a Koi travelling water color kit with brushes and water brushes, a smaller than one ounce gesso and tube of white acrylic paint for bases, metallic gelatos, Dina Wakley scribble sticks, 15 colors of Gelly pens, various Pitt pens, metallic sharpies, paint markers, a pencil and graphite set with sharpener, eraser, and blenders, glue sticks, water soluble pencils such as Stablio, artists fine markers, travelling oil and chalk pastels, water proof artist cases (for messy material that could spill or mark) by Camilla d'Errico (found on Etsy) and Bando.com (on their website), as well as two big pouches by Neptune Fine Art (Frida and Day of the Dead), with matching journals (found on Etsy). They are extra roomy, which I clearly need. So, right now I am pretty well covered to be trapped in a bunker for 6 months and can entertain myself with art. I know I need to pare things down, a lot, so I decided to go to the professionals and see how they navigate travelling and art materials. Below is my picture "Brain Freeze," that I created while traveling.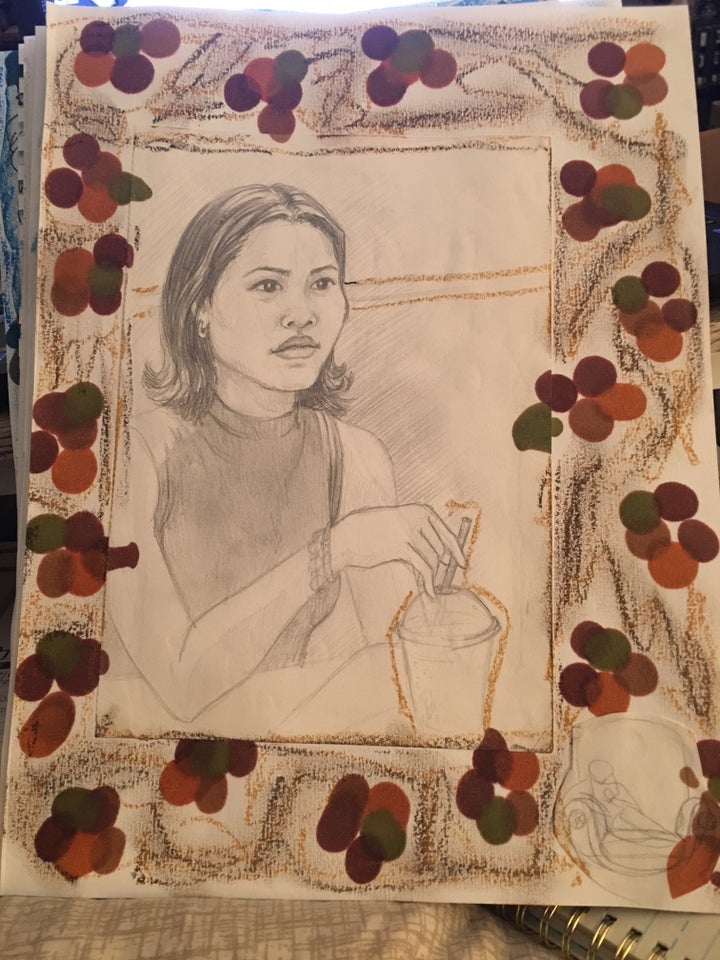 Before I get to each artist's specific lists, I want to go over some universal logistics to be aware of when travelling with art materials. If you are an acrylic or oil painter fantastic….but you cannot bring all those paints on the plane due to liquid restrictions. You can put a few small tubes in your liquids/toiletry kit, but most of us don't have that room. However, there are some hardcore painters that will forego toiletries in their carry on, to have access to their paints.
If you are going to use a small water spritzer bottle, it cannot be filled BEFORE you go through airport security (fill it after), and the same goes for your water brush. By a set of travel pastels if you must have them (I must), or you can buy the larger VERY pricey case that protects many pastels. I go for the 10 packs in my picture that is cheap and gets the job done. If they don't survive the whole trip, no harm, no foul. If you take pastels, be prepared to lose one to airport security by them asking you to break a random one of their choosing in half in front of them, I kid you not, this can happen. Don't try and be cute and sneak things through, unless you are willing to watch expensive art supplies be confiscated and thrown in the garbage in front of you. Keep your supplies in a water-proof and lined bag to avoid spills, mess, and cross contamination. There is nothing worse than opening a bag to find your things covered in art supplies.
Now let's get to the nitty gritty that you really care about. What do artists carry as their "must have's," and "cannot be without," while they travel. I spoke with three artists who answered just that….and made my massive pile feel ridiculous.
I first spoke with Johnny Dismal, who really keeps it simple. Johnny's work is dark, creepy, but endearing. He is highly collected, and when he is part of a group show, his work is always one of the first to sell out. It really evokes something in the viewer, and each image tells a story. His quote is followed by a few images that he drew on the road.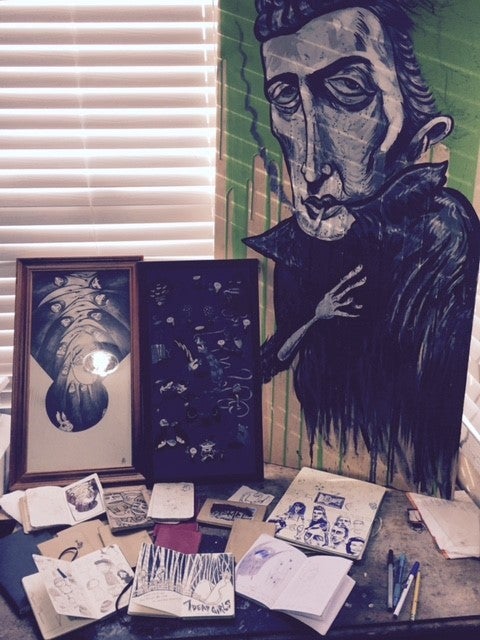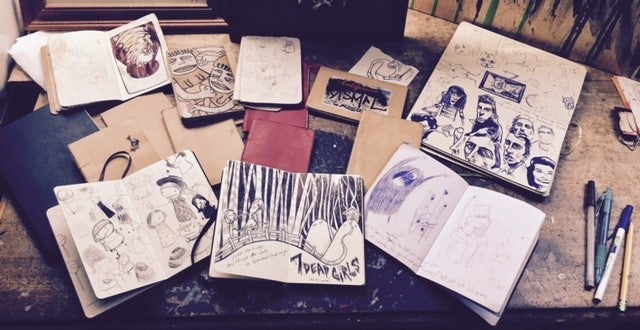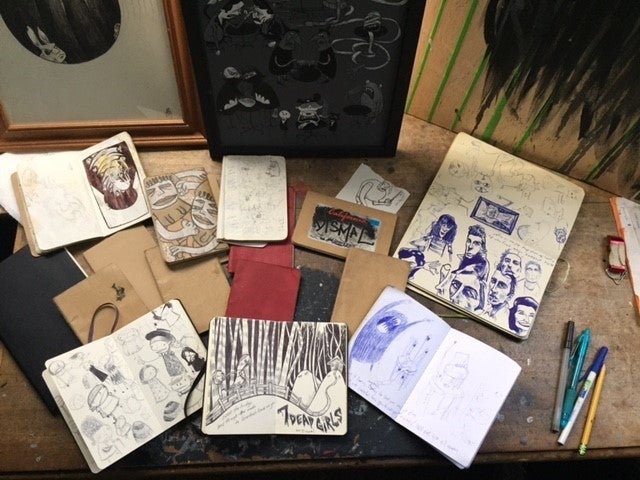 "I can answer that question with one important simple word. Sketchbook. And obviously, a pen. Wherever I go, whether I'm traveling on a plane for work or to see my girl in Brooklyn or I'm on the bus, train, eating me a burger for lunch, hanging at a bar, I have a pocket size sketchbook in my back pocket. if it's bigger, it's in the inside of my jacket. I'm constantly sketching new painting ideas. Some are future series, sometimes it's the current series which could consist of 20-100 pieces. I have one book that's strictly for my current children's book that I'm releasing at the end of November. I also like to sketch my surroundings. The people, the scenery, do something realistic that helps motivate my way of thinking in another way. Sometimes I just write words because it's fun. For me, the sketchbook is the most important tool I have, it's how I stay loose and come up with good and bad ideas. I've just got to get them out. More importantly, I can tell by the very first line I draw, whether it's going to be a good drawing day, or a bad one."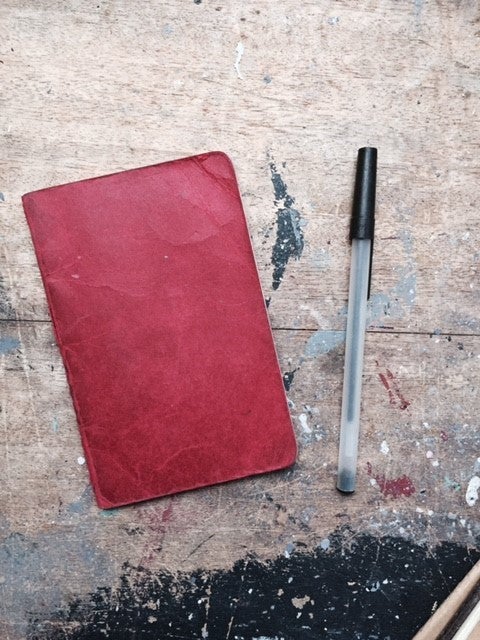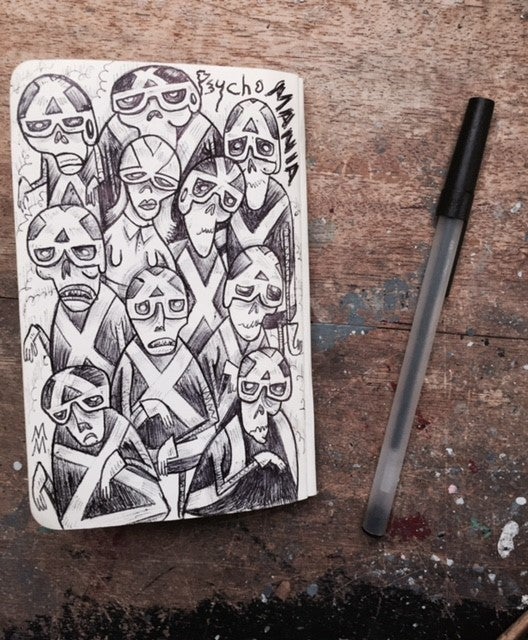 The next artist who shared his absolute necessities for the road was Gus Fink, Gus is involved in many projects at any given time, so it is important for him to be able to have a good set that gets the job done for him. He works faster, and comes up with more original ideas on the fly than most people I have ever met, so he is very inspired by what is going on around him. He is known to draw something out on any surface readily available to him. Here are Gus's go to items, followed by some on the road sketches. On a side note, I think working on old book pages is genius!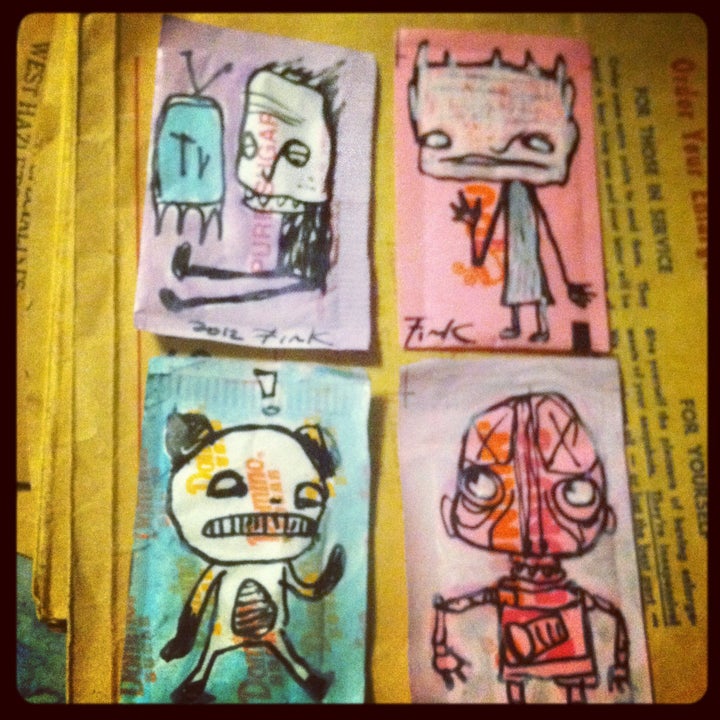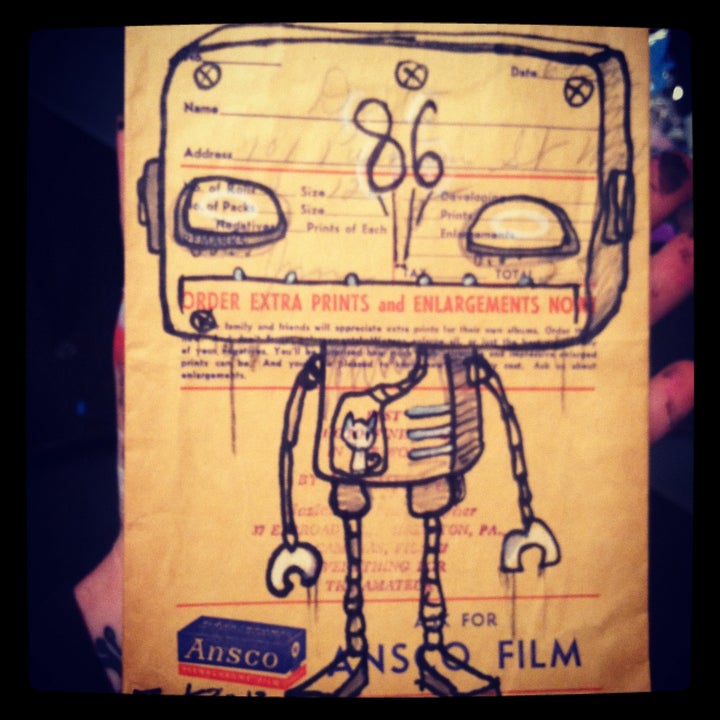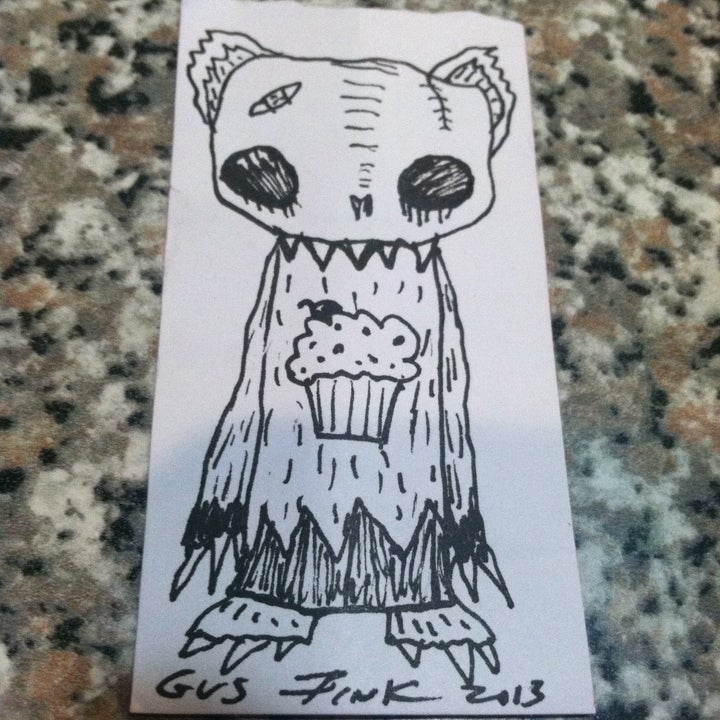 "My must have travel pack, for whenever I'm away a few days out of the studio, and onto the road or sky: first I bring an assortment of fine quality drawing tools. I'll grab a black sharpie, a pen, a pencil a few inking pens of different sizes usually at least a .01 and a .03 micron or Zig memory system pen.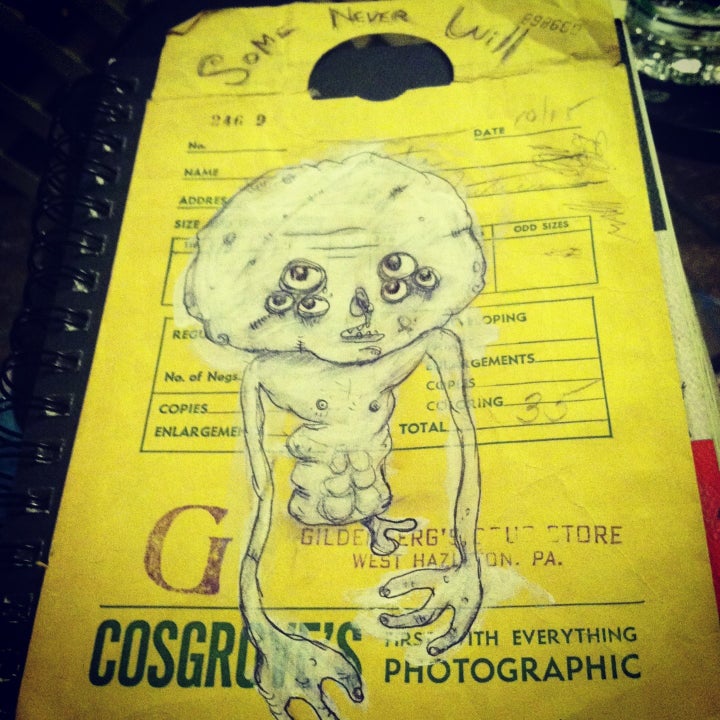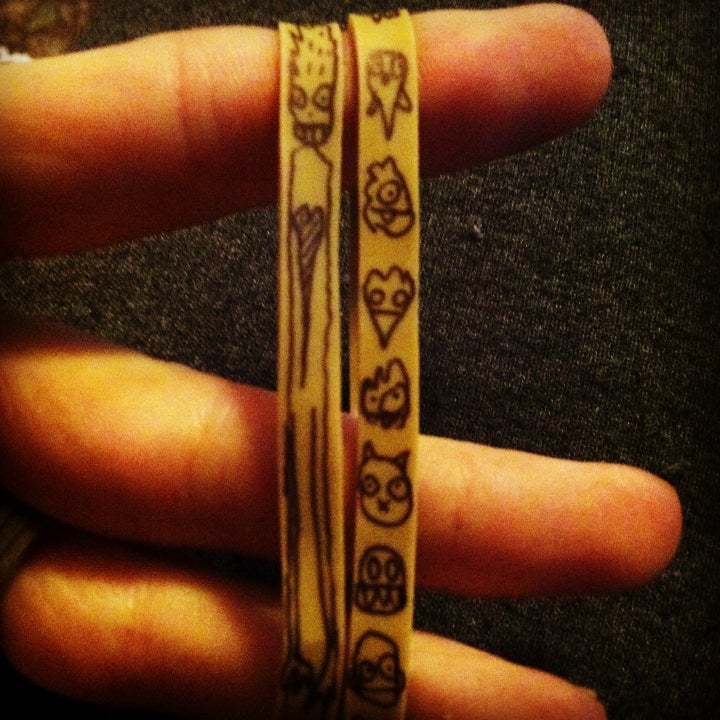 Then, I like to have something that can draw white so maybe a good galaxy marker that comes in white or a Prismacolor white pencil. For colors, I like to take a watercolor pallet (the kind that kids use are fine). Crayola makes good ones, and then there's more professional kinds I will use but are bulkier. These can easily be laid out on a plane and by placing a few drops of water in my bottle cap I'm good to color in anything I need .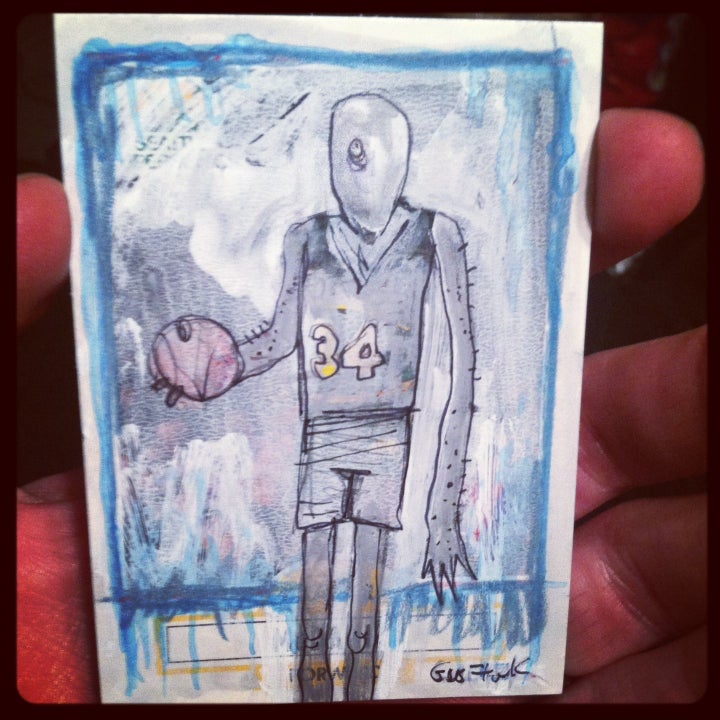 Most importantly, for anything of serious design work I'll bring my Fujitsu laptop so that I can design in photoshop. This will work if I do a quick sketch, take a pic with my phone and then email it to myself, or message it so I can open the file and use a new layer to draw on top a nice clean design.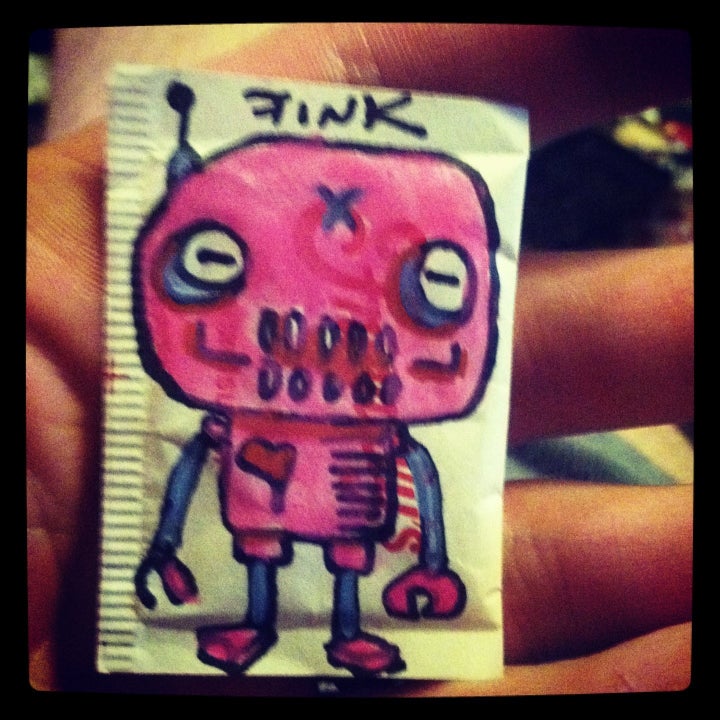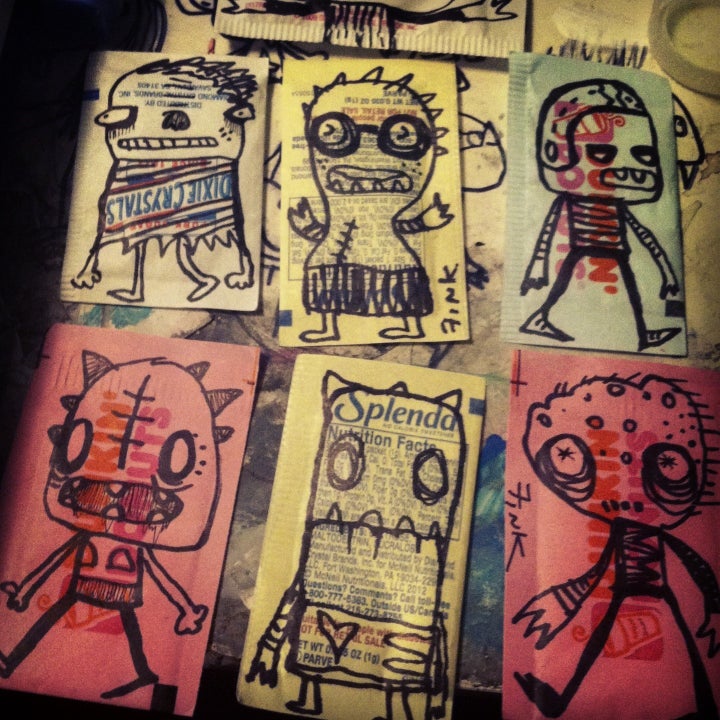 If I can get away with a few small containers of paint (harder on a plane) I will bring at least a black , white and red with me but sometimes an ink jar is better than a paint bottle. As for what to paint on , typically an 8.5x5.5" sketchbook is best. Sometimes I'll stuff a few smaller works of paper or an old book that I can just draw on the pages, but it's always fun for me to find things during my journey and work on top of them. I've drawn on the how to escape an airplane little thing they give, doodled over Sky Magazine to entertain myself on long flights, or even just have a sharpie on me and then will make art on a coffee cup or sugar packets that I can add some watercolors to. Those kinds of things make for new fun memories, and give me more of what I love the most, which is creating something I never knew I would make."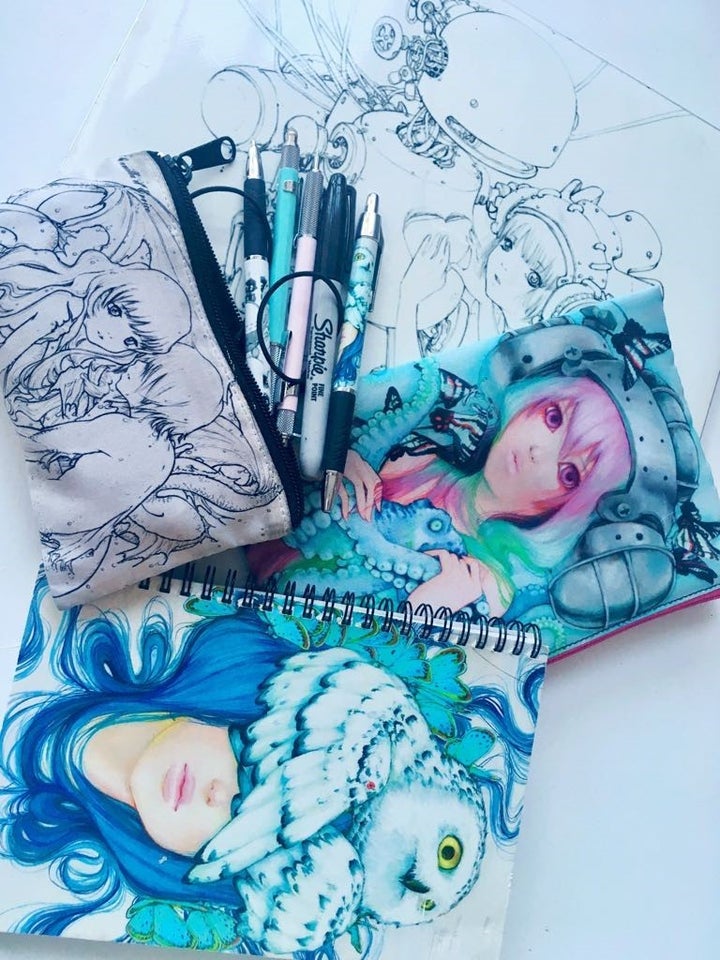 The final artist, who was kind enough to share her travel art necessities, was the lovely Camilla d'Errico. She is really inspired by the people, experiences, and world around her. You can see this and read this in the inspirations for her paintings. I recently bought a sketch she did when she was in Scotland, as it is a place close to my heart, and her work evoked something in me that was truly reminiscent of my feelings during my trips there. This was a perfect example of the need and power the right tools can have for artists while they travel, as you never know when inspiration will strike. Here are Camilla's thoughts on her absolute necessities: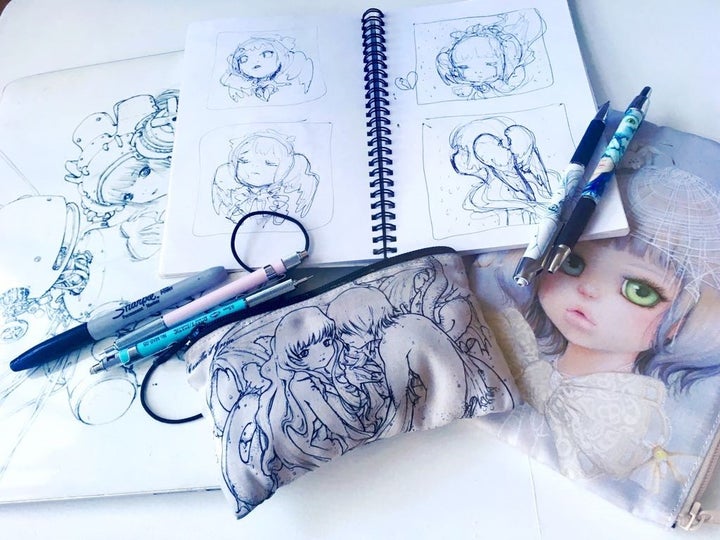 "I travel a lot and you'd think that by now it'd be easy for me…alas…the plight of a Libra plagues me constantly. I'm always undecided about what to bring, what to leave, and inevitably there will be a few items that end up in my suitcase, that were sitting collecting dust in my apartment. The thought that "maybe I'll use it this time" gives hope to the possibilities that I can't pass up. But there are some things that I never leave home without. I am easily bored so I make sure to bring lots of things with me on the plane for my creative whims. I bring a pouch filled with pencils and pens for drawing.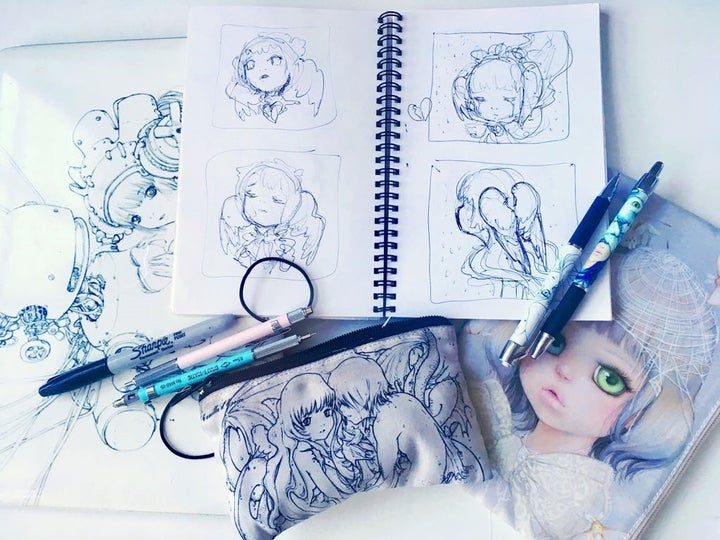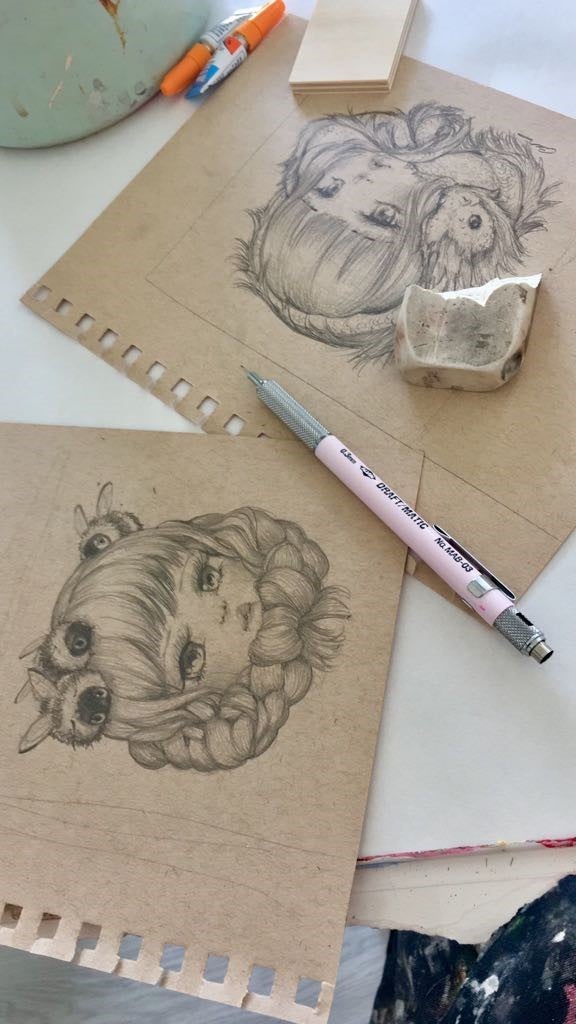 I draw a lot on planes, even if there's a movie on board I'll likely still be doodling. Then I must bring a sketchbook for random thought processing. You never know when a new idea will pop up that needs writing down. I also never leave home without my laptop! I love my MacBook air. She's my baby. I have a lot of fun writing stories while I travel so I've got her with me always. I like to look at art all the time so over the years I became very fond of having products that could pimp out my must have travel items themselves. Now I just need to find a way to have my art on my suitcases and then I'll be set!"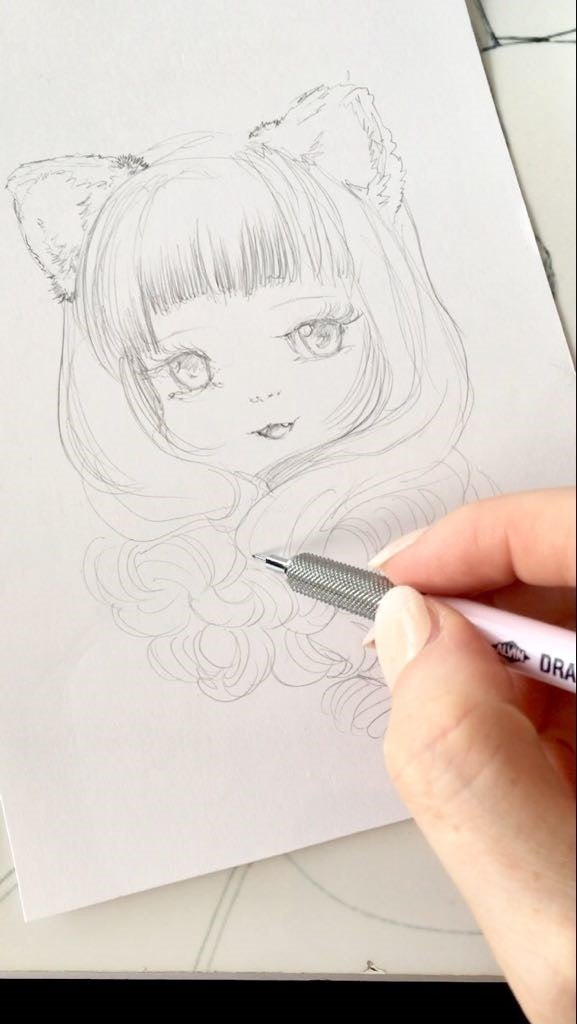 Hopefully these artists insights and essentials have helped you to navigate what is best to bring with you on your travels if you are like me, and can't make a trip without doing some art. Also, I hope they illustrated that you can create lovely pieces without all the bells and whistles that they and many of us have in our home studios. A few other tips to leave you with: you can base or start pages in your sketchbook or old book BEFORE you leave. This way you have a base to start with, and can skip the supplies that you would need for it. Pack a few projects that are early in their inception, and you can work from there. You can bring a little bit of ephemera to play with, OR you can collect ephemera and random paper and mixed media pieces along the way. Working with, and getting inspired by the places that surround you can produce some of your favorite pieces. Also, remember that you can create the start of the pieces while you travel, and finish them completely when you have all your materials at home. I hope that these tips, tricks, and insights have been helpful, and I want to thank the artists that took the time to share their own travel art supplies "must have's," to give us a better idea of what we REALLY need. I have some cutting down to do!
Popular in the Community