Originally published on Turnstylenews.com, a digital information service surfacing emerging stories in news, entertainment, art and culture; powered by award-winning journalists.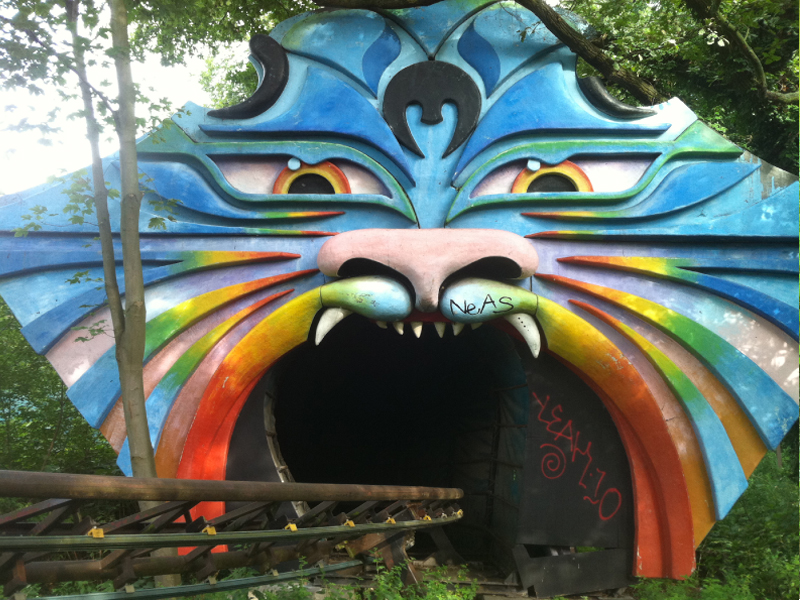 Kulturpark Plänterwald was an amusement park built in 1969 in East Berlin, under the German Democratic Republic (GDR). Since then it turned into Spreepark, but as of 2002, it has since been closed, sold, and abandoned for ten years. A group of five artist-curators have won grant money to launch Kulturbahn - an artist takeover of the old Berlin amusement park.
The artists that make up the "Musement Berlin" team are Elsewhere directors George Scheer and Stephanie Sherman, Argentinean artist Agustina Woodgate, curator Anthony Spinello of Spinello Projects, and Assistant to Research and Development, Christopher Lineberry.
Turnstyle spoke with Woodgate about her involvement in the project, and what they hope to inspire out of the run-down park.
Turnstyle has profiled Woodgate's work before-from poetry bombing to Musement Berlin, she is no ordinary artist.
TS: What kind of artist would you say you are?
Woodgate: Instead of artwork, I say I do projects. Some are four months, and some last two years.
I spent two years making rugs out of used stuffed animals. I'm in the process of re-evaluating it. They were shown for first time in December in Miami and last month in Europe. The feedback has been incredible.
I un-stitched them and ended up with weird shapes, but they're still animals and now they become rugs. It's a play on animal skin rugs. These stuffed animals have been abandoned. I was collecting them but the word spread. Sometimes I arrived at my studio and by the door I'd have bags of stuffed animals. It's a perfect excuse for mothers - they're more comfortable giving them away if it will become something else. I wanted it to go beyond art, and beyond something that had no function. I wanted people to use them.
TS: Can you explain the vision for the project Musement Berlin? What is the idea behind what you hope to create?
Woodgate: This was the first amusement park in all of eastern Europe. It's loaded culturally, economically, and politically.
The project is a collaboration between myself and three other people [directors George Scheer and Stephanie Sherman, and curator Anthony Spinello]. George and Stephanie went on a trip in 2007 to Berlin. They found there was an abandoned amusement park. They jumped the fence - it's off-limits now because it's privately owned...
Two years later we all met, and talked about possibly applying for an Art Matters grant. We started to do research on this location to come up with a proposal. We did intense research, collected stories, and met people who have been there. We found the blueprints. At this point, we are totally invested.
Everyone can relate to it. You have your own memories about amusement parks, but it's a global memory.
TS: Can you explain the project details?
Woodgate: In June of 2012, the idea is that we'll invite Berlin-based artists to submit proposals to re-do the park.
The idea is to illuminate the story of the park, to imagine the potential futures of amusement culture. Not necessarily to take it as entertainment, but also as a culture park. The original name of the park was Kulturpark.
We are selecting 10-15 artists. Whoever is selected will come in June where they can participate in a collaborative residency. They will share their visions. It will start out as a dialogue between them. They will have access to the park for an entire month, to work and investigate.
The idea is that they communicate between each other-that the sound and lighting artists know what each other are doing. But each one is bringing their own skill. The park is by the water - the artists will be living in big boat. They'll have easy access to the park.
We will be the liaisons between them. The park will open for last week of Berlin Bienniale. It will be a one-ride experience, one huge site-specific exhibition. We're not only inviting artists. but scientists, gardeners, and creative minds.
We only want Berlin-based artists - this location belongs to Berlin.
TS: The park closed in 2001 and has been abandoned for ten years. What's the state of the park now?
Woodgate: Most of the rides are broken, dysfunctional, or dangerous. There is one ride that has been there since the very beginning of the park. It's a train that travels the perimeter of the park. That will be the one working ride.The idea is to re-think how an amusement park can be utilized. With the fall of the [Berlin] wall it became privately owned. The rides changed, and entertainment changed.
The park is kind of disappearing. It's magical, it's spooky. The things are damaged and there's graffiti everywhere. The land is in foreclosure.
The swan boats are laying down, the dinosaurs are tipped over... it looks like they're dead. It looks like the end of the world.
TS: During your research, were there any interesting stories about the old Kulturpark?
Woodgate: When the park closed to the public, it was abandoned. This family that used to work there never left. They were squatting in the mirror house or one of the rides. They had a baby there. This is just crazy.
Another very interesting thing was during the 1950's and 60's, when children from the communist party turned 15, they have like a ceremony to become part of the party. This happened in Treptower Park [the bigger park that enclosed the amusement park]. These kids were taken into the amusement park and then from there they were taken into a theater. It was a whole day of culture and amusement. It's so interesting to see how different parts of history and politics have utilized amusement in different ways.
The other thing that blew my mind -- inside of this park there was a construction - a living experiment called the Futuro House. There are only 86 in the entire world. It was the radio station of the park. This Futuro House was shaped like a UFO and was designed to be transported by helicopter. It's a movable house - from the 60's - it ended up in this park. Now, it has been bought by collectors and they have it parked across the river. One goal of ours is to bring the Futuro House back into the park and to broadcast the process of the artists.
TS: What do you hope visitors will get out of the project?
Woodgate: That's what drives us crazy - okay for what? This is a huge production for two years - but ultimately we're in the middle of it saying why does this matter? Is it going to change something?
It's that idea of just activiating it. Let's do it. Let's show it. Let's see. Let's come to completion. We hope that people will leave with hope. Hope as well as awareness of your surroundings-who you are around as people, the history, the future.
That awareness drives this entire project.
Artists will be asked to use only materials in the park. They're not bringing in sculptures, but they will use what the park already is. It's moving, reorganizing, and using things in another way. Imagine that the giant ferris wheel becomes a giant clock or a windmill. That's what we envision.
Related
Popular in the Community