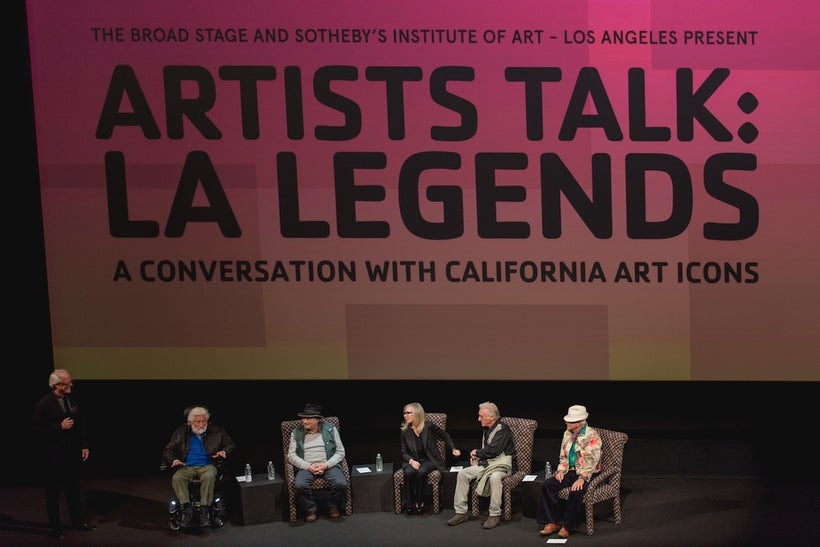 Laughter filled the auditorium as Billy Al Bengston, Larry Bell, Ed Moses and Ed Ruscha entertained a large audience of art luminaries with humorous stories from their long shared history. These fun-loving raconteurs have been friends for over fifty years and joked and teased one another, like buddies bantering in a bar. Hunter Drohojowska - Philp, the moderator, maintained the spirit of camaraderie with her insightful questions and witty commentary. This old boys reunion was not only highly enjoyable, but full of sage wisdom from the lives of great artists who emerged long before the commercialization of art, working without any ulterior motive or idea of artistic fame or wealth - just the wonderful freedom to have fun experimenting. Today in their late 70s, 80s and even 90s they retain their boyish curiosity and enthusiasm, making art work that still pushes the envelope.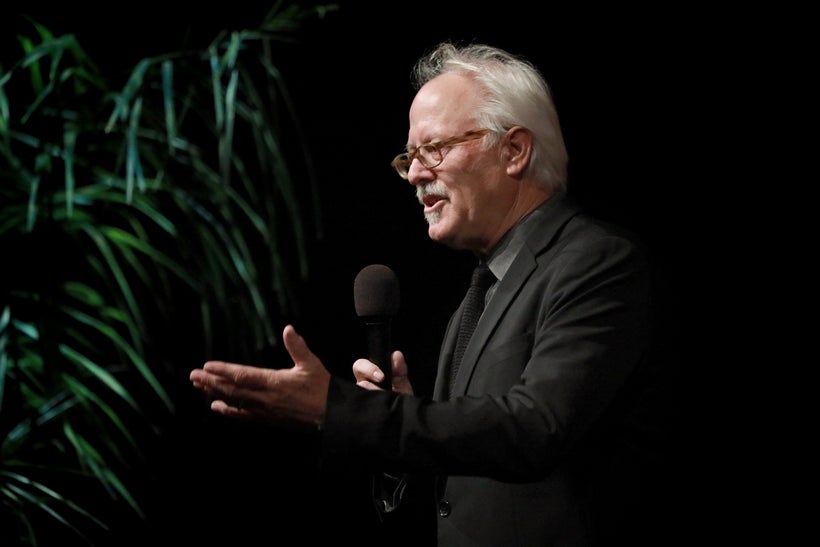 William Turner, the executive producer, set the tone for the discussion by saying " these guys came on the scene before there was a scene." He emphasized that whereas "we now have two hundred plus galleries, twenty plus museums and top art schools " they emerged when "there was only one museum that mainly showed natural history and few galleries, few artists and no collectors." Turner introduced a five minute excerpt on the Ferus gallery, from the documentary The Cool School ( 2008) directed by Morgan Neville and narrated by Jeff Bridges. This historically important gallery, founded in 1957 by Edward Kienholz, Walter (Chico) Hopps and co-owned later by Irving Blum (who replaced Kienholz) was the center for championing Ferus-bred styles which evolved into a distinctively LA style of art activity pioneered by these icons and their contemporaries.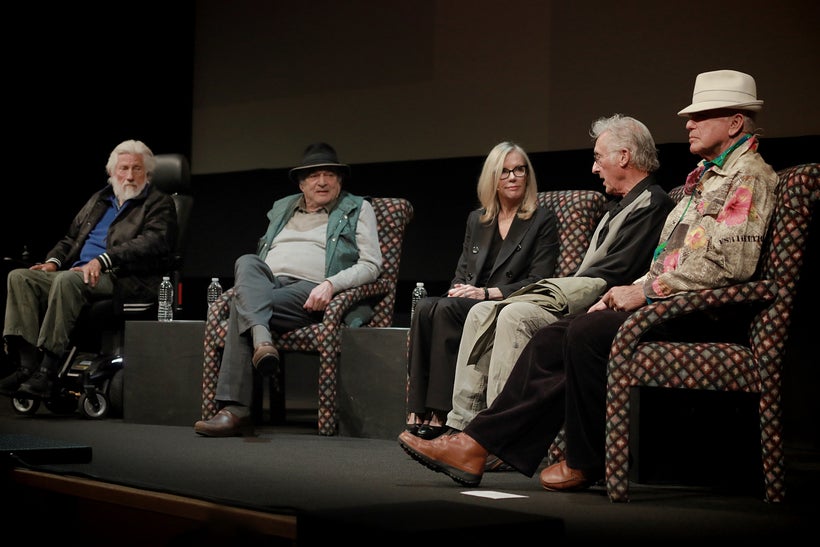 Robert Irwin was unable to attend, but Ruscha and Bell praised his influence as both a teacher and a friend. According to Bell, " Bob's strength was he conveyed a sense of how one trusts oneself and that rubs off. Finally, if you don't trust yourself then you can't do very much. I'd say trust is the thing I got from him." Recounting their art school experiences at Chouinard Art Institute they emphasized that they learned more from their teachers by example. Bengston insisted the best teachers like Peter Voulkos "did not teach but did their work and you tried to be them. And you couldn't be - because they were so good."
Drohojowska - Philp asked questions about their experience of " the unlikely success of Ferus." Moses told a funny story about the gallery filled with "babies, women nursing babies, men with babies." Dohojowski-Philp quipped "That could put art collectors off." They recounted their experience of the famous 1962 Andy Warhol show of Campbell soup cans, where works sold for $100 and Bengston and Irwin stretched them for fifty cents a piece. Moses joked "I thought I'm in the wrong place and the reaction was not to go in." Bell retorted, " What did it look like a soup shop?"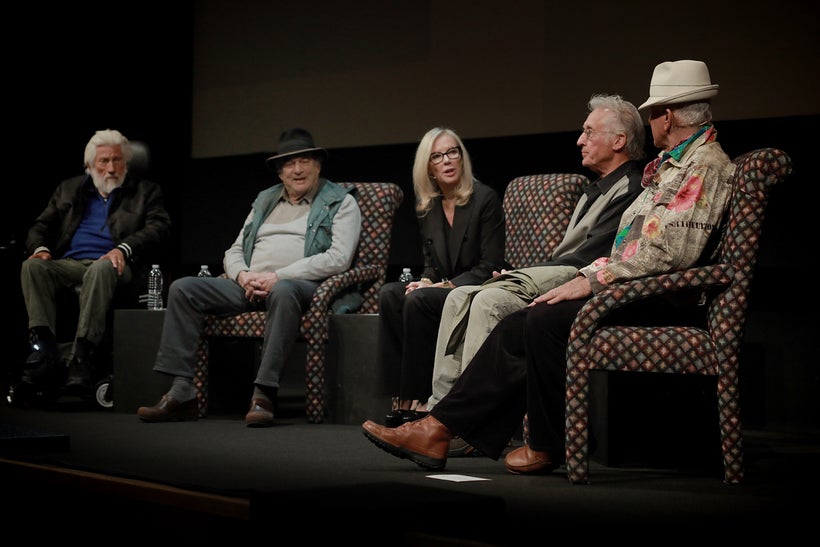 Without the burden of tradition they were free to make their own rules - because there were no rules In Los Angeles at that time. They rejected Richard Diebenkorn, for example, because he represented a more academic tradition. It is their rebellious spirit and street consciousness that led to their great innovations.. Moses teased Bengston "When something wasn't working you made it worse. When things got bent you hammer them." They continue to express their irreverence for conformity and refusal to take themselves seriously. As Bengston joked " I wanted to be serious at one time but then realized it was a waste of time."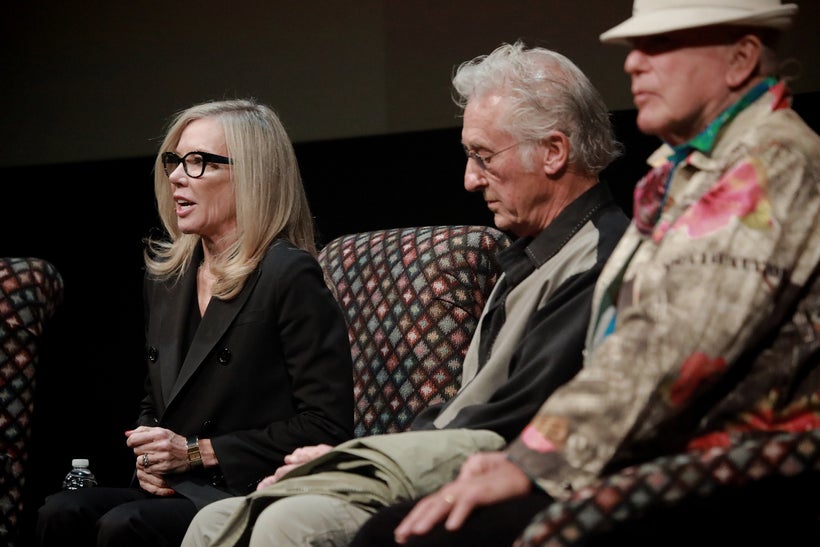 But the most intriguing part of the discussion centered on the way their early tradesman jobs led to artistic innovations. Bengston worked in a motorcycle repair shop using airbrushes - because he loved to ride motorcycles - which led to his artistic use of airbrush techniques. Ruscha had a job at Sunset House part of the year working on a painting line, putting names like "John John " on gift items and " Ma and Pa Chopper Hoppers" on false teeth holders - where he jokes "I got my chops" painting names. Bell worked in a framing shop in Burbank which led to his fascination with using glass as a sculptural material.
Bell: " The frame shop gave me the idea of going into glass boxes. The thing I liked about glass was it reflected light, it transmitted light, it absorbed light all at the same time. You could buy it any place, it was not very expensive. There weren't too many artists, at least that I knew of, that were using it as a viable material and it had a shelf-life of something like three million years. Most of the sculptures I did with glass were really based on the corners of the rooms in my studio and that probably was the most influential thing that I realized that the number of right angles that were impinging on my vision were really too many to count. It is not a philosophical thing, you just follow your gut. It is all very out front visual stuff with a sensuousness on all levels."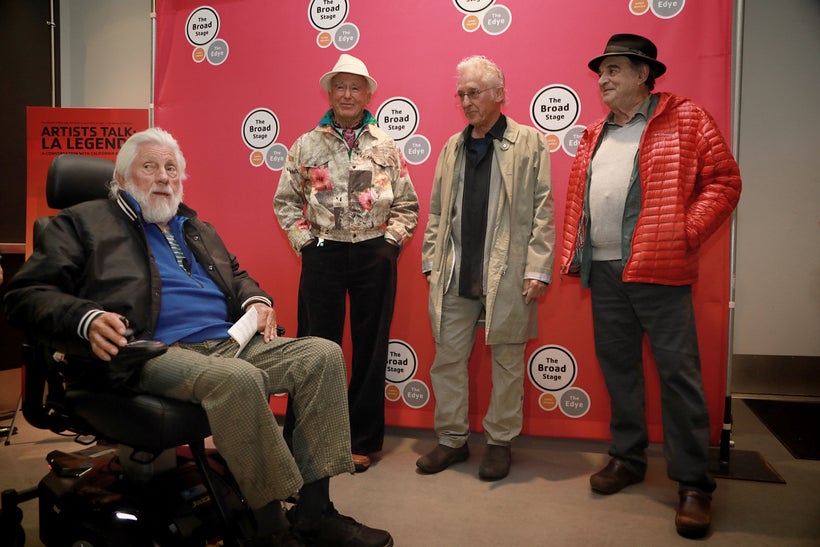 Drohojowska - Philp: " You all went to New York or Europe but decided to come back to Los Angeles to live and work. What was the draw of LA at that time when there were no major museums, only three or four galleries and three collectors.? "
Bengston: " The difference is that all of us wanted to make a contribution and you don't need museums you just need your buddies and Barney's Beanery. You didn't give a shit what anyone else said."
Rusha: " It is almost impossible to remember how frugal it all was. The idea of making a vocation out of art and making a living out of it was non existent and it happened just by accident. Back then everything was small scale. "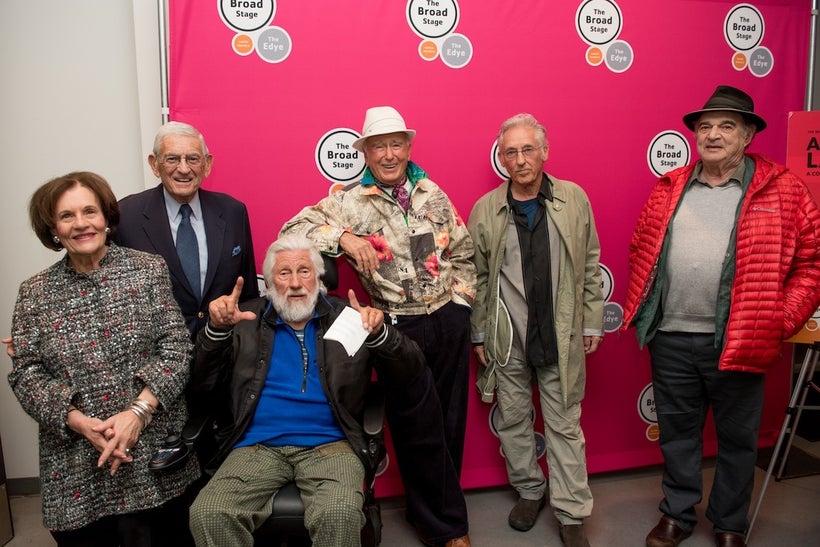 Drohojowska - Philp: " To wrap up. What kind of connection do you feel about your early work and what you do today? "
Bengston: " I don't think about it. It doesn't cross my mind."
Ruscha: " I've been at it so long that I forget why I'm doing it. That puts mein a puzzling, self-puzzle. I still claim that I don't really know what I'm doing but I also employ myself to keep it going."
Moses: " Do you get a salary?"
Bell:" No, I don't think about early work at all. The work just seems to happen and it has always been that way. If you see something you like then you might push a certain technique and see how much mileage you get from it and how much evidence you can create that substantiates your idea of what it was."
Moses: "It is always chance and circumstance. I never know what I'm doing and where I'm going. I pull a canvas out and start drawing on it and turn it over and see what's on the other side. That's what I like to find: who is there and what is there. You are here out of curiosity, right? Me too."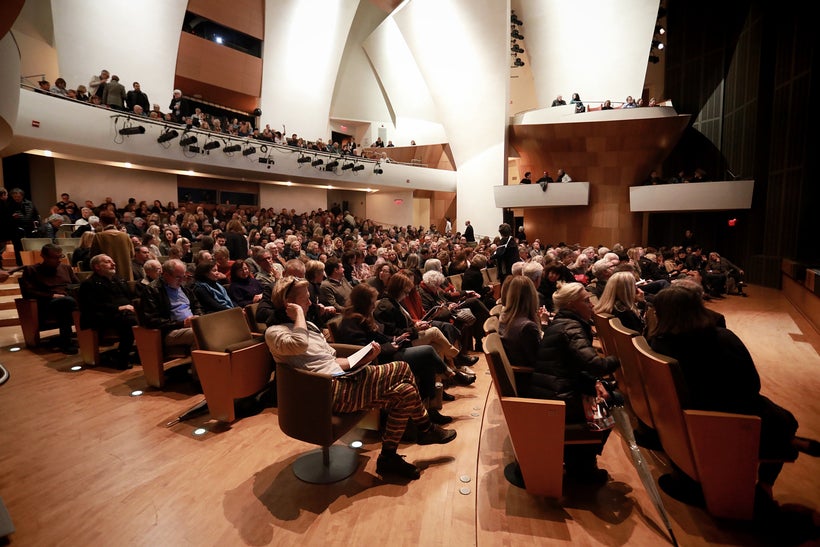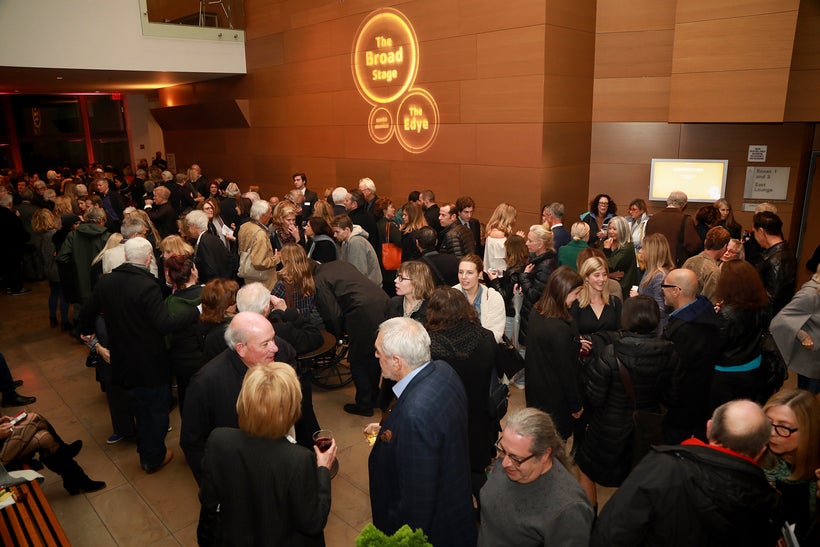 Calling all HuffPost superfans!
Sign up for membership to become a founding member and help shape HuffPost's next chapter
This post was published on the now-closed HuffPost Contributor platform. Contributors control their own work and posted freely to our site. If you need to flag this entry as abusive,
send us an email
.