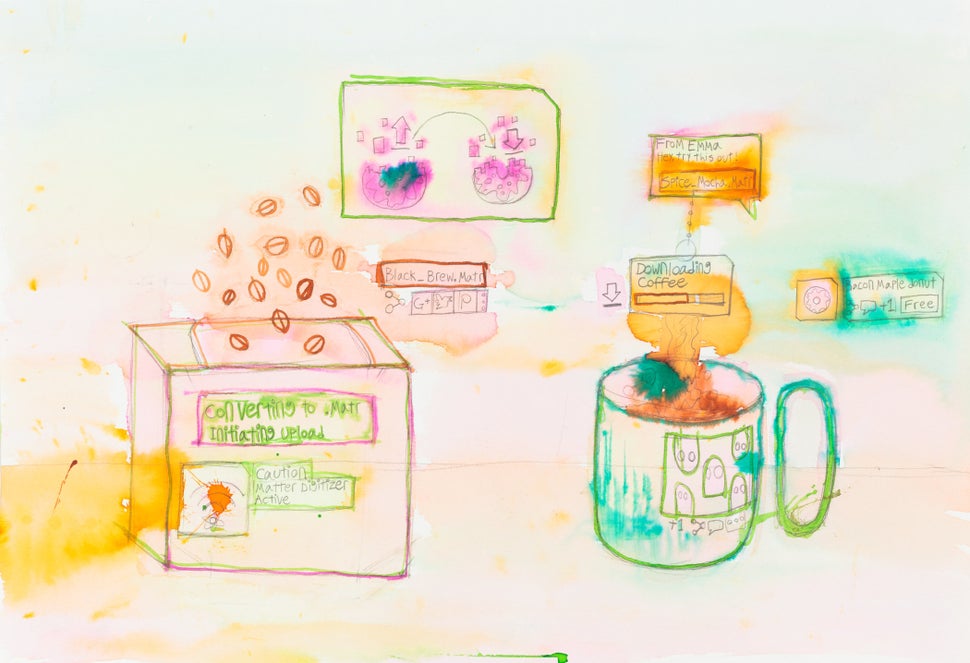 There was a time in the history of human civilization when food was a matter of sustenance and survival, and not much more. Hunt, gather, hungry, full. And repeat.
Today, food is not only one of the most essential aspects of everyday human life, but one of the most charged. The concept of food is juicy, bound up with family, memory, labor, love, the environment, the economy, body image, class, heritage, history, nostalgia -- the list goes on. 
In San Francisco and the Bay Area in particular, food(ie) culture has become something of a secular religion, or at least a fetish. How you eat -- a habit often spiced with buzz words like organic, artisanal, vegan, fusion, raw, authentic -- communicates to some degree who you are, yielding a society fixated on what's going into their bellies, how it sounds in conversation, and how it looks on camera.
Perhaps that is why, when curators Danielle Wright and Veronica Graham were discussing potential themes for an upcoming exhibition at San Francisco's Creativity Explored, the idea of food struck a nerve.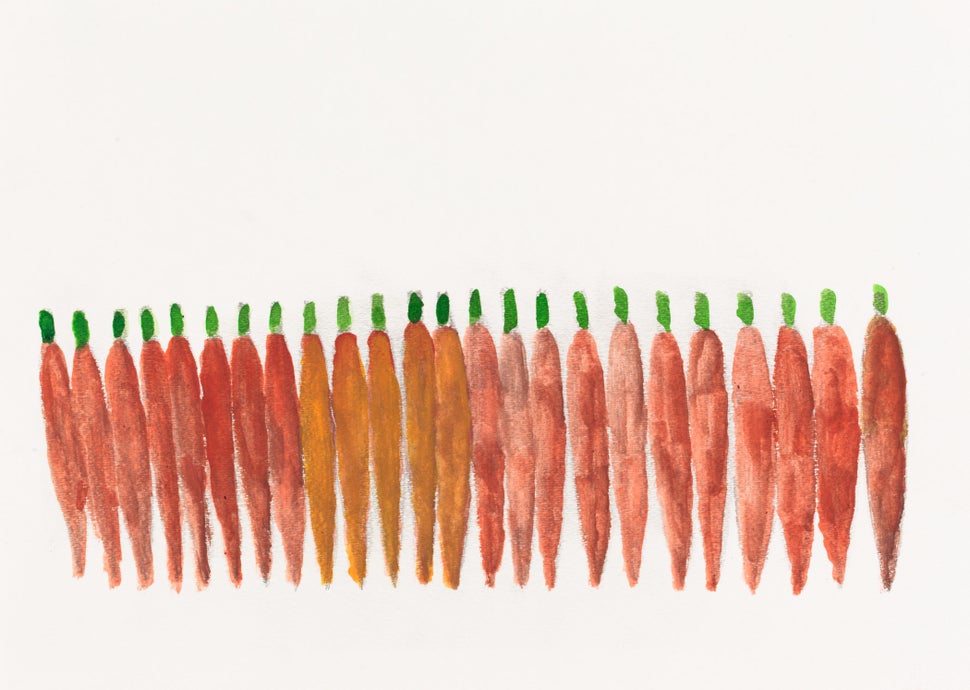 Creativity Explored is a studio and gallery space where adults with developmental disabilities make, exhibit and sell their work. And Wright and Graham were brainstorming broad and poignant subjects to which the wide range of artists Creativity Explores works with would respond -- when they landed on food.
"We talked about big themes like love and life and death and time," Wright told The Huffington Post. "Things a lot of people could relate to. When we got to food, there was this funny moment, this extra energy there. It's hard to describe."
Graham felt something too. But at first, that something was a resounding aversion to the thought. "I immediately said no," Graham explained. "It seemed too easy, too commercial in a way. Food is something that is kind of fetishized in the Bay Area, and we didn't want to play into that."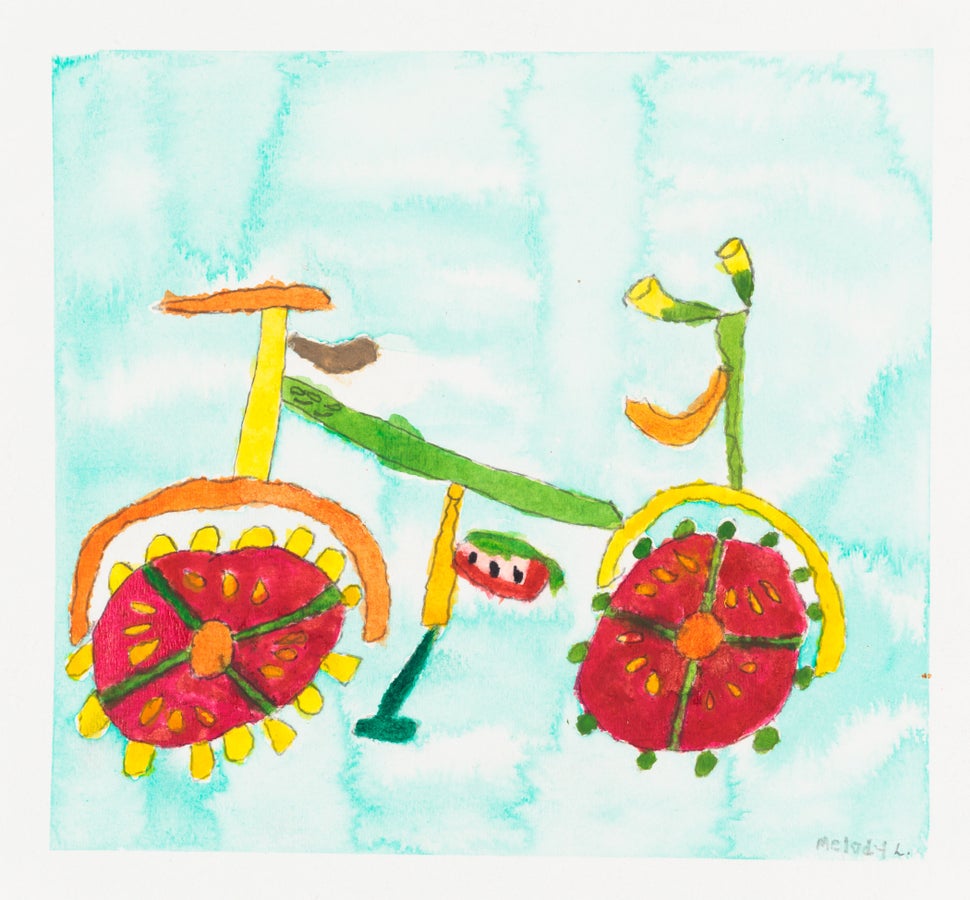 But Graham and Wright eventually unpacked their reactions and the distinct reasonings behind them. It became clear that something was there. Something begging to be explored. "The artists we work with, their relationship to food is so different," Graham said. "It's such a personal part of their identity. It represents how they're cared for, their diet. They're dealing with the heart of food on a deeper level. How we're connected to it through our bodies and our economic lifestyles."
The artists of Creativity Explored are sometimes referred to as self-taught artists, non-mainstream artists, or the ever-controversial term, outsider artists. What this means, simply, is that they aren't trained artists in the traditional sense, though they do work with instructors at the Creativity Explored studio. Their techniques, are often unorthodox, highly personal, and tangibly impassioned. Looking an their artwork can feel like looking straight into their minds, without filters of ego, self-consciousness, or ambition, glimpsing the particular ways that chaos and order, memory and imagination coexist. 
When they officially decided on food as the chosen theme, Graham and Wright had established they had no interest in showing a handmade Instagram feed of aesthetically pleasing cuisines. "We did not want to have a show with cute pictures of food," Wright stressed. They dubbed the exhibition "Ripe."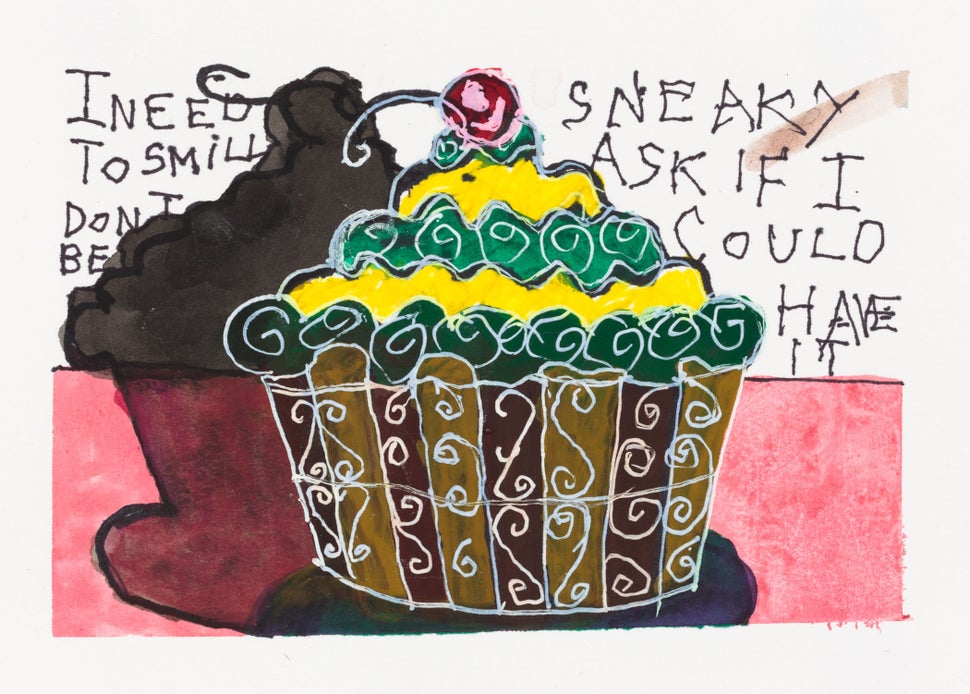 Some of the Creavitiy Explored artists already explore food as a common part of their practice. Camille Holvoet, for example, has spent years rendering decadent layer cakes with swirls of sugary frosting and a cherry on top, her artistic sweet tooth unlocking a lifetime of ardent desires and bittersweet memories. "I like to draw desserts because they taste good," Holvoet explained in a previous interview.
For many of the artists, however, food was a new topic. Graham and Wright, who both serve as instructors as well as curators, working closely alongside their artists to prepare for the show, helped each individual artist explore his or her relationship with food, finding a proper avenue to approach the topic while still working within their established artistic language. 
"I find a tangible access point," Graham explained. "For many artists that was lunch time. We'd look at the food they were already eating at lunch and take that as a jumping off point."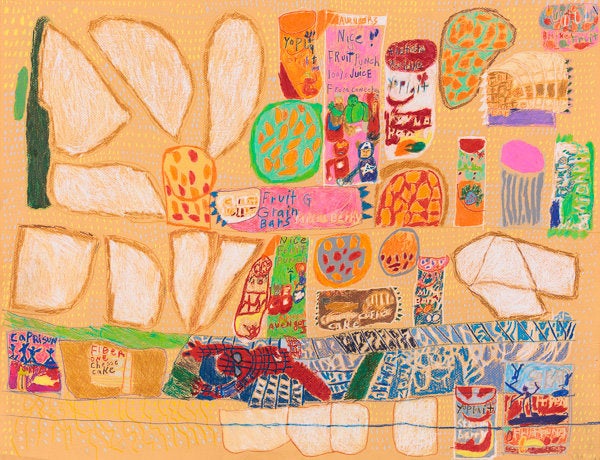 For artist Richard Wright, his lunch provided a well of inspiration. Wright, whose work often depicts famous movie monsters in gruff, charcoal portraits, selects his daily nourishment in a very particular way. "When he goes to the grocery store he buys food that has superheroes on the packaging," Graham explained. "His lunches are like comic books splayed open. For him, food is like an accessory, a T-shirt or a hat. The sustenance is secondary, it's the packaging that's important." 
One of Wright's food-centric pieces, available on the Creativity Explored web store, is a colored pencil piece titled "A Very Interesting and Fantastic Indeyin Corn." The artist dissects an ear of corn into geometric abstraction, the auburn kernels resembling bricks on an undulating wall, or cells in a Chuck Close portrait. Wright, clearly interested in portraiture, treats corn as serious subject matter, paying the same meticulous attention and stylistic point of view as if he were rendering Frankenstein's monster. 
Another artist that stood out to both Graham and Wright was Thomas Pringle. When left to his own devices, Pringle usually creates pictures of beautiful women. However, his contributions to "Ripe" are two works of text, written in marker on paper. In a piece called "My First Job," Pringle recalls picking fruit as a young child growing up in Sonoma in Northern California.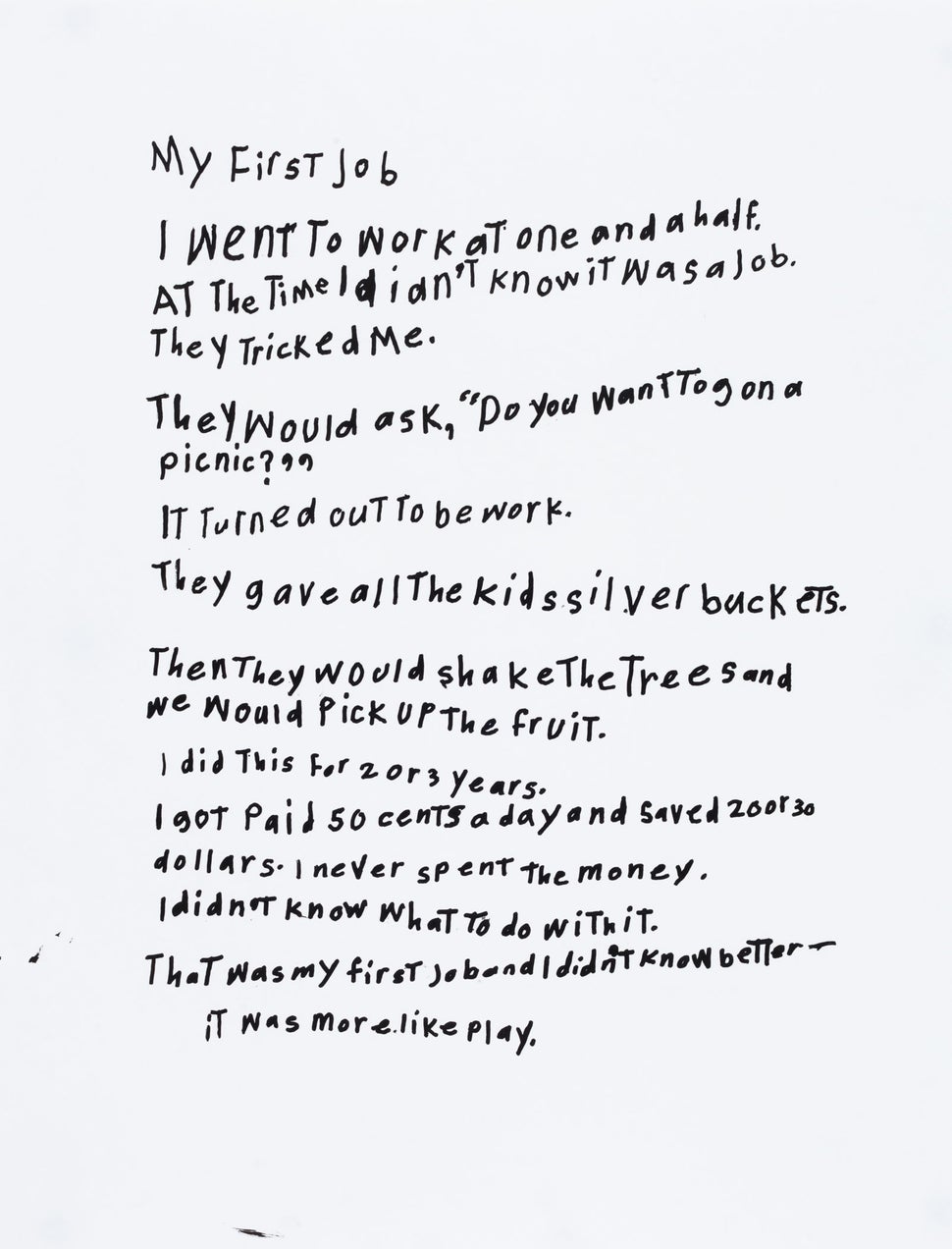 "I went to work at one and a half," the text begins. "At the time I didn't know it was a job. They tricked me. They would ask, 'Do you want to go on a picnic?' It turned out to be work. They gave all the kids silver buckets. Then they would shake the trees and we would pick up the fruit."
"We forget this living in cities, but for most people food is synonymous with labor," Graham noted. "Nothing comes to the table without labor putting it there."
Another artist Wright mentioned is Yukari Sakura, whose cartoonish acrylic paintings often pay tribute to her personal heroes and iconic historical events. "She makes these memorial dedications, these pies and cakes as little offerings in remembrance of people," Wright explained.  
Sakura's contribution to "Ripe," titled "Dave's Goblin King of the Labyrinth Pie," appears, at first glance, like a decadent, overdressed chocolate cupcake. Upon further examination, however, David Bowie's iconic lightning bolt emerges mid-cake. This pastry serves as a tribute to the late glam rocker, immortalizing in tartlet form his iconic role as Jareth the Goblin King in "The Labyrinth."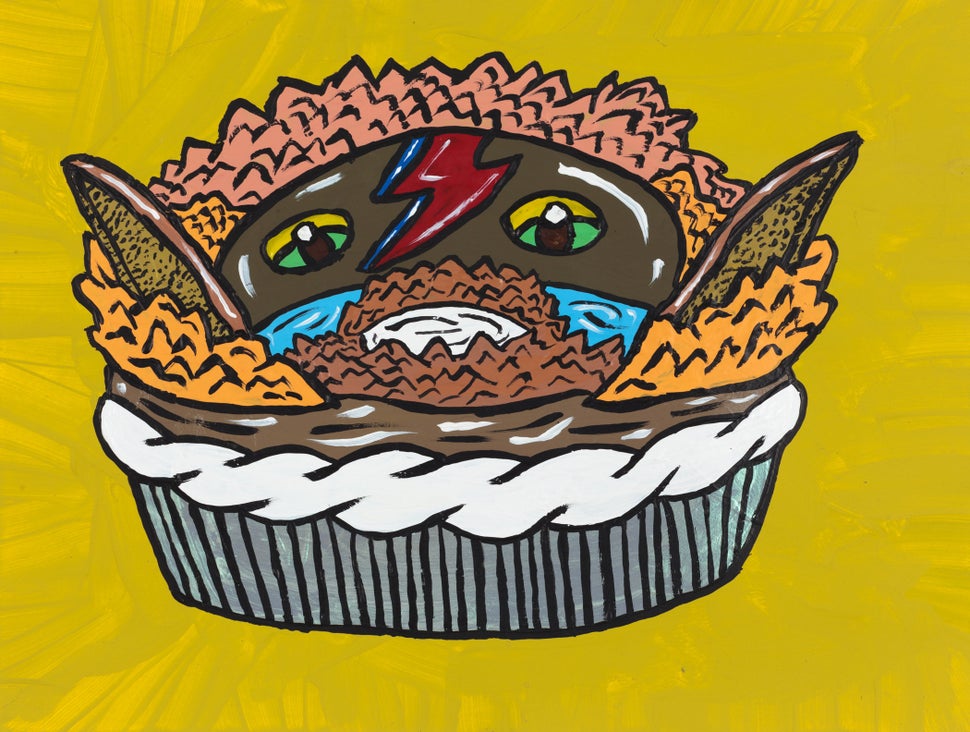 The list goes on, with each artist radically reinterpreting the many memories, ideas and visions that come to mind when food is on the table. Artist Allura Fong used chocolate as a medium in her abstract painting. The swirling vision of browns, yellows and golds recalls Willy Wonka's bubbling chocolate river, a vision so enticing you're tempted to dive in. Gabriel Maduena makes a giant, mixed media pizza sculpture, reminiscent of Claes Oldenburg's oversized, soft foodstuffs. And Marilyn Wong translates the crispy lightness of fried chicken into a non-pictorial flurry of orange edges and brown accents. 
For every artist included in "Ripe," food is not just a source of nutrition, nor fodder for a mouthwatering social media update. Rather it's a portal, something plucked straight from the world and plopped right into a human being's very insides. Through the lens of food, the artists of Creativity Explored reveal so much more -- their childhoods, their heroes, their desires and aversions, their daydreams, their urges, and yes, their hefty appetites. 
Calling all HuffPost superfans!
Sign up for membership to become a founding member and help shape HuffPost's next chapter
BEFORE YOU GO
PHOTO GALLERY
Outsider Art Fair 2016