Richard Hull's new paintings at Western Exhibitions are splendid. They are completely different than what he's done before and they still look like him. It's always informative to visit artists' studios or see pictures of them and observe what art and reproductions they hang there. Over time those images creep into their work. Like here, where Hull's new 'portraits' are loosely based on the ruffles in Velazquez's Las Meninas. I can also project the influence of Francis Bacon. This work is masterful and entirely Hull's. It's exciting to see an artist you've long respected break new and fertile ground.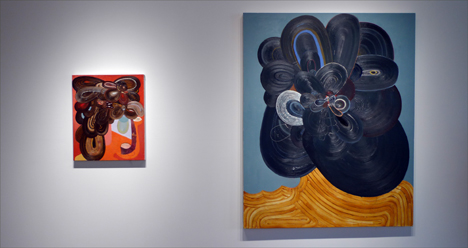 Neil Goodman's show at Perimeter also shows new growth and a seasoned artist gaining confidence and fully hitting his stride with bold, seductive, considered sculptures and innovative advancements in the medium of bronze. Too often our society makes a priority of the young and the new, yet here are powerful examples of mid-career artists making some of the best work around.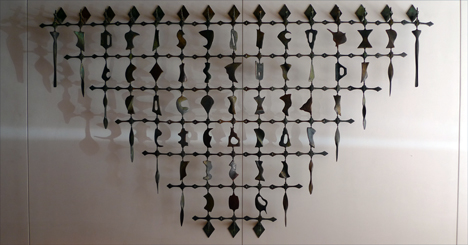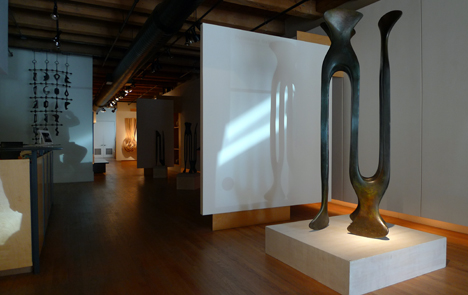 Across the way at Albano, Margaret Wharton's new wall pieces reveal her ever-expanding and evolving imagination and inspired use of common materials like clothes pins, nuts and bolts, tennis rackets and chairs. When working with found objects (a notion we'll expand on in a moment), art must transcend its materials, as is exemplified here.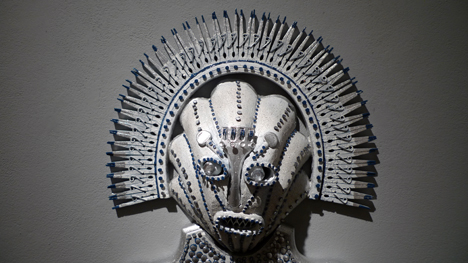 Perhaps that notion is true too at Tony Wight, where Matthew Metzger's beautiful paintings are probably not inspired by 19th Century, trompe l'oiel master John Peto, as Metzger recreates and renders the most beautiful truck mud flaps I've ever seen. Sure, there's a bunch of theory behind this work, which is art historical, relevant and fascinating, yet the paintings as objects themselves are seductive and captivating. Metzger's work is paired with the photographs of Sreshta Rit Premnath whose reworked photographs are inspired by M.S. Ramaiah who believed that if he ever stopped building he would die. A bust of the builder has been photographed and manipulated in a poetic response.

Curious how most ArtLetters find a subplot or theme circulating through much of the work I preview. This week it's art whose materials are recycled, reused or artfully replicate something in another medium -- all of which can be found in the expansive show Chicago's 12, insightfully curated by Sergio Gomez at the Zhou Bros' southside art warehouse. This is a "green" exhibit focusing on artists who reuse, recycle and reconceptualize materials. It is fun, big, spacious and joyful.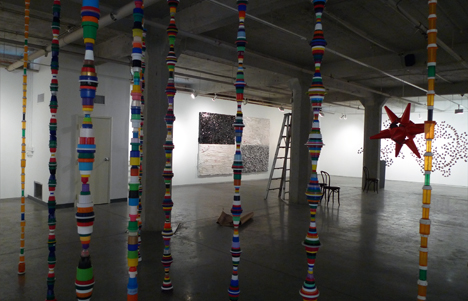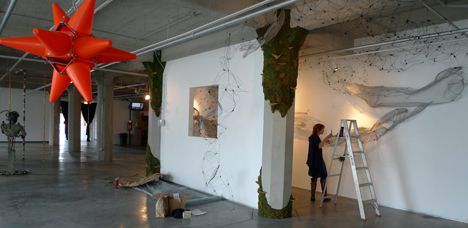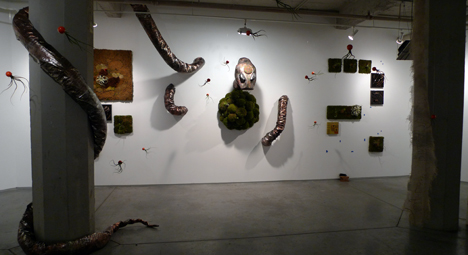 The Hyde Park Art Center's new exhibit, Hairy Blob, opening Sunday, looks to be good, but I got there before 90 percent of the art was unwrapped, so I'm going to have to go back.
It was good to get back to the Ukrainian Institute Museum of Art where three Chicago artists and friends (Michiko Itatani, Claire Wolf Krantz and Susan Sensemann) participate in Mutuality, an uplifting presentation of mutual respect and synergistic art, that highlights the artists divergent experiences, source material, individual integrity and cooperative energy.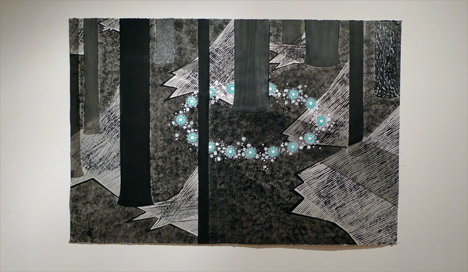 In the already-opened category, Rashid Johnson's significant, large-scale paintings at Chicago's Museum of Contemporary Art are both beautiful and meaningful. As an artist I've previously been hard on for being too casual, I'm comfortable acknowledging that he has now found a powerful stride and ability to communicate a fresh and poignant look at his own history. From that base he draws in tangential and substantive content, and reveals himself as a force that is to be contended with and watched for years to come.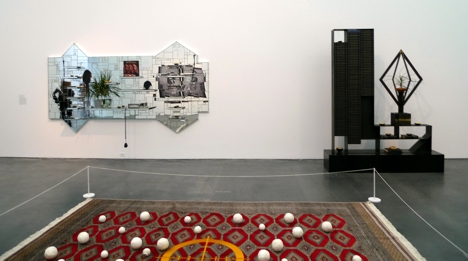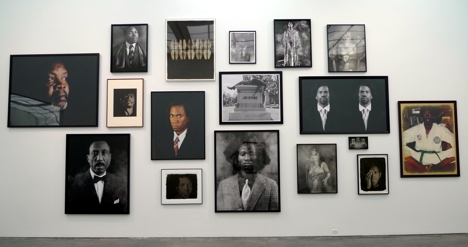 Calling all HuffPost superfans!
Sign up for membership to become a founding member and help shape HuffPost's next chapter