Something from nothing I get. I see it regularly in my work as a business lawyer and in my efforts in the community. Turning your tragedy into someone else's hope is another story altogether, especially when the nightmare involves your child.
Morgan Adams was five-years old when she was diagnosed with a glioblastoma multiforme brain tumor. The best, most aggressive, treatments The Children's Hospital of Denver could offer were brought to bear on Morgan's disease, but they were not enough. Eleven courageous months later she died peacefully at home.
Every year, about 12,400 children and teens under the age of 20 are diagnosed with cancer - that is one in every 330 children. The average age of diagnosis is 5.
Morgan's parents, Joan and Steven, were ordinary folk, an accountant and a photographer, doing what ordinary folks do--raising children, paying the mortgage, helping at school--before Morgan became ill. After she was taken from them, they became extraordinary. They knew that too many children were dying from pediatric cancer; they knew that the survivors often suffered devastating side-effects from their treatment; they knew that little attention and few dollars were dedicated to changing the situation.
Cancer remains the number one disease killer of children; more than genetic anomalies, cystic fibrosis, and AIDS combined.
They knew that they had to do something, and that is how in 2001, artma was born.
artma is a unique biennial art auction featuring over 200 pieces of art which are donated by local, regional and national artists. This funky, offbeat event brings fresh, new art out to play and is an evening that is highly-anticipated and much loved by everyone who attends. The art is outstanding, the crowd is fun and the night is dedicated to raising money for children fighting cancer and to fund a cure.
The passion and success of that first artma led to more events, including a summertime celebration of rare autos and airplanes--Concours d'Elegance, and formation of the Morgan Adams Foundation. Within 7 years of deciding to continue Morgan's fight on behalf of other kids, Joan and Steven reached their first million dollar moment in funding pediatric cancer research. It's been my honor to have been part of that first million.
This year, the employees of my law firm, Minor & Brown, decided that giving money was not enough; they wanted to join in with their hearts and have some fun, too. I'm very proud to say that over half of our firm volunteered to help at artma 2010. The event is February 6, but we've already started having fun and being humbled.
Kids being treated for cancer in the Cancer Center in the new Children's Hospital have made art that will be sold at artma along side of the work of professional artists. Minor & Brown employees had the honor of assisting them in that process.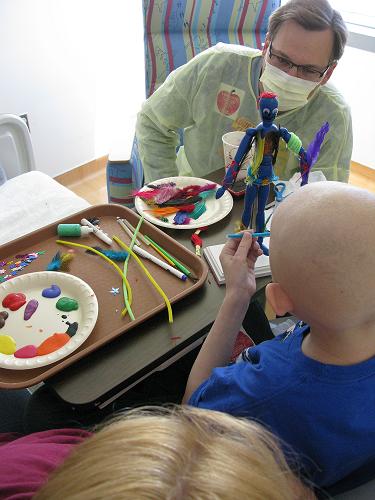 Feathers, sequins, googly eyes and hot glue guns-- very hot glue guns--aren't typical lawyer tools, but I think our help for these "clients" is some of our best work ever.
You'll have to come to artma to see for yourself.
artma
February 6, 2010; 6- 10 PM
Denver Studio Complex
241 South Cherokee St.
Denver, Colorado
Tickets $50 per person in advance, $65 at the door
Hear from some of the families of the Morgan Adams Foundation why your support matters.
Update, February 5, 2010: Minor & Brown has been busy setting up artma this week. The firm is becoming even more passionate about our connection with this cause. A wonderful post from the mother of a child who was Morgan's kindergarten classmate appeared today and reduced me to tears. I am looking forward to a wonderful and successful event tomorrow night.
Thank you to artma contributing photographer Gifford Ewing for his photo of me at The Children's Hospital.

REAL LIFE. REAL NEWS. REAL VOICES.
Help us tell more of the stories that matter from voices that too often remain unheard.