The location was The Nomad Loft in New York City, a large studio space that's known for photo and film shoots as well as parties. I can divulge that information, because the event moves around. The previous one was at NeueHouse. I can also say that the lighting was dim, and shone mostly from candles and businesses beyond the large factory-style windows.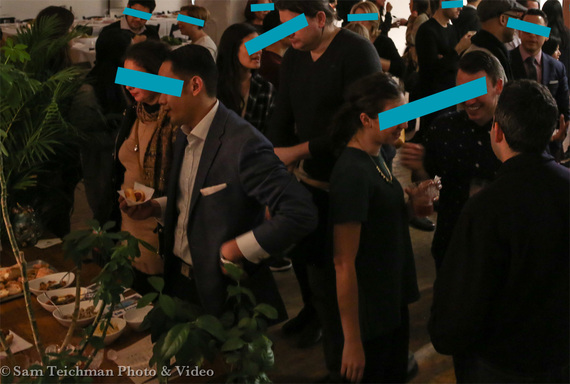 The Anonymous Concierges (photo by Sam Teichman)
A large horseshoe-shaped dais table, the focal point of the room, was set on the edge of a floor-to-ceiling white backdrop. It looked more like an art installation (specifically "The Dinner Party" by Judy Chicago), than a secret meeting for NYC's top Concierges (Conciergi?).
Since I am not a concierge, you might be wondering how I investigated my way into such a party. So, I'll tell you. It was one part espionage, and two parts knowing one of the hosts.
That host was Steffan Bankier, a man some readers might remember as one of the cofounders of Public House Wine. He and fellow cofounder Jordan Gutman have since decided to sell the business. So, if you're a connoisseur who's looking to get in the game...
Despite leaving the wine world behind, Steffan had acquired another niche skill, marketing to hotels and restaurants. In April, he signed on as Head of Growth at ALICE, a now three year-old "Hospitality Operations Platform."
Which brings me back to the secret meeting. ALICE was the sponsor of the evening, and I arrived early to speak with the founders, Alex Shashou and Justin Effron. When asked how the idea came about, Justin responded, "While staying at a hotel in South-East Asia, I requested towels from the front desk, and waited over an hour before calling the front desk. They had no idea of the request, because of a shift change."
From that day, they vowed to bring an end to easily-avoided hotel miscommunications. In the age of AirBnb and HomeAway, hotels could no longer afford them. ALICE's software has since been designed as a single platform to connect various branches of a hotel (front desk, concierge, maintenance, maid service, etc.).
Like the hotels they worked for, concierges have also experienced digital competition. Google Maps, Yelp, and OpenTable required them to elevate their game. With more informed guests have come more unique requests, a need for more personalized trip itineraries, and less tolerance for waiting. "They either know or want to know the newest and best restaurants," said a female concierge, "Grace"*, who was surprisingly cheerful considering her non-stop day started at 5am. "They want to use your connections to get them last-minute reservations at places that have a three-month waitlist. [...] I love it, but it can be a little thankless at times."
Concierges could use a middleman to get them an in with top restaurants, but the standard industry events stayed the same. Grace confirmed the situation, "They're stuffy, impersonal, and there's never enough food, which puts people on edge." Steffan and ALICE saw a path for improvement, and founded Concierge Anonymous to "create a community that fosters thought leadership and innovation among NYC's more progressive guest service professionals."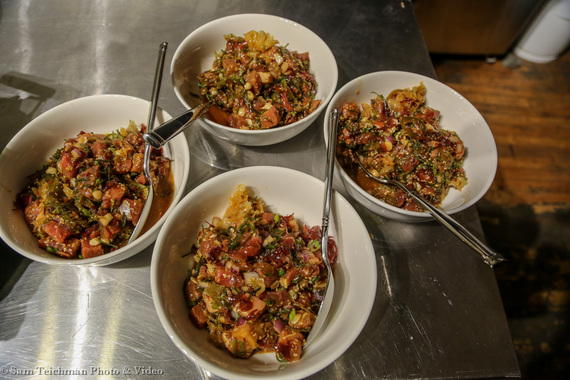 Hawaiian Tuna Salad from Noreetuh (photo by Sam Teichman)
A concierge co-host, "Jim"*, described Concierge Anonymous events as, "[An opportunity to] provide a new generation of hotel concierges with more exciting and reputable places to recommend--especially in a casual environment where a Concierge can feel comfortable asking certain questions about a restaurant's layout, large party booking policy and things of this nature. I can't wait to see how [Concierge Anonymous] grows and develops."
By the end of the meal, I was beyond full, but ready to do some recommending. What did others think? "George"*, who represented a trendy soho lodging, captured it well, "These events have been a big improvement--being around a bunch of great people--including the chefs--, allowing people to hang out, talk, and appreciate our jobs."
* This name has been changed to protect anonymity.
For more info on this and upcoming Concierge Anonymous events, contact: CA@aliceapp.com