The giant Art Platform fair took Los Angeles by storm at the beginning of October. With almost a hundred galleries and exhibition spaces from around the world participating, this was a high water mark in L.A.'s ascendancy on the international art world. There was no shortage of space for exhibitors at the giant LA Mart, the venerable Downtown design emporium known for the forty-foot chair -the world's largest - in its parking lot (and trivia buffs will remind you that the chair is about where first base was when the Los Angeles Angels played their home games at the then Washington Park from 1911 thru 1925).
The fair was primarily on two floors of the LA Mart building but all of the Los Angeles art world was sent into overdrive with the vote of confidence in the sustainability of a thriving art scene here that this fair represents.
Whether it was the champagne VIP preview or Saturday afternoon at $25 admission, it was crowded at all times. With accolades pouring down, the Pacific Standard Time theme of the show inspired many dealers to dust off the old Ruscha prints in the attic and hawk their wares, but enough gallerists were committed to the long-haul to showcase their artists in a serious setting despite the slew of commerce on all sides. Here are ten that still resonate...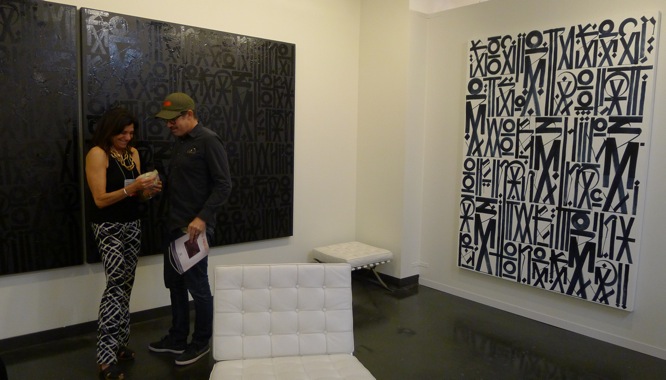 RETNA at New Image Art
Just as Street Art is becoming as relevant as Disco (the dreaded "Senior Citizens take up Street Art" articles have arrived), New Image Art's Marsea Goldberg takes it to another level with the best looking booth in the fair and one of the few dedicated to one artist. RETNA needs little introduction to Los Angeles collectors and hipsters alike, but the prominence of being the only artist at one gallery's booth allowed for the slew of nationally known collectors and curators to see that RETNA was a great painter and then to consider that he was the class of the Street Art genre.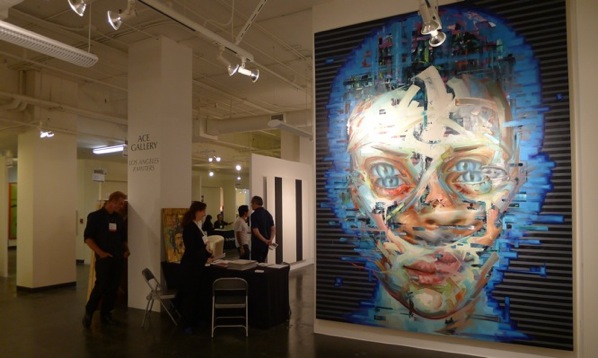 JUSTIN BOWER at Ace Gallery
Most of the booths at the fair had small work. Not Ace. They brought massive paintings by the Date Farmers, Justin Bower and Gary Lang. All worked well but Bowers work had an especially poignant synthesis with the cyber veneer of the fair, every dealer toting an iPad, every collector checking his or her smartphone. Bowers' portraits of reserved expressionism ripping apart a fleshy exterior face were perfect amidst the scene; they were stunning in scale and impact as well.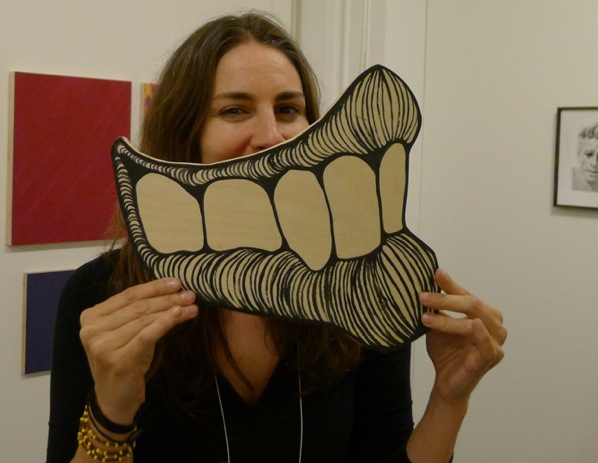 AMY SARKISIAN at WPA
The artist was on hand at this gallery's booth selling one-hundred dollar smiles. The perfect artwork for tough times, these cartoon ink-on-wood grins were legitimate sculpted pictorials as well as non-verbal mantras of the good attitude that the art world could use more of.
Check out the Slideshow of the art, people and parties surrounding Art Platform and other art fair action around Los Angeles on October 1... (article continues below)
PHOTO GALLERY
Art People and Art Parties at Art Platform and Pulse Art Fair...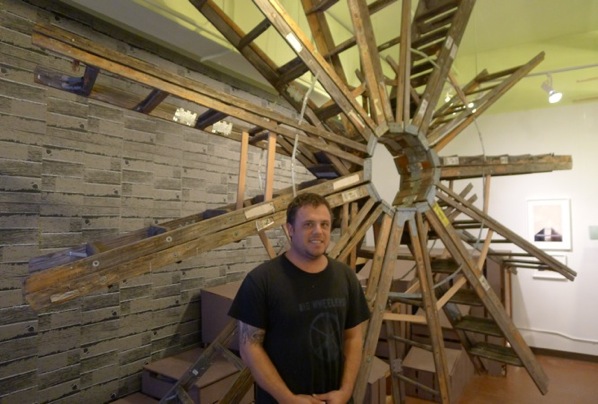 CHRISTIAN TEDESCHI at Summer Camp
What appears to be monument to sacred geometry is an orderly circular stacking of common ladders. Who knew the golden ratio awaits at Home Depot!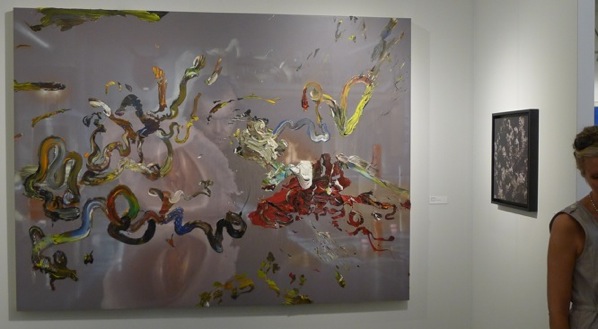 TOM LaDUKE at Angles Gallery
So much painting pretends to be art that it is refreshing when a painter just makes painting with the paint not afraid to be paint.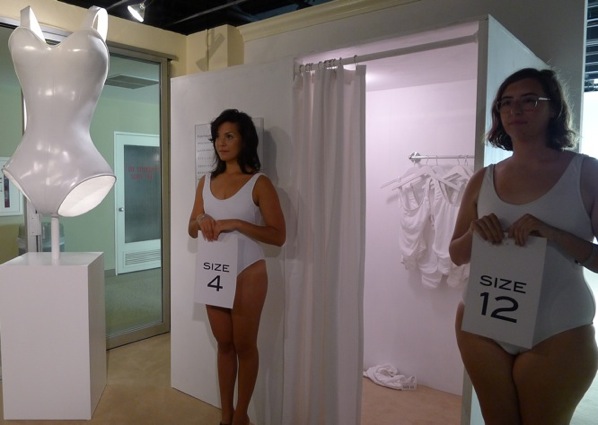 RACHEL HOVNANIAN at Leila Heller Gallery
Feminist critique of perception using fashion saw a minimal woman's one-piece swimsuit available only in size four (the swimsuit model's cut) or size 12 (the average American woman's cut). The outsized sculpture of the bathing suit itself towered over the social intervention imposed on fairgoers.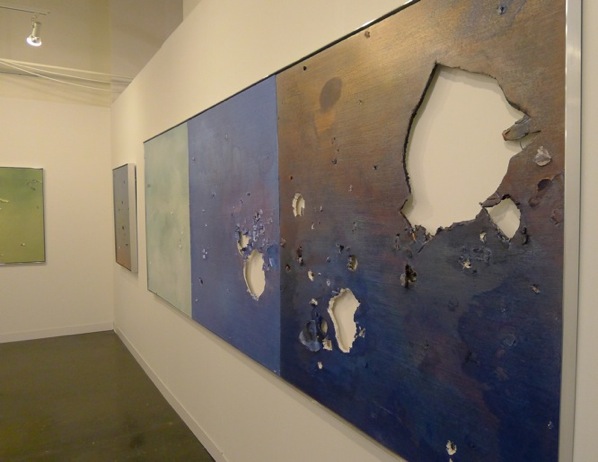 JOE GOODE at Texas Gallery
These paintings on styrofoam beg to have their torn open destruction continued. And in the abandonment of preciousness, the perfect absence of form echoes the late Steve Jobs' meditation on death as the prefect invention, the thing that makes one focus and hold on. Not a lot of artists willing to let the artwork die in such an elegant way.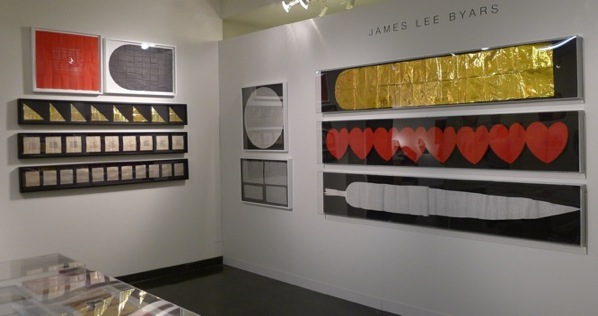 JAMES LEE BYARS at Lead Apron
Here is my little "Pacific Standard Time" story. Years ago, the late artist Eugenia Butler told me that James Lee Byars would never be comprehended by the art world at (the then) present, that it would take a generation or two, like Duchamp. Holy shit, I think she was right! The man's commitment to ephemera as masterpiece is still ahead of our time.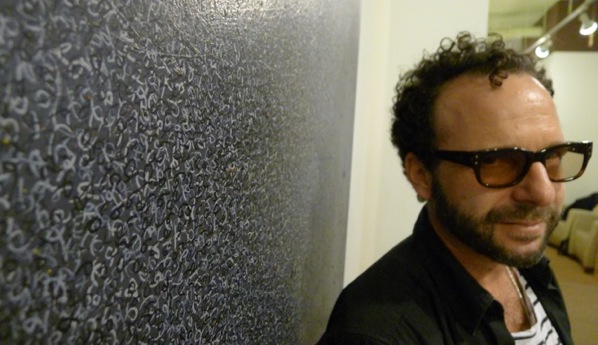 TYLER WAXMAN at Monte Vista Projects
In Black is The Color of True, a group show of all-black paintings, Tyler Waxman's abstract painting Annular Atonment stood out for its understated pizzazz. Channeling equal parts mid-century Mark Tobey and late-Rothko, this meditation on eclipses and cyclical new years made brought out the light in black.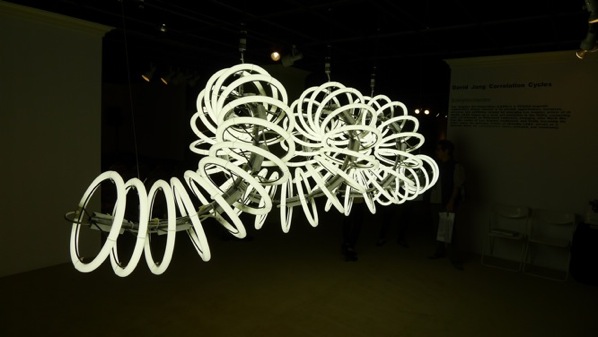 DAVID JANG at Los Angeles Art Association
What Dan Flavin did with geometry and architecture, David Jang seems to be doing with a fusion of technology and biology. The power of his weighty piece was that light never seemed more objectified, hurtling through space in what he called "Correlation Cycles".
And an honorable mention to Dwight Hackett Projects of Santa Fe for an Art Platform exhibit solely dedicated to paintings and photography by the late great Jay De Feo. Mr. Hackett informed me of a coming museum retrospective of this underappreciated Bay Area artist, quite exciting news.
Personally I was thrilled that Art Platform had the faith in the Los Angeles Art Scene to invest in a major contemporary art fair and attract satellite fairs. In fact, I was so excited, I decided that this was one time I could not sit on the sidelines. Below is a video documentary of a show I produced just around the corner from Art Platform for a concurrent run. Avant-L.A. Presents my Top Ten Now. Hope you enjoy it...
Calling all HuffPost superfans!
Sign up for membership to become a founding member and help shape HuffPost's next chapter