It's not uncommon these days to hear grumblings from arts practitioners and supporters criticizing the American educational system for being anti-creativity, anti-thinking-outside-the-box, and, well, anti-arts.
I recently had the opportunity to poll 700 elementary-level educators about the value of the arts in their teaching, so I took it. I really wanted to see what the prevailing attitudes were among American K-5 teachers themselves.
Now, granted, these were teachers who had already "raised their hand" for the arts by registering their classes for an online arts-in-education concert I was giving. It follows that their answers may not necessarily be representative of the general population of American elementary educators, and should certainly not be confused with rigorous, controlled research.
Still, I found their responses to be pretty revealing.
Factoring out any arts or music teachers along with all educators from outside the US, here's what the results looked like for American classroom teachers, administrators, and special area teachers:
Question 1: Do the arts help make learning fun and relevant for your students?
•Yes - 96%
•No - 2%
•Not Sure - 2%
Clearly, there is broad recognition here of the value of the arts in student engagement. In further surveying, educators have told me directly that (in their words):
"Integrating music and the arts into academic core subjects enriches instruction and pulls in more children."
"The kids get so excited about it. In return, they are anxious to learn about (the curriculum topic)."
"Art and music are a great way to enhance any instructional discipline and appeal to a wide range of students/learning styles. I love to incorporate both whenever possible to encourage higher retention rates of what is being taught."
Question 2: Would you like to be using more music in your teaching?
Not quite the doom and gloom, "I only want to teach by the book" scenario we often hear. In fact, this is very promising!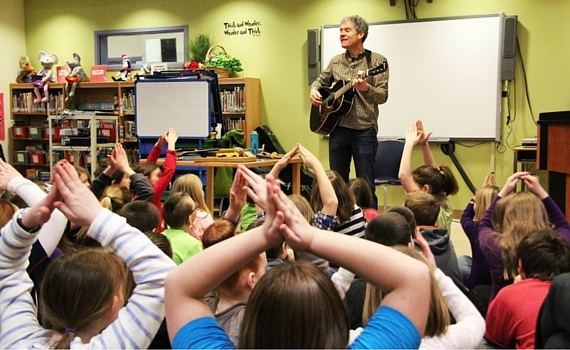 But now, here's the big one...
Question 3: What's the #1 thing keeping you from using more arts in your teaching?
The choices were "Budget," "Time," "Not Sure How To," and "Don't Care To."
What do you think they said?
A whopping 75.2% gave the same answer - - lack of time is the #1 thing keeping educators from using more arts in their teaching.
As we know, educators are under a tremendous amount of pressure right now, and have been for some time. Common Core implementation, high-stakes state testing, new teacher evaluations tied to those test results, new responsibilities to teach character traits, anti-bullying and wellness along with the core curriculum subjects...the list goes on.
In fact, I can't tell you how many teachers have told me they're warning their own college-aged children to go into any field except education.
But by and large, in my experiences over twenty years of work as a teaching artist, educators are pro-arts and would love for their students to be getting more. They understand not only the intrinsic value, but also what the arts do for student engagement, motivation, and processing of information.
They just can't give up the instructional time.
Let's get teachers more time to breathe, more time to be creative, and more time for the arts. They'd love that, and their students would too.
Related
Popular in the Community