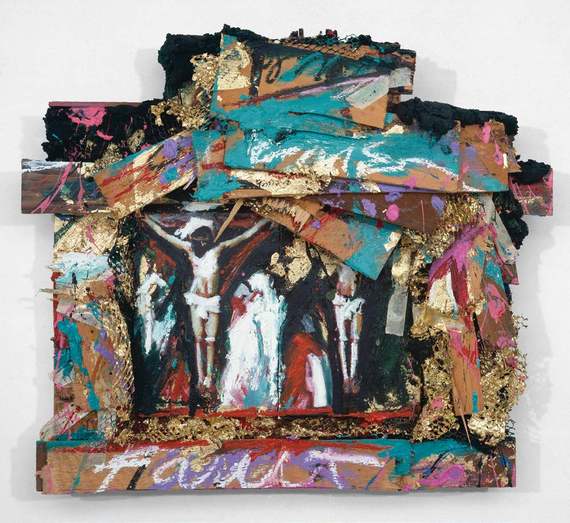 Jim Morphesis: Wounds of Existence | Curated by Peter Selz, Ph.D., this exhibition examines an impressive oeuvre of one of the most influential members of the Neo-Expressionist art movement in Los Angeles. Taking its title from what Friedrich Nietzsche called "The Eternal Wounds of Existence," the exhibition includes works spanning the past four decades. Like the work of Francis Bacon or Jean Dubuffet, Morphesis's work examines the profound predicaments of human life and reflects the artist's deep concern with the dehumanization of society over this and the last century.
Morphesis most often works serially on images and themes as varied as the Passion of Christ (influenced by his Eastern Orthodox heritage), nude torsos (inspired by Rembrandt and Soutine) and universal symbols of mortality such as skulls and roses. After a period of working abstractly, Morphesis turned to more specific religious iconography, encouraged by his Greek Orthodox upbringing in his native Philadelphia. He captures the Crucifixion through repeated images on panels layered with paint, charcoal, slabs of wood, fabric, cardboard, gold leaf, scrawled words and phrases, building the surfaces until the paintings appear as low reliefs. Morphesis's paintings of the Passion are grounded in art history -- sharing aspects of the Velasquez Christ on the Cross and Giovanni Bellini's Pieta -- but are made undeniably modern by his sensuous, textured surfaces.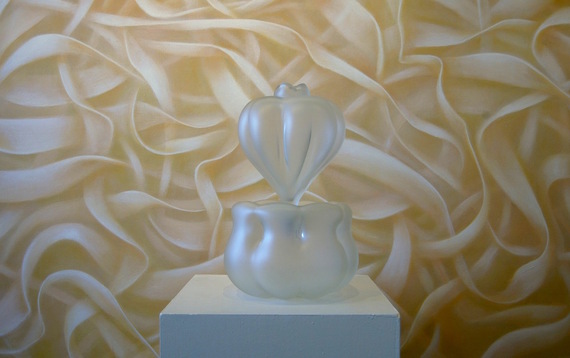 Shane Guffogg | Guffogg continues his exploration with his calligraphic shapes and images that float somewhere between writing and drawing -- figurative and abstract. Like a secret language, his paintings, drawings and sculptures offer us a new world of signs and gestures. The movements and images serve as codes to interpret information that cannot be transmitted verbally.
Entering Guffogg's latest show is like walking into a gem box. Beautifully curated are three distinct bodies of work consisting of soft pastel on paper, oil on canvas and Murano glass.
Shane Guffogg's show is the inaugural show for a new gallery called The Lodge. The Lodge is situated on Western Avenue near Santa Monica Boulevard in a building that is adjacent to a 99 cent store and that once housed Ed Ruscha's studio.
Guffogg first showed in this same space in 1997, when it was the Corridor Gallery. That show earned Peter Frank's Pick of the Week and two of the works from the show were later exhibited in Drawn from the Artist's Collection at the Drawing Center in New York and the Hammer Museum in Los Angeles.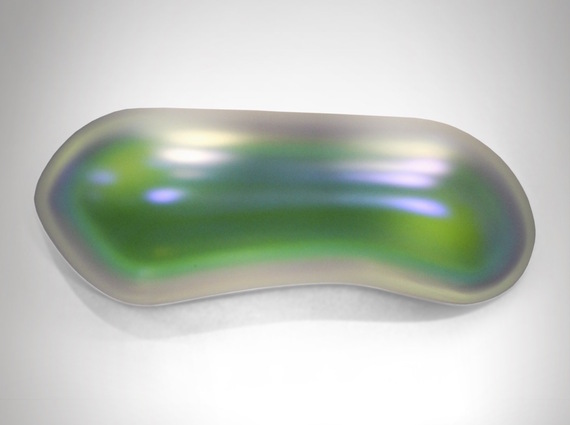 Gisela Colón: Pods | The work of Los Angeles-based Gisela Colón has been associated with California Minimalism, specifically the Light & Space and Finish/Fetish movements more broadly referred to as "Perceptualism." Colón's sculptures investigate the properties of light in solid form and luminescent color through the use of industrial plastic materials.
The Glo-Pods body of work, meticulously created through a proprietary fabrication process of blow-molding and layering acrylic, mark Colon as part of the next generation of southern California artists using light as exploratory media. The light appearing to emanate from the objects is only an illusion based on color and form. Colón's use of amorphous, organic, asymmetrical lines and light-reflecting and radiating media make her objects appear to pulsate with light and energy, simultaneously appearing to both actively materialize and dissolve into the surrounding environment, allowing the experience of pure color and form in space.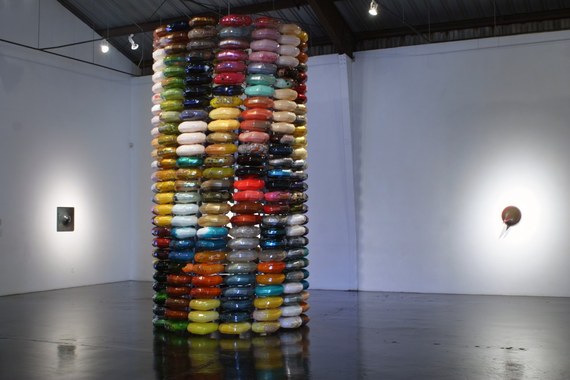 Eric Johnson: Legacy - A Retrospective | Los Angeles based artist Eric Johnson is a second generation fetish finish and light and space artist. In his work he unites these two Southern California based traditions: one based in the perfectly finished twentieth century technology and materials and the other on the characteristics of light and its effects on perception. Johnson sets himself apart from other artists associated with these two tendencies as he combines them with the old tradition of wood working. His abstract sculptures are complex in form as well as great in richness of scale and thematic associations. Johnson received an MFA from the University of California, Irvine and has been widely exhibited.
Johnson's exhibition is paired by a group exhibition showcasing work made by his artistic mentors, DeWain Valentine, Tony DeLap, Craig Kauffman, Tom Jenkins and John Paul Jones.

The Familiar and the Indefinable in Clay: The 71st Ceramic Annual | The Scripps College Ceramic Annual, the longest continuous exhibition of contemporary ceramics in the United States, opened for its 71st year with works that "hint at the familiar and steer towards the indefinable."
Traditionally an "artist's choice" exhibition, a leading ceramic artist is invited to choose the participating artists each year. This year's guest curator is Julia Haft-Candell, a Lincoln visiting professor at Scripps College and Claremont Graduate University. Haft-Candell has consistently shown her work across Southern California as well as New York and Houston. Her own work melds the ceramic with a wide array of other materials and her selection of artists for the Ceramic Annual reflects her free and eclectic approach.
The exhibition features Nicole Cherubini, Jessica Hans, Jun Kaneko, Linda Lopez, Anton Reijnders, Brie Ruais, Kathleen Ryan and Betty Woodman -- artists whose individual works first appear dissonant, yet resonate in an underlying harmony when shown together. Haft-Candell says the pieces in the show "hint at the familiar and steer towards the indefinable."
For the most comprehensive calendar of art events throughout Los Angeles go to Artweek.LA.
Calling all HuffPost superfans!
Sign up for membership to become a founding member and help shape HuffPost's next chapter