ArtsWest's latest production My Mañana Comes provides an intimate view into the lives of four New York busboys as they go about serving the rich and famous while trying to maintain decent lives for themselves and their families. It is most certainly a show about social justice, but its also very entertaining being both funny and poignant at times.
And the intimate staging at ArtsWest where no seat is more than a few rows from the action makes it feel even more like the audience is looking deeply into the personal lives of these four young men who are so brilliantly portrayed. In fact, I actually started getting hungry during the performance. Excellent restaurant industrial stagecraft also helps pull the show together into a seamless ninety minutes slice of life that few of us experience or even know is happening.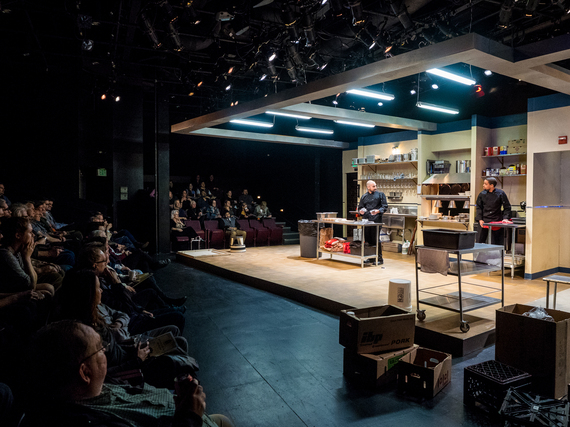 Here's how ArtsWest describes My Mañana Comes:
Just beyond the elegant dining room of an Upper East Side restaurant, four busboys angle for shifts, pray for tips, and cling to dreams of life beyond their dingy back-of-house grind. Expertly juggling delicate entrees, fussy customers, and beer-swilling line cooks, the young men face off with management and each other. As tensions reach a boiling point, how far will each of them go to see his own mañana come?
All in all, My Mañana Comes makes a culturally relevant statement while remaining light enough to be entertaining and keeping the audience wondering what will happen next. Wonderfully acted and skillfully presented, this show takes us into a reality where hopes and dreams still flourish while our fellow Americans survive on very little. My Mañana Comes continues at West Seattle's ArtsWest through November 22.
REAL LIFE. REAL NEWS. REAL VOICES.
Help us tell more of the stories that matter from voices that too often remain unheard.