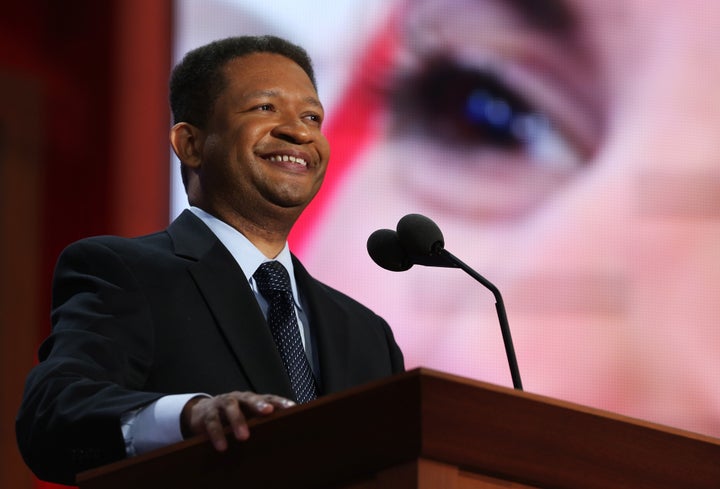 Democrat-turned-Republican Artur Davis, a former congressman, warned his new party on Thursday that not every African-American audience is going to offer the GOP a "fair hearing" as it attempts to expand its appeal to minority voters.
In an interview on Bill Bennett's radio show, Davis, who switched parties in May after representing an Alabama district as a Democrat, advised his GOP colleagues to "pick your own forums" in pursuing the black vote.
"I think sometimes Republicans get lured into thinking, 'Oh, well, if I go in front of any African-American audience, I'm going to get a fair hearing.' No. There are audiences that are going to be receptive and some that aren't," said Davis, who is black.
The GOP has propped up the party-switching Davis -- who praised Obama at the 2008 Democratic National Convention -- as the ultimate symbol of voter disillusionment with the deficit of hope and change in the president's first term.
"America is the land of second chances," Davis told Republican National Convention attendees in a prime-time speech Tuesday night. "And I gather in this close race you have room for the estimated six million of us who got it wrong in 2008 and who want to fix it. Maybe we should have known that night in Denver that things that began with Styrofoam, Greek columns, and artificial smoke typically don't end well. Maybe the Hollywood stars and the glamour blinded us a little. Maybe you were blinded by what some of us thought was a halo. "
Davis' Republican National Convention address made no mention of race, a touchy topic that he told The Huffington Post earlier Tuesday does not matter to disaffected Obama supporters who are now considering a Republican ticket.
Bennett did not sidestep the issue in Thursday's interview, asking Davis what the GOP has to do to court minority voters who have historically flocked to Democratic candidates and causes.
"[Black voters are] socially conservative, but they vote on economic issues, and Republicans have to recognize that," Davis replied. "There's no way to get black votes on the cheap just by talking about social issues. I think Republicans have to realize that ultimately you have to make the case about conservatism, but frankly is broader than just defending economic liberty."
Mitt Romney's attempt to win over the black community fell short earlier this summer, when he was booed at the NAACP's annual convention for vowing to repeal health care reform. A recent poll found that zero percent of black voters prefer Romney, versus 94 percent who say they will vote for Obama.
At the start of his NAACP speech, the Republican presidential nominee defended his choice to speak to a voting bloc solidly supporting Obama, telling the civil rights group that the GOP doesn't "count anybody out, and we sure don't make a habit of presuming anyone's support."
REAL LIFE. REAL NEWS. REAL VOICES.
Help us tell more of the stories that matter from voices that too often remain unheard.
BEFORE YOU GO
PHOTO GALLERY
Republican National Convention 2012