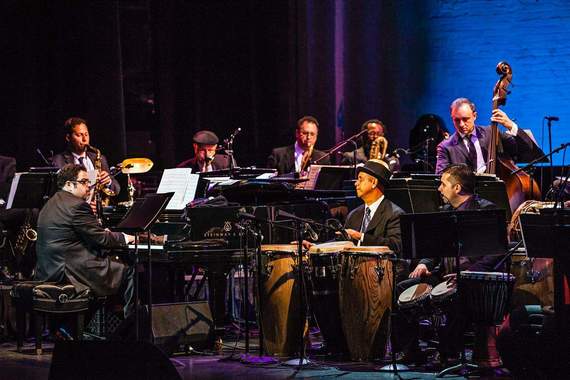 By Dan Ouellette, ZEALnyc Senior Editor, October 11, 2016
Earlier this year at one of his concerts, Arturo O'Farrill thanked the crowd with his credo of music. "We're so anti-war, so anti-Congress, so anti-consolidation. We are so [counter]," the 56-year-old pianist, arranger and leader of his dynamite 18-piece Afro Latin Jazz Orchestra said. "By playing our music, we are doing something subversive."
The creatively vibrant leader whose big band does a weekly Sunday night residency at Birdland (however, November is dark), Arturo is the outspoken son of the late Chico O'Farrill, the Afro-Cuban jazz legend who composed and arranged in the lineage of Duke Ellington and who wrote the extraordinary "The Afro-Cuban Jazz Suite," which jazz icon Charlie Parker played on. While dad was a quiet, slight, soft-spoken man (with a terrific sense of humor), son has become not only one of the pack of forward-looking Afro-jazz leaders and mentors but with his boisterous personality also a socio/political critic of the sorry state of the fracturing union--from support of the Black Lives Matter movement response to the escalation of police killing unarmed black men to vehement critiques of the madness of this year's zany presidential race. His favorite target? Naturally, Donald Trump.
At this year's North Sea Jazz Festival in Rotterdam, Holland, where the orchestra played two nights, the New York-based O'Farrill's delivered his composition "Trump, Fuck Trump," a tune he expounded on by saying he was heartbroken by that "horrible fat-fingered man with an orange toupee and orange skin whose heart doesn't care and who brings people to divide." With a dissonant and fractured piano open, a stop-and-start whirl of horns, turbulent percussion, ALJO instrumentally blasted the Republican Party presidential candidate, and as if on cue, a dog outside the Congo stage tent incessantly barked throughout the song.
In a curated conversation at the festival, O'Farrill told me, "Do politics and music go together? Oh yeah. Think of the history of jazz--this music that was born in a bordello in New Orleans at a time of extreme racism and segregation. That's about the most political thing you can talk about. So jazz is a subversive, politically charged music. You can't separate it. People may commodify it to make it safe, but this music is revolution. You can't play or listen to this without understanding the struggle of blacks and whites and poverty. I can't ignore this in good conscience even if it may hurt my career. But it's really about the music and the truth in social causes. It's because I care."
Even so, "Trump, Fuck Trump" has ruffled plenty of feathers. "He is so despicable and I'm embarrassed that he's in the position to run for president," O'Farrill said about The Donald. "It's a terrible indictment of the U.S. I've played this piece in Texas and North Carolina, and in fact, at Birdland, where you'd think there's a bastion of people with liberal politics, some people walked out and complained to the owner. But I'm a little desperate and a little frightened by what kind of tomfoolery is going on in the U.S., so this is my response. I'm speaking out."
He also referenced to a show the orchestra played in South Carolina. "Now that's Trump country," he said. "The band members are a mix of conservatives and liberals, but we were all fearful of our safety after the show."
A veteran sideman in his twenties with such acts as the Carla Bley Big Band (1979-1983) and later Jerry Gonzalez's Fort Apache, O'Farrill began to take on more conducting of the revived Afro Cuban Jazz Orchestra when his father became older and more fragile. They were weekly regulars at Birdland.
In recent years O'Farrill has been stretching out as a leader with two recording highlights on Harlem-based Motéma Records: 2014's The Offense of the Drum, a full-on drum bash that won a Latin Grammy for best Latin Jazz Album, and last's year Cuba: The Conversation Continues, which was just nominated in the same category for the upcoming Latin Grammy's (the awards show takes place November 17 in Las Vegas).
In our conversation, O'Farrill expounded on the theme of The Conversation Continues by dialing back in jazz history to when bebop co-founder and trumpet explorer Dizzy Gillespie collaborated with percussionist Chano Pozo at the recommendation of his friend Mario Bauzá who was director of the Afro-Cuban Machito Orchestra. "Up until this time, people assumed that Latin and jazz were separate musics, but they were wrong," O'Farrill said. "This mix of the music is the sound of the Americas by way of Africa. Dizzy and Chano rediscovered this. There's a famous quote by Dizzy that goes: Chano doesn't speak English, and I don't speak Spanish, but we both speak African. So they began a re-engagement with the conversation that began hundreds of years earlier."
But that conversation abruptly ended when Pozo was killed in a bar in Harlem and Dizzy went on to continue his own successful projects. O'Farrill set out to revive the conversation, by commissioning different composers to converse in the bigger picture. "Dizzy saw a vision of the future," he said, "where the music we play is not just Cuban or jazz, but something further that he called the music of the universe. So I brought the band to Cuba to continue the conversation. We didn't go there to show the natives how to swing, we didn't go to see how exotic their music was. We went there to play in a spirit of collaboration--and in doing so, imagine the future."
As it turns out, The Conversation Continues was recorded in Havana in 2014 when President Barack Obama and Cuban President Raúl Castro announced the opening of diplomatic relations between the U.S. and the island nation. Of Cuban heritage via his father's birthplace, O'Farrill has been performing at festivals and cultural exchanges in Cuba since 2002. He hastened to say that most Cubans are skeptical of the new accord. "This is all fine, but until the U.S. lifts the embargo that has devastated the country, this is all window dressing," he said. "I don't care how much money JetBlue makes, Cuba is still poor and suffering."
Even so, O'Farrill continues to make his fight with the music. Case in point: "The Triumphant Journey," the leadoff track of The Conversation Continues and written by Cuba-born, U.S.-based percussionist Dafnis Prieto. O'Farrill opens the piece with a sober piano break followed by a sea of horns that sound like they were playing classical music with slices and slivers of percussion keeping the beat alive before the Latin groove kicked it--all without a hint of Latin jazz clichés. "I've known Dafnis since he first came to the U.S., and he quickly became a sensation in New York and beyond," O'Farrill said, noting that he was honored with the prestigious MacArthur Fellow in 2011. "Dafnis is pure Cuba (he's from Santa Clara), and he's pure future. He knows the religion, the rhythms inside and out. He's not a Cubaphile, but an artist who is going forward. He is taking a futuristic look at Cuban music."
In his sizzling shows, O'Farrill typically performs the Spanish Harlem Orchestra's Oscar Hernandez tune "Rumba Urbana," which he calls a "psychedelic boogaloo," and Juan Tizol's classic "Caravan" (that Gillespie put on display on his Afro-Cuban landmark album, 1954's Afro, in collaboration with Chico O'Farrill). And, like at North Sea, he plays his own Grammy-winning composition "Afro Latin Jazz Suite," a four-movement piece that he introduces as "a tribute to my father Chico O'Farrill that will not replicate his music."
At North Sea, O'Farrill opened the percussion kicker with a barrage of swirling tenor notes by Chad Lefkowitz Brown and Ivan Renta and the rest of the band drove into a rippling dance with a rush of horns blown with a rhythmic vitality, a deep-hued blast on baritone sax by Larry Bustamante, and calabash and cajón beats. The spotlight performer was alto saxophonist David Bixler who pushed the music with his exuberant extended solos. O'Farrill further energized the suite with his fast, churning piano chords and exclamatory single-note flights across the keys. In the midst of the suite were pockets of lyrical calm, syncopated conga runs, orchestral quirkiness, whimsical hits, and fiery and ferocious trumpet interludes (with Jim Seeley leading the way). At key junctures in the suite O'Farrill joyfully jumped up and animatedly conducted the band.
Expect that at the weekly Afro Latin Jazz Orchestra Sunday night sets at Birdland, which has hosted an O'Farrill (Chico, then Arturo) showcase for the past twenty-two years. "We get great crowds," Arturo said. "The first set is typically sold-out. I've been watching the people who come. I've seen people who met their partner there, got married, had kids who come to the shows. Every weekend we see people from around the world who build their vacations in New York on our shows."
Subversive? Maybe so. But also cultural ambassadorship in what O'Farrill likes to say is all about freedom. "We don't play stereotypical, nostalgic Latin jazz," he said. "I compose and play with the spirit of exploration and expression that I learned from my dad. The real gift of great musicians is their quest, their hunger, their spiritual search for the truth. Jazz is supposed to move forward, not backward."
_____________________________
Read more of Dan Ouellette in the following ZEALnyc features:
For all the news on New York City arts and culture, visit ZEALnyc Front Page.
REAL LIFE. REAL NEWS. REAL VOICES.
Help us tell more of the stories that matter from voices that too often remain unheard.