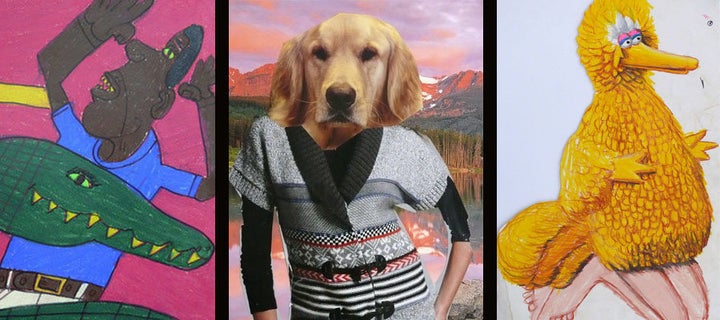 The Oakland institution offers a professional studio space where adult artists with developmental, mental and physical disabilities can create work. It also provides gallery exhibitions, representation, guidance, a community of likeminded artists and a safe space in which to grow. The late Judith Scott, whose meticulously woven bundles lit up the Brooklyn Museum in a retrospective last year, is a Creative Growth artist who experienced from Down syndrome and hearing loss. 
"It's the best facility for local, adult artists living with disabilities," Jonah Olson, an artist and former teacher in Creative Growth's printmaking studio told The Huffington Post. "The amount of work they produce and the quality of it, it's incredible."
"I've had an interest in outsider art for a long time," Olson explained. "You make art as a child and the reasons for doing it now, in my case, are no different now than they were then. It's very basic. Intrinsic. I think that's what drew me to art made by people with developmental disabilities."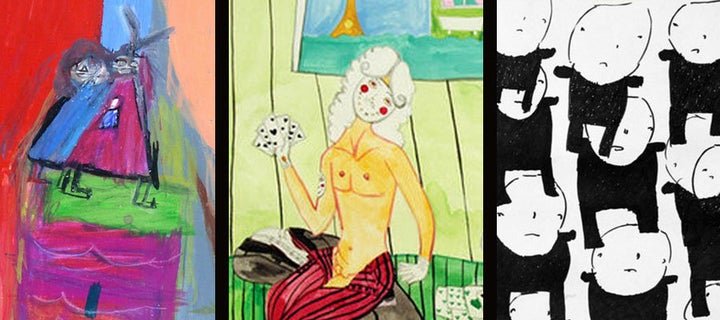 The show, a survey of the space's more prominent and lesser-known names, loosely revolves around themes of art and music, SoCal and NorCal. "Not a lot of the artwork specifically is about music, but we are grouping the work around the idea of being in the cities of LA and Oakland," Olson said. "And since we're a band, approaching this at a both venue and art gallery, we're looking through the lens of music".
The artists of Creative Growth will be on view throughout the month of August, coupled with musical performances and film screenings curated by L.A. Takedown. All proceeds from the month will benefit the artists and space. "LA doesn't really have a place like Creative Growth," Olson said, discussing his hopes for the show.
"There is kind of a flow going between the Bay and Los Angeles. A lot of artist are fleeing the Bay Area because of rising prices and moving down to Los Angeles -- this big influx of working artists. But at the same time, Oakland has these traditions like Creativity Explored and Creative Growth, that have been around a really long time and have been successful. This is something LA doesn't have and for a lot of us, hasn't seen."
To familiarize yourself with some of the artists on view, check out their work:
Luis Aguilera
Aguilera, born in El Salvador, renders his personal narrative in electric-laced pastels, accompanied by fantastical animals, friends from Creative Growth and pop cultural references. Somewhere between Basquiat and Richard Diebenkorn, Aguilera's flattened colorscapes merge memory with the infinite landscape of the imagination.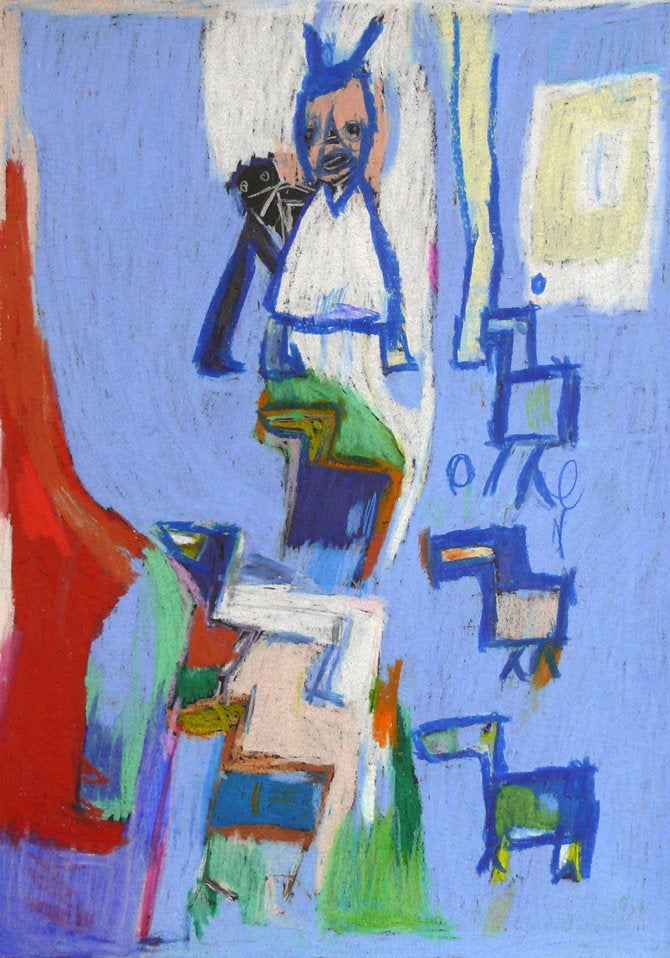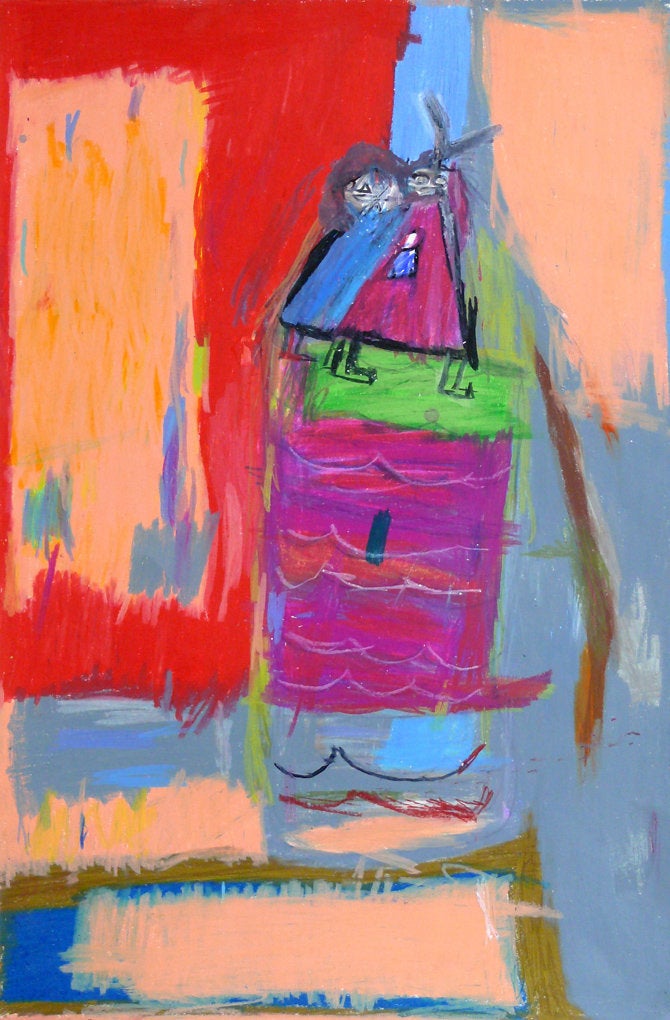 Terri Bowden
Bowden's work often centers around albinism, whether through pale human flesh or a fruit stripped of its juices. The artist, who herself was born with albinism and visual impairments, whimsically riffs on pop culture influences, incorporating her personal battles into muted yet appealing visions.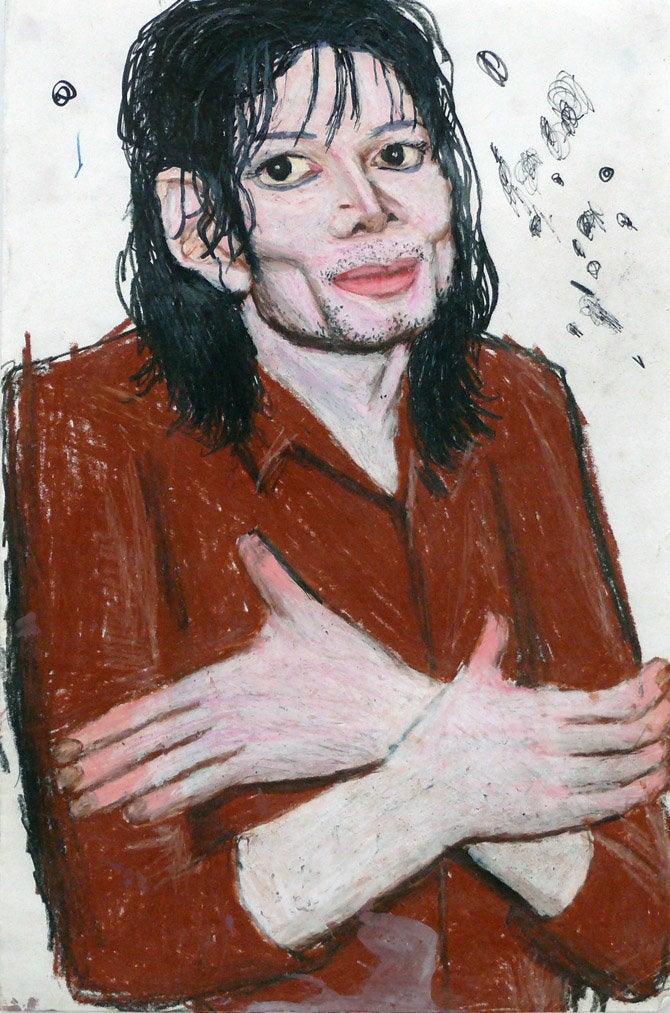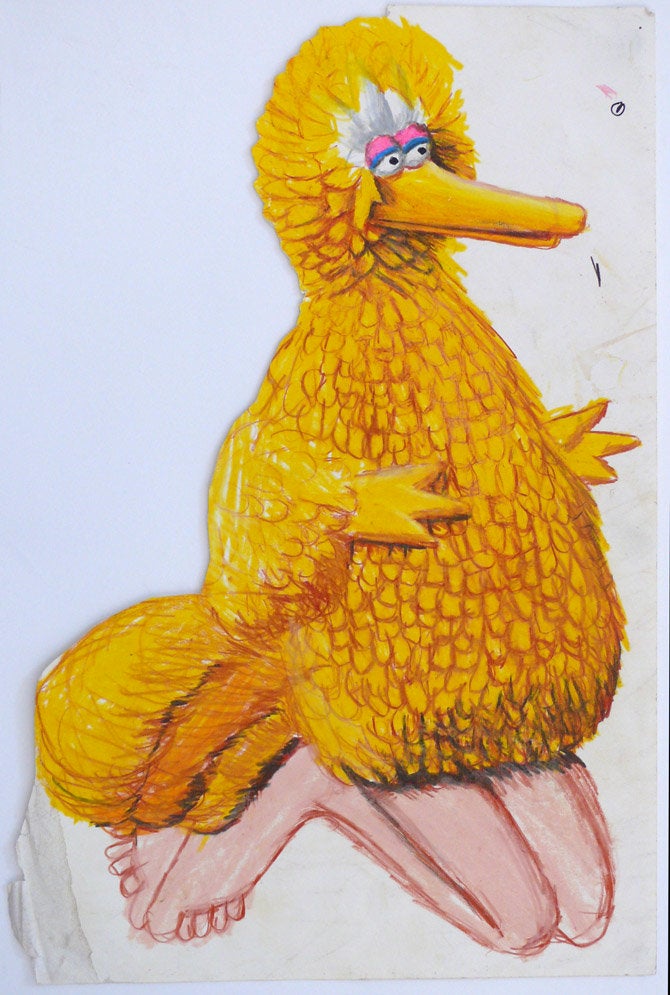 John Hiltunen
Hiltunen's collages chop and screw postcard-perfect landscapes with retro fashion ads and canine head shots. The resulting pastiches are William Wegman meets Linder Sterling, jarring mashups of disparate yet ubiquitous imagery, remixed and made strange.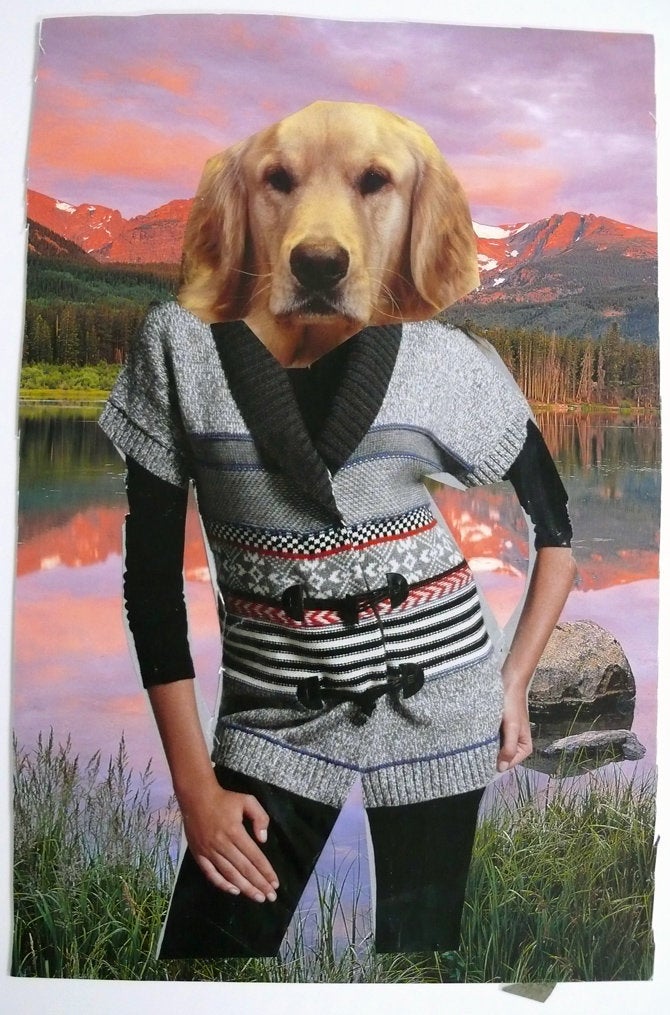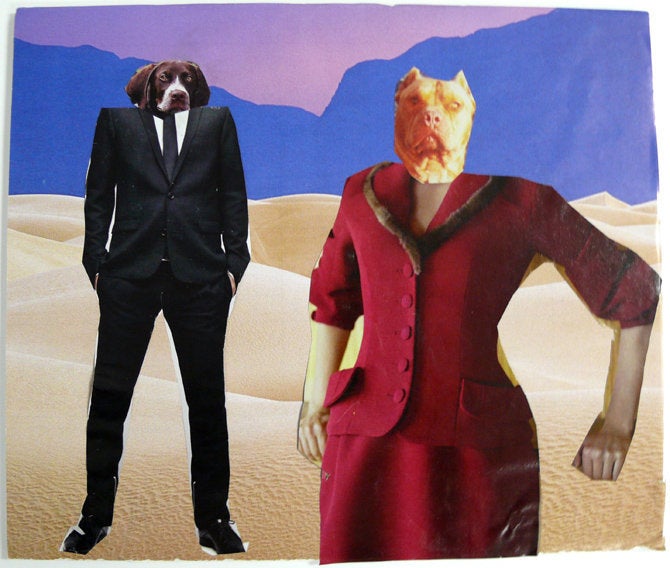 John Martin
Martin's works are inspired by memories of growing up with his family on an Arkansas farm, marked by his personal visual lexicon, which includes trucks, snakes, pocket knives and cell phones. The flat and vibrant images, often rendered on found paper, merge memory and fantasy as they naturally intermix in the mind.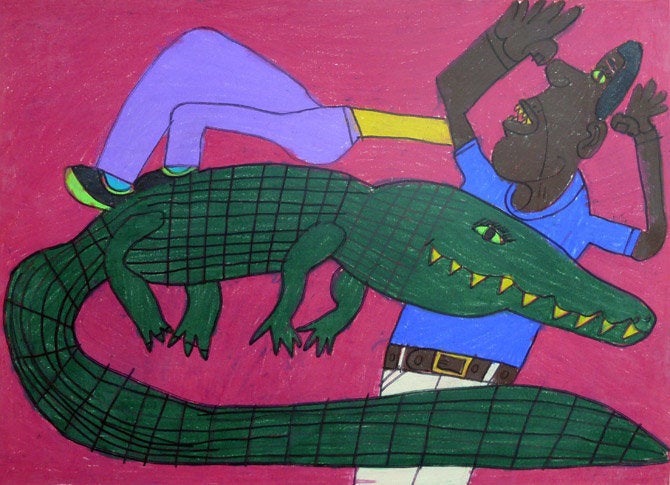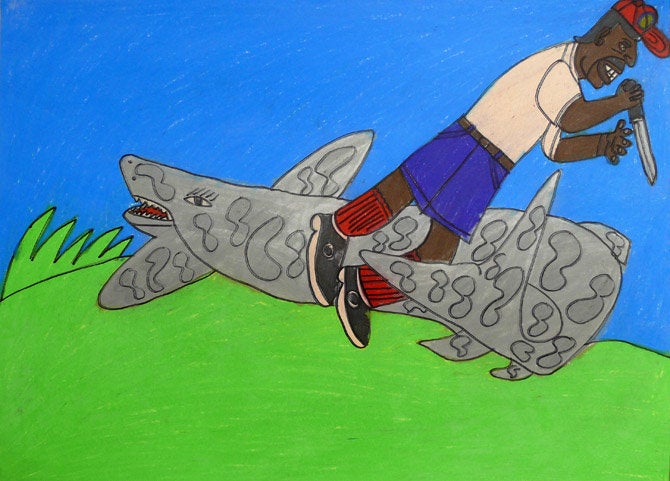 Donald Mitchell
Mitchell crosshatches obsessively, at times so much that he completely swallows the forms and faces lurking on the page. More recently, though, Mitchell has allowed his finely rendered, black-and-white figures to reveal themselves, often amidst his furiously rendered line fields.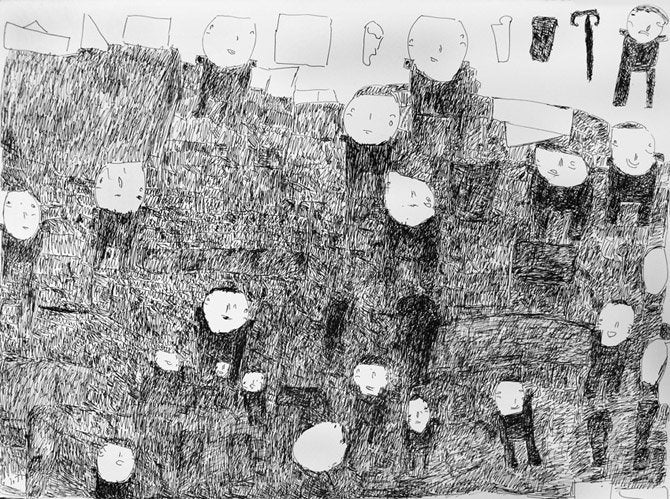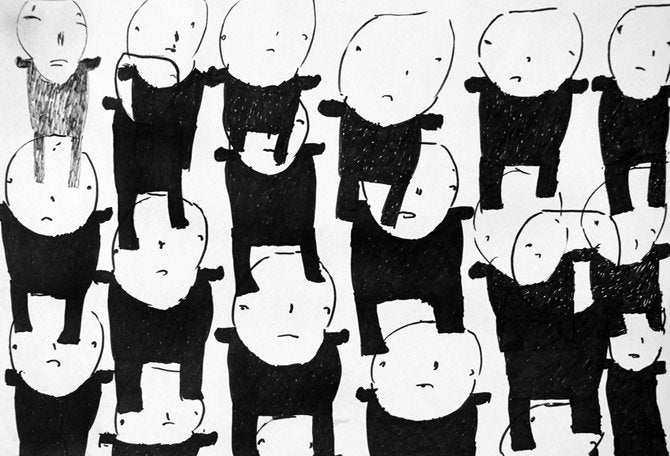 Aurie Ramirez
Ramirez's watercolor world is part Victorian masquerade, part Kiss concert, park glam rock fairy tale. Her psychedelic, pastel renderings channel cultural influences from the Addams family to David Bowie, all mixed up into a very pretty punk rock reverie.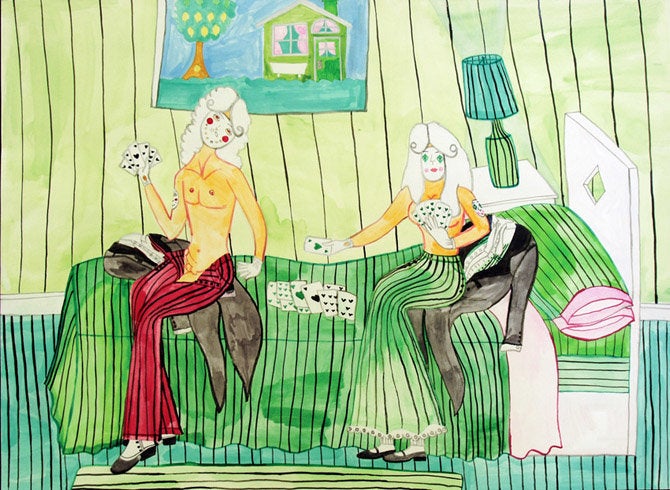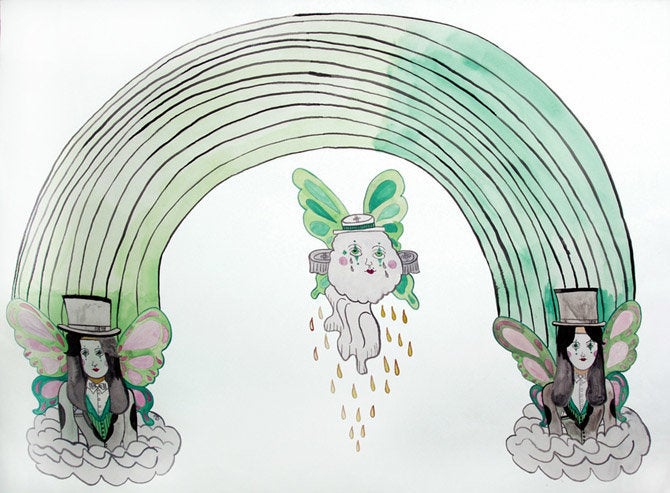 Gerone Spruill
Spruill, a comic book fanatic and aspiring DJ, channels his passions into epic misadventures of a comic book breed, in which characters like DJ Disco Duck and Chuckles roam Chocolate City in search of rap stardom, all while looking painfully cool. Aside from possessing enviable flat tops, '90s jumpsuits and soul patches, the protagonists all share a love of feet -- from high heels to penny loafers -- which often comes into play throughout their happy quests.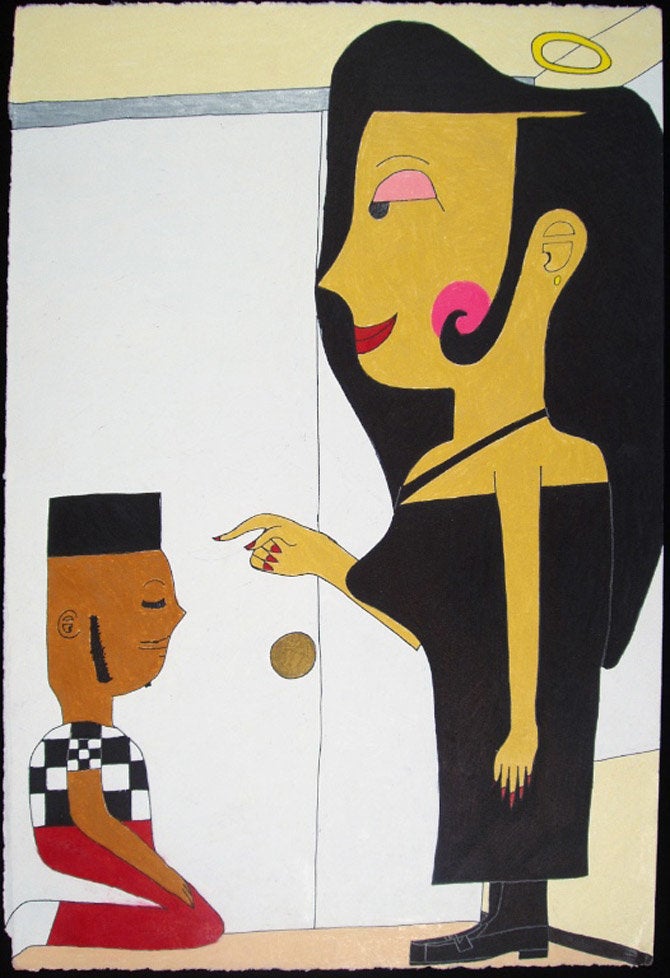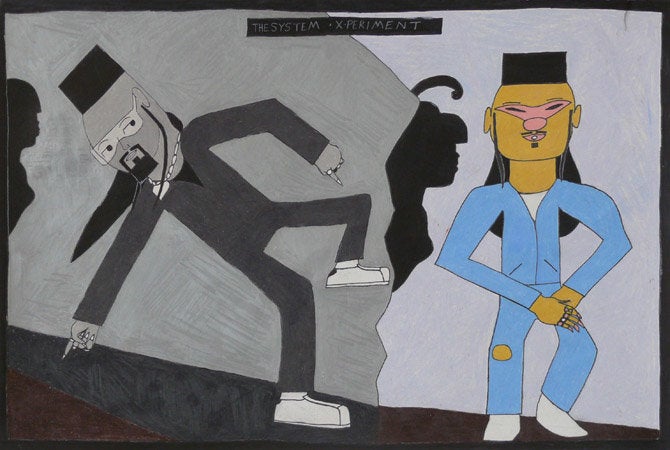 Calling all HuffPost superfans!
Sign up for membership to become a founding member and help shape HuffPost's next chapter