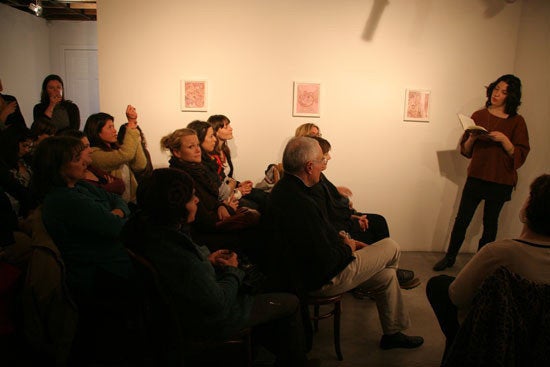 Contemporary art is the world's newest social and economic currency. Culture and art have become luxury products merchandised and promoted around the globe like handbags and Italian loafers. With the internet enabling us to study, discuss and experience art in ways not imagined before, artists work across medium and disciplines. Painters become film makers. Photographers become sculptors. Actors become performance artists.
Indeed, contemporary art has become the cultural fabric and language of the world we inhabit, a rich landscape of creativity, choice and innovation.
Art is more accessible, more integrated in our lives and more utilitarian than ever before in history. What's best is that everyone can now buy real art made by recognized contemporary masters for modest prices. With works priced from $30 to $5000, this year's Artworld Gift Guide for the Holidays brings affordable and near-affordable works from some of the world's greatest contemporary art legends.
This year's curated artist choices include:
Louise Bourgeois
Nick Cave
Jessica Craig-Martin
Peter Doig
Elmgreen & Dragset
Jim Hodges
Isaac Julien
Paul Pfeiffer
Andy Warhol
Carrie Mae Weems
Kehinde Wiley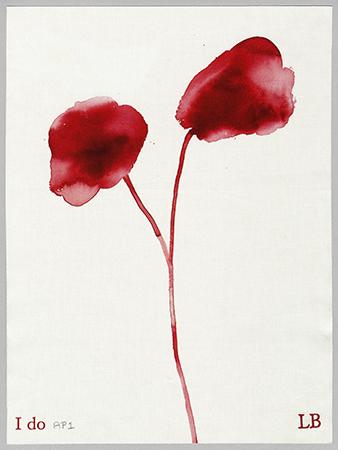 Louise Bourgeois is undeniably one of the greatest female artists of the 20th century. Born in France but living most of her life in America, Bourgeois made paintings, sculpture, drawings, prints, and other works including textiles. She was prolific and excellent in all aspects of her work. Made just prior to her recent death, this limited edition print showcases her trademark red. As an object of beauty, as an investment, as an homage to an artist who will long live in the pantheon of great artists, this work will stand the test of time on every measure.

NICK CAVE SOUND SUIT PRINT #1, $200-6000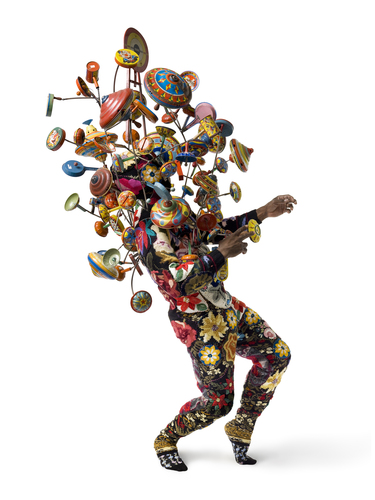 Combining elements of dance, music, fashion and theatre, artist Nick Cave creates Sound Suits, sculpture which incorporates all these elements. This limited edition photo of a Cave Sound Suit in action conveys the artist's obsession with movement, musicality and craft. Nice Cave is surely one of the most important contemporary artists working today. While his works are waiting list only for art collectors, you now can enjoy have a Sound Suit in your home thanks to this editioned photograph.
http://aceditions.com/products/soundsuit-number-1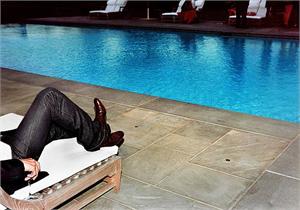 The daughter of a famous artist and well-respected in her own right, Jessica Craig-Martin has created a photographic multiple that is suggestive and sexy. Is this a still from American Gigolo, a party pic from your last trip to LA or a fantasy?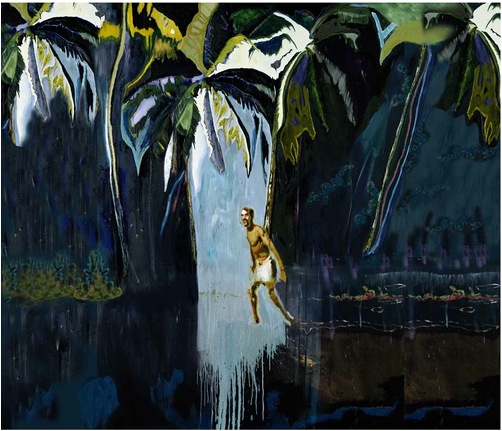 If you're heading to the beach for the holidays, there's no better artist to take with you than Trinidad-based artist, Peter Doig. His paintings often feature scenes like the one reproduced in this all cotton, beach towel. Why pay over $2 million for a DOIG painting at auction, when you can wrap yourself with this masterpiece, then throw it in the washing machine?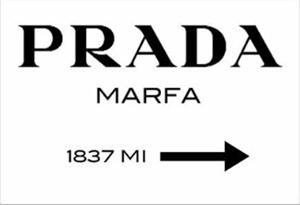 "Alongside a desolate stretch of highway outside the small Texas town of Marfa (pop. 2,121), a solitary white monolith emerges from the desert sand emblazoned with the most powerful word the world has ever known: Prada. Created in 2005 by Berlin-based artists Michael Elmgreen and Ingar Dragset, Prada Marfa is sculptural reconstruction of a Prada store, complete with actual Prada shoes and bags from the Fall 2005 collection displayed in the window. Yet, there is no working door, leaving the viewer as a perpetual window-shopper. Now Prada Marfa is essentially a minimalist sculpture paying homage to the town of Marfa, Texas--once home to revolutionary minimalist artist Donald Judd--while documenting a fleeting moment in the ephemeral tastes of fashion, forever as unattainable fetishized items of desire.-Drew Tewksbury"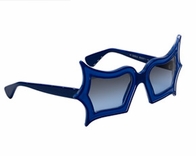 Nothing says art world extravagance like these sunglasses made famous by the great patroness, muse and art world paramour Peggy Guggenheim. Designed by American artist Edward Melcarth, these glasses come from Italy, like Guggenheim herself, who held court over her salon from a Venetian villa on the Grande Canale. You too will feel like a doyenne looking at the world through these blue tinted glasses!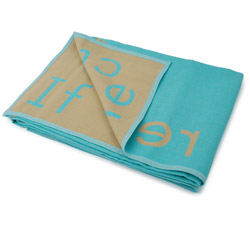 Every year, famed art collector, billionaire Peter Norton commissions the hottest contemporary artists to make gifts for his friends in the art world. Who is on the list to receive these amazing gifts? Leading curators, collectors, big donors and influencers in the art world, naturally. Jim Hodges was recently commissioned to make one of the annual gifts, and now, thanks to the Museum of Modern Art's gift shop, you too can be wrapped in the elegance and beauty afforded to Norton's nearest and dearest.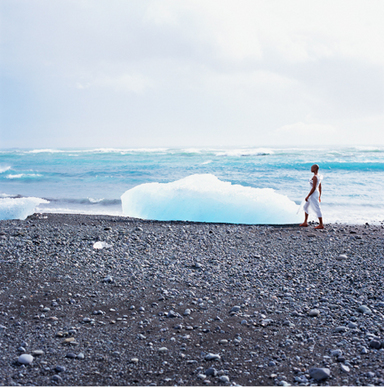 Isaac Julien's films and photo still images transport viewers to extreme and exotic landscapes, along the way exploring issues of race, immigration, and class. This image taken from Julien's True North series is exceptionally beautiful, juxtaposing the black woman in the Icelandic landscape.
Paul Pfeiffer's use of video stills in this tryptich show everything but the ball!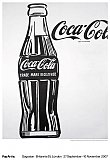 This poster was printed to commemorate a gallery show hosted by art world genius Larry Gagosian. While Andy Warhol, surely the most important 20th century American artist, is known for his iconic portraits of Marilyn Monroe, Elvis, Jackie O, and Liz Taylor, his earliest work focused on elevating the images of every day consumerism like Campbell's Soup cans and Coca-Cola. Nothing says POP ART better than a Warhol Coca-Cola image. This will make the perfect gift for the young enthusiast. Everyone desires to begin his or her collection with a Warhol. Nothing says POP like Andy Warhol's Coca-Cola image.

CARRIE MAE WEEMS, Untitled, from the Kitchen Table Series, $1,000.00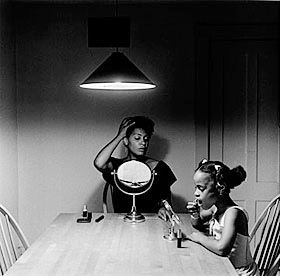 This black and white photo comes from Weems' "Kitchen Table Series" which portrayed Weems in various domestic scenes in which the artist performs various stories, creating a narrative about relationships, family, race, sex and society. The work is evocative, mysterious and dramatic. What more can one hope for in the art we live with?


KEHINDE WILEY, "LOUIS XIV," $1,400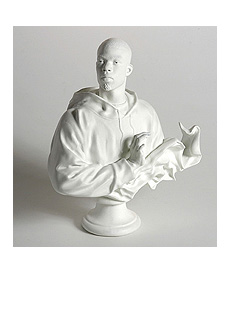 The author first met Kehinde Wiley over a decade ago thanks to The Studio Museum of Harlem's Thelma Golden. Wiley, known primarily for his luxuriously baroque paintings, takes inspiration from the classical Renaissance Court artists.
His works are portraits of beautiful young men in heroic poses, elevated far above their contemporary context. By going back in a historical context, Wiley raises up his young black men.
The editioned sculptural work here positions the subject as a King of France, specifically inspired from a marble bust of Louis XIV.
Popular in the Community