Tourists flock to Aruba, a Caribbean island 19 miles off the coast of South America, for the pristine, white-sand shoreline and placid, clear waters. But when you consider the island's culture, history, nightlife, restaurants, sports and dramatic desert terrain, alluring beaches are just the opening act.
The Beach Scene- From a Shoreline House Party to Serenity
Palm Beach, aka The High Rise section (dubbed for a string of tall, name brand hotels), is Aruba's calling card. Tourists flock to this OMG shoreline where walking on the sand feels like stepping on flour and the Caribbean Sea is as tame as bath water. Mornings, hotels empty out and guests take positions under beach umbrellas, spread out on lounge chairs and paint on sun lotion. Families, couples, singles, Americans, Europeans, South Americans, young and old create a laissez faire party atmosphere, a cool festive vibe.
The people-watching (behold the parade of bikinis and surfer shorts) is similar to the scene at Miami's South Beach (without the dangerous undertows), or Rio's Copacabana (minus a six-lane highway and crime). The water is so tranquil many vacationers recline on air mattresses with a cocktail in one hand and float up and down the shore carefree. More active types indulge in swimming, snorkeling, parasailing, banana boating, jet skiing, kayaking, and speed boating. Just north of Palm Beach, at Malmok Beach, where the winds are particularly frisky, kite surfing is the center attraction, especially during the annual Aruba Hi-Winds competition (early July), which attracts 180 enthusiasts who participate in windsurfing (slalom and freestyle) and kiteboarding contests. Thousands of gawkers watch the surfers with their mad dexterity do flips, fly high and wrangle kites that jump up into the sky like colorful broncos.
The place to stay in Palm Beach is the 411-room, pearl white, U-shaped Aruba Marriott Resort and Stellaris Casino with its free-form pool. And if you're looking for pampering, stay in one of the 49 lush guest rooms or eight suites in the exclusive Tradewinds Club on the 8th floor. It has the best views, private concierge service, a private lounge, includes breakfast, lunch, snacks, a cocktail hour and a private beach area with an attendant who provides complimentary water.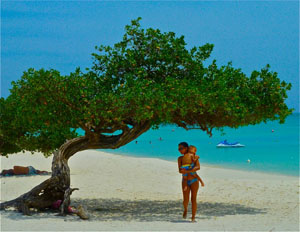 South of Palm Beach, is Eagle Beach, which is across the street from low-rise boutique and lower-priced hotels, frequented by Europeans--hence the term the Low Rise section. Compared to Palm Beach, the sand has more of a manila color, there are fewer sun-worshippers, the beachfront gets wider, more locals gather and picnics are frequent. Some hide from the every-present sun under the sparsely placed, indigenous Divi trees that are distinguished by their windswept branches and leaves that have been blown to one side.
Manchebo Beach, aka Punto Brabo, the last stretch of beach on the west coast shoreline, is the widest, with even less beach goers and under-populated waters. If you want a shroud of calmness on your vacation, this is the spot. No large hotels. No crowds. No one eyeballing your swimsuit. It's complete tranquility. The eco-friendly, elegant and adults-only, 104-room boutique hotel Bucuti & Tara Beach Resorts offers a romantic setting and an attention to detail that honeymooners covet. From gardenview rooms just steps away from the beach, to penthouse suites, this hotel exemplifies class and sophistication.
Eating and Gambling Your Way Through a Vacation - Is That So Wrong?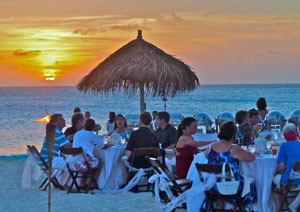 Papiamento, a 40-year-old restaurant owned and run by the Ellis family, started as a café in their white stucco villa. Now it takes over the entire grounds with candlelit tables meticulously placed around a swimming pool. Edward Ellis, grandson of the original owner, is eager to show diners his elaborate wine/liquor cottage, but first you have to eat. Try the Aruba Bouillabaisse, or the traditional appetizer Keshi Yena (minced tenderloin and chunks of chicken stewed with prunes, gold raisins, olives and cashews). For an entree the Mixed Stone Grill (a combination of chicken, tenderloin and shrimp served with tartar sauce that finishes cooking on your table on a hot stone) is a house specialty. After dinner, join Edward for a taste of Cas di binja, a blended tawny port or Mamajuana a rum-based liqueur with over 40 herbs, roots and spices, honey and a little red wine.
At night, head out onto L.G. Smith Blvd. in front of the High Rise section and join the throngs of tourists who promenade by the 75 restaurants and 150 shops (souvenir stores, Gucci, Ferragamo, Luis Vuitton) on the strip. At the French restaurant Papillon, the Caribbean Lobster Bisque (spiked with a touch of cilantro) and Foie Gras (on a chocolate marbled brioche served with vanilla pineapple compote) are as tasty as the Snapper Guajira entrée (pan-fried snapper served with a Caribbean Creole sauce and funchi fries). The open-air Pirates' Nest restaurant at the Bucuti & Tara Beach Resorts is just a few feet away from the water and perfect for sunset dining and wedding receptions. The Mango Shrimp On Hearts Of Palm appetizer, Carrot-Ginger Soup With Chili Butter & Roasted Peanuts and the Ostrich Steak With Balsamic Glaze must be washed down with a glass of champagne.
The pedestrian parade on L.G. Smith Blvd. is like the nightlife parade on Lincoln Rd. in South Beach or Ashford Avenue in the Condado section of San Juan, Puerto Rico. The vibrant mix of vacationers and locals is unique and inviting. Stroll to Confession Club Aruba for salsa music, Sopranos for live music, or if money is burning a hole in your pockets, head to the lively casinos at the major hotels--the largest is the Stellaris at the Marriott.
History Plus Location Equals Culture
Caquetio Amerinds, members of the Arawak tribe, migrated from Venezuela and were the first inhabitants on this arid, barren, cactus-filled island that is south of the hurricane belt and has an average year-round temperature of 82 degrees. Around 1499, the Spanish, lead by Amerigo Vespucci and Captain Alonzo de Ojeda, explored the island looking for gold. Eventually the Spanish took the Native Americans to the island of Hispaniola (Haiti/Dominican Republic) to work in the sugar cane fields. The French came; the Portuguese, then the Dutch in 1636 and Aruba became their colony. Slaves were brought from South Africa to Aruba then transported to Hispaniola to work on plantations, like the Indians. Today, Aruba's official language is Papiamento, which is based on an African dialect, with bits of Spanish, Portuguese, French, and German and there are 90 different nationalities represented in 115,000 citizens who speak the native language along with Dutch and English. Thirty percent of the island is now of Latin heritage, as Venezuelans and Columbians have come to work on island. Aruba, along with Curacao, Sint Maarteen and the Netherlands, are officially part of the "Kingdom of the Netherlands;" it is an equal partner but has been a fully independent country since 1996.
There are seven districts on Aruba, each anchored by a church, elementary school, high school and graveyard. Drive north of Palm Beach and you'll breeze by Malmok, an area known as the Beverly Hills of Aruba where the moneyed citizens live and stately houses sit across from the Malmok beach. The shallow water at neighboring Arashi Beach is perfect for kids and turtles. Locals jog and bike up the road to the yellow California lighthouse, built in 1914 and named after the wrecked ship California Liverpool. On the east coast, the island's oldest chapel, Alto Vista built in 1750 by the Venezuelan missionary Domingo Silvestre, was renovated in 1952 and again in 2000. Climb the Casi Bari natural rock formation and you'll get a perfect view of Haystack Mountain, Aruba's tallest geographical wonder.
Smart golfers heed Donald Ross' advice; he's Head Pro at The Links at the all-inclsuive Divi Village Golf & Beach Resort. Ross teaches a very natural stroke, the antithesis of the befuddling way golf is usually taught. He convinces you to focus on the dominant arm, use your wrist and relax your swings with limp soft arms. It works like magic. Your stroke finds length, height and accuracy. Ross gave Sean Connery his first ever golf lesson in 1965. After nine holes at Divi, try the Bon Bini Package (a one-hour facial and one-hour relaxing or aromatherapy massage, $132.50) or the sports massage with reflexology at the Intermezzo Spa at the Westin Resort & Casino, Aruba and your muscles will thank you.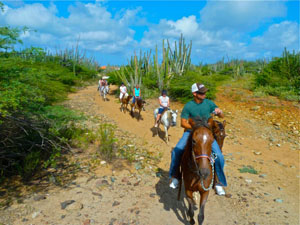 The cactus forest in the Arikok National Park, which takes up 18% of the isle, is geographically awe-inspiring. Lava, quartz diorite and limestone formations are wondrous. Cacti and succulents are plentiful. Iguana, rabbits, burrowing owls (shoco), snakes (cascabel and santanerso), whiptail lizards (kododo blauw), armband eagles (warawara), geckos (toteki) and Aruba's brilliant green parakeets flourish. Rancho Notorious offers guided tours through the forest on quad racers and mountain bikes. If you want to really commune with Aruba's outback (Cunucu) take the horseback riding trip from center island on narrow trails, pass prickly plants, over hills, along side of the Tierra del Sol golf course to the dramatic northeast coast where waves crash against rock formations that are epitomized by the Little Natural Bridge, a stone bridge. First it's like you're riding into an Arizona desert in the wild west, then you're trotting over barren terrain that looks like it's from Mars, and next you're galloping on sand dunes with complete abandon and the open sea in full view. It's a unique, exhilarating and unforgettable experience.
Aruba's beaches may be its most known treasures, but they're only the beginning.