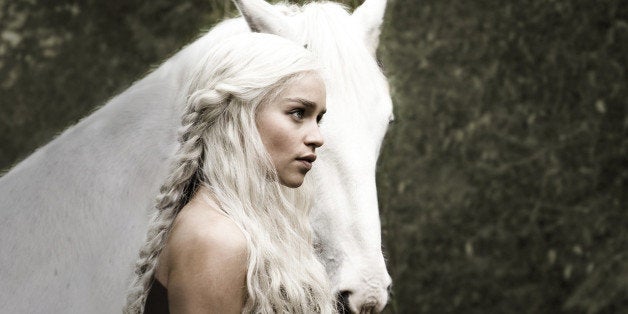 Since George R.R. Martin first published the Game of Thrones Song of Fire and Ice series, critics and readers alike have commented on the imaginative names used throughout the books. But it wasn't until Game of Thrones was aired on HBO that the names began to have an influence on American baby naming. In honor of the new season, presented below are the most surprising names to show up on the Social Security Administration's list of U.S. baby names, thanks to Game of Thrones.
Arya has shown an exponential leap in popularity since the TV show first aired. In 2010 (the year before the show aired in 2011), Arya was 942 in popularity in the United States. Each year, the popularity creeped up by 200 to 300 places, so far ending at the 277th most popular name in 2013. It is almost assuredly higher today, but the Social Security Administration is roughly two to three years behind in its calculations. We do know that among BabyNames.com users, the lists that predict popularity about two to three years ahead, the name Arya (when combined with Aria), is the third most popular name. Therefore, it is our prediction that from 277th, it will jump into the top 100 with the next release of statistics. Of note, in the year 2000, there were 34 babies name Arya. This remained consistent until 2010, when the number of babies jumped to 273. In 2013, it skyrocketed to 1,135 babies, a nearly five-fold increase.
Although Khaleesi is a title in the books and TV series, it also has had an impact on girl baby names. Although not in the top 1,000 names, there were 241 babies named Khaleesi in 2013 (in contrast to 10 babies in 2010). Although Daenerys is the actual name of the Khaleesi character, there were only 67 babies named Daenerys in 2013. Unlike Arya, both Khaleesi and Daenerys were unknown to American baby naming prior to the release of the books and television series. Therefore, George R. R. Martin can be attributed as the creator of these names, much like Shakespeare created character names that changed the face of baby naming in the 16th and 17th centuries.
Of note, the nature of the character seems to have an influence on the baby name usage. The popularity of the name Tyrion, arguably the number one Game of Thrones hero, has jumped nearly 400 percent, although the numbers are modest (11 American babies in 2010 vs 43 babies in 2013). In contrast, the evil characters of the books (including Cersei, Tywin, and Joffrey) are nowhere to be found on American baby name statistics.
Jaime is an interesting phenomenon as the alternate spelling Jamie has been an on again off again popular name throughout the last fifty years. However, the spelling of the name used in Game of Thrones has increased considerably. He is a character that you hate to love, but somehow his transformation from incestuous child killer to man with a conscience (think his return to save Brienne from the bear), has coincided with the popularity of his name. In 2010, there were 85 babies with the name Jaime born but in 2013, that number rose to 682.
There are several names left that have not hit significant numbers, but we at BabyNames.com foresee increase in name usage for these other characters from Game of Thrones.
Names to increase in popularity: Snow (59 names in 2013), Stark (21 names in 2013), Sansa (11 babies in 2013) and Theon (15 babies in 2013).
Names to decrease in popularity: Catelyn (already on the decrease from 2010 to less than half in 2013 -- out of sight/out of mind), Tyrell (dropped from 276 names in 2010 to 213 names in 2013), and Shae. There were 130 babies named Shae in 2013, but with Shae's ultimate betrayal of Tyrion, this name is expected to dip in usage considerably.
Other names we hope to see on the lists for 2014 and 2015 include Jorah and Brienne, two lovely names that have not yet hit their stride. I guess we will have to see what season five brings us, both drama and name wise!
Dr. Mallory Moss is a board-certified nurse practitioner in psychiatry and a founding partner of BabyNames.com. Since its launch in 1996, BabyNames.com has been heralded as one of the top parenting sites on the internet. Dr. Moss' passions lay in community-based mental health and destigmatizing mental health diagnoses. Dr. Moss was also the editor of the popular online parenting advice column, "Ask Grandma Maggie."
Calling all HuffPost superfans!
Sign up for membership to become a founding member and help shape HuffPost's next chapter