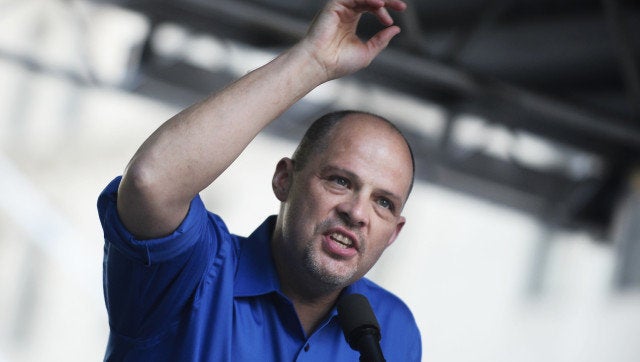 For one year's work as a full-time music teacher in New York City more than a decade ago, Aryeh Eller has collected almost $1 million in salary from the city.
But like dozens of other New York City "rubber room" cases, an independent arbitrator determined that Eller couldn't be fired because the city failed to inform the teacher of his rights. But the city's Department of Education, deeming Eller unfit for the classroom but also unable to fire him, placed him in a holding room and reassigned him to administrative duty.
Eller, a classical guitarist who also performs in the city, earns $85,426 annually, according to the New York Daily News. Since his suspension 13 years ago, Eller has received $943,000 plus benefits -- and will hit the $1 million mark this year. DOE spokesperson Connie Pankratz tells the Post that Eller, along with four other educators considered unfit for the classroom, are collecting up to $100,000 annually for "data entry, answering phones and paperwork."
School officials say their hands are tied. Under New York law, tenured teachers have the right to a hearing with an arbitrator before they can be fired, and can appeal an arbitrator's ruling in civil court. While the Department of Education can also appeal an arbitrator's decision to state courts, legal standards for overturning those rulings are very difficult to meet.
For years, the city used "rubber rooms" as paid reassignment centers for teachers waiting out disciplinary hearings. But in 2010, Mayor Michael Bloomberg denounced the centers as an "expensive abuse of tenure," putting an end to the practice of containing -- and paying -- teachers to sit and do nothing.
The accusations against Eller include telling one girl, "I love you," another "you have a nice a--" after asking her to lift her shirt to show her butt, and yet another that she was "well developed" and "would make a good wife."
"There is simply no reason that teachers accused of sexual misconduct should have greater job security than other city employees," the mayor said at the time. "The fact that they currently do is wrong; it is dangerous; it is indefensible."
But in a response to the proposal last May, United Federation of Teachers President Michael Mulgrew said giving the chancellor power to "unilaterally" upturn the decision of an arbitrator "who has weighed all the evidence" "is not an answer" to sexual misconduct by teachers.

REAL LIFE. REAL NEWS. REAL VOICES.
Help us tell more of the stories that matter from voices that too often remain unheard.
BEFORE YOU GO
PHOTO GALLERY
Teachers Behaving Badly: Student-Teacher Sex Scandals