 We're often asked how ARZU can successfully operate in Afghanistan, when so many others fail. In traditional development programs, most funding seems to go to externally imposed, top-down, large-scale projects that aren't necessarily connected to realities on the ground. And, from what I've seen in Afghanistan, they rarely work as advertised. The key to success is working from a different set of assumptions. Here are three of our working rules of thumb:
We set priorities from Afghan point of view, which is often different than our perspective. For example, there's the story of the development expert who decided that cleaning trash out of the Kabul River would be a good work program to employ 20,000 Afghan men for a week. At first blush, it seemed like a decent plan. The problem was that nobody thought through what to do with the collected trash. You can guess what happened--a week later it's all back in the river. While the agency in charge is writing reports about successfully putting 20,000 men to work, the Afghans are looking at the trash in the river and saying, "Another failed project." Same facts, two very different points of view.
Every project we undertake is a pilot--because nothing works the first time. In the spirit of under-promising and over-delivering, if something actually does work first time out of the gate, we exceed everyone's expectations, ours included!
Nothing can plug in. With no power grid, we need to deploy low-tech solutions; with no roads, we need to source materials with as few moving parts as possible, since replacements are never readily available when the first-world machinery breaks.
One of the most exciting techniques that we've tested is an earth-building construction style, invented by the Iranian architect Nader Khalili and called Superadobe. Basic, but sturdy, shelters are made from dirt, plastic bags and barbed wire by unskilled local labor armed with simple training and a short apprenticeship. (Since this requires outdoor work in full public view, men hold construction jobs in Afghanistan.) The attributes of Superadobe, other than its low cost relative to traditional alternatives, include: staying warmer in the winter and cooler in the summer; standing up to rain, while traditional mud bricks melt; and withstanding earthquakes to California standards.
Fatima, a 70-year-old refugee whose husband was killed by the Taliban, returned to Bamyan from Pakistan and registered as a weaver with ARZU. Although the provincial government gave her a small plot of land, building a home was out of reach. Last summer, our pilot Superadobe apprentices learned to build three different kinds of structures: a small storage room; a large domed building; and a cloverleaf-shaped house. Fatima allowed us to practice on her land. In exchange, she ended up with a furnished home of her own that she shares with her 19-year-old daughter Basirah, her 35-year-old son Hade, his wife, and her three grandchildren.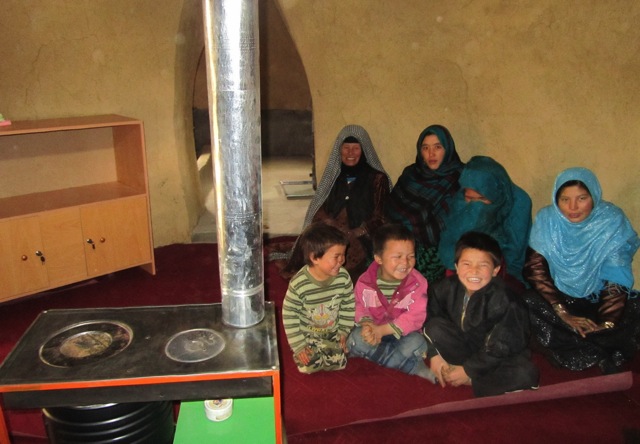 Fatima and her family inside their new home

Fatima tells us that she has no words to express the feeling of security from having a home of her own. There are some 300 families still sheltering in limestone caves near the provincial capital of Bamyan City. Weather-wise, think Colorado. This summer, ARZU has a small development of 16 homes under construction on land provided by Governor Sarabi, thanks to the generosity of a private donor. The construction team has paid work and at least some families will come in from the cold this winter.
REAL LIFE. REAL NEWS. REAL VOICES.
Help us tell more of the stories that matter from voices that too often remain unheard.